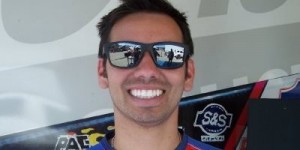 Lucas Oil Buell rider Hector Arana Jr. didn't want his victory run to end, but if anyone was to halt his three-race winning streak, he would have preferred it to be his dad or his brother. 
In the first round of Pro Stock Motorcycle on Sunday at the Toyota NHRA Summernationals at Old Bridge Township Raceway Park, it was his dad who finally sent Arana Jr. to his first loss of the season.
"It was fun and I enjoyed it." Arana Jr. said. "He (his father) is on a roll now and maybe we can keep it in the team."
Arana Jr. became only the third Pro Stock Motorcycle rider to win the first three races of a season, and he was looking to join legendary Dave Schultz as the only rider to win the first four events.
But despite qualifying No. 2 Arana Jr. uncharacteristically struggled this weekend. The primary engine in his Buell – nicknamed "Grace" after his mom – suffered damage in the final qualifying session, and it was replaced by an engine named "Replacement."
Against his father Hector Arana Sr. in round one, Arana Jr. had an atypical reaction time and watched his dad pull away.
"I was upset because we were not able to give him a fair race," Arana Jr. said. "I had some issues off the starting line and I was dead late. When I was working on my clutch, the lever was way off and I put it back together, but I just have to get on it and work harder.
"I am going to go home and work really hard on my Christmas tree and get the bike dialed in. We had a different motor in and it was a crazy event. I am really glad we got this out of the way early in the season and we got that done for the year. We can continue on and start fresh and finish off strong."
Arana Sr. was immediately ahead and made a pass of 7.002 seconds at 191.67 mph while Arana Jr. eventually sat up on his bike, coasting to a run of 7.800 seconds at 125.59 mph.
"It was drifting way hard to the center," Arana Jr. said. "I saw him way ahead, so I just pulled in the clutch. When you are drifting right it is already a bad run, and it is my dad, so there was nothing I could do. I pulled in the clutch instead of beating on the motor and risking getting closer to the cones or getting hurt.
"Now it is time for a new streak."
Arana Jr. remains the points leader for the Pro Stock Motorcycle class after four races.