Angie Smith wrapped up a spectacular season for her team with a final round victory at the 57th annual Auto Club NHRA Finals at Auto Club Raceway at Pomona.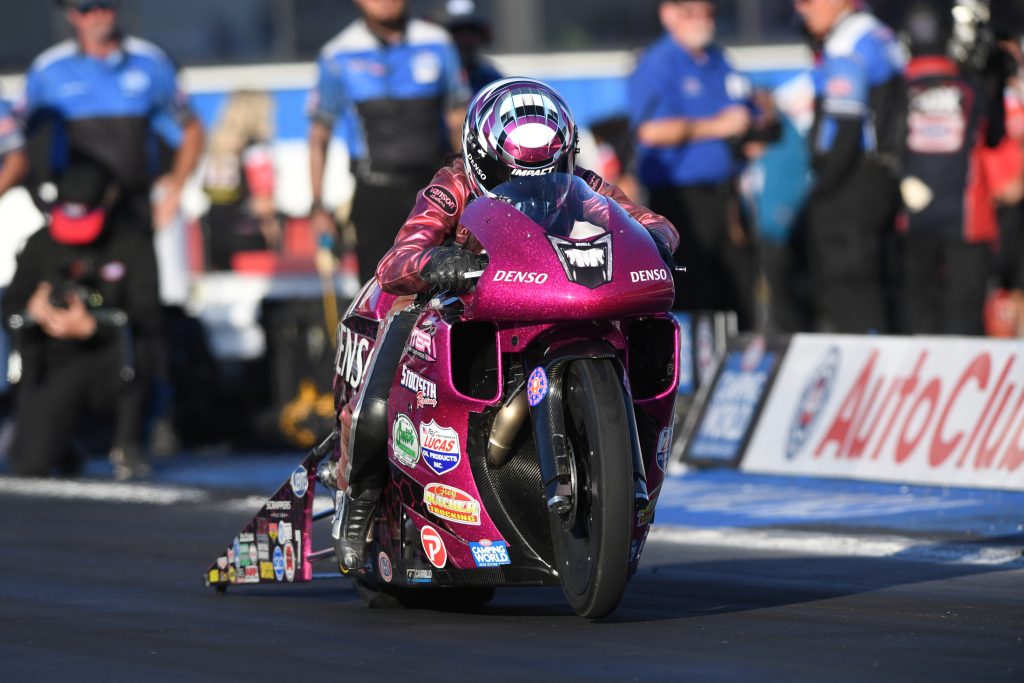 Her husband Matt Smith earned his third straight world title in Pro Stock Motorcycle and sixth overall with a victory in the first round on his Denso Auto Parts Buell. It's also the fourth in five years for Smith, who has forged an incredible dynasty in the loaded category in recent years. The sixth championship also meant a great deal for Smith, who picked up four wins in 2022, as it ties him with Andrew Hines and Dave Schultz for the most in class history. It was the goal all season and Smith was proud to make it a reality on Sunday.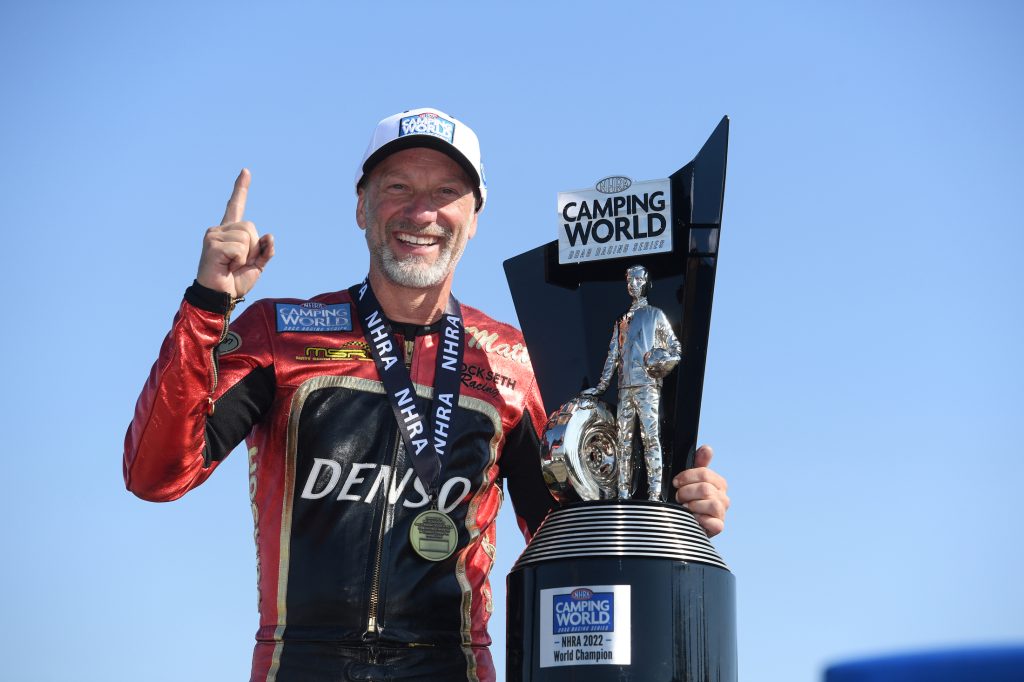 "This Denso bike has been awesome this year," Smith said. "Angie's had a great bike. We took my motor out from the last two races and put it in her bike because we had a shout of being one and two in points and I think we just missed it but hats off to her. She's had a heck of a season going to three finals this year and winning the last race and then I won four races and won the championship. To be the one Pro Stock Motorcycle rider who has won every Camping World Drag Racing Series championship so far is pretty amazing."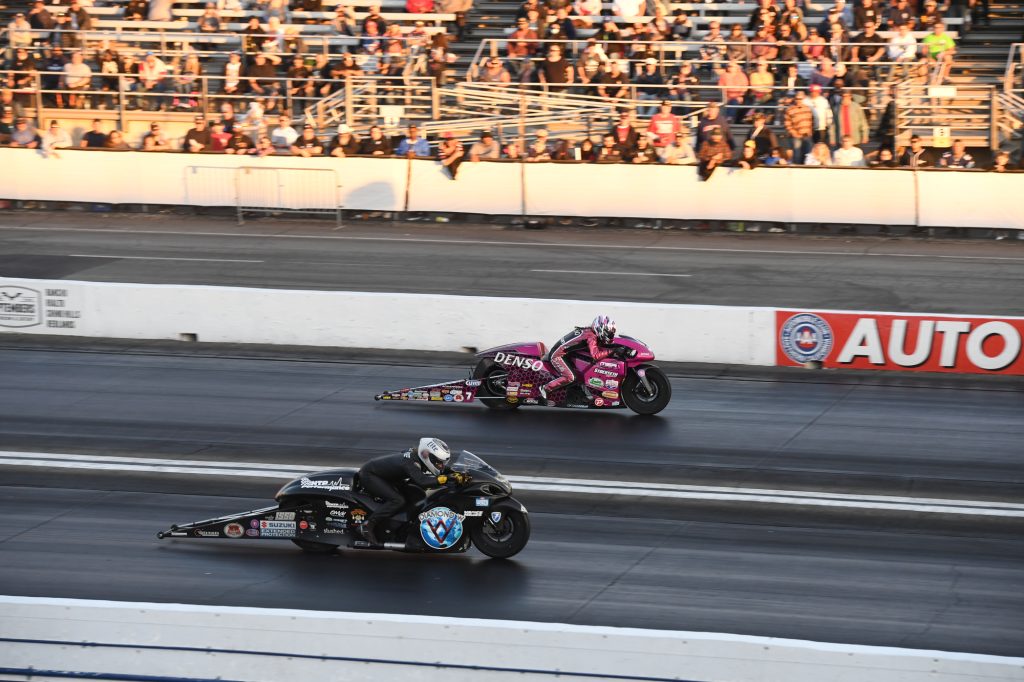 Angie Smith helped the team finish the season with a victory for the third straight year, knocking off Joey Gladstone with a 6.749 at 199.55 on her Denso Auto Parts Buell. Smith, who picked up her first win of the season, has now won the finale twice in the past three years, making it an all-Smith winner's circle for the race and championship. She set the track speed record earlier in the weekend and then put together a string of quality runs on Sunday, finishing a career-best third in points.
"I just needed to go out there and qualify well and just turn on win lights," A. Smith said. "I think my goal in qualifying was just to make straight runs and every run we were going faster and faster, so I knew I had a good bike going into race day. Everybody that we race are very tough competitors. I did my job and I won it on a holeshot (in the final round). I think I'd rather win on a holeshot over anything. It's nice to outrun people but winning on a holeshot is pretty epic."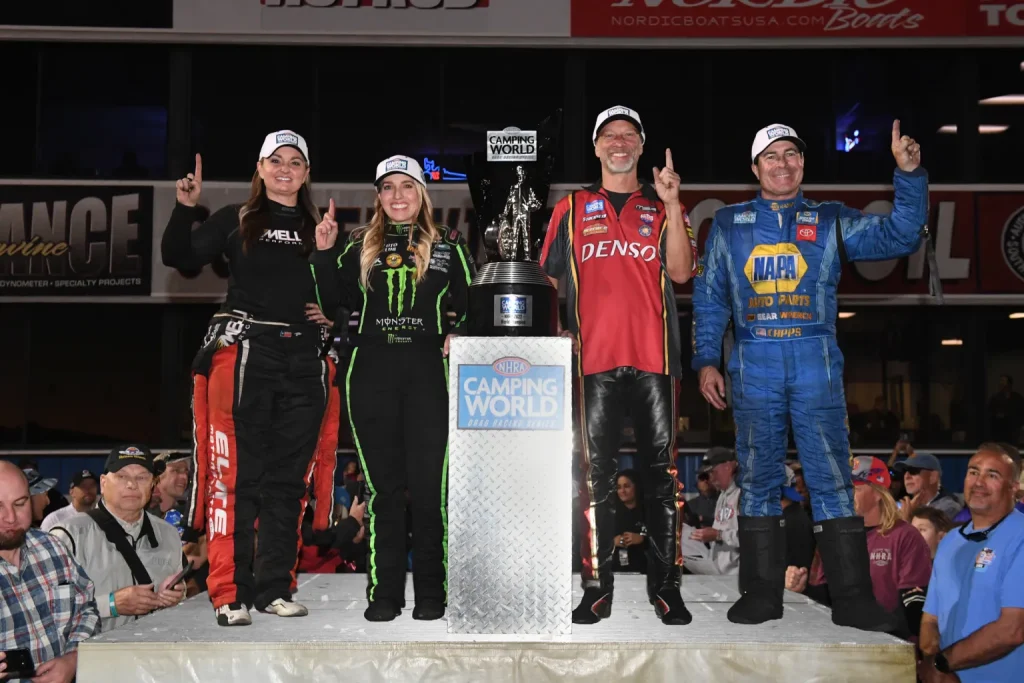 Gladstone advanced to his sixth final round of the season, finishing second in points.
The 2023 NHRA Camping World Drag Racing Series season begins March 9-12 with the 54th annual Amalie Motor Oil NHRA Gatornationals at historic Gainesville Raceway.
ROUND ONE — Steve Johnson, Suzuki, 6.855, 196.27 def. Kelly Clontz, Suzuki, 7.309, 192.96; Marc Ingwersen, 6.849, 195.08 def. Gaige Herrera, Suzuki, 6.898, 193.52; Angie Smith, 6.752, 202.09 def. Freddie Camarena, Suzuki, 6.994, 194.41; Karen Stoffer, Suzuki, 6.828, 196.42 def. Ryan Oehler, 6.862, 197.83; Joey Gladstone, Suzuki, 6.765, 198.29 def. Hector Arana Jr, Buell, 6.971, 197.86; Jerry Savoie, Suzuki, 6.792, 198.09 def. Chris Bostick, Suzuki, 6.956, 189.10; Angelle Sampey, Suzuki, 6.829, 192.17 def. Katie Justice, Suzuki, Broke – No Show; Matt Smith, Buell, 6.770, 200.92 def. Michael Phillips, Buell, 7.037, 187.68;
QUARTERFINALS — Johnson, 7.126, 152.80 def. Sampey, Foul – Red Light; A. Smith, 6.754, 202.24 def. Savoie, 6.792, 199.08; Gladstone, 6.746, 199.55 def. Stoffer, 6.882, 193.49; M. Smith, 6.915, 171.90 def. Ingwersen, Foul – Red Light;
SEMIFINALS — A. Smith, 6.794, 200.26 def. Johnson, Broke; Gladstone, 6.757, 199.40 def. M. Smith, 6.757, 202.03;
FINAL — A. Smith, 6.749, 199.55 def. Gladstone, 6.739, 199.67.
Final Point Standings
1. Matt Smith, 2,610; 2. Joey Gladstone, 2,528; 3. Angie Smith, 2,519; 4. Jerry Savoie, 2,432; 5. Steve Johnson, 2,407; 6. Angelle Sampey, 2,353; 7. Eddie Krawiec, 2,306; 8. Marc Ingwersen, 2,284; 9. Karen Stoffer, 2,253; 10. Ryan Oehler, 2,229.