Victory Motorcycles rider Angie Smith maintains a positive outlook on life in general, so a slow start to the 2016 NHRA Mello Yello Drag Racing Series season isn't about to get her down.
The veteran racer failed to qualify for the last two Pro Stock Motorcycle events on the NHRA calendar, but the best way to reverse that course is to look forward, not back.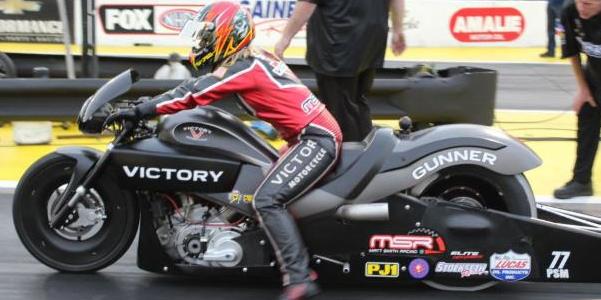 "I always look forward," Smith said. "You can't change the past, so you've got to look forward, lay down the groundwork of what you're going to do, and go do it. You can't dwell on the past because there's absolutely nothing you can do to change it.
"It's all about looking forward and being positive and trying to do the best job you can every single lap."
That positive attitude should serve her well as she tries to get into the field for the NHRA Summernationals this weekend at Old Bridge Township Raceway Park. Competition has been tough in the Pro Stock Motorcycle class this season, and that will continue in Englishtown, where 26 bikes are entered for 16 spots, making Friday's qualifying sessions crucial because conditions should be the best that day out of the three days of racing.
"Usually, when we swing for the fence on Fridays, we do pretty good," Smith said. "I'm hoping that plays out this Friday. We're going in with the mentality of making two good runs on Friday."
Smith tested her Victory Gunner at Virginia Motorsports Park this week, making an important discovery with one of her engines. That motor was hurt and likely was damaged at the most recent race, in Atlanta, helping explain her DNQ there.
"It was good we found that out because now we have a fresh bullet in," Smith said. "We know it's not hurt, and I think we'll be better than we have been."
Pro Stock Motorcycle qualifying sessions are scheduled for 3:45 and 6:15 p.m. ET, Friday, and 1:45 and 4:15 p.m., Saturday. Eliminations start at noon, Sunday. FOX Sports 1 will carry qualifying action from 9 to 11 a.m., Sunday. Eliminations will air from 4:30 to 7:30 p.m., Sunday.