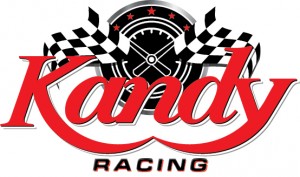 Matt Smith Racing and Kandy Magazine have announced today that Kandy has agreed to a sponsorship package with the Championship NHRA Pro Stock Motorcycle Racing Team of Matt and Angie Smith, commencing with the NHRA Four-Wide Nationals in Charlotte, North Carolina April 11th to 13th. The sponsorship agreement will include Kandy branding on Angie's bike, team shirts, and trailer. The famous Kandy Girls will be making personal appearances in the pit and giving away complimentary Kandy Magazine towels to the first 100 race fans each day who stop by the pit and download the FREE Kandy iPad, iPhone or Android app. In addition, all weekend long, the Kandy girls will be signing up fans, which stop by the pit, to a FREE 60 day trial membership to Kandy magazine.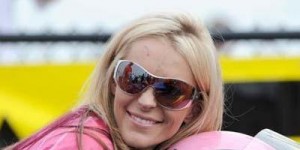 "We are thrilled to have Kandy Magazine join our MSR team and to help bring Angie out to her first race of her season" said Matt Smith.
"Words can't describe how pumped up I am to represent Kandy Magazine at my hometown race. Kandy Magazine is offering me a golden opportunity and I'm very thankful for it. My recent test session has us all really excited and I'm ready to roll", added Angie Smith
The management of Kandy has been involved in motorsports marketing since 1997. The team has successfully married corporate brands, rock stars, and icons with top NHRA race teams. Now, the team is applying 17 years of motorsports marketing experience to one of its favorite race teams, Matt Smith Racing and Angie Smith.
"The Kandy team is very excited to be bringing its' brand and worldwide fans to the world of motorsports. Angie Smith and Matt Smith Racing are the ideal team for Kandy – successful, entertaining, and sexy", said Ron Kuchler, President of Kandy Magazine.
"I have been combining rock stars and racing for over 15 years with the NHRA. With the success of such programs as Motley Crue, Santana, Disturbed, Black Label Society, Meatloaf, George Thorogood, Steve Miller, and most recently bringing Jagermeister to the track, it was fitting we're finally bring our own brand to the party", said Bill Nychay, Vice President of Marketing of Kandy.
In addition to the sponsorship, Kandy Magazine will be doing a monthly feature on the NHRA to spread awareness to a worldwide audience.
Kandy Magazine is the fastest growing men's lifestyle brand in the world, covering the latest in movies, music, tech, sports, and of course the famous Kandy Girls. Its' magazine app was ranked #1 in the world on iTunes in January 2014 and is downloaded in 140 countries.
For more information contact:
Kandy Magazine
Steve Scala
Vice President of Communications
310-425-3452
pr@kandymag.com