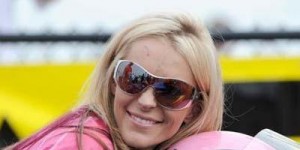 Angie Smith had a rough time out last weekend in Denver. Not qualifying for her first time this season, Smith hopes to put all that behind her and redeem herself in Sonoma.
With numerous electrical issues over the last few weeks with her Buell, Smith stayed and tested at the mile-high track. After working out a few bugs, Smith ran well and is more than ready to run in Sonoma this weekend.
"Last weekend was a huge disappointment," said Angie Smith. "We tested in Denver and sorted a lot of our issues out. I am pumped and ready for Sonoma. I hope to do all of our sponsors proud this weekend."
With Best Tech Brands, FastSharkSupply.com, Red Line Oil, Wilson Concrete and Senecal Construction helping the Smith duo out, the husband and wife team hope to bring it home this weekend.