Pro Stock Motorcycle veteran Angelle Sampey rode the victory on Sunday at the DeWalt NHRA Carolina Nationals at zMAX Dragway.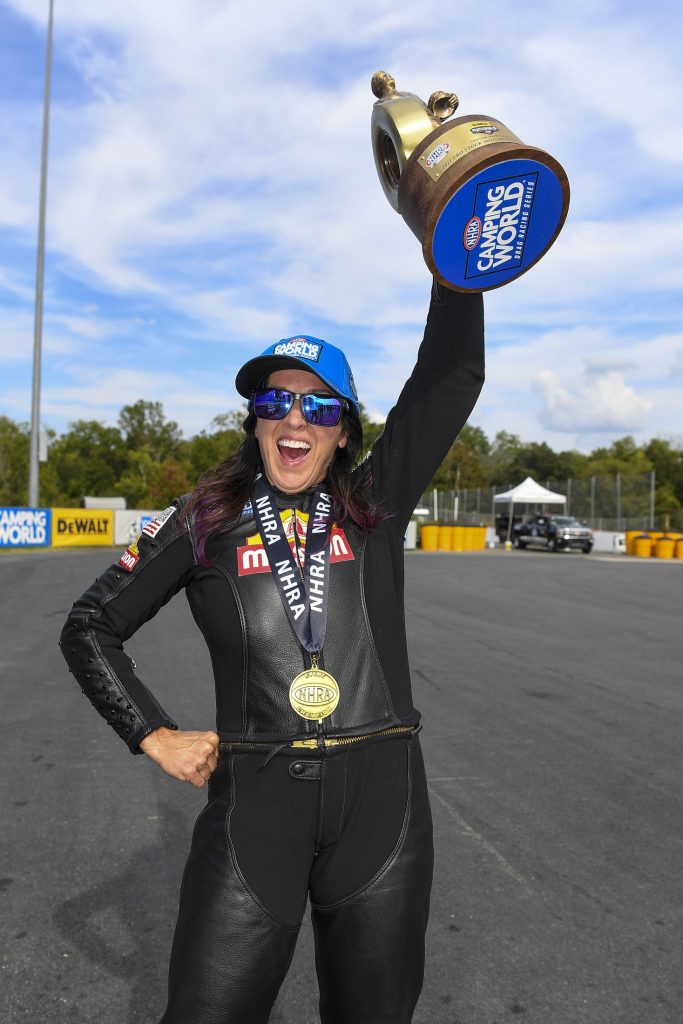 After coming close on a couple recent occasions, Sampey broke through with the victory in the final round in Pro Stock Motorcycle, chasing down Joey Gladstone with a run of 6.861 at 196.62 on her Mission Foods/Vance & Hines Suzuki. Sampey was late on the starting line, but she had enough at the finish line to slip past Gladstone, earning her first win this season and 44th in her career. She took out Ryan Oehler and then teammates Andrew Hines and Eddie Krawiec to reach the final round, also moving to second in points behind Steve Johnson.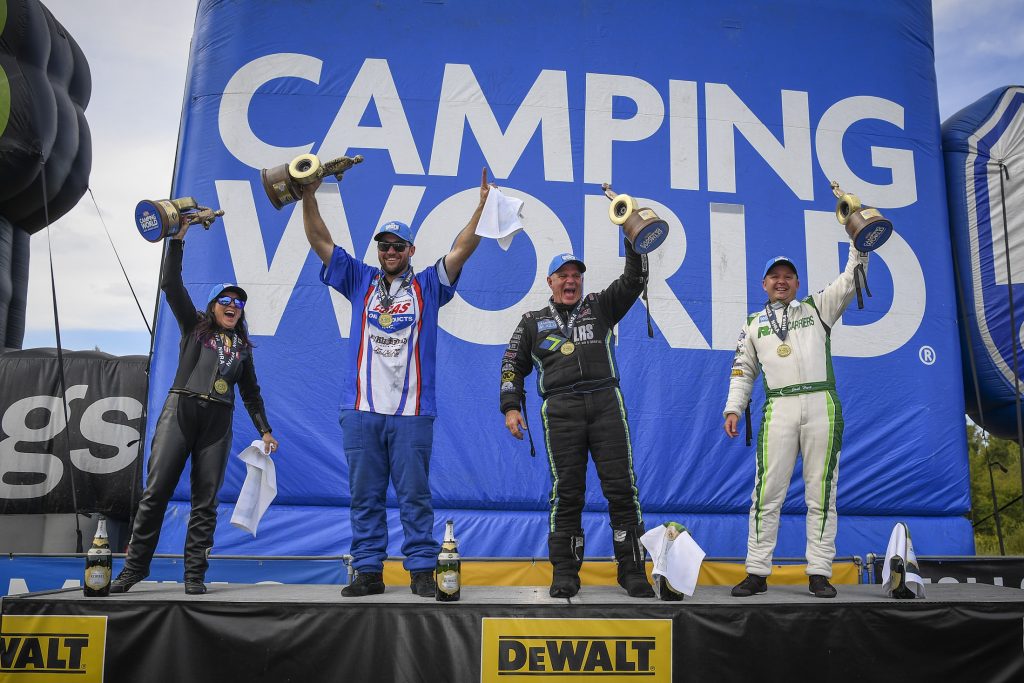 "I've struggled this year on the Suzuki. It's been a rocket ship and I'm getting close to where I need to be," Sampey said. "This race, I didn't think I was going to make it to the final. I wanted to win it for my team and I feel like we raced our butts off today. I'm very excited and proud to have my win light come on, and I definitely dedicate this Wally to southern Louisiana."
Gladstone reached the finals for the second time this year after defeating Jianna Salinas, Cory Reed and points leader Johnson. Sampey pulled to within 17 points of Johnson, with defending world champ Matt Smith 30 points back.
The NHRA Camping World Drag Racing Series returns to action Sept. 24-26 with the NHRA Midwest Nationals at the World Wide Technology Raceway in St. Louis.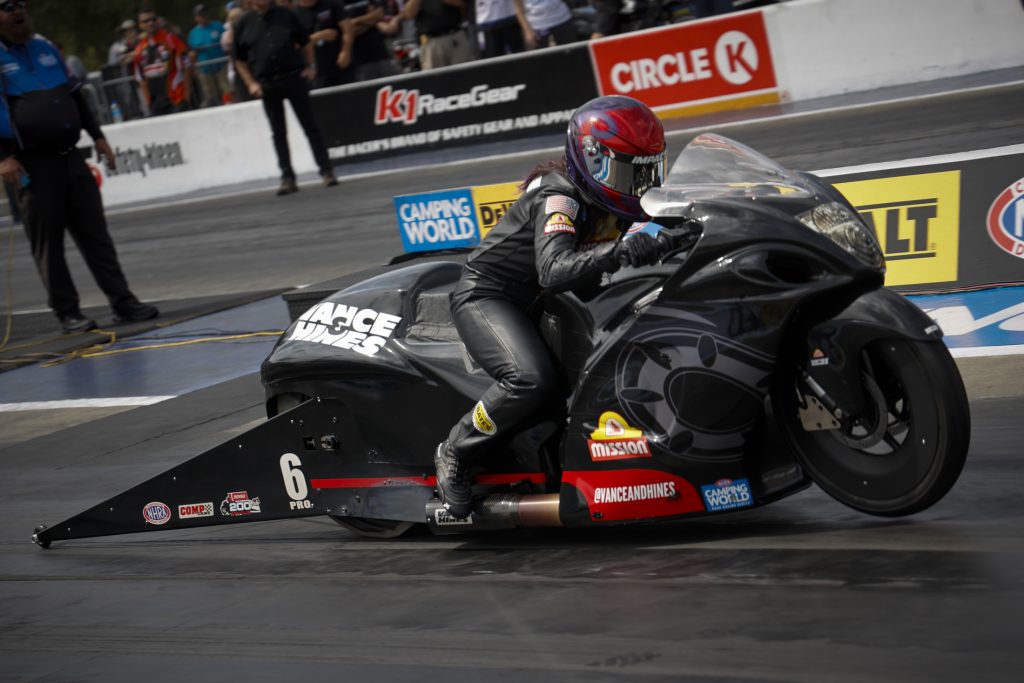 ROUND ONE — Scotty Pollacheck, 6.921, 196.24 def. Angie Smith, 6.998, 193.63; Andrew Hines, Buell, 6.964, 194.91 def. Kelly Clontz, Suzuki, 7.025, 189.63; Eddie Krawiec, Buell, 6.913, 195.59 def. Jim Underdahl, Suzuki, 7.009, 192.60; Cory Reed, Suzuki, 7.018, 190.81 def. Karen Stoffer, Suzuki, Foul – Red Light; Joey Gladstone, Suzuki, 6.912, 194.07 def. Jianna Salinas, Suzuki, 23.478, 91.50; Steve Johnson, Suzuki, 6.867, 194.80 def. Chris Bostick, Broke – No Show; Angelle Sampey, Suzuki, 6.848,
195.79 def. Ryan Oehler, 6.979, 194.27; Matt Smith, 6.833, 199.97 def. Michael Phillips, Suzuki, 7.023, 190.32;
QUARTERFINALS — Gladstone, 6.949, 193.24 def. Reed, 6.937, 192.47; Johnson, 6.830, 196.99 def. Pollacheck, 6.915, 194.97; Sampey, 6.907, 193.85 def. Hines, 6.901, 195.51; Krawiec, 6.952, 197.02 def. M. Smith, Foul – Red Light;
SEMIFINALS — Sampey, 6.863, 194.94 def. Krawiec, 6.905, 197.54; Gladstone, def. Johnson, Foul – Centerline;
FINAL — Sampey, 6.861, 196.62 def. Gladstone, 7.156, 154.81.
Pro Stock Motorcycle Points
1. Steve Johnson, 2,272; 2. Angelle Sampey, 2,255; 3. Matt Smith, 2,242; 4. Eddie Krawiec, 2,233; 5. Scotty Pollacheck, 2,177; 6. Joey Gladstone, 2,171; 7. Cory Reed, 2,125; 8. Angie Smith, 2,122; 9. Karen Stoffer, 2,117; 10. Andrew Hines, 2,110.
There are more videos on the Cycledrag Youtube channel (please subscribe here) and the Cycledrag.com Facebook page (Please like here) and more will be coming soon. Check back daily.
To take advantage of some amazing discounts at Brock's Performance, click – http://brocksperformance.com?aff=12
USE cycledrag5 coupon code.