Five-time world champion Andrew Hines rolled to his second straight victory on Sunday with a win at the 39th annual Arby's NHRA Southern Nationals at Atlanta Dragway.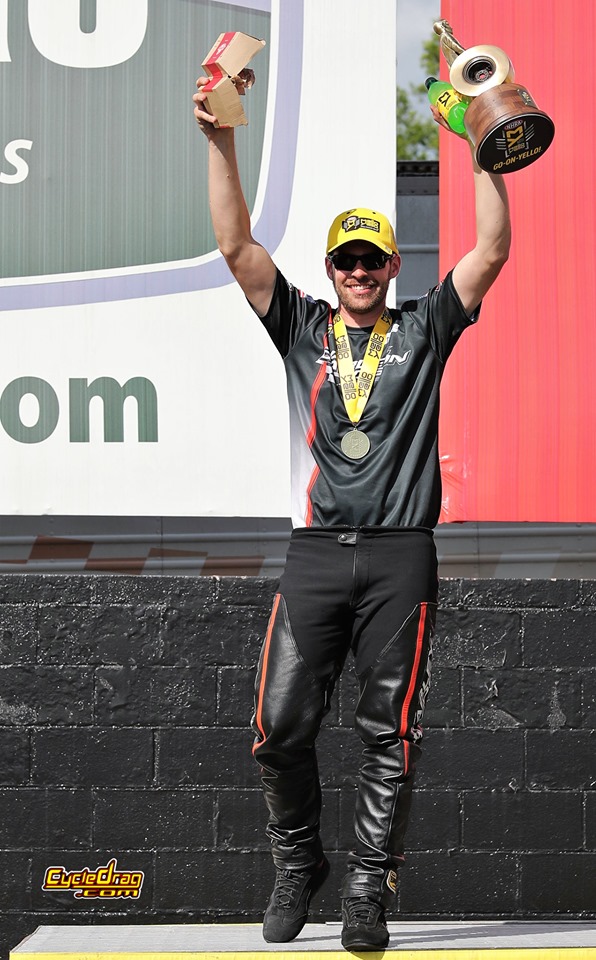 Hines earned his second straight victory, third overall of 2019 and 51st in his career after going 6.865 at 195.05 on his Screamin' Eagle Vance & Hines Harley-Davidson to defeat Jerry Savoie in the final round. It also marked the 100th career win for Harley-Davidson in the class, a streak that Hines started with his first career victory in 2004.
It was another noteworthy accomplishment for Hines, who became the first rider to claim 50 wins in the class last weekend and has three victories in four races to open the 2019 Pro Stock Motorcycle season. The class points leader beat Melissa Surber, Ryan Oehler and Hector Arana Jr. to reach the final round.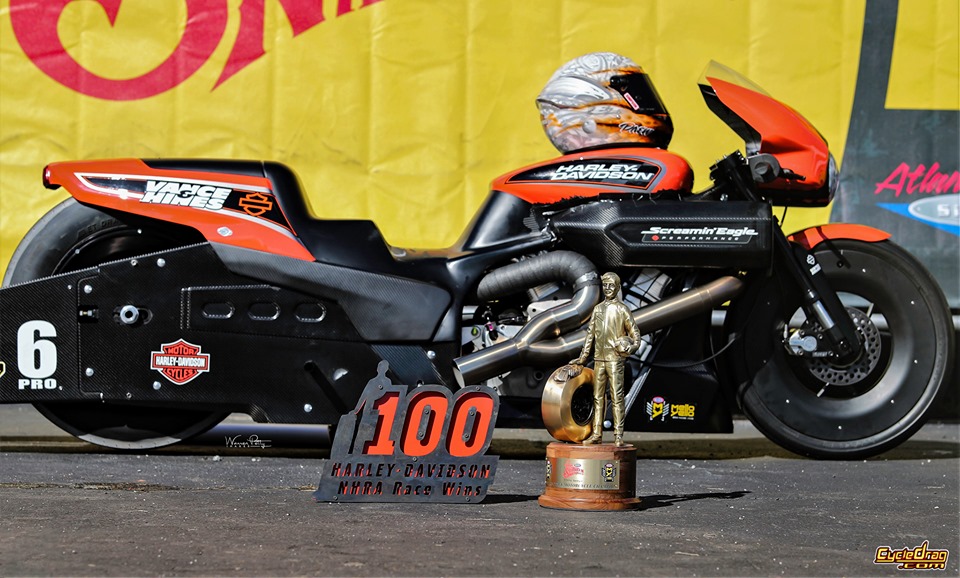 "It was a good day and my motorcycle is nothing like I've ever had in my career," said Hines, who now has three wins at Atlanta Dragway. "It's working really well and doesn't do much wrong. All in all, it was a fantastic day. To get 100 wins for Harley-Davidson, it's monumental. It was a very big struggle at first, and there's been trials and tribulations, but it's really nice to get the 100th."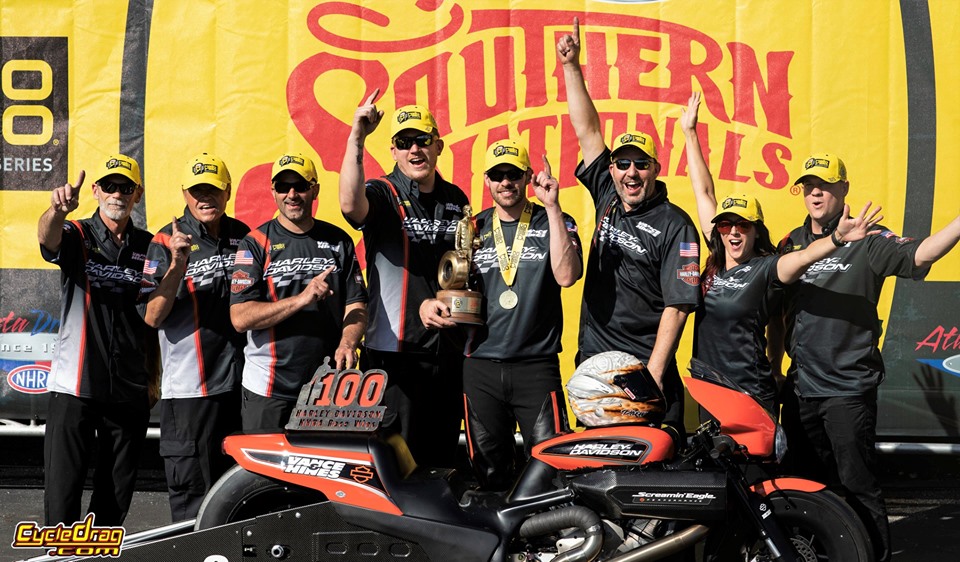 Savoie knocked off Cory Reed, Steve Johnson and Eddie Krawiec en route to the finals.
There are more videos on the Cycledrag Youtube channel (please subscribe here) and the Cycledrag.com Facebook page (Please like here) and more will be coming soon. Check back daily.
The Mello Yello Drag Racing Series continues May 17-19 with the Virginia NHRA Nationals at Virginia Motorsports Park in Richmond, Va.
ROUND ONE — Karen Stoffer, Suzuki, 9.709, 87.09 def. Matt Smith, Foul – Red Light; Jerry Savoie, Suzuki, 6.916, 192.38 def. Cory Reed, 7.018, 191.00; Ryan Oehler, Buell, 6.927, 195.59 def. Joey Gladstone, 6.953, 192.08; Angelle Sampey, Harley-Davidson, 7.129, 157.45 def. Hector Arana, Foul – Red Light; Steve Johnson, Suzuki, 6.958, 190.00 def. Angie Smith, 6.987, 192.28; Hector Arana Jr, 6.974, 192.88 def. Scotty Pollacheck, 7.028, 189.76; Eddie Krawiec, Harley-Davidson, 6.917, 195.53 def. Kelly Clontz, Suzuki, 7.068, 190.11; Andrew Hines, Harley-Davidson, 6.872, 194.80 def. Melissa Surber, Buell, 7.011, 189.82; QUARTERFINALS — Arana Jr, 6.919, 194.49 def. Sampey, 7.264, 145.42; Savoie, 6.938, 187.96 def.
Johnson, 6.918, 192.25; Krawiec, 6.901, 195.22 def. Stoffer, Foul – Red Light; Hines, 6.881, 194.41 def. Oehler, 6.957, 194.80; SEMIFINALS — Savoie, 6.951, 192.77 def. Krawiec, 6.930, 194.07; Hines, 6.897, 193.99 def. Arana Jr, 6.913, 192.77; FINAL — Hines, 6.865, 195.05 def. Savoie, 6.919, 193.65.



Pro Stock Motorcycle Points
1. Andrew Hines, 444; 2. Eddie Krawiec, 366; 3. Hector Arana Jr, 356; 4. Matt Smith, 237; 5.
Jerry Savoie, 233; 6. Ryan Oehler, 211; 7. Karen Stoffer, 204; 8. Joey Gladstone, 170; 9.
Hector Arana, 169; 10. Angie Smith, 168.