There is fantastic news for Top Fuel Motorcycle competitors and fans as legendary racer Jimmy "Hulk" Brantley is getting closer to his much-anticipated return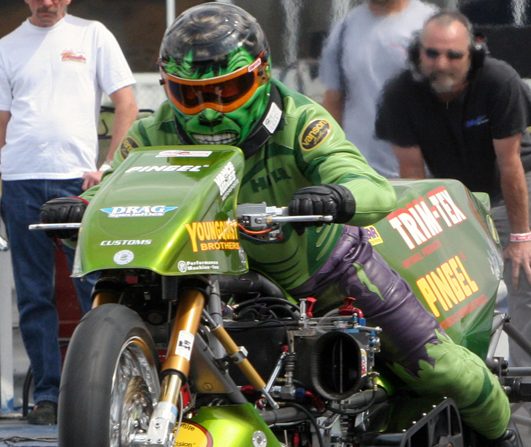 The 67-year-old accomplished competitor says it's time to go have some more fun.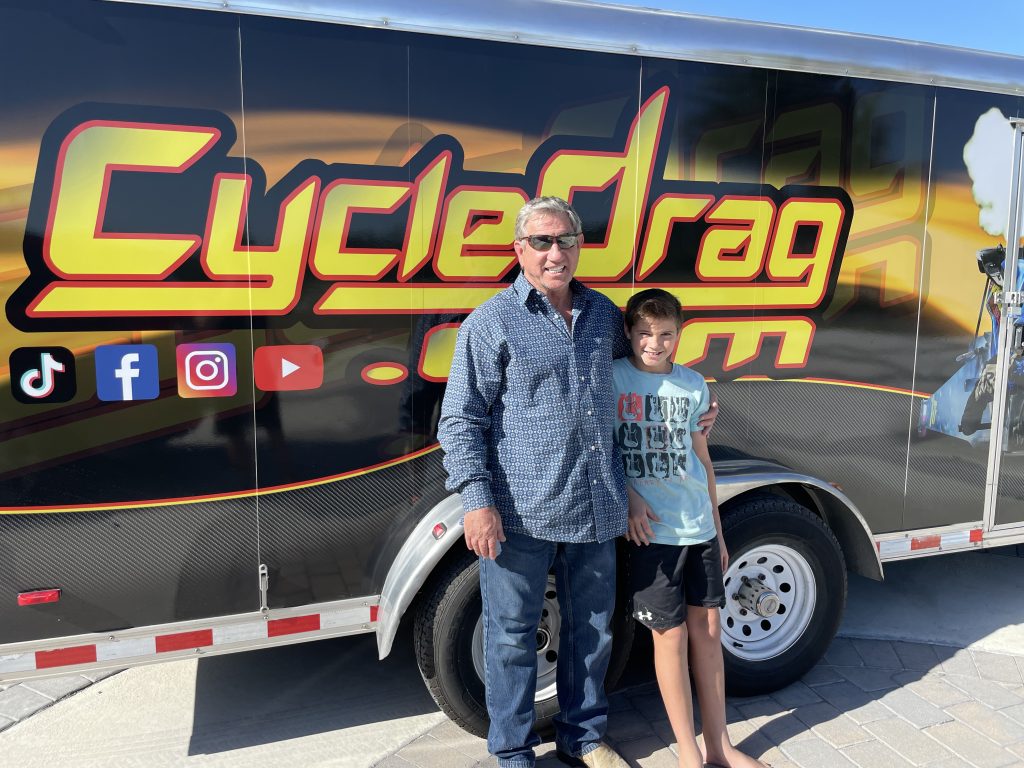 Cycledrag has long proclaimed Top Fuel Motorcycle drag racing is one of the most breathtaking and rousing spectacles in all of motorsports, and clearly, based on the reactions on Cycledrag Facebook and Youtube, legions of fans and enthusiasts wholeheartedly agree.
The dilemma for nitro two-wheel racing, on the Harley and metric side, has been the decline in participation over the years. It's evident the extraordinary type of bold and fearless rider with the financial wherewithal and desire to campaign a nitro motorcycle program is getting harder to find.
That's why the impending return of one of the greatest racers the category has ever seen is so marvelous for the sport as a whole.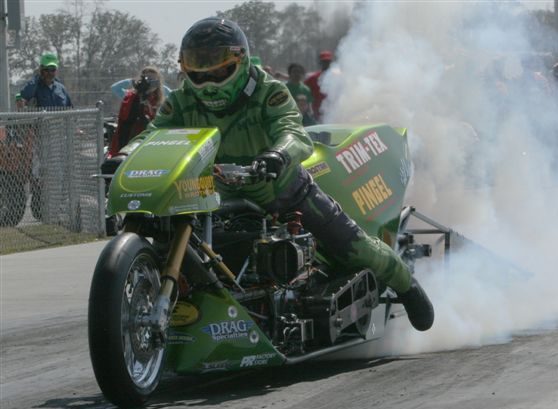 Brantley's time in Top Fuel Motorcycle was relatively short, 2000-2007, vis-a-vie legend and frontrunner Larry "Spiderman" McBride's staggering 40-plus year run, but Brantley made a colossal impact in the period in which he raced. In less than seven-years he swiftly carved out his place in the drag bike history books.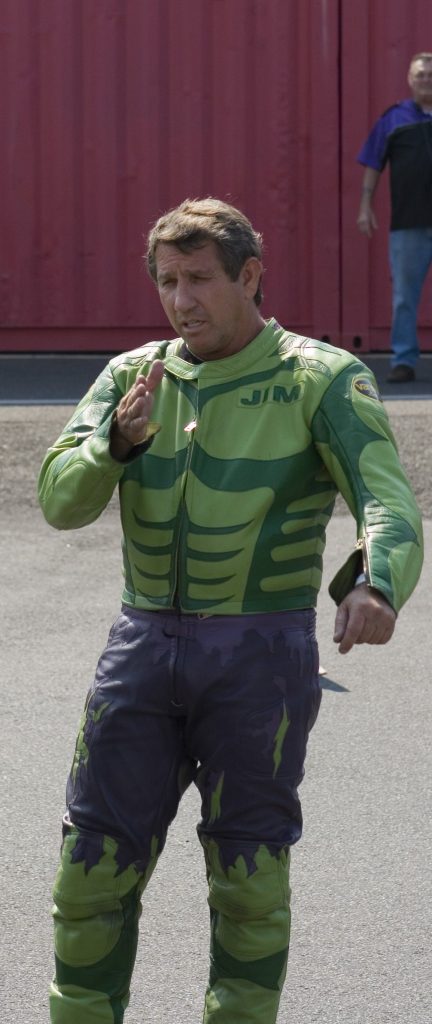 Brantley, the successful businessman and former Force Reconnaissance Marine of Ft. Myers, Fla. adapted to his Top Fuel Motorcycle at warp speed, becoming just the second rider to reach the elusive five-second zone, six years after his mentor McBride accomplished the historic feat at Houston Raceway Park in October of 1999.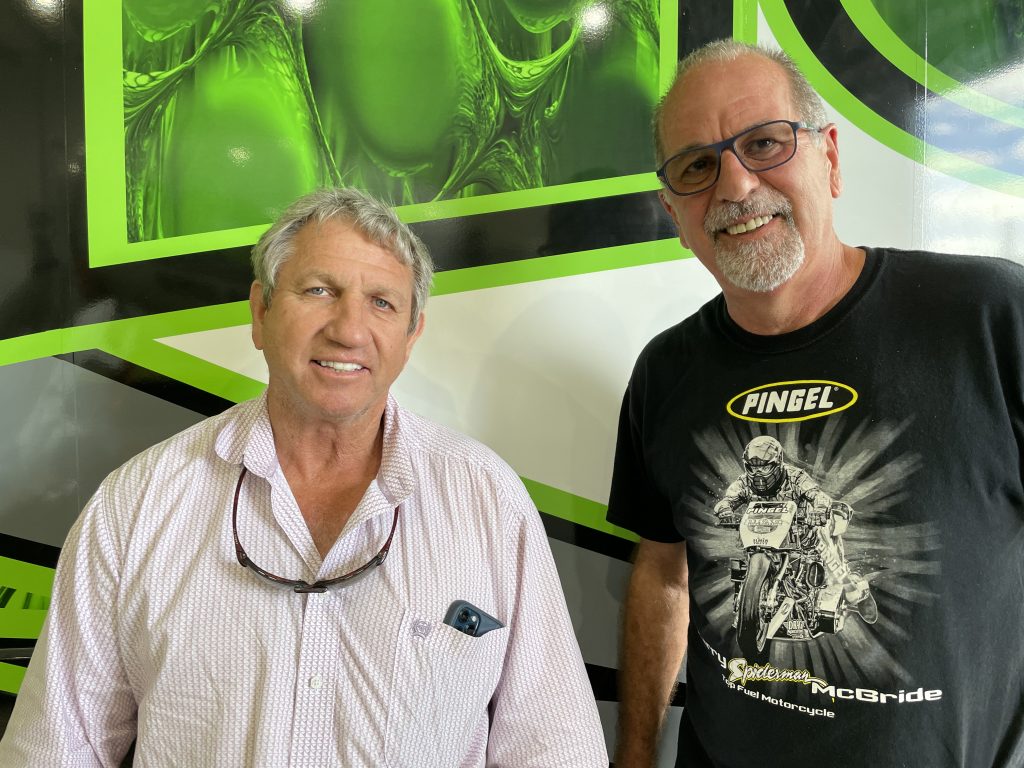 Brantley ended up breaking McBride's string of dominance over the series, by winning the 2005 AMA Prostar championship.
By the time Brantley decided to hang up the leathers and sell his bike to Australia's Chris "Nitro Voodoo" Matheson to concentrate on his business obligations, he had lowered his career best elapsed-time to a remarkable 5.80 with a top speed of 241 mph.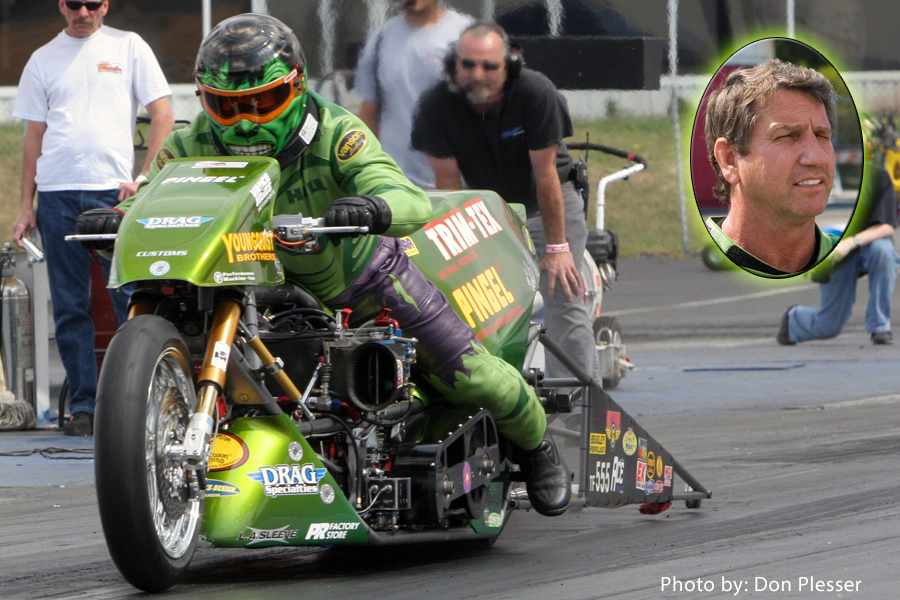 Those are marks that would make Brantley a top contender at any race today. It's uncanny to think it was 16 years ago that he put those types of numbers on the scoreboard.
Even more impressive is the story of how Brantley got started in Top Fuel. Many racers spend years, even decades carefully and methodically working their way up the ranks and gaining experience on a host of progressively fast wheelie-bar bikes.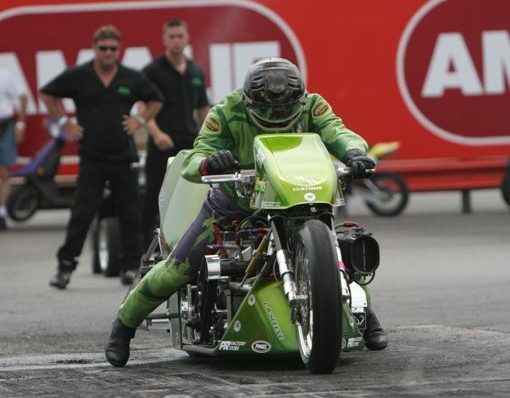 Brantley made a mere single national event appearance in Street ET on his Suzuki Hayabusa in 2000 at Gainesville Raceway at an AMA Prostar race before making the decision to take a giant leap into Top Fuel. This is the equivalent of a high school ball player going straight to the pros. It very rarely happens.
Brantley, armed with a great sense of humor, jokes about what was the motivating factor for his leap into nitro.
"I lost my first race to Debbie Knebel (ultra successful AMA Prostar ET racer) and I didn't like getting beat by a girl. I said, well there are no girls to beat me in Top Fuel," laughed Brantley.
Aside from his lone Hayabusa AMA Prostar appearance, Brantley had long owned a dirt bike and fast street bikes, but never participated in organized racing. He owned a legendary six-cylinder Honda CBX and had a fast Suzuki GS 1100 street bike with a Vance & Hines pipe.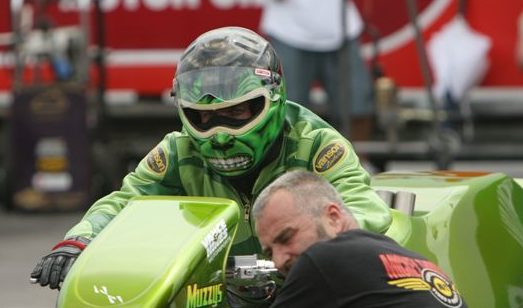 Those are great bikes to gain experience on but a far cry from a 1,200-horsepower-plus Top Fuel missile.
His seemingly seamless rapid and precipitous transition into the highest echelon of the sport remains staggering.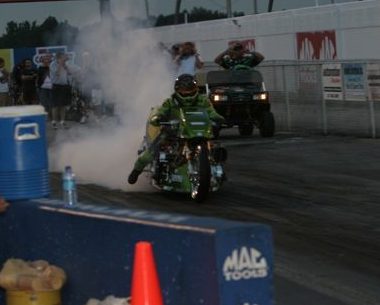 Brantley got his nitro start with late legend Brian Johnson of England and showed immediate promise and potential on the unique, robust motorcycle.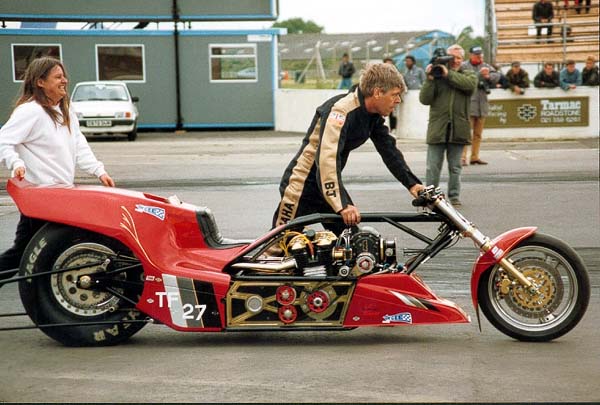 Unfortunately the team suffered a massive explosion in Atlanta in the Spring of 2001, which thankfully left Brantley unscathed, but put the motorcycle out of commission for months.
Brantley had met McBride the previous season and when he was left without a ride, he approached the Spiderman team to build him his very own motorcycle.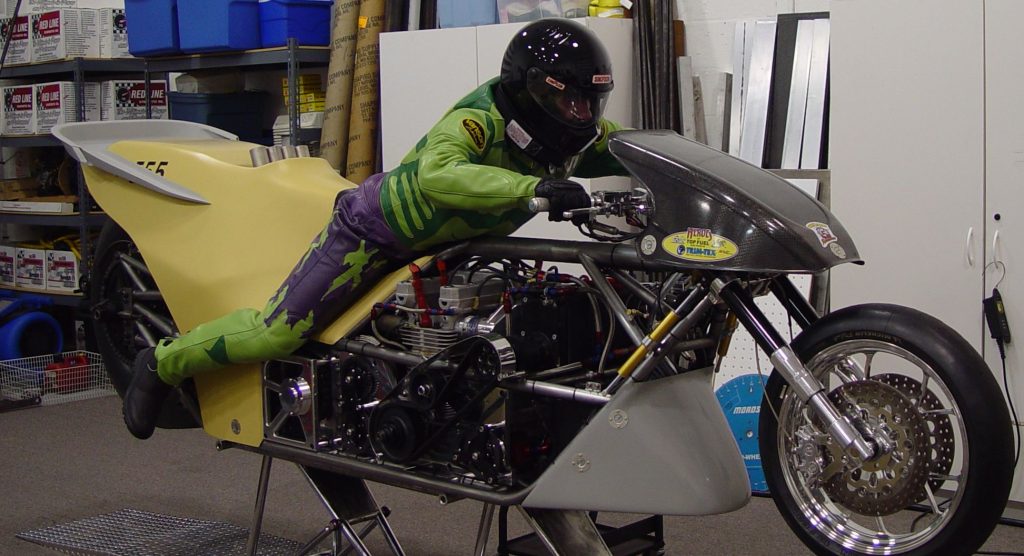 The McBride brothers don't typically produce turnkey bikes for just anyone. The way McBride and his skilled brother and crew chief Steve handcraft many components and meticulously quadruple check every detail makes constructing a bike an incredibly labor intense endeavor.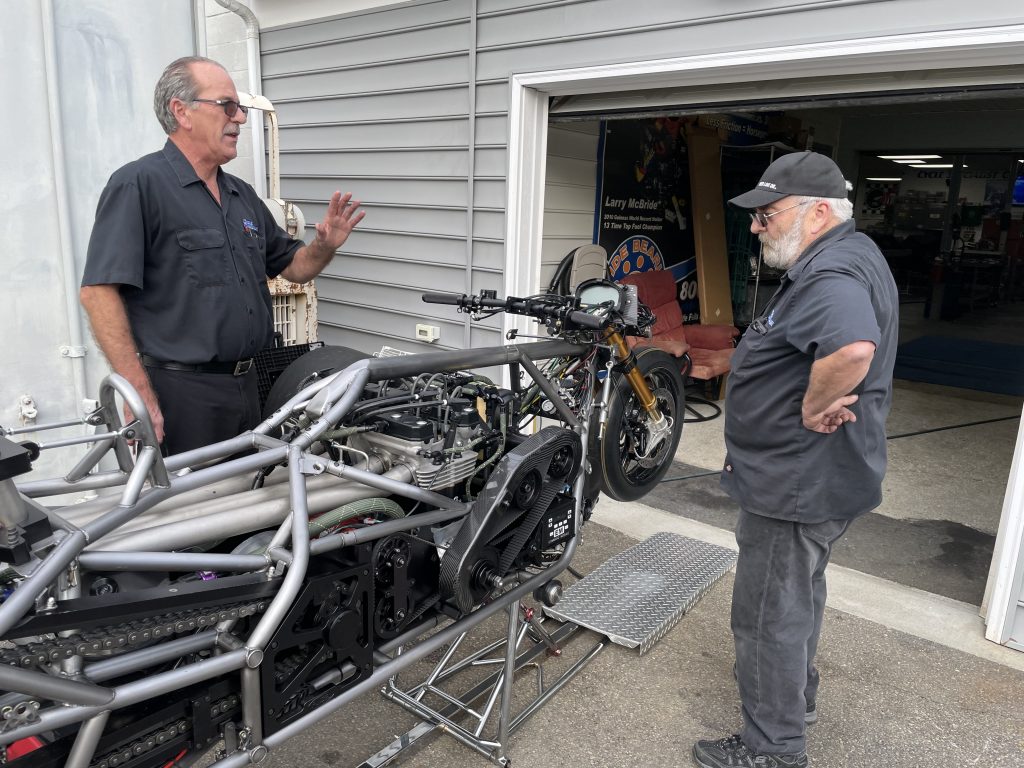 The lengthy and careful process creates a flawless motorcycle that comes out beautiful enough to enter any bike show.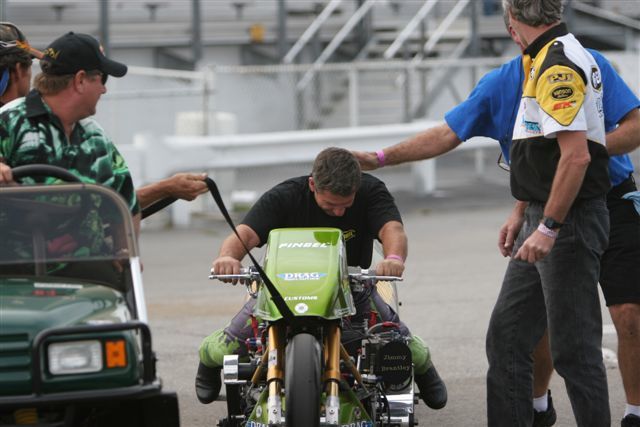 A new build requires the competitive brothers to sometimes take the focus off their own program, which is why they are so selective on the projects they take on and who they agree to work for.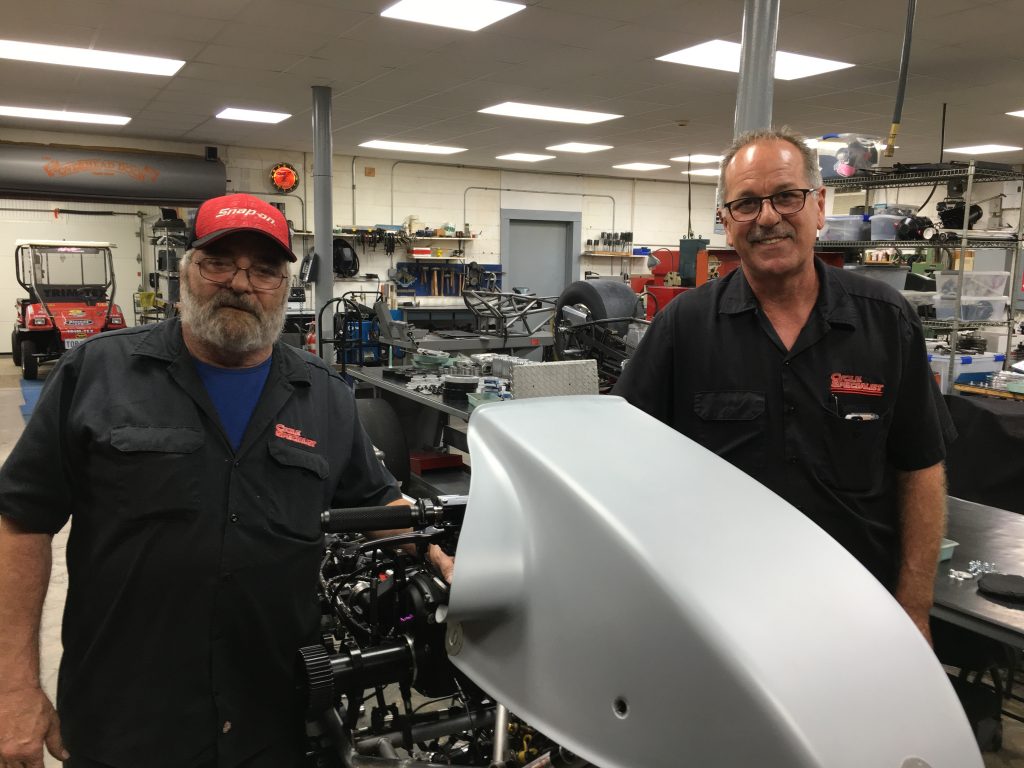 The Spider brothers did not need much convincing to team with Hulk as McBride quickly developed a rapport and bond with Brantley and recognized he was special.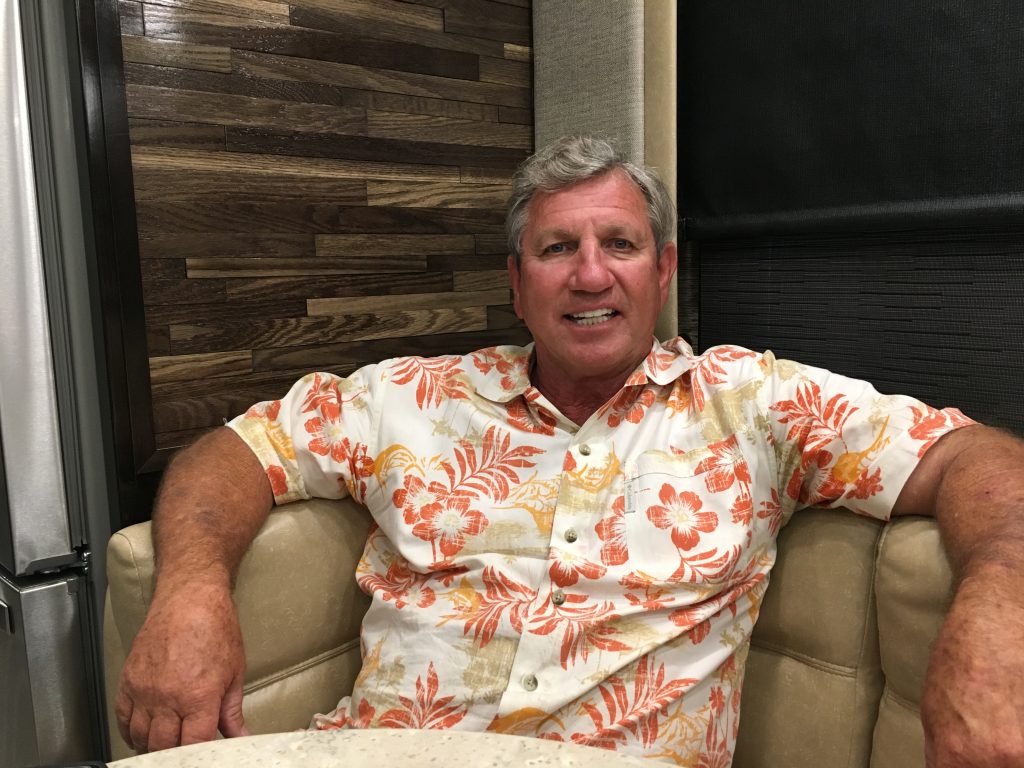 McBride knew right away Brantley had what it takes. Much in the same way Team Spiderman has forged a successful relationship with the ever-climbing, talented Dave Vantine, who has been a best 5.71 making him the second quickest active rider in the world, the fourth quickest ever.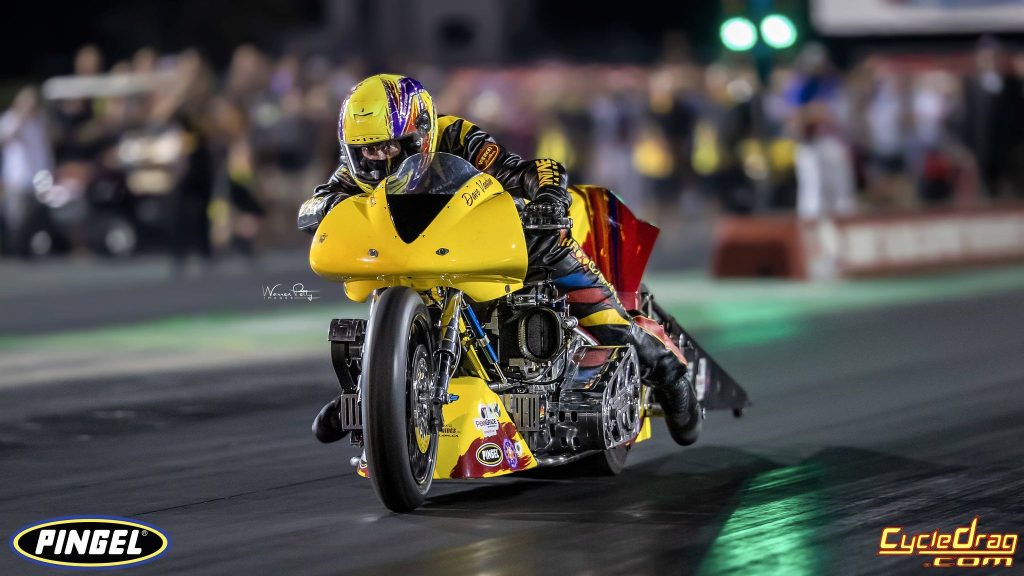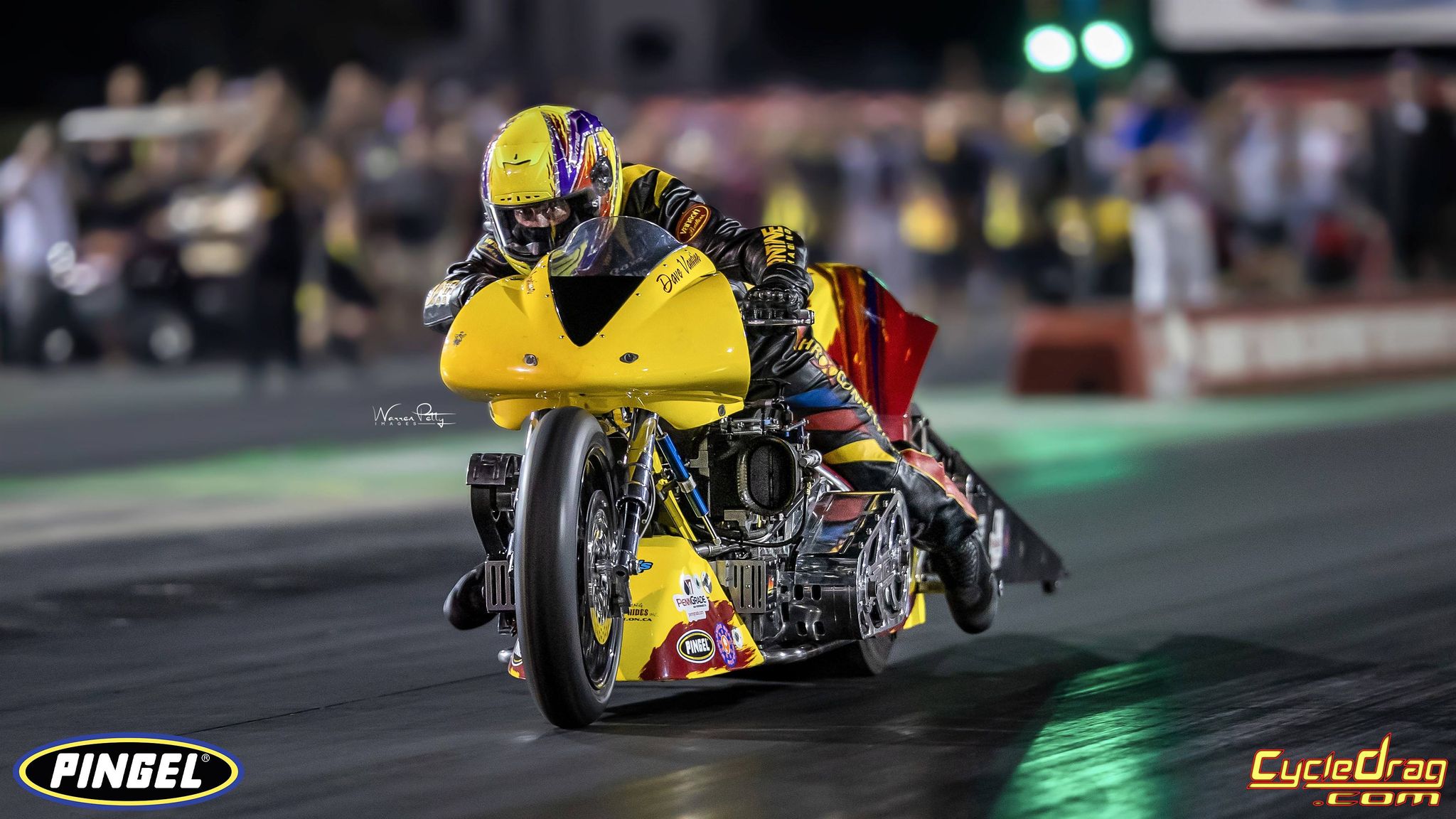 It has to be the right person for the McBride brothers to be involved, and the requirements have much more to do with just funding alone.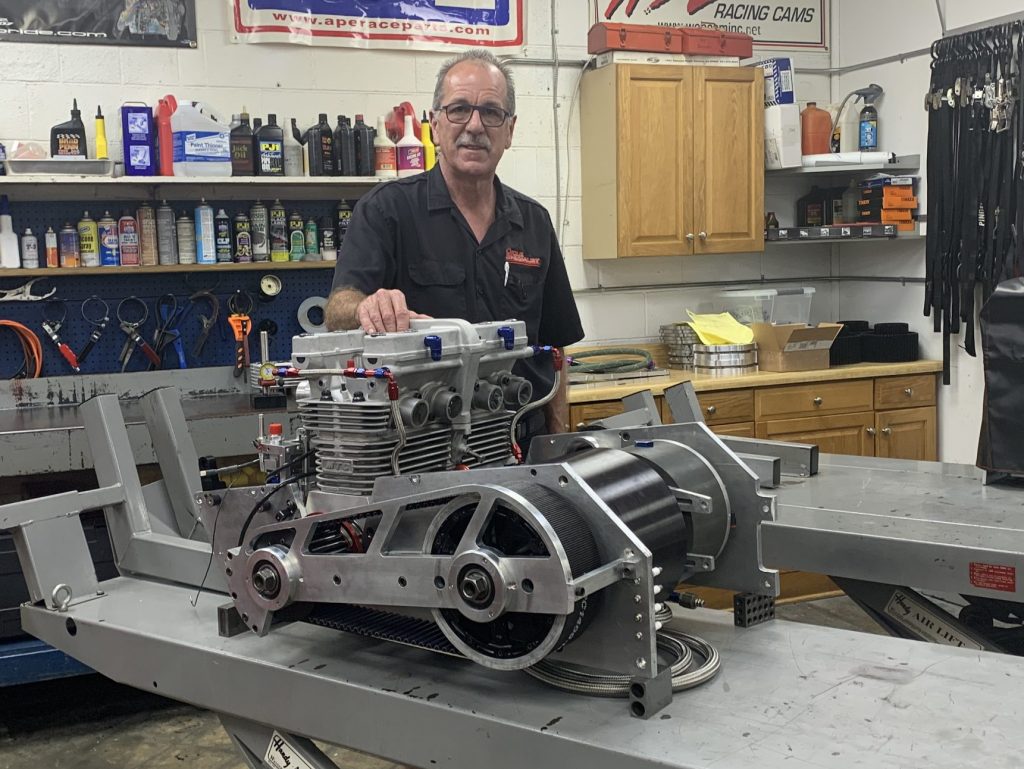 For McBride, working with "Hulk" proved to be an excellent decision as Brantley and McBride became a successful combination right from the outset.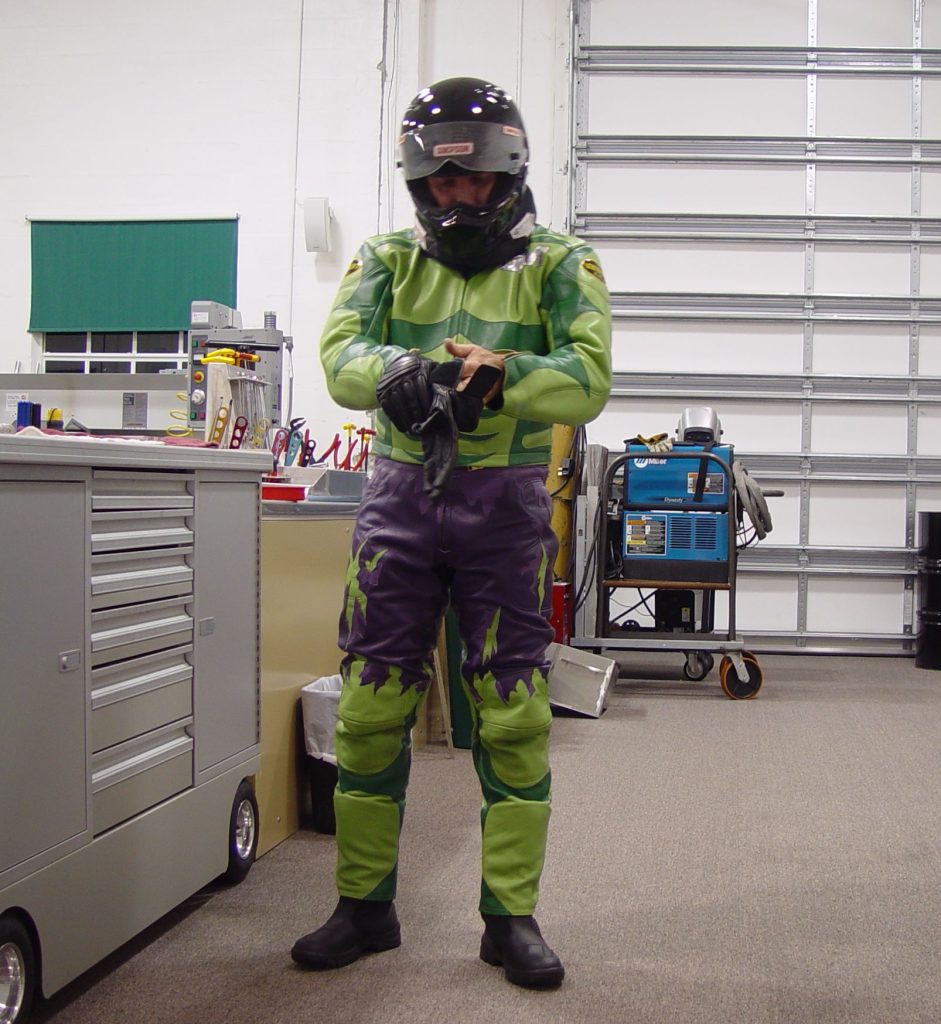 In fact when McBride unexpectedly suffered a stroke and was forced to take time off the bike to recover, he was able to really embrace the mentor / coach role, which saw Brantley, the astute, quick-learner thrive.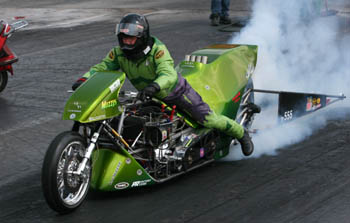 When Brantley decided to sell his motorcycle in 2007 it did not take long to find a buyer.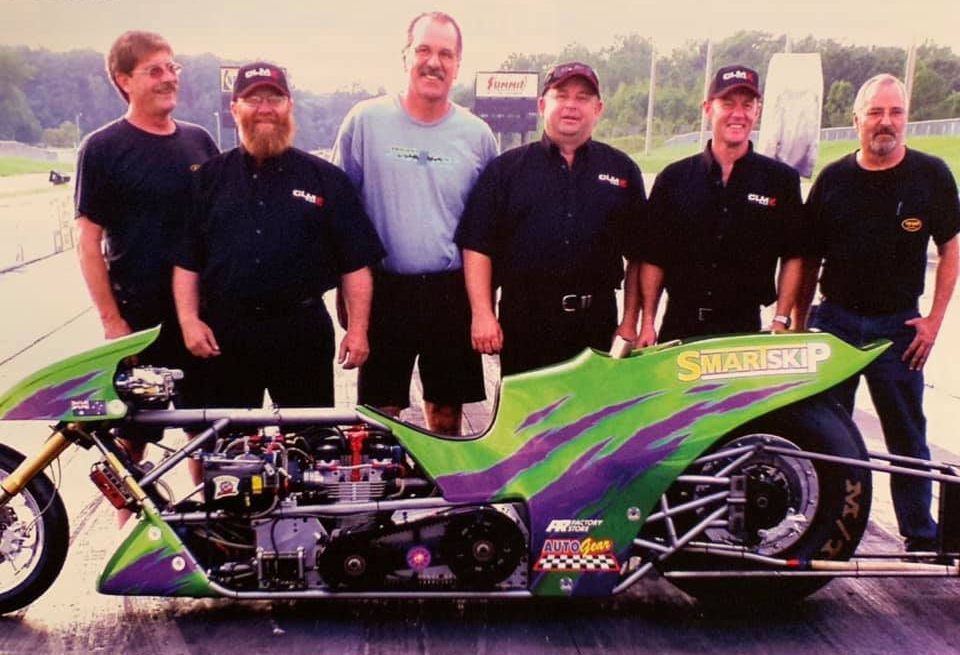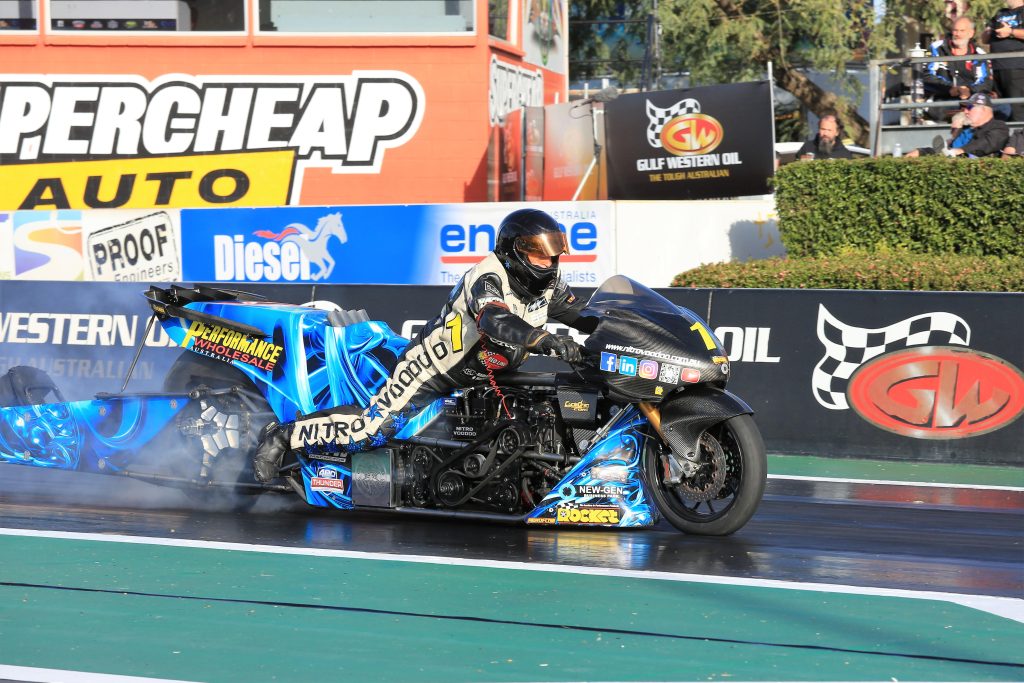 Hulk wasn't done just yet. About a decade after Brantley sold his bike, the McBride brothers began construction on a state-of-the-art Hulk build, utilizing everything they learned on their new record-smashing bike "Star", which holds the Top Fuel Motorcycle marks at an astonishing 5.50 at 268 mph.
Here are some stages of the new build, including a fresh new chassis by Ben Phaup.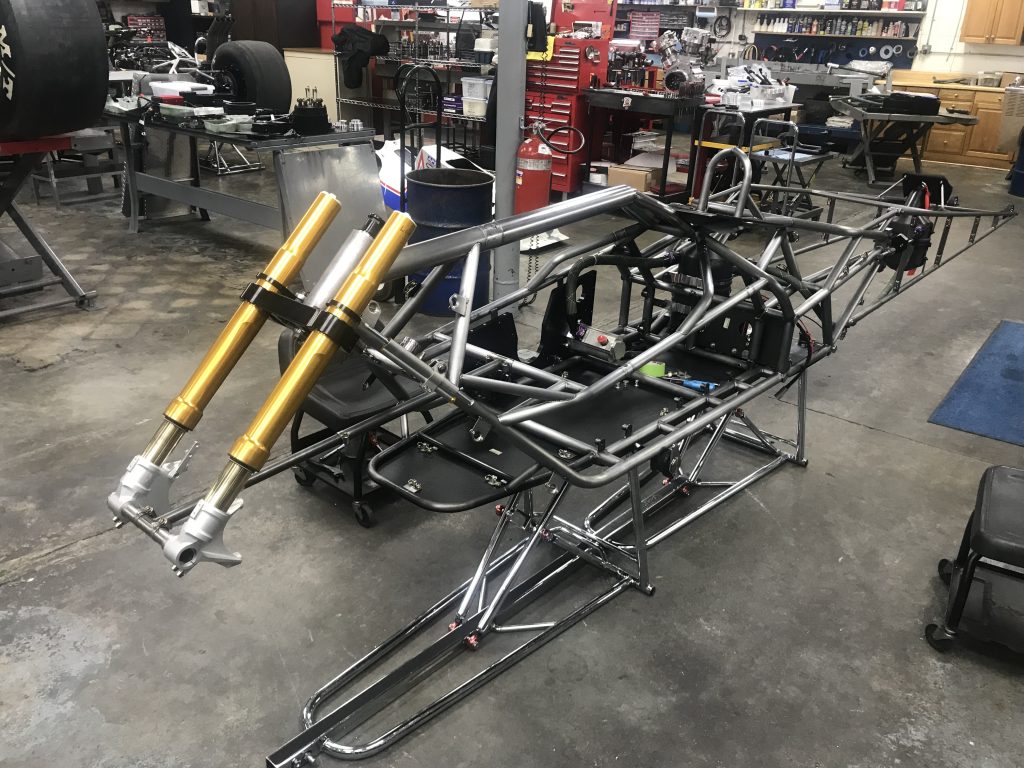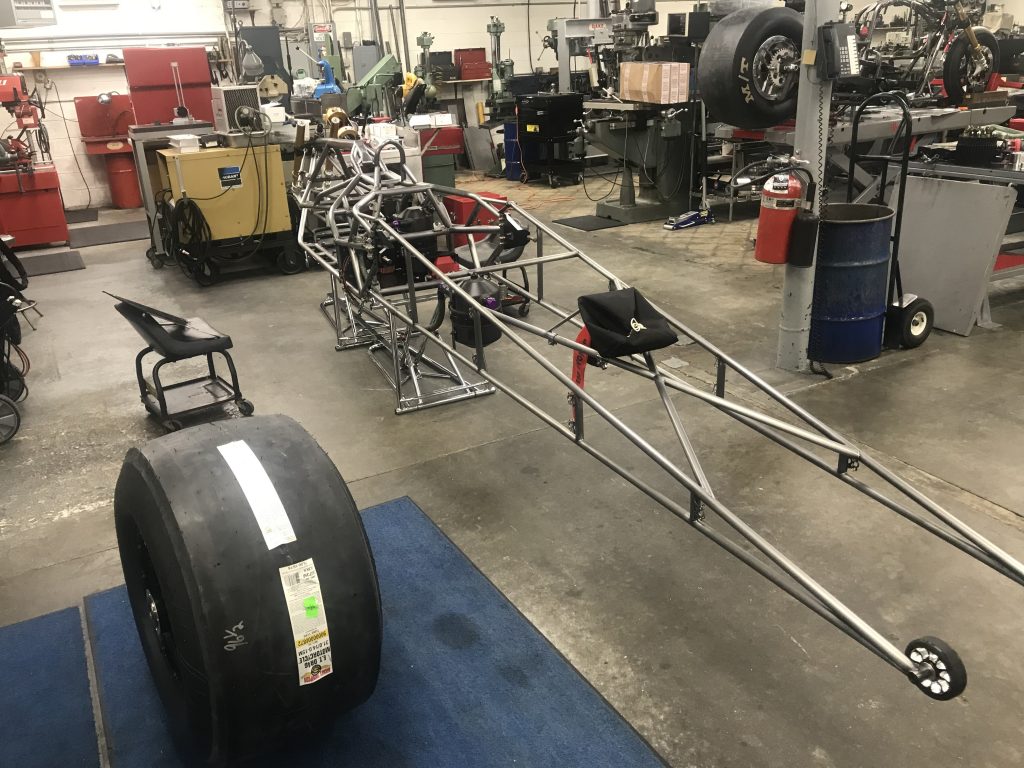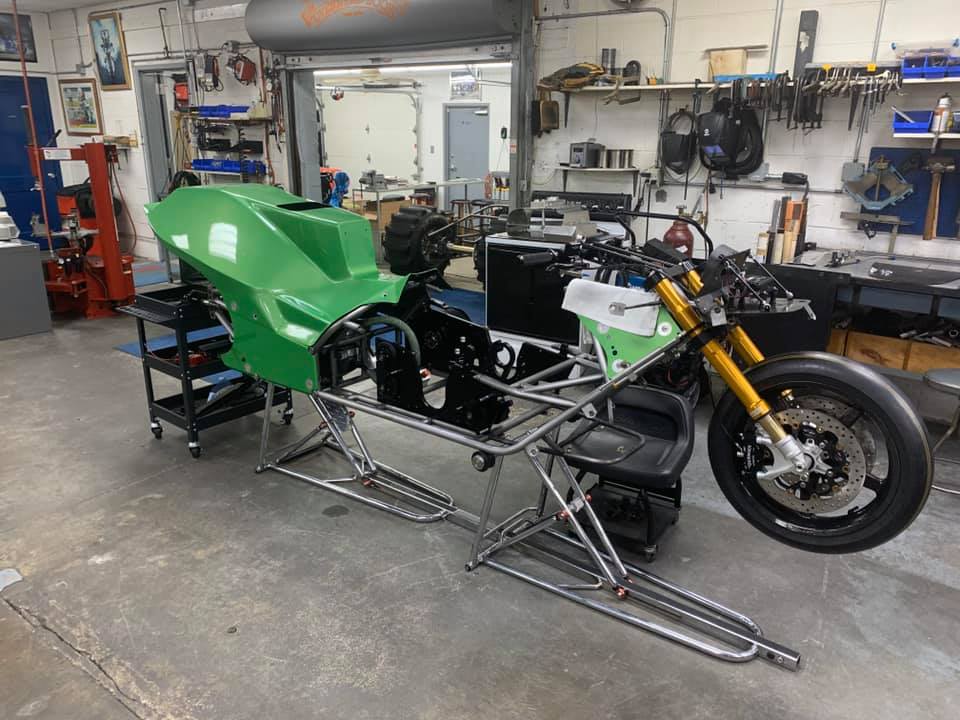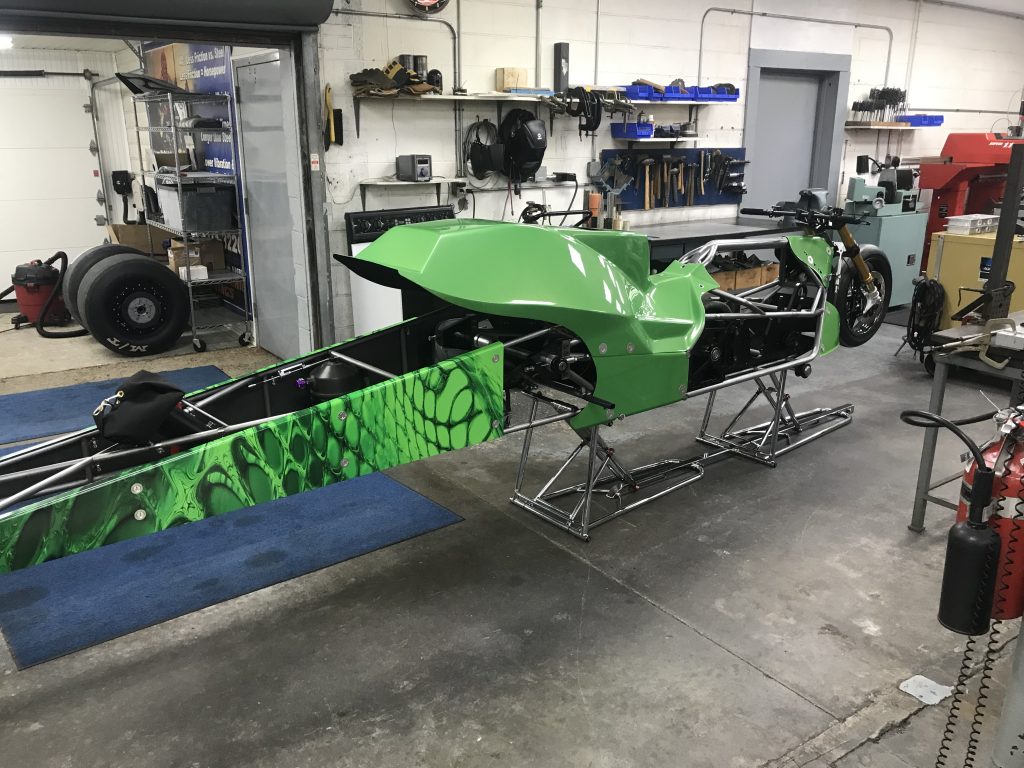 The masterpiece of a Fuel bike was completed in 2020 and Brantley was in no rush to return as he stood firm behind two goals that had to be accomplished before he could go drag racing again. Hulk said he needed to finish up pressing business obligations and he felt he needed to get in shape to handle the immense power of the new machine.
As the calendar turned to 2023 Brantley had accomplished exactly what he set out to do. He sold his successful and time-consuming concrete business and the fearless pilot had lost nearly 40 pounds by sticking to a very strict diet.
That led the former champ to McBride's Cycle Specialist shop in Newport News, Va. in January so that the McBride brothers could fine tune the new motorcycle to Brantley's stature, putting the foot pegs and handlebars in the precise, correct position.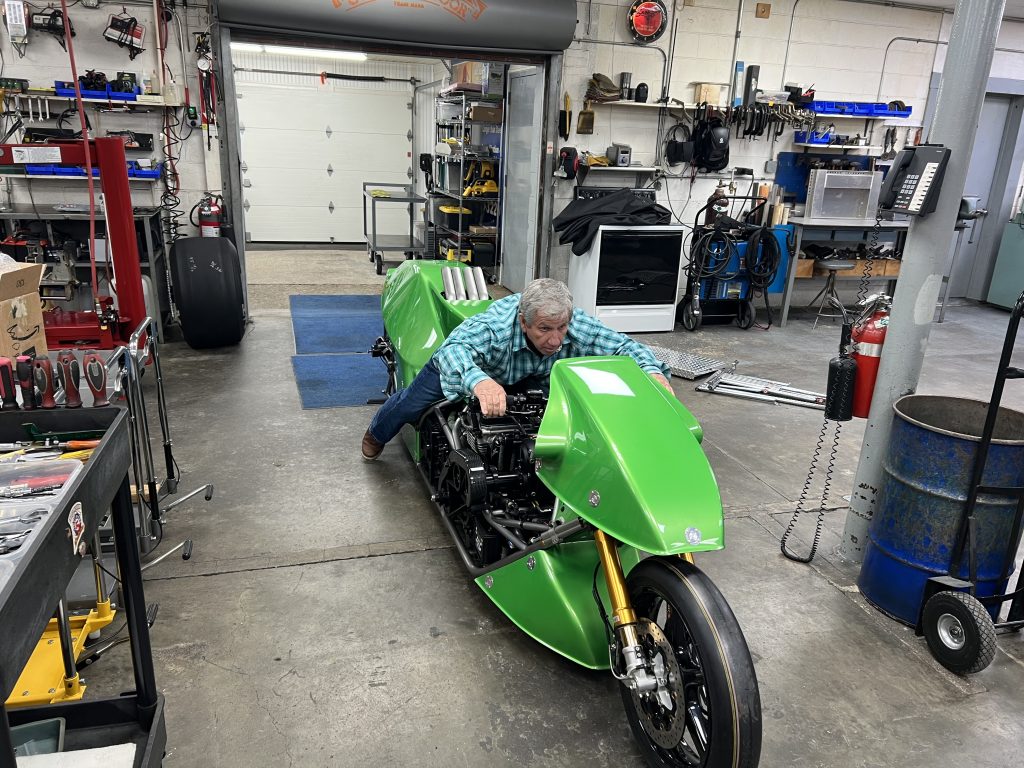 By the time they were done, Brantley loved the way his new bike felt.
"I'm actually a lot lower on this bike. I'm down in the pocket which will keep my head down lower (and out of the wind)," Brantley said. "Even with my head lower I can still see right over the top. It's a much better position"
Brantley is awaiting a new set of leathers and the next step will be to pick a date and location to test the bike. Even the haulers are ready for action.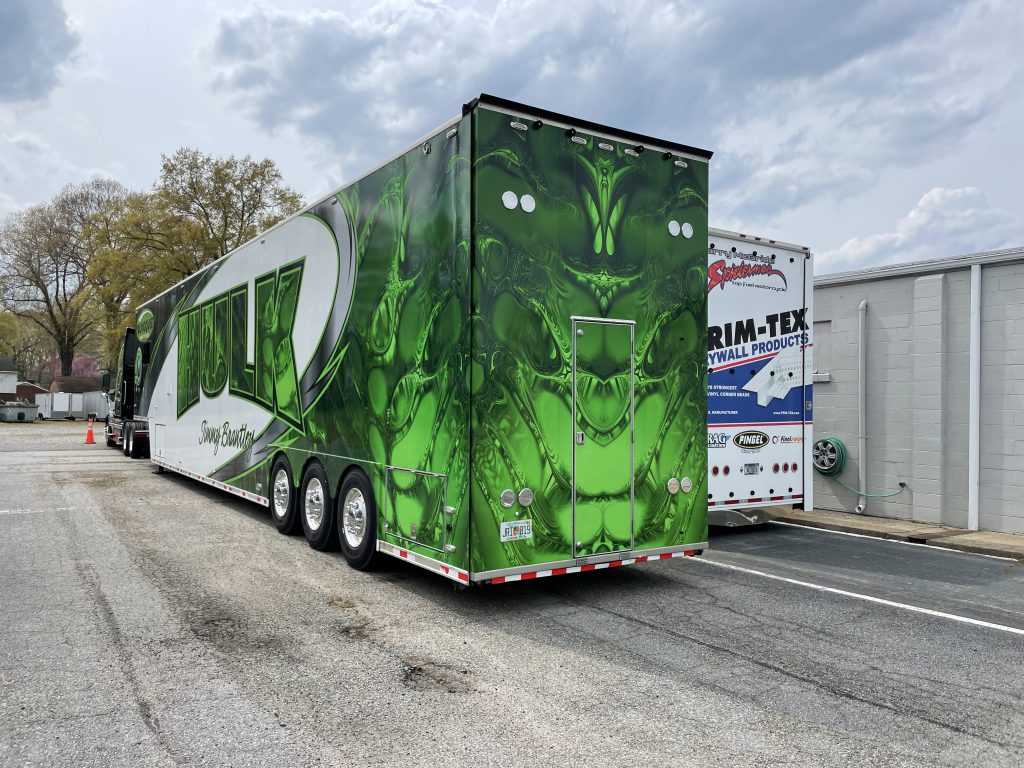 The goal is to slowly get acclimated as coach McBride stands firm that the transition back to nitro after a 16-year hiatus is one that must be done delicately and in stages.
Brantley shares the same respect for the motorcycle that his mentor does and has no plans of trying to go too fast, too soon.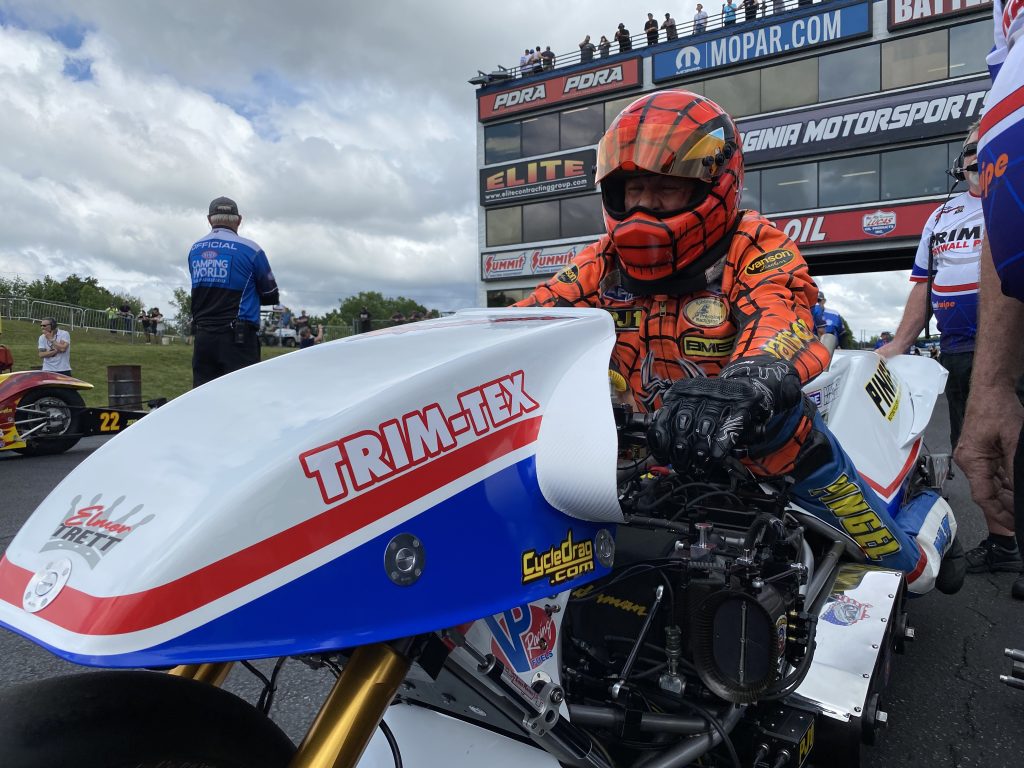 "We are going to start with short passes and see how it feels," Brantley said. "We will go as slow as we need to and take as many days as we need. Whatever Larry thinks is best is what we will do."
Like most of the motorcycle world, Brantley stands in awe of how far forward the McBride brothers have pushed the performance envelope in the 16 years he has been away. Brantley fully understands and appreciates how the motorcycle he is about to climb aboard is much more powerful than the one he got off of in 2007.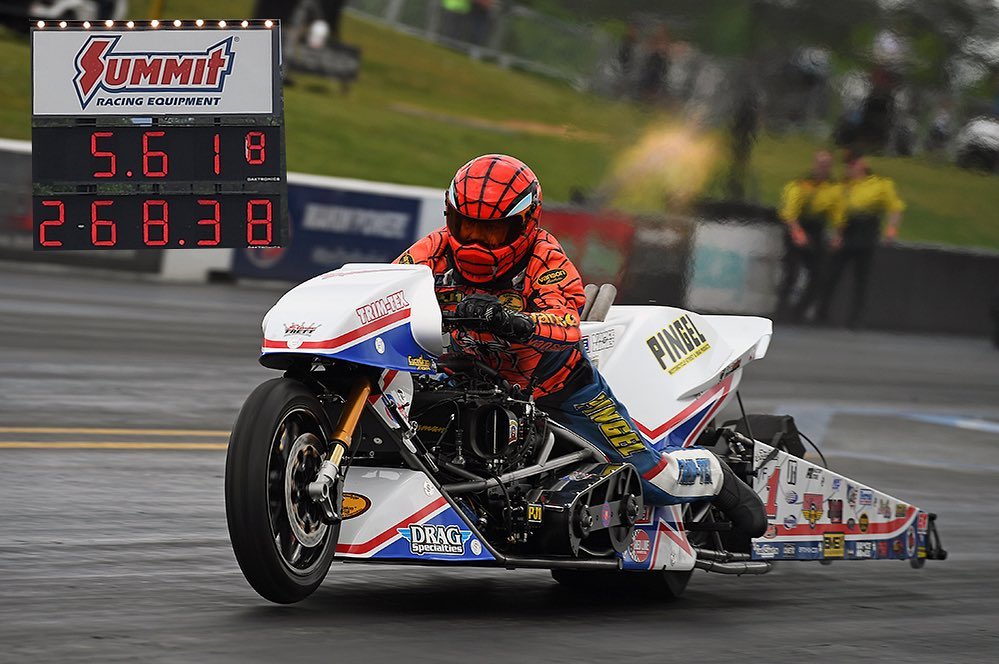 "It's hard to imagine that my motorcycle is now capable of those numbers (5.50, 268 mph). I thought we were at the top 16 years ago," Brantley said. "It's very impressive what they have done."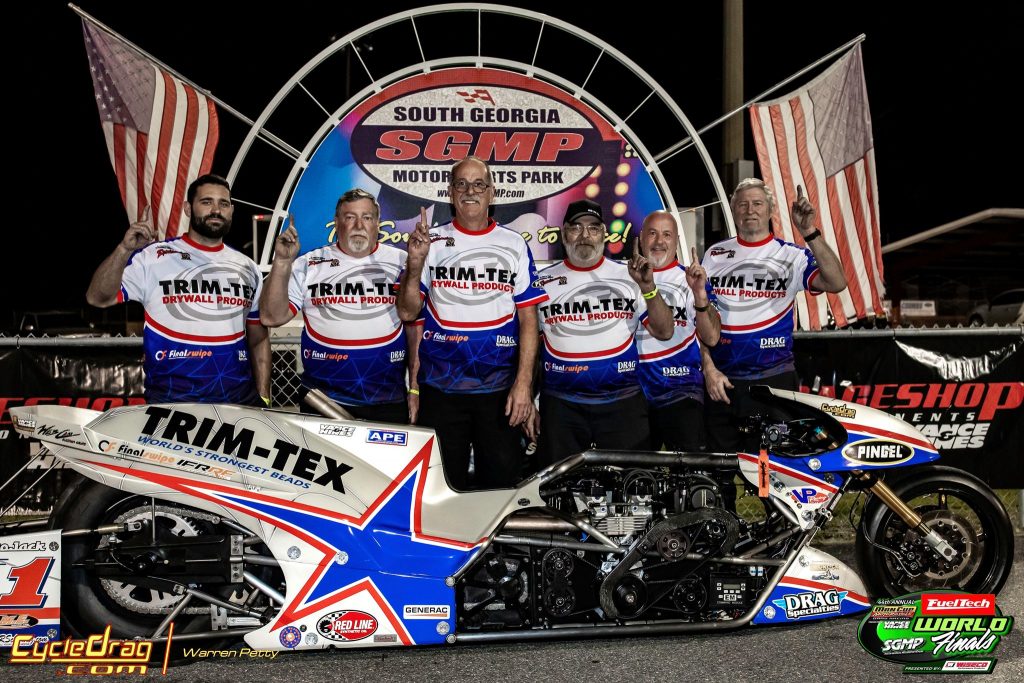 Brantley says he is open to running the bike in the eighth or the quarter-mile once he gets up to speed, but again, the soon-to-be-68-year-old is in no rush and has no performance goals. The objective is much less complicated this time around.
"The biggest thing is just to go out and have fun and hang out with Larry," Brantley said. "I'm not coming back out to try to beat Larry or anything. I just want to have a good time."
I think that's an attitude we can all get behind.
"I really want to thank everyone for all the positive comments and encouragement, and of course I really want to thank Larry and Steve McBride," Brantley said. "I'm very excited."
With the Top Fuel debut of Micah Fenwick last season, Vantine ready to unveil a new bike and possibly put another rider on his "Yellow Bullet", and now the return of Brantley, along with a new home for Top Fuel Motorcycle racing at prestigious NHRA National events, the future of the class looks brighter than it has in a long time, no matter how quick or fast anyone goes.
More participation is a wonderful thing.
Please join us in welcoming back Jimmy "Hulk" Brantley.
There are more videos on the Cycledrag Youtube channel (please subscribe here) and the Cycledrag Facebook page (Please like here) and more will be coming soon. Check back daily.