The Pro Gas set their sights high at Rockingham Dragway for the AMRA finals, Oct. 17-18. This class showcases the AMRA's fastest and quickest gas powered drag bikes and put on one hell of a show.
Mike Pearce set the bar high during qualifying and took the number one spot with a pass of 8.20 at 162.1 mph. Mike and his crew chief Tom Caldwell has been the number one qualifier for seven straight races this season.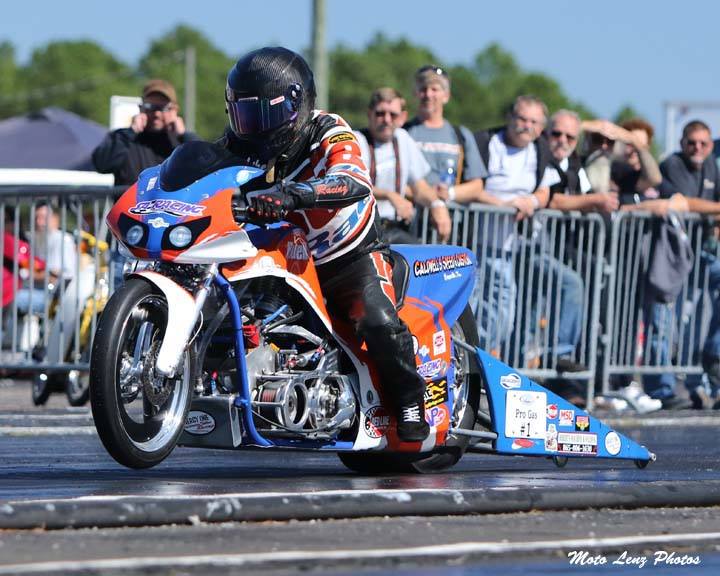 But right on their heels sat our number two qualifier Billy Doherty. Billy and his "Fear the Banana" ProGas bike laid down a very competitive pass, with an elapsed time of 8.21 at 159.4 mph. Now that's some tight competition.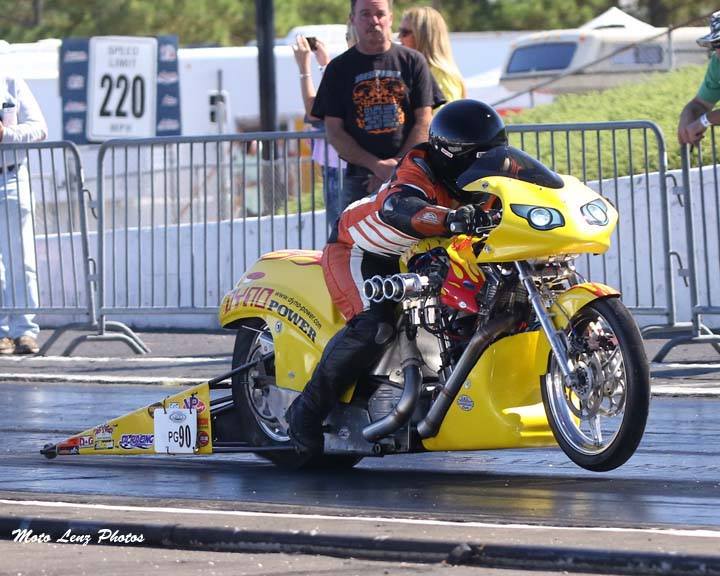 Shane Pendergrast also laid down some very impressive numbers and showed that he was here to play. Shane took the number three spot with a pass of 8.55 at 146.5 mph. Shane has really been improving these past few races and could be some real trouble here this weekend.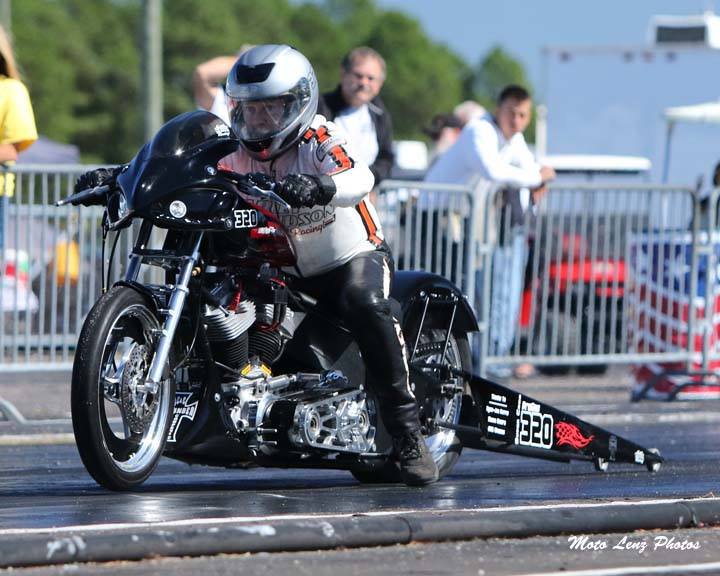 Keith Richner rounded out the class with a pass of 8.76 at 146.2 mph. Keith's bike has been running strong and will not be leaving without putting up a fight.
Sunday, Sunday, Sunday!!! The weather was cool, the track was sticky and everyone was thinking about running record numbers.
Mike Pearce and Keith Richner would face off first in this Pro Gas class. Keith got a holeshot start, but it wasn't enough to overtake the power of Mike's power plant of horsepower. Mike Pearce laid down the quickest time so fare of this weekend running an elapsed time of 8.16 at 161.7 mph, to Keith's 8.71 at 147.1 mph.
Next up we have Billy Doherty and his "Fear the Banana," Pro Gas bike and Shane Pendergast. Shane is hoping to live up to his team name, "Double Trouble" in this first round against Billy. Shane gets a hole shot start, but doesn't have enough to take down Billy. Billy runs and elapsed time of 8.32 at 155.36 mph.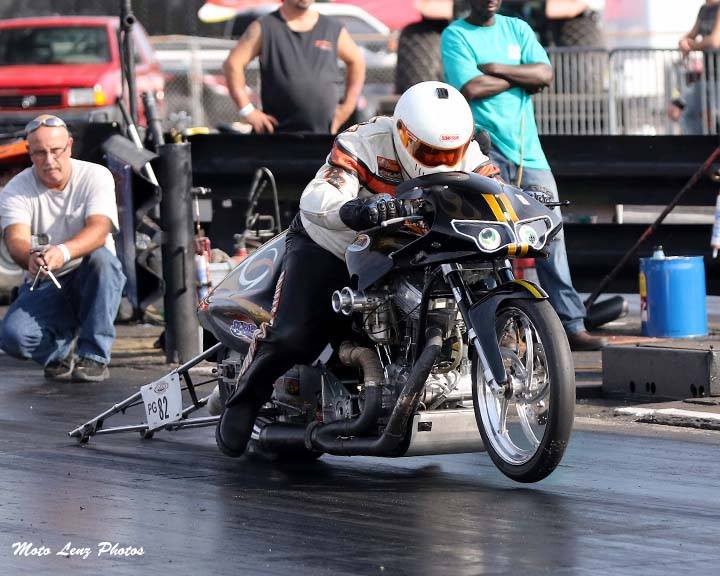 Shane ran one of his quickest times this past season, with an et of 8.51 at 152.0 mph. Shane will definitely be a contender next season, as he has been showing huge improvements.
It was now time for Billy Doherty to face off with Mike Pearce in this ProGas finals. The crowd watched with anticipation as these two rivals have been getting closer and closer all season long. Billy takes the hole shot start to this race but couldn't take down Mike Pearce. Mike Pearce laid down a very impressive pass of 7.92 at 161.1 mph. Billy ran a strong 8.21 at 153.6 mph, but just couldn't take full advantage of his tune up due to a possible mechanical issue.
Mike Pearce and Tom Caldwell of have ended this season on top. They began this season in Baton Rouge Louisiana setting the class ET record's in both the 1/8 and 1/4 also while setting the 1/8 mph record. The last pass they made this weekend at Rockingham was very close to another record run but close doesn't could in drag racing. Mike Pearce also took home the Championship title for this ProGas class two years in a row. Congratulations all around.
The ProGas class has some very exciting plans for the 2016 season. They will be releasing there 2016 calendar featuring the ProMod and ProGas bikes of the AMRA, and did I forget to mention some very lovely ladies. This calendar will be sold a 100% none profit fundraiser, all profits will be returned to these two classes as prize money throughout the season.
They also have a long list of sponsors for the 2016 season. Those sponsors include Ryan Oehler Racing, SA Racing, Caldwell's Performance Center, Junior Pippin Trucking, Star Racing, Redline Oils, Vanson Leathers, Harley Davidson of Lake Charles Louisiana, and Harley Davidson of Bowling Green Kentucky. This ProGas class is very impressive to watch, with times entering into the 7 second zone on gasoline it's hard to describe. It's probably best if you just come see it for yourself and check out this bad boy machines and an AMRA race near you next season.