AHDRA brings thrilling, all-American motorcycle drag racing to the spiritual home of nitro Harley—North Carolina's fabled Rockingham Dragway—with the Nitro Spring Nationals, presented by Cox Double Eagle Harley-Davidson.
Clearly, this race has been delayed from its original spring date to mid-summer. Expect massive mosquito extinction for miles around the Sand Hills dragstrip as large fields of nitro bikes fire and fill the air with their sweet, potent sting.
Pennsylvania Harley-Davidson dealer Rich Vreeland took the new AHDRA's first Top Fuel win in Cordova on July 4, but he'll find a tougher field waiting for him in Rockingham.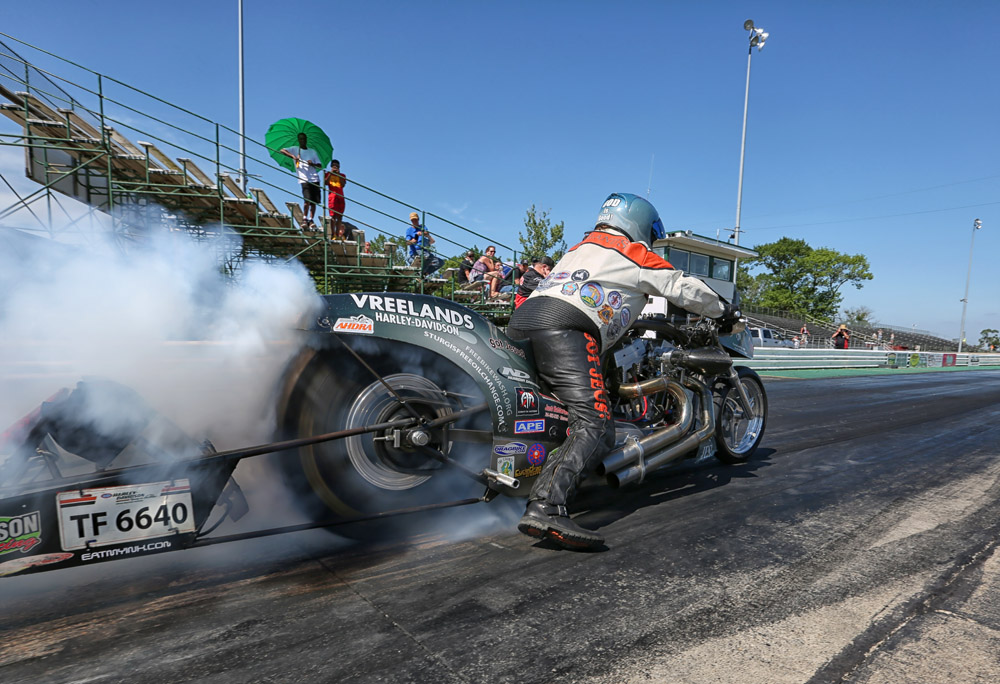 The Liberty-based, powerhouse, multi-time NHRA championship Jay Turner Racing team will field an awning full of the best Top Fuel Harley bikes in the world. Two-time defending NHRA champion Tii Tharpe of Pfafftown, Walnut Cove's Tyler Wilson, Louisiana "Fast Coon Ass" Randal Andras, and Turner himself will all be throwing legs over these thundering beasts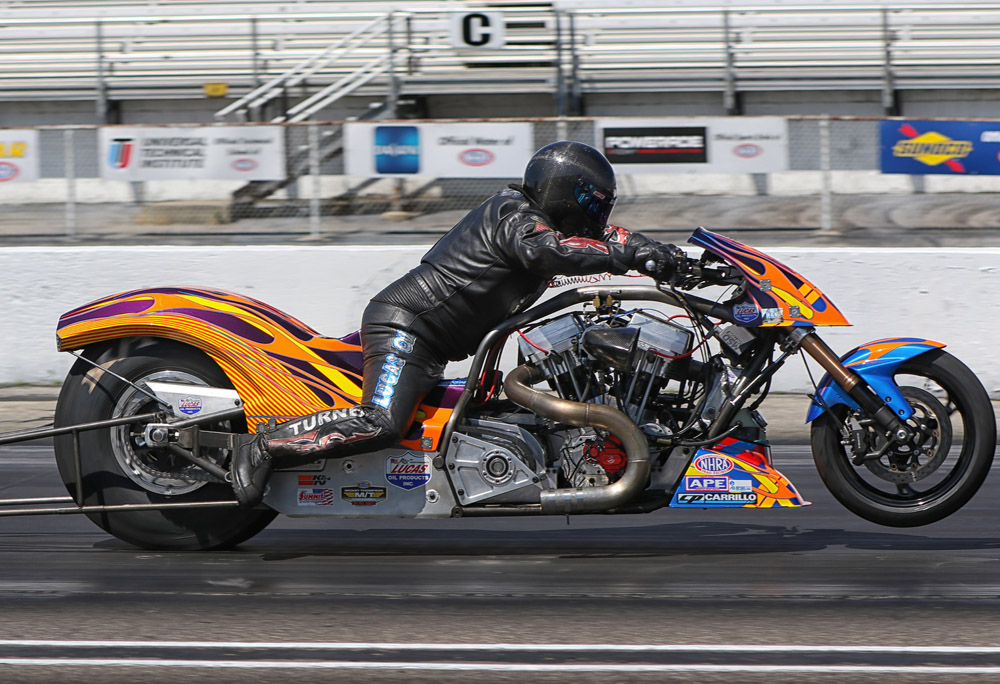 Jim Doyle, Ryan Peery and others will also be powering down Rockingham's 1320.
Same as Vreeland, Cordova Hawaya Racing Pro Dragster winner Preston Bartlett will have to battle with a full field of the popular, carbureted nitro bikes. Kirby Apathy, Sam White, Jim Martin, and more—possibly including Tyler Wilson running a second nitro class—are all expect to fire'em up and let 'em loose.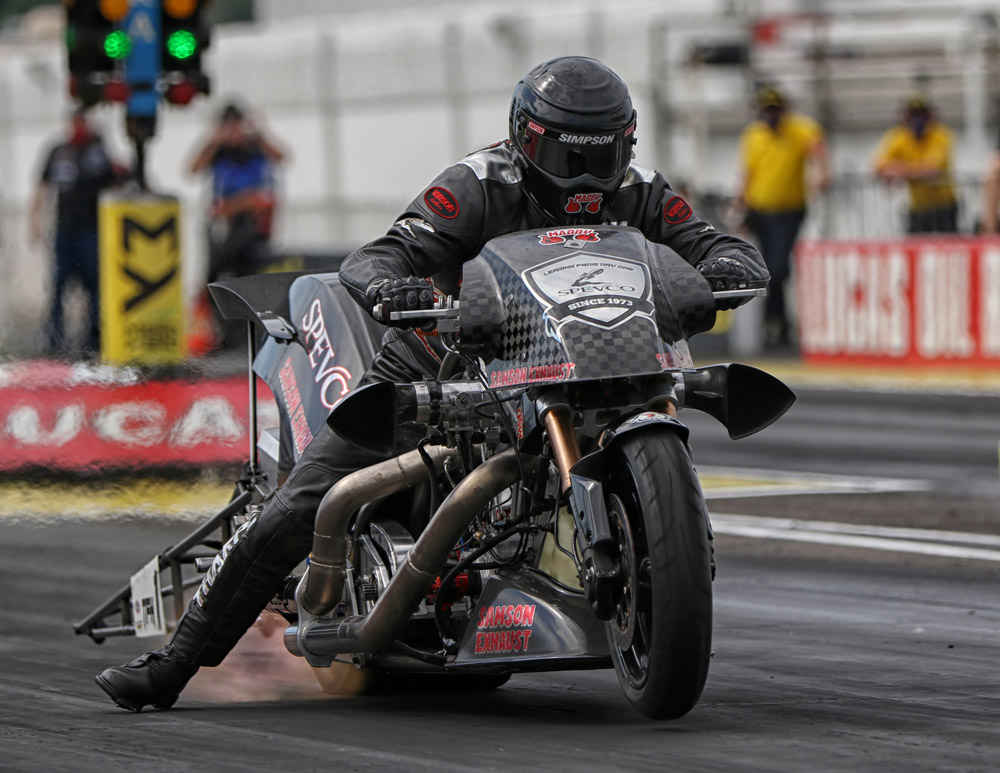 Pro Fuel bikes slot between Top Fuel and Pro Dragster as injected, one-gear nitro bikes—bigger than PD but smaller than TF. But that doesn't make them any less exciting when they hit the track and take the stripe.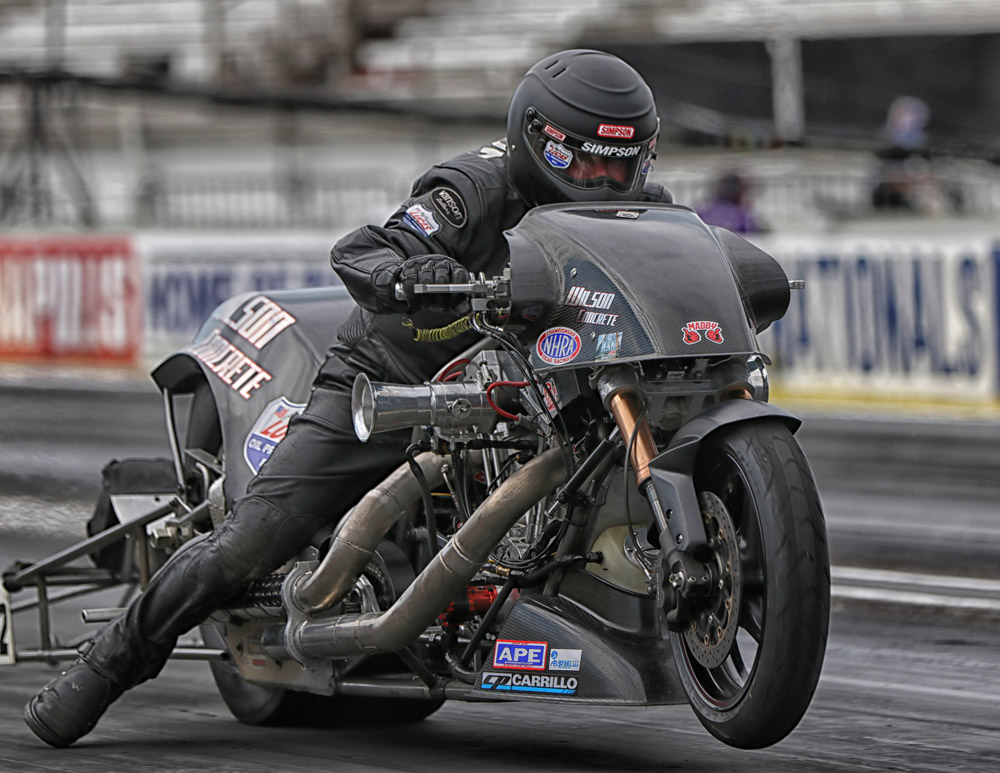 The red-hot A-1 Cycles Extreme Bagger class has set the internet on fire, and AHDRA is bringing these ultra powerful, wheel-standing tourers to The Rock. A-1 Cycles' Mike Beland has vowed to bring "a trailer full of bikes" to Rockingham, including his own record-slaying turbo beast. That means that Spencer Spitzmiller will also have a difficult time defending his Cordova win.
Branon White runner-upped to Jeremy Wilson in the Mad Monkey Motorsports Bagger final at Cordova, but OG Mad Monkey White will be on home turf against Wilson and all-comers at Rockingham.
Dan Dennis, Kevin Morris, Richard Boone and Jeff Workman will be defending their Outlaw Street, Horsepower Inc. Hot Street, T-Man Performance Pro Mod and Zippers Performance Modified Cordova wins, respectively.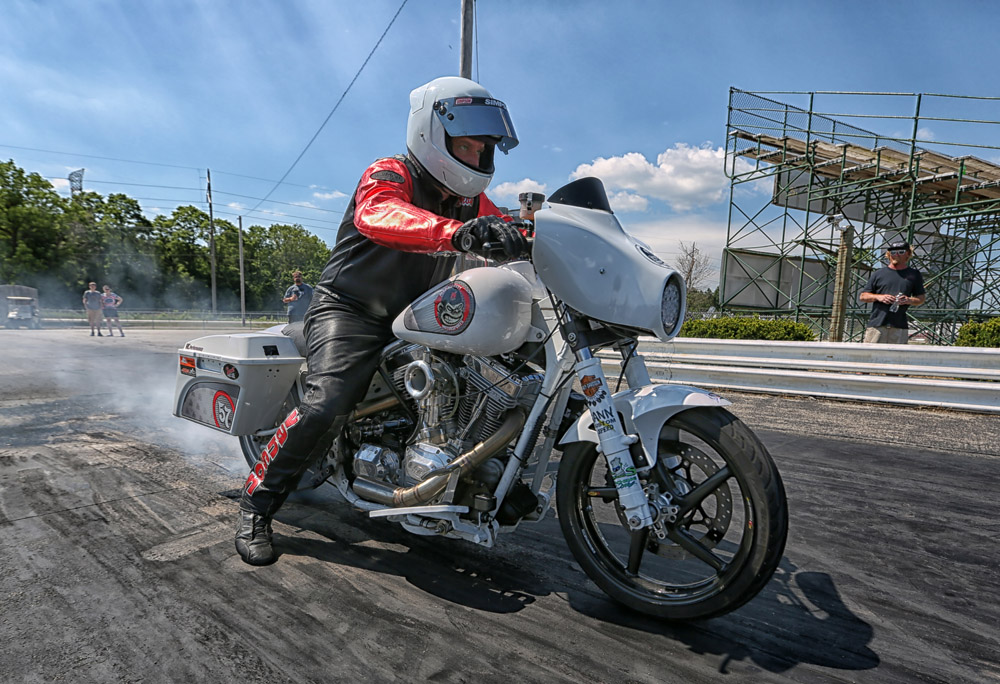 GMS Racing Engines Extreme Gas and Extreme V-Rod bikes will also be setting race fuel afire.
Index classes will be in the house, aiming for the scoreboards. Robert Alther and Matt Hauser have their 9.70 and 10.30 wins to defend, while Kevin Winters has two: 10.90 and Crete's Performance 11.50.
Workhorse ET bikes will be putting their own numbers on the board to aim at, and expect Lumbee Racing Trophy bikes to make lap after lap. Get your own American-made bike out there and see what she'll do!
Adult admission is $45 for all three days, $35 for a Saturday-Sunday combo, or $20 per day. Advanced discounted tickets are available online at http://rockinghamdragway.com.
Test and tune is from 2 until 8 p.m. Friday, qualifying and time trials starting at 10 a.m. Saturday, eliminations at 11 on Sunday. The AHDRA Nitro Spring Nationals is presented by Cox Double Eagle, Pinehurst.
The AHDRA website is at http://raceahdra.com/
The AHDRA Facebook page is at https://www.facebook.com/ahdraracing/
The AHDRA Facebook group can be found at https://www.facebook.com/groups/AHDRA/
For more information, email AHDRA's Bill Rowe at bcrowe92891@gmail.com
AHDRA is owned by Pulse Marketing, the Hellertown, Pennsylvania-based motorsports promotion company run by veteran drag racer Rowe and his family.
There are more videos on the Cycledrag Youtube channel (please subscribe here) and the Cycledrag.com Facebook page (Please like here) and more will be coming soon. Check back daily.
To take advantage of some amazing discounts at Brock's Performance, click – http://brocksperformance.com?aff=12