With over $110,000 in payout—including the $62,000 BB Racing Bracket Shootout on Saturday—and two full races on tap, NHDRO's Big Show brings the Midwest's biggest motorcycle action to drag racing's best track—Lucas Oil Raceway in Brownsburg, Indiana.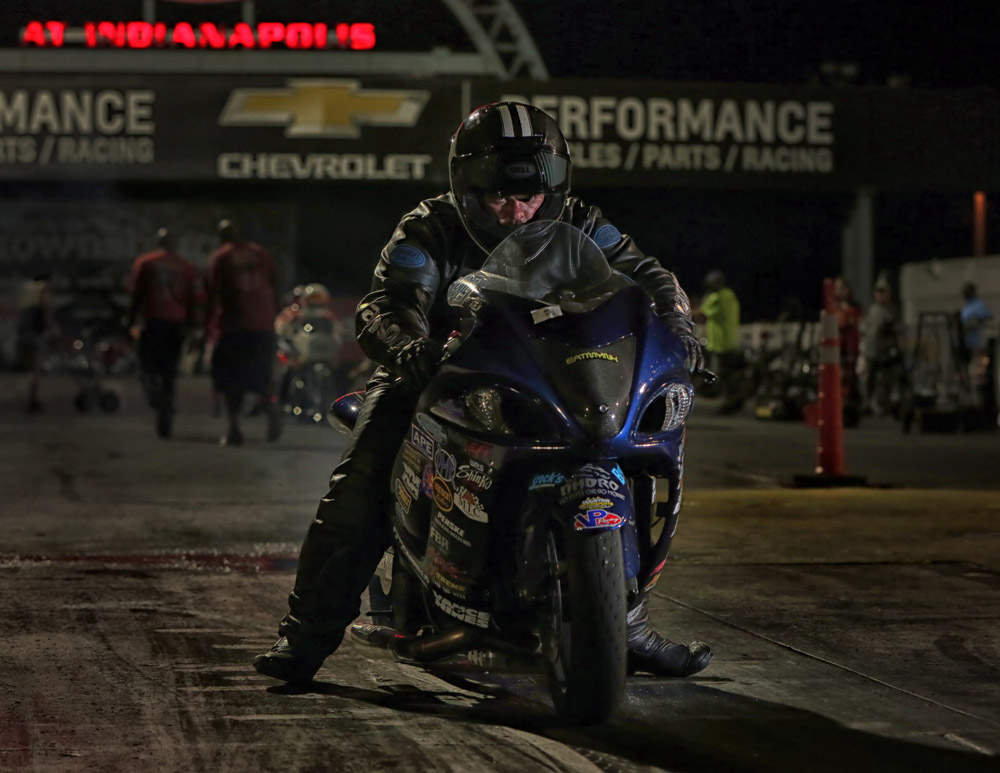 The four-days of non-stop, two wheel action hits the track on July 30-August 2, with testing on Thursday, the rain-delayed June race on Friday, followed by qualifying and eliminations for the July race on Saturday and Sunday.
The biggest race of the weekend—maybe the biggest ever in motorcycle drag racing history—is Saturday's BB Racing Bracket Shootout. 128 bikes are locked in for this one-of-a-kind event. Two ladders—one box, one no-box—comprised of 64 bikes each, run off to put a finalist from each ladder in one big final round. A $50,000 NHDRO Big Check goes to the winner, but don't feel too bad for the runner-up, who walks away with $12,000.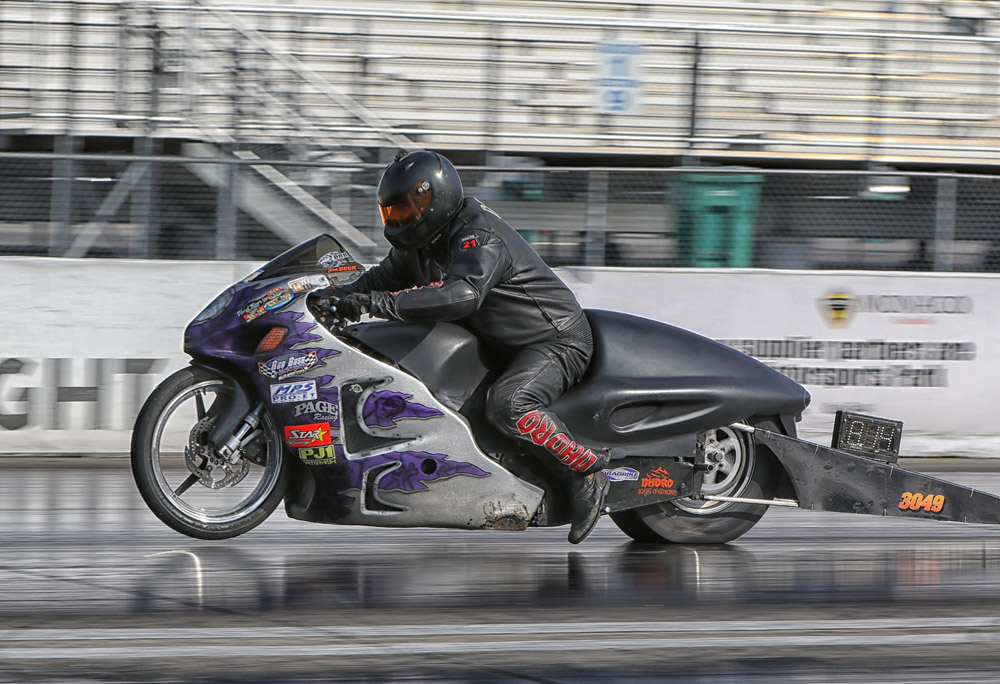 Needless to say, the absolute best motorcycle bracket racers on the planet will all be in this one, and one of the best walked away with last year's Big Money Shootout. But Tom Klemme walked away with the fat end of only a 11K/5K split in that one—numbers which seem quaint by comparison with this coming weekend's take.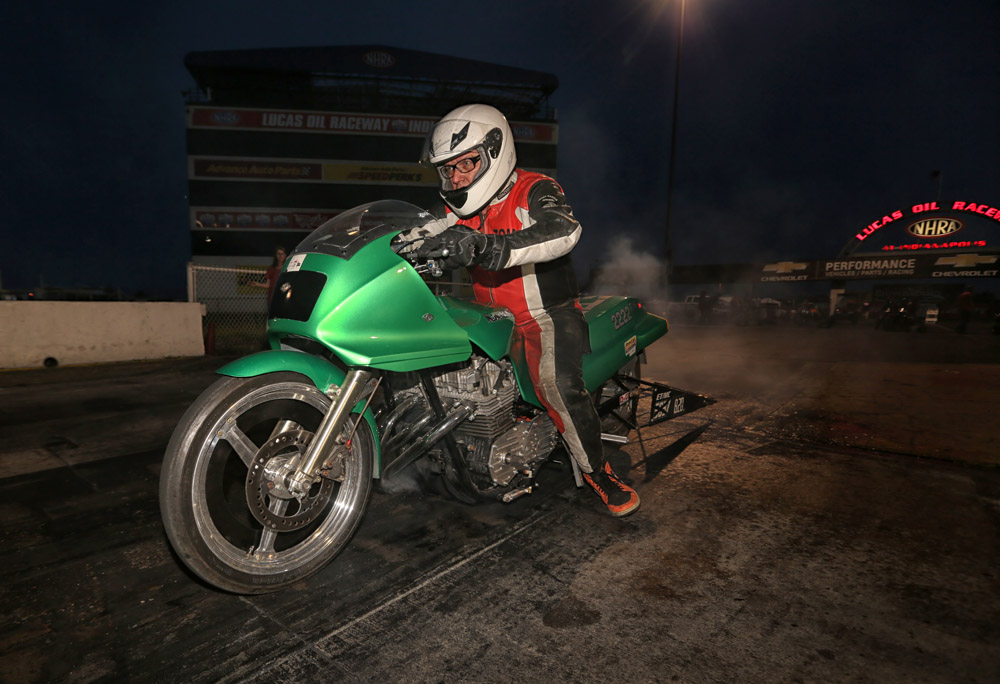 Klemme will be one of the favorites to win again, along with last year's runner-up Chad Isley and, well, just about every racer that's put a leg over a motorcycle and aimed for a number on a board.
APE, BB Racing, and other vendors are offering gift certificates, parts and swag to participants—even an "NHDRO Perfect Light" Scentsy warmer and wax from Kjersty Shellhaas and Shellhaas Racing.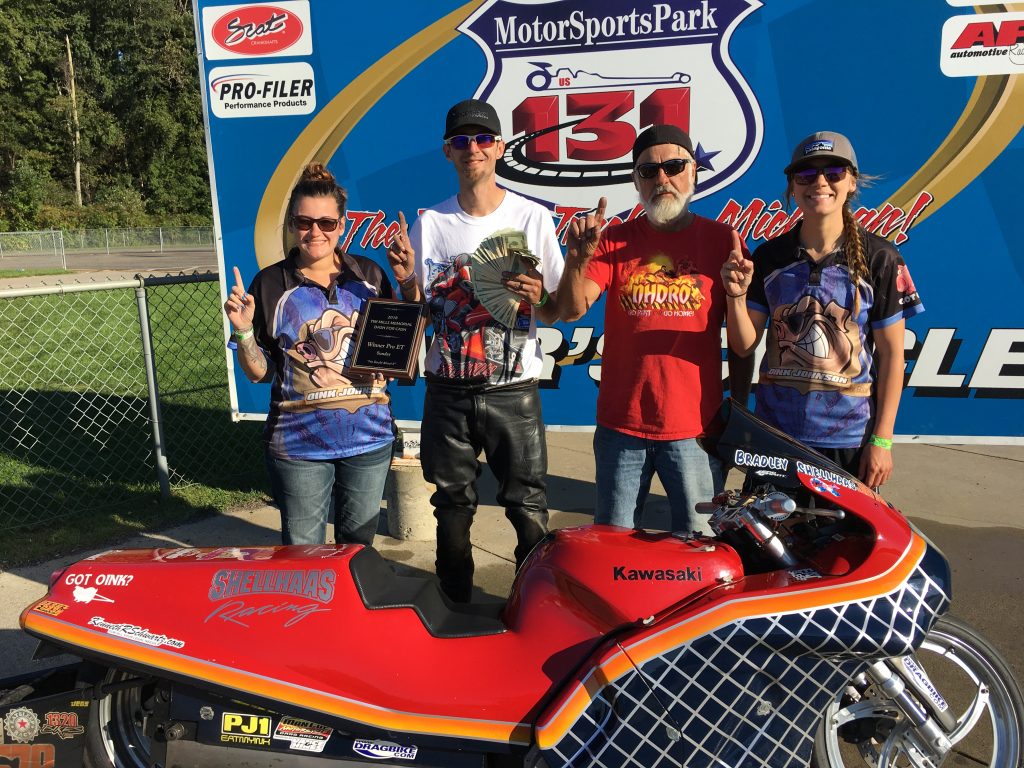 When it comes to money, NHDRO's pro classes will have to take a back seat this weekend, but not when it comes to action.
Gabe Frederick's 6.74 at 213 miles per hour on his turbocharged Suzuki Hayabusa leads Pro Street qualifying with one session to go for the postponed Mid-Season Sizzle.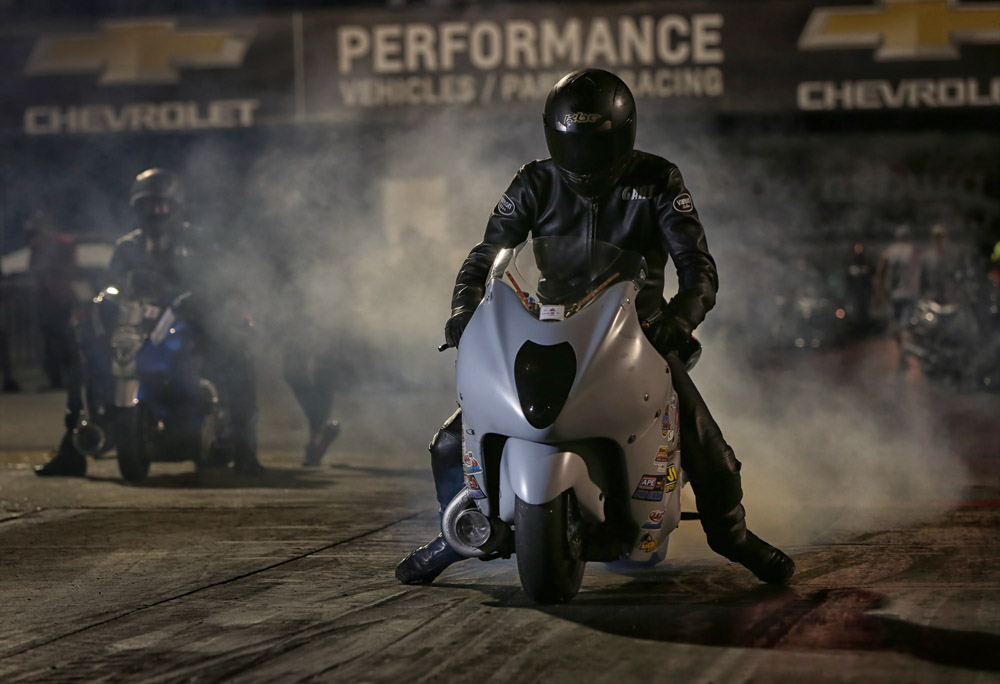 With bullhorns spraying a strong nitrous flame the whole 1320, Gaige Herrera sits qualified number two with a 6.90 at 206. Quicktime Racing's Rudy Sanzottera, Brad Christian, Brett Ware, Kieth Bobo, and Matt Moen round out the June field.
Other riders, such as Honda stud Frankie Stotz, are expected to join in for this weekend. And when the Sizzle is done, there's another race to be run.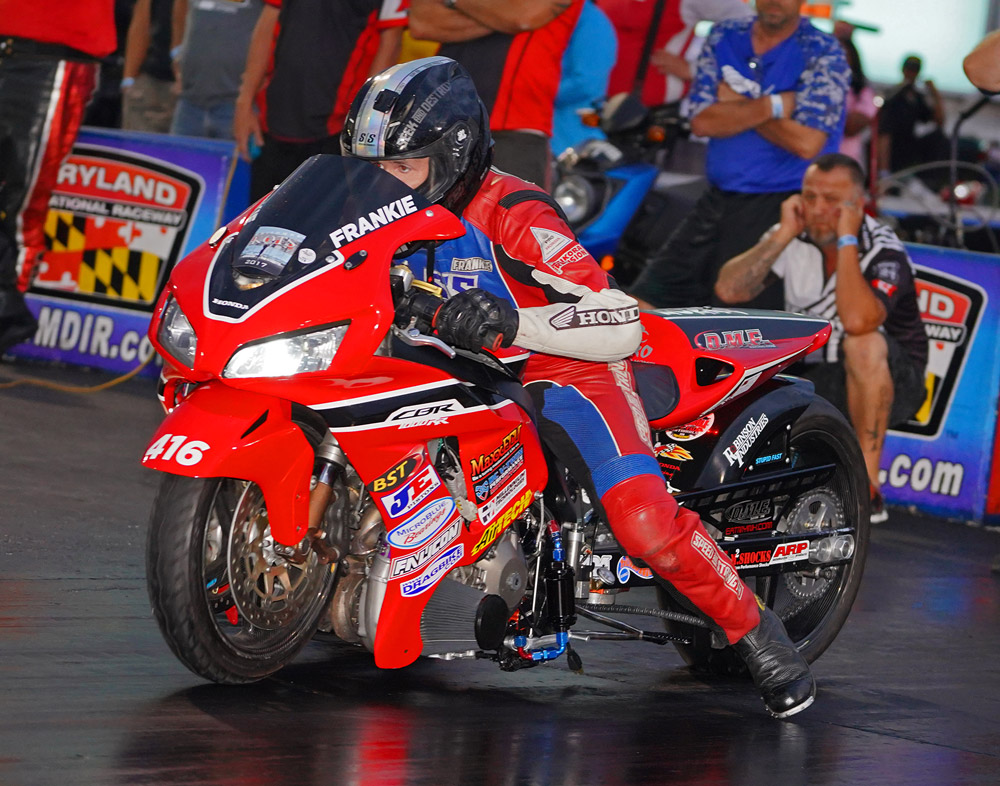 Dan McCarten's 4.614 is so far, so good in Pro Ultra 4.60—the world's quickest eighth mile, two wheel index class, presented with the I-65 series. Jason Buus, Jimmy Petway, Jeff "No-Bar" Dalton and Jeff Jones round out the top 5, with champion Smokin' Joe Rodney sitting at the bottom end of the order in 12th, unable to slow his new Kawasaki down to stay within the index.
Kounselor Kenny Schwartz currently leads Hardcore Cycles Top Gas 8.20 index—also presented with I-65—with an 8.211. Fellow St. Louis racer Mike Wagner sits .001 back, with Garreth Shepheard .001 behind Wags in a characteristically large TG field.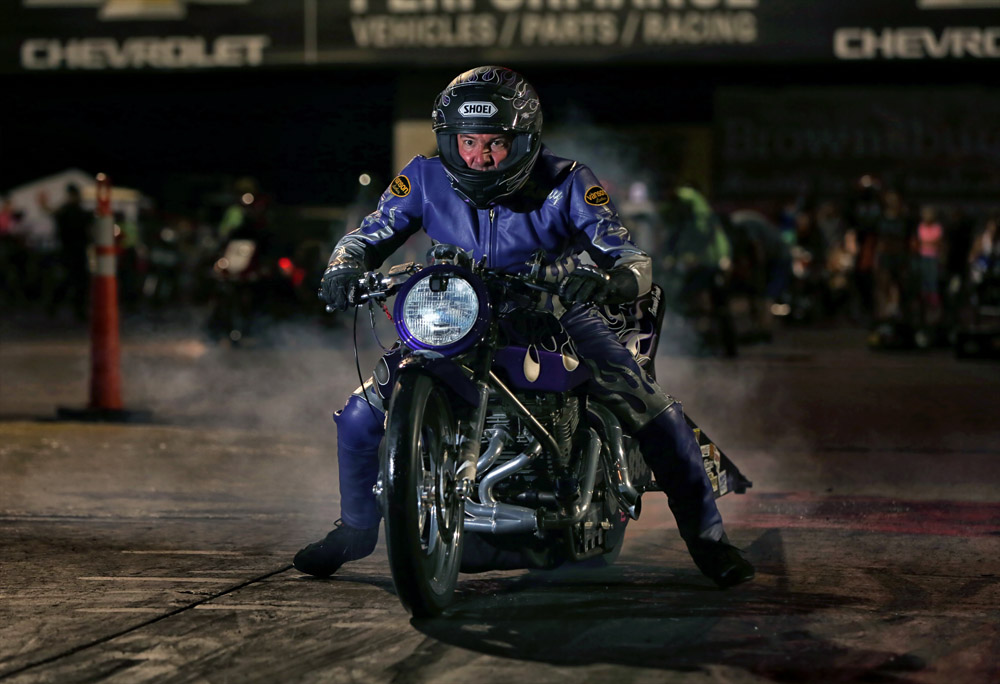 Dustin "Biscuits" Lee currently sits as the first-ever M2.Shocks 8.70 Quick Street number one qualifier—a feat since no one has had to run to this index before. Dave Page sits second, followed by Colton Gordon, Mitch Pennington, and the rest of the field.
Bob "The" Mann leads 8.90 index BB Racing Super Comp with an 8.909 after two sessions that saw many superstars running too quick, including Crazy Comp champ David Beshara, Ron "Ju-Jitsu" Arnold, former Top Gas champ Greg Mallett, Bruce Damewood, and Wes Brown and his GSXR of Renown.
When NHDRO dropped the Street Fighter index from 9.50 to 9.30 and allowed wheelie bars, dragbike veteran Joseph Klemme stepped in ready to take full advantage. Klemme locked in as the the first-ever Dirty 30 9.30 index number one qualifier, as his first round 9.300 can't be beat. Street Fighter champion Ron Arnold sits sixth with a 9.334.
Dustin "Naked Boy" Clark sits number one in HTP Super Stock. Patrick Cooper led Q1 on his Suzuki GSXR1000, but wasn't as clean in Q2 and Clark was able to knock him off with an 8.852 at 159.61 mph on a Kawasaki ZX14.
Kevin Dennis Insurance Street ET, MPS Pro ET, Hard Times Parts and Service Jr. Dragster, and VooDoo Grudge will all get their chance on the hallowed Indy 1320 this weekend.
NHDRO's Brian and Niki Welch look forward to welcoming the NHDRO family back to Indy for The Big Show. "We consider everybody at the track as family," said Niki Welch. "We just really appreciate the racers that stuck it out with us last month, and the registered racers from June will get a $10 discount at the gate this weekend. We welcome I-65 Series and SDBA racers, and can't wait to see everyone here for The Big Show!"
Find out more about NHDRO at http://www.nhdroracing.com/
NHDRO thanks M2.Shocks https://www.m2shocks.com/ , Kevin Dennis Insurance http://www.bettercoverages.com , MPS http://www.mpsracing.com/default.asp , Hardcore Cycles http://hardcorecycles.biz/ , Liguori Drag Racing https://liguori-drag-racing.myshopify.com , CC Powersports https://www.ccpowersports.com , Schnitz Racing https://store.schnitzracing.com , Voodoo Custom Motorcycle Components https://www.voodoomoto.com/ , Vanson Leathers https://vansonleathers.com/ , BB Racing https://www.facebook.com/BBracingllc/ , Hard Times Parts and Service https://www.facebook.com/hardtimespartsandservice/ and APE http://www.aperaceparts.com/
There are more videos on the Cycledrag Youtube channel (please subscribe here) and the Cycledrag.com Facebook page (Please like here) and more will be coming soon. Check back daily.
To take advantage of some amazing discounts at Brock's Performance, click – http://brocksperformance.com?aff=12