With her first round win at the NHRA US Nationals in Indianapolis on Sept. 1st, Kandy Girl Angie Smith and her number 77 pro stock bike qualified for the 2014 NHRA Pro Stock Bike Countdown to the Championship. After the US Nationals in Indianapolis, Angie wound up qualified 9th in points in the NHRA PSM series.
"It's pretty awesome that Angie along with Kandy Magazine made the Countdown to the Championship," said team owner Matt Smith. "She has one win this year and this is the first time she has been able to make the Countdown. I am very proud of her and the whole team. She has really improved with her riding this year. This MSR team has 4 bikes in the Countdown to the Championship so our chances look pretty good for the 2014 Mello Yello Championship."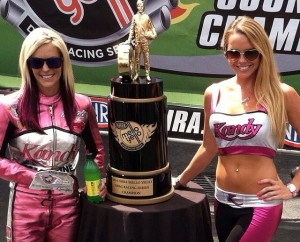 When asked for a comment on qualifying on her Kandy number 77 pro stock bike for the Countdown to the Championship, Kandy girl Angie could barely hold back her excitement, "It is a dream come true. This has been a goal of mine since I started racing NHRA in 2008. To win a race and be in the NHRA Countdown to the Championship is nothing short of AMAZING to me. Everyone on this team has worked countless hours for me to achieve these goals," stated Angie. "If it wasn't for Kandy Magazine taking a huge chance on me, in April this year, then we wouldn't be here. Not only did we win together on the racetrack but we also won together in the ratings. Kandy Magazine has been the #1 downloaded guy's magazine app in the world all summer long. Kandy Magazine is such a great fit for me and this team and I really hope to continue this relationship for a long time."
About Kandy Magazine
For the months of June, July and August, the Kandy magazine app has been the #1 ranked men's interests app in the world on iTunes. The management of Kandy has been involved in motorsports marketing since 1997. The team has successfully married corporate brands, rock stars, and icons with top NHRA race teams. Now, the team is applying 17 years of motorsports marketing experience to one of its favorite race teams, Matt Smith Racing and Angie Smith.
For Additional Information about Kandy Magazine contact:
Bill Nychay, VP of Marketing or
Steve Scala, Director of Corporate Communications
Email racing@kandymag.com
Tel: 310-425-3452