The Manufacturers Cup proved drag bike racing is alive and well
The economy may be slow to fully recover, but fear not, motorcycle drag racing is alive and well. Truth be told, drag bike racing was never really close to dying.
When AMA Dragbike, formerly AMA Prostar, went out of business in the summer of 2010, the sport was left without a national series for the first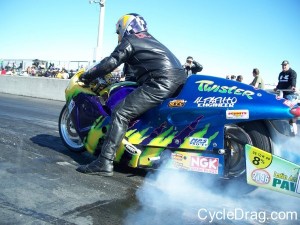 time in decades. A sense of panic swept across much of the motorcycle drag racing community as message boards filled up with questions like, "Is drag bike racing dead?"
Even one of the sport's most prominent racers, Kawasaki-backed veteran Rickey Gadson, displayed uneasiness by calling the AMA Dragbike closure, "The worst day in motorcycle drag racing history" and said, "All the work I've done to help this sport is now a lost cause."
Oftentimes when one door closes another door opens. Oftentimes a difficult change can force adaptation and evolution.
For several racers and fans, the panic and feeling that their favorite sport was dying greatly subsided at the Manufacturers Cup in Valdosta, Ga., Nov., 12-14, 2010. The Cup was an independent race put together by Jay Regan of MRE and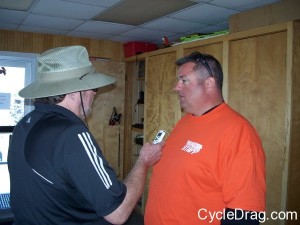 eight other motorcycle drag racing companies; Brock's Performance, Fast by Gast, MPS, MTC, Orient Express, PR Factory Store, Schnitz Racing and Star Racing, a group known as "The Nine" or "The Nifty Nine." The inaugural event featured packed grandstands, 570 entries, over 100 pros and the greatest Top Fuel field in over a decade.
This successful event unequivocally proved drag bike racing is still financially viable despite the harsh economic climate. It proved interest in two-wheeled drag racing still exists. It proved the question, "Is drag bike racing dying?" can be answered with an emphatic, "No!"
The success of The Cup also raised questions about the death of AMA Dragbike. Experts claim the Manufacturers Cup had an enormous financial upside after all expenses were paid. Why then would AMA Dragbike fold in the middle of the season without going to great lengths to put on a race that has such a high probability and history of making money – even if other races had to be cancelled? Wouldn't Valdosta in November be the perfect place to recoup losses? As race organizer Regan put it, "When is the last time a World Finals flopped?" It became apparent that more than just a flat economy or lack of interest in motorcycle drag racing led to the collapse of AMA Dragbike. Other factors came into play, including an inexperienced management group and AMA Dragbike being deeply buried in a bad financial situation.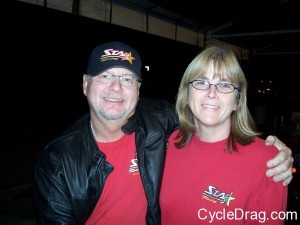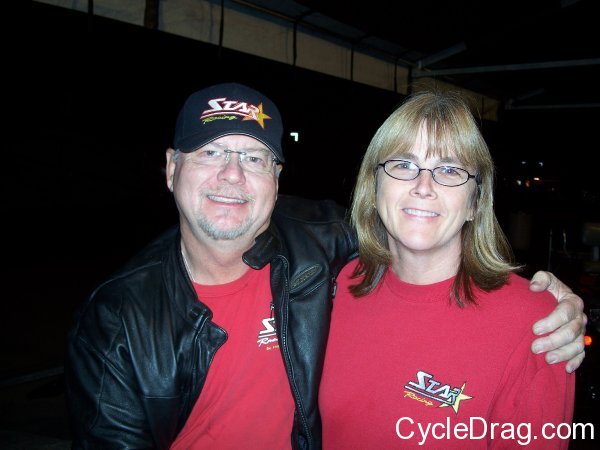 The Nine are on the cusp of revolutionizing the sport. This group begins a step ahead by having no debt. There are no major investors that have to be paid back. All of the group's focus and energy can be put into making the races bigger and better.
The Nine have greatly altered the standard paradigm of a national drag bike series. A group of nine business-minded individuals, all with significant financial and personal interest in seeing the sport succeed, who are able to check and balance each other's power creates a unique situation. It creates synergy. Perhaps it's the exact circumstance the sport needs to get through a difficult time period. It's no longer just one or two people who are calling all the shots.
After the great achievement of The Cup, The Nine were quick to announce the dates for two more races in Valdosta, Ga., in 2011, April 8-10 and Nov. 11-13. Moving forward, here are some things The Nine will have to consider and strive for to ensure success and growth for years to come:
The Cup returns in 2011 with two events

Continue crawling before walking. The Cup may have proved drag bike racing is alive and well, but that's not to say it is nearly as healthy or vibrant as it was back in the mid-1990s when AMA Prostar would attract over 700 entries at some events. If the decision is eventually made to start a national series, it should begin with no more than four races. Additional races can carefully be added over time.
Learn from the past. Keep the races in locations that boast a long-standing history of success. Places like Valdosta, Ga., Atlanta, Ga., Gainesville, Fla., Atco, N.J., Budds Creek, MD., and Rockingham, N.C. have a long record of prosperous and well-attended drag bike races. As AMA Dragbike found out, motorcycle drag racing may not be alive and well in Martin, Mich., Bristol, Tenn., or Montgomery, Ala. in the blistering heat of the summer. The Nine must use sound judgment, vast research and tremendous scrutiny to assemble the perfect schedule.
After leaning of the event on the internet, Rob Schenz made the trip to SGMP from Ohio.

Promote, promote, promote. Almost anyone who has been involved with the promotion of an event, especially a motorcycle drag racing event, will express just how incredibly difficult it is. From the outside it seems so easy. Oftentimes promotion seems effortless to racers and spectators, because the people pitching the marketing ideas are already huge fans themselves. These are typically the people already sold on the sport, who plan on attending the event. These are not the on-the-fence, causal fans who will make the difference between a good gate and a bad gate. I've been guilty plenty of times of thinking, "Here's a great idea that will bring a ton of fans to the track," when in reality, I let my own bias and love of the sport cloud my judgment. Assuming you aren't a huge fan already, what would it take to get you to a Superbike race or an outdoor motocross race? A display/ pre-race party at a local motorcycle shop? An exciting radio spot? A pair of free tickets?
The truth of the matter is, a tremendous amount of money can be spent and the target audience can be missed entirely. It is imperative for The Nine to find cost-effective ways to thoroughly promote the races to competitors, followers, clubs and motorcycle/drag racing enthusiasts. Jason Miller of the MIROCK series has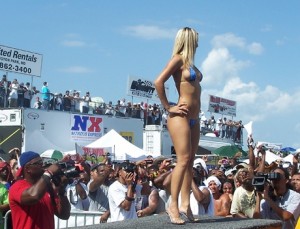 done a great job promoting the annual WPGC Bike Fest at Maryland International Raceway. Among several other techniques, Miller maintains a strong presence on the internet including prominent social media sites. He partners with a radio station and spends wisely on magazine ads. He also distributes event flyers to bike shops and race fans all over the East Coast. I'm sure Miller would affirm, out of the thousands upon thousands of flyers handed out, only a small fraction of flyer recipients will actually show up. Nonetheless, Miller's tireless effort yields more than 5,000 spectators.
We live in a fast-paced world, where people seem to be continually busy and there a million things to do or watch right at one's fingertips. There are plenty of places to spend the entertainment dollar, even for hardcore motorcycle fans.
With nine businesses involved in the Manufacturers Cup, the cost-effective possibilities for promotion are endless. Imagine Brock Davidson and his lovely poster girls setting up a display at a local motorcycle shop, signing posters and giving away tickets. Star Racing or Orient Express could be doing the same thing at a local mall, while MPS and MTC deliver flyers to local businesses. The event must acquire as much attention and coverage as possible.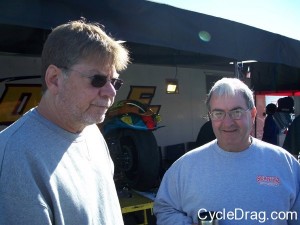 All local media should be invited to interview Larry "Spiderman" McBride, the world's quickest motorcycle racer (5.79). The grassroots effort should never be overlooked. Nifty Nine member Dave Schnitz of Schnitz Racing is off to a great start by circulating Manufacturers Cup information on the Schnitz Mailing List.
Get along at all costs. Although many of The Nine are competitors in the same industry, it is imperative they continue to make decisions for the good of the sport and the series. Successful races mean more business for everyone. Prior to The Cup many wondered, would The Nifty Nine crumble if the race lost money? Perhaps even more potential for disagreement and greed-driven dissension exists if the events prove to be incredibly successful.
Put the profit back in the series. This is the unique advantage The Nine have over others that have operated sanctions in the past – The Nine doesn't have to rely on money made from the Manufacturers Cup as income. All Nine investors already have successful businesses to pay their mortgages. The

Larger purses attract more racers

Cup was created to improve those business and these companies will prosper financially from the success of the races. The Nifty Nine should put the majority of any profit made from these races into improving the series. Each of The Nine should get their initial investment and a modest return back, with the rest being deposited into an escrow account under the committee's name.
There has been talk of The Nine taking a step in this direction by possibly increasing payouts for 2011. Theoretically, more money up for grabs will attract more racers and produce a greater profit.
Also, these events may indeed make money, but rest assured one of the events will eventually lose. It's the nature of the business. Money to bail out a rainout or poor turnout will prove invaluable in keeping the series afloat.
Trim expenses but don't sacrifice quality. Nearly all of The Nifty Nine agree that AMA Dragbike carried way too much expense. That stigma may indeed be true. The committee should work hard to keep the payroll low, but at the same time should not sacrifice the quality of the product. Have enough staff to keep things running smoothly. Have someone on the starting line that will ensure the track prep is

Go to great lenghts to make the event a plesant experience for paying customers

first-rate. Have a competent and fair tech crew. Have a race director who will keep the program moving at a brisk pace. Have an announcer who can entertain, inform and sell. Allocate funds to attract as much media attention as possible and ensure that the race is promoted and covered throughout the internet.
Focus on customer service and be polite. Do not forget that every fan and racer who comes through the gate is a customer. Do not forget, while a select few may use drag bike racing as a profession, the majority of racers are there for a weekend of leisure and an escape from the rigors and stress of everyday life. Some people will be impossible please, but treat everyone with compassion and respect. Make it a goal to have no one leave the tower angrily muttering, "I'll never come back to another race." Mistakes will happen on the series/track's behalf, and in some instances people will feel slighted. Often a racer will be wrong and not believe he or she is wrong. Even in that situation do everything humanly possible to ensure racers come back to the next event. Motorcycle drag racing is not NASCAR or even NHRA. The sport needs every single entry and weekend

Top Gas enjoyed a great turnout at The Cup

spectator pass it can get. I watched far too many people leave the tower under both AMA Prostar and AMA Dragbike vowing to never return.
Don't add any classes. Don't fall into the trap of adding various new-age categories. A classic example is AMA Dragbike adding Factory Extreme, a modern-day Pro Stock class that never gained support. Again this isn't 1996. If anything, a class may need to be cut. Ensure that each category is heavily attended. Top Fuel, Pro Comp, Pro Street, Real Street, Super Sport, Top Gas, Super Comp, Pro ET, Street ET and Grudge make a neat, tight package. Participation at the Cup was pleasing in all of the classes except Super Sport, where only six motorcycles entered. SS is understandably a hard class to eliminate because it can be used to market the series to industry giants like Kawasaki and Suzuki. Speaking of that…
Racers like Kent and Frankie Stontz hope to get Honda more involved

Get the manufacturers involved. The Manufacturers Cup would certainly live up to its namesake if some of the major motorcycle manufacturers were present. Having Kawasaki, Suzuki, Yamaha, Honda, Harley or even BMW show up with their elaborate semis can make a club-level event feel like a huge happening. The major motorcycle corporations are capable of pumping valuable dollars and prestige into the series and can provide unparalleled publicity and exposure.
Get a full field of Top Fuel at every race. There's nothing that will fill the grandstands quicker or keep fans coming back like a full field of Top Fuel. For the first time in over six years there was a full field of Top Fuel bikes at The Cup. Granted, competitors like Nitro Harley rookie Rich Vreeland, who didn't have much of a chance of running quicker than 6.90s, probably wasn't going to set any track records, but promoters need to realize it's people like Vreeland who are the backbone of the class.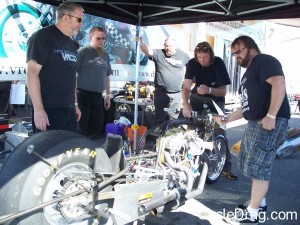 Don't forget for a second that drag bike racing is a show. The racing business is also the entertainment business. Nitro Harleys are entertaining. Two nitro bikes at the starting line, no matter how heavily favored one may be, is much more compelling than a solo run. A Top Fuel ladder consisting of only McBride is not a race, it's an exhibition. Anyone who has followed the AMA Dragbike or AMA Prostar races over the past ten years has witnessed just one or two Top Fuel bikes on the ladder numerous times. This is a serious problem and I often wondered how a promoter could so frequently let this happen? Imagine paying to see a Broadway play, taking your seat, and realizing only two actors are present. Top Fuel is the show, the main event, the attraction and Harley racers like Vreeland and Ross Sowers ensured that The Cup wasn't an exhibition but rather a race.
There are plenty of fast motorcycles in this country. Promoters need to work the phones, maintain good relationships and offer incentives for Top Fuel competitors to show. If necessary, motorcycles can even be pulled from other classes. A turbo Funny Bike racer, who failed to qualify, lined up next to McBride is tremendously more exciting than watching The Spiderman make solo runs. It has to look like a race. This is very important to fans and sponsors. Promoters must take this very seriously. Perception is reality.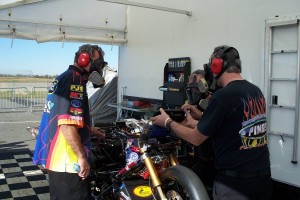 Moreover, McBride showed several times throughout The Cup weekend he was capable of smoking the tire and getting beat by an 11-second bike. Top qualifier Korry Hogan red lit in round one. In Top Fuel just getting down the track is a challenge, anything can happen and anyone who lines up has a chance to win. I know for a fact this principle can be sold to other potential Top Fuel racers if the right incentives are offered. It doesn't matter how much of an advantage McBride has. It's a show, so do what it takes to fill the field!
Jay Regan did an impressive job contacting every import Top Fuel racer on the phone, personally inviting them to come. With the exception of Tom Perry, everyone showed up. Don Plesser of the PR Factory Store, who has a presence in the All Harley Drag Racing Association, did a wonderful job getting Nitro Harley racers to attend. V-twin racers Tak Shigematsu and Tommy Grimes added an incredible amount of value to the show. The duo produced the quickest side-by-side Harley run ever, 6.13 to 6.16, and Grimes made it to the final, setting a new record along the way. This is the type of excitement that will have fans who witnessed this race counting down the days until the next one.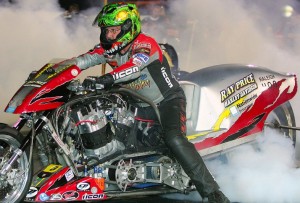 What Regan and Plesser did prior to The Cup must be done before every race. Pick up the phone and stay in touch with every potential Top Fuel racer. Do whatever it takes to get at least eight entries every time. If nine show up, guess what? Qualifying is actually meaningful! There will be a bump. Again, this is a very important part of the show.
Maintain good relationships with all Harley riders and make them feel welcome. For too many years there has been a great divide between the Harley and import crowd. The sport just isn't big enough for that.
2010 may have been an uncertain year for drag bike racing, but clearly the sport is not headed toward extinction. As long as there are people in this world who love to see motorcycles go fast, the sport will survive. Although it won't be an easy task, The Nine have the opportunity to push drag bike racing to new heights and ensure the future is very bright for two-wheel drag racing.
One Personal Wish
For many years Gainesville Raceway was the mecca of drag bike racing, known as the unofficial home track of AMA Prostar

Get the Finals back to Gainesville, Fla. AMA Dragbike made the decision to pull the long-standing World Finals out of Gainesville and move the event to Valdosta, Ga. On paper the move is easy to understand – roughly 20K to rent the track in Valdosta and 40K to rent the track in Gainesville.
However, I feel this decision should be revisited and researched. How valuable was the Gainesville race? For years Gainesville was the undisputed mecca of drag bike racing. As former AMA Prostar CEO Scooter Kizer said, "A good World Finals in Gainesville could make up for a bad year."
After making my inaugural trip to South Georgia Motorsports Park, I must say it is a tremendous facility. It's a fast drag strip and as the track operator accurately stated, "It is a track designed to make small events feel big." It is a perfect venue for drag bike racing to kick off its season in the spring.
But why throw away the long-standing success in Gainesville at the end of the year? Remember, for many, traveling to an event is a vacation. As far as being an attraction for visitors from all around the world, like the final race so often is, Valdosta can't hold a candle to Gainesville. In terms of dining, lodging and entertainment, Gainesville is vastly superior, equipped to accommodate 50,000 University of Florida students each semester. As McBride put it, "Valdosta, Ga., has two things – a nice race track and corn fields."
Gainesville is also a lot closer to to major markets like Tampa, Miami and Orlando. Just the name "Florida" is very attractive and easy to sell to people. Just ask the athletic recruiters at The University of Florida. Where do people more commonly vacation to, Florida or Georgia? There is value in the Sunshine state's name.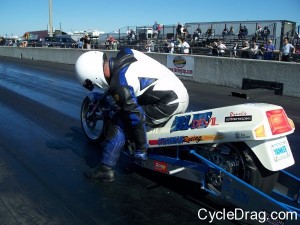 A 20K difference is significant in track rental fees, but I have a few questions. Can anyone negotiate a better deal with Gainesville? More importantly, even if it remains a 20K difference, how much more will be brought in at the gate in Gainesville? Some AMA Prostar World Finals drew nearly 800 entries and huge crowds. What are the options as far as splitting the gate with the track? What is the value of having a superior facility in a more attractive location? What is the value of Gainesville's long-standing history of success? How many casual fans still believe the biggest motorcycle race of the year takes place in November in Gainesville? How much better is Gainesville's brand new control tower/luxury suites for impressing and schmoozing potential series sponsors? Is there a more perfect venue to continue building the season-ending race as the Super Bowl of drag bike racing? I think not.
Here's to hoping drag bike racing continues to flourish.