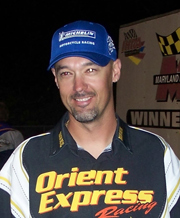 The crisp, cool air and low corrected altitude at Maryland International Raceway in early autumn for the MIROCK Fast by Gast Superbike Finals, Oct. 2-3, had fans and racers alike anticipating unprecedented elapsed-times.
Orient Express Pro Street racer Bud Yoder of Flint, Mich., and his 500-plus horsepower, turbo-charged Suzuki Hayabusa didn't disappoint.
In Sunday's opening round of eliminations, Yoder stunned the crowd by propelling his street-legal dragbike to the category's quickest and fastest run – 7.115 at 203.92 mph.
"It still needs to sink in. It's pretty unbelievable," a stunned Yoder said from the MIR winner's circle.
Yoder was struggling to find the words to express his euphoria after not only defeating Nick Mazeika in the final round, but also making his record run official by backing up both ends within one percent with a 7.118 at 202.09 to Mazeika's 7.34 at 193 mph.
"There was a lot of pressure on me for that run. My reaction time suffered because I was thinking more about the record than winning. Our team's main focus was to go fast," Yoder said.
The 16-year motorcycle drag racing veteran knew he had the record secured the moment he crossed the finish line.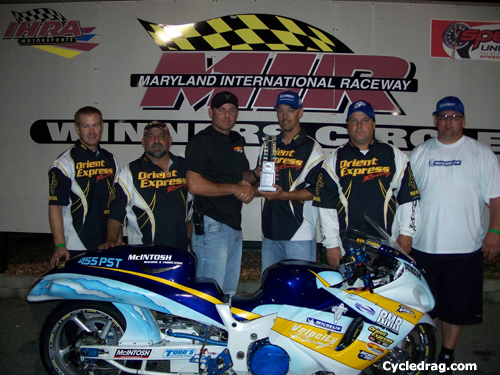 "When you are on a so-so pass you shift a gear and the front tire never moves," Yoder said. "In the final every time I plugged a gear it picked up the front tire and set it down. It pulled hard through every shift."
Yoder's career best run prior to the Superbike Finals was an unofficial 7.18. Yoder, who did not actively follow the MIROCK point series, attributes the surge in performance to an unusually aggressive tune-up.
"We came here to go fast and set a record. We weren't worried about points. All year we have been trying not to hurt parts and play it safe," Yoder said. "When you go for a (record) pass like that you could spin or wheelie and give it away, so we've never really done that."
Just maybe Yoder and his team will stick to the aggressive strategy from now on, given that it has produced not only new records, but also a victory in a very competitive Pro Street field.
"I can't even describe how amazing it feels to get the record and win the race with people like Mikey Slowe here. Let's face it Mike is the champ," Yoder said of the three-time MIROCK champion and former record-holder. "A win doesn't mean as much if the competition isn't there."
Clearly, Yoder's win against a hungry field of 14 riders competing for points at the tour's next to last race of the season meant a great deal.
Being able to tell his friends he's got the quickest and fastest street bike on the planet isn't bad either.