For the second time this year, the Xtreme Dragbike Association (XDA) brought the best show in motorcycle drag racing to Virginia Motorsports Park for the Inaugural Bike Bash. The event featured Live music, a Freestyle Motocross show, Baggers vs. Slingshot Sound Off, custom bike show, huge vendor midway, and a bikini contest. Something for everyone!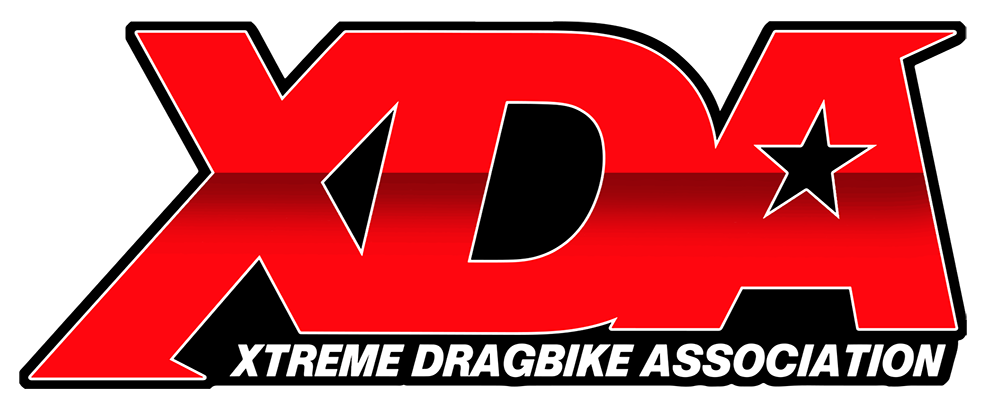 And with cooler temperatures, racers were able to show off some serious performance gains as they fought for points in the 2019 championship chase and worked to collect on the $40,000 in cash purse. With full fields and a variety of activities going down in the pits, there was non-stop action all weekend.
Orient Express Racing Pro Street
Orient Express Racing Pro Street brought out the horsepower as personal records dropped all weekend long. In qualifying, seven personal records were broken. The most impressive was Richard Gadson's 6.463 that sent him to the number one spot in qualifying bumping up Jeremy Teasley's 6.476 pass. This time also moves him to the number two spot on the GOAT List (Greatest of all Time).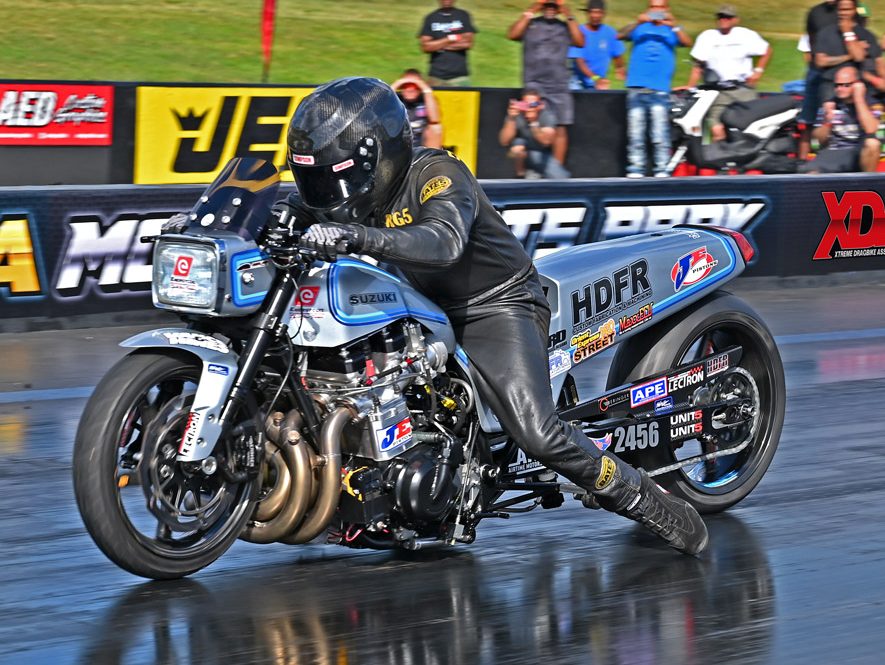 Other racers that improved their ET records in qualifying were Ryan Schnitz 6.619, Tony Ficher 6.711, Greg Wallace 6.745, Ethan Barkley 7.016 and Chris Edwards with a 7.047. Barkley also bumps Aston out as the 'Quickest Canadian Racer at XDA.'
In round one of eliminations Gadson, Teasley, Schnitz, Ficher, Ehren Litten, Frankie Stotz, Rodney Williford, and Chris Moore all took wins. Ryan Schnitz improved his best ET to a 6.603 this round. And Jordan Haase who struggled in qualifying, took a first-round loss to end his chance at a VMP repeat win.
Frankie Stotz in round three of qualifying hurt his motor when a cross-threaded spark plug shot out of his head when he shifted to second gear. He worked until 3am to get it fixed for Sunday. However, when Stotz left the tree something was wrong, and he had to abort the pass. This could have been an easy win for his opponent Greg Wallace, but Wallace cut a -.005-light sending Stotz on to the next round.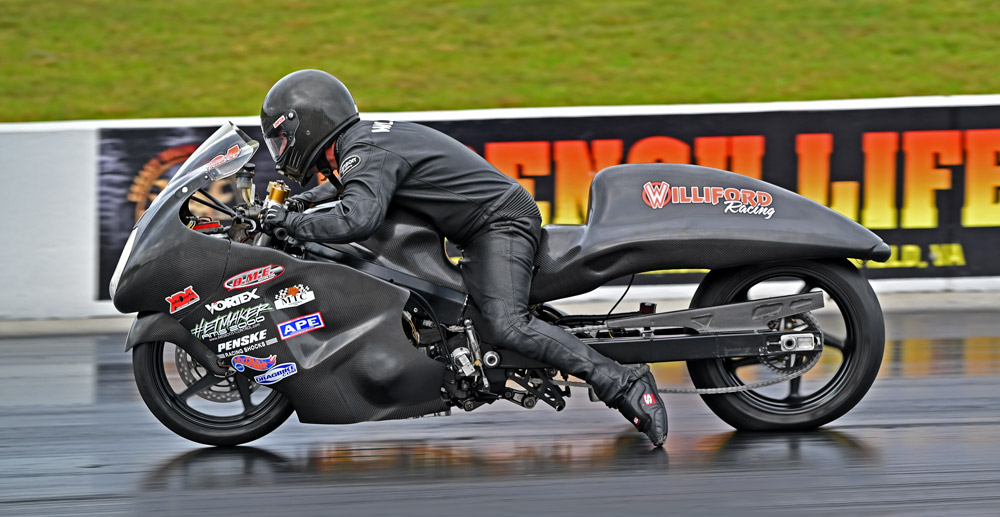 In round two Litten, Teasley, Williford, and Gadson all took wins. All the winners made six-second passes sending the toughest racers to the semi-final round.
In the semi-final Ehren Litten took out Gadson with new personal best ET of 6.480 to Gadson's 6.543. Litten's teammate Williford would take a loss to Teasley.
On the next pairing, Williford cut a better light. And as Teasley left the starting line, he had some traction problems and Williford drove away from him. Teasley started gaining ground back on Williford, and at the thousand-foot mark Williford's front wheel came up ever so slightly and opened the window for Teasley to get around him at the finish line. This round win puts Teasley three points ahead of Williford going into next month's DME Racing Fall Nationals.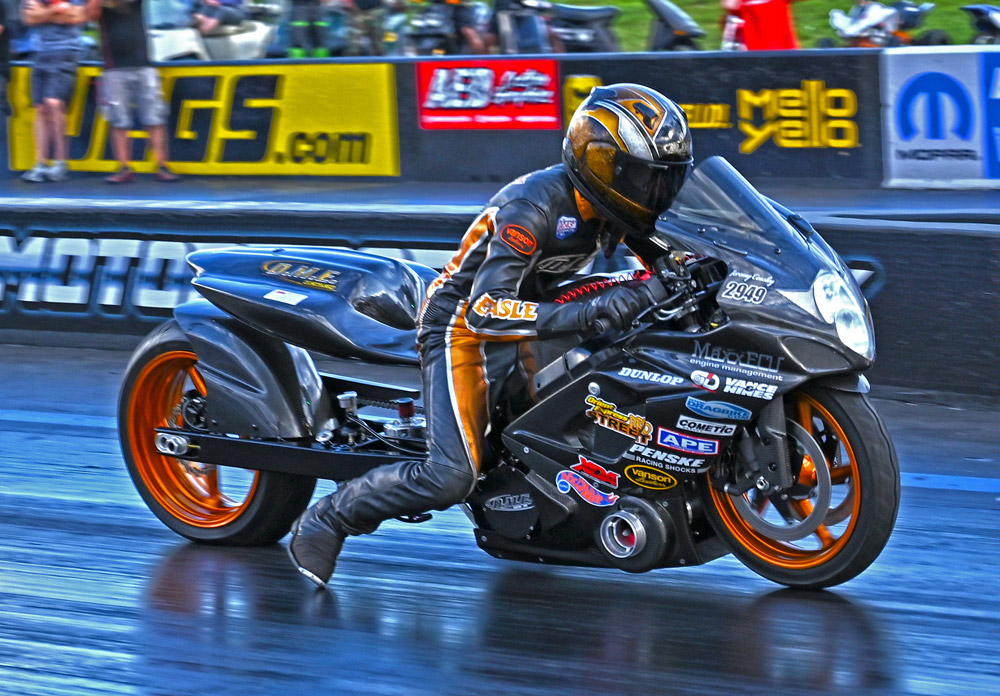 In the final round Litten took the starting line advantage cutting a .038 light to Teasley's .060 light. Litten was out on Teasley initially, but by the 330′ mark he caught up, and they stayed side-by-side through the finish line. The reaction would win this race as Litten took the win with a 6.511 at 225 mph to Teasley's quicker 6.502 at 226 mph.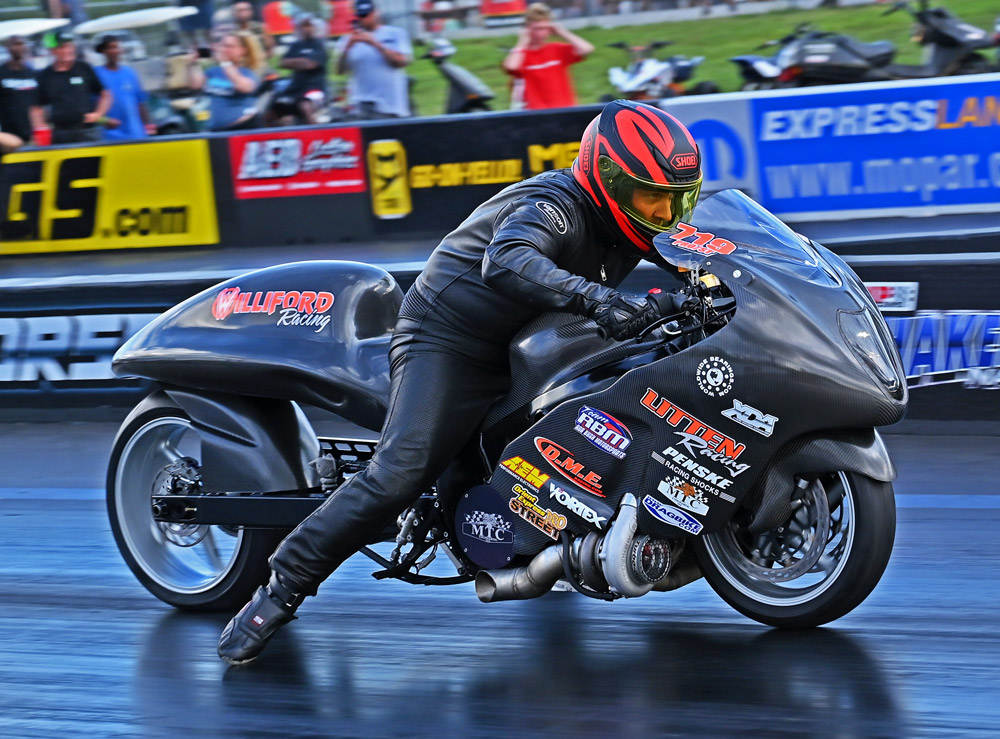 The next race will be crucial for both Williford and Teasley as they both have everything on the line to win the 2019 championship. While Williford is a multi-time champion with the XDA series, Teasley has never held the Pro Street title with this series.
DME Racing Real Street
DME Racing Real Street delivered an exciting event at the inaugural Bike Bash. Jeremy Teasley who ran the first fifty in Real Street competition at the last event with a 7.592 was unable to back it up as an official record. Real Street Racer, Ralphie Navarro, put up $500 before this event as an incentive to the first racer to run a fifty at the Bike Bash event. In round two of qualifying Teasley ran a 7.584 and went on to back up the number on Sunday to make it an official record. Ralphie Navarro who was not at the event recovering from an accident early this season jumped on his Harley and rode down from New Jersey to deliver Teasley's cash in person.
There are more videos on the Cycledrag Youtube channel (please subscribe here) and the Cycledrag.com Facebook page (Please like here) and more will be coming soon. Check back daily.
About XDA Racing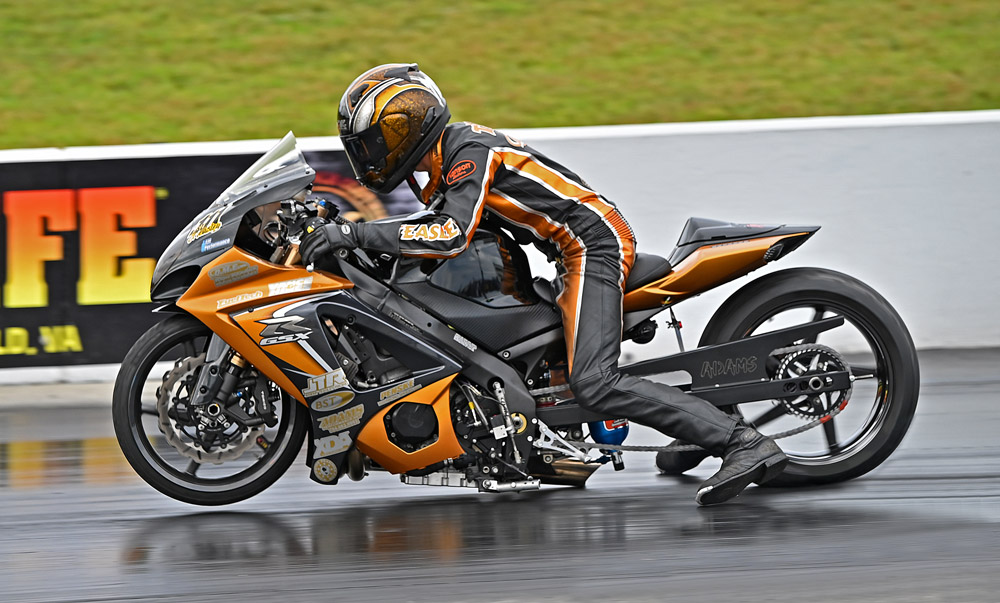 Rookie Brad Stinnett's performance has been something to marvel this year as his performance and riding improve with each event. Stinnett is not a jockey as he is one of the bigger guys in the class standing at 6'3" and weighing in at 220lbs. He took the number two qualifying spot with 7.643 and ran a 195.00 mph pass during eliminations putting him notably close to resetting the current MPH record of 195.17 retained by Eddie Chapman.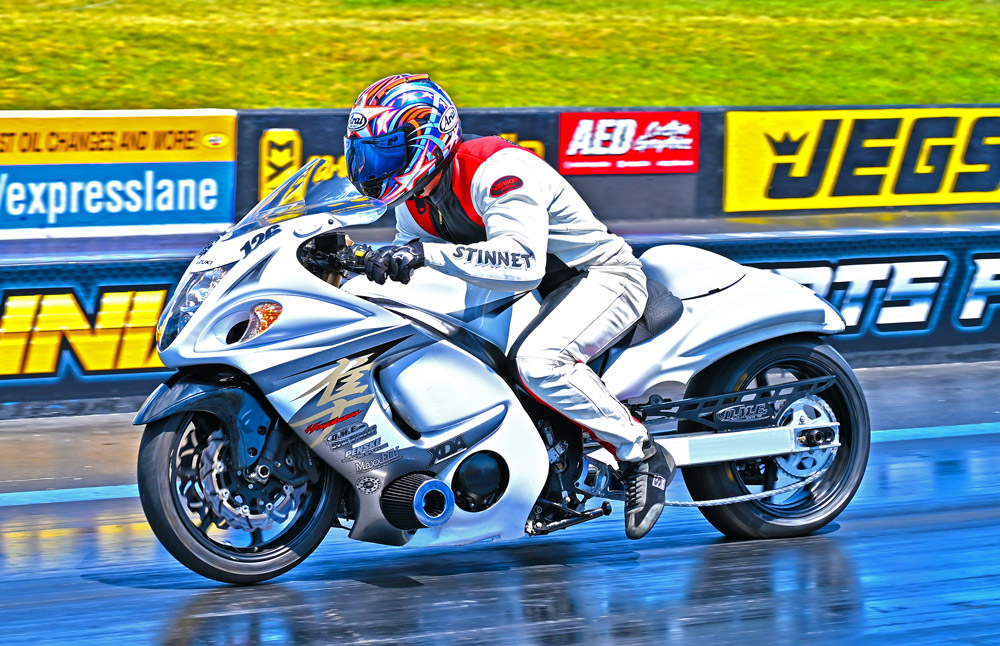 Alisha Malone made her season debut but started out rocky as the AFM Team had to work the kinks out of their new setup. She qualified last with a 9.864 and took a first-round loss on Sunday to Brad Stinnett. However, XDA allows their Pro racers that lose in competition to run behind their class if they need an extra hit to do some tuning work before heading home. Luckily this is when it all came together for Malone, her bike was back on track and she ran her first seven-second passes. Her first pass she ran a 7.99 and then she came back around for the next round and ran a 7.922. Malone will go in the next race confident and happy that seven is finally off her back.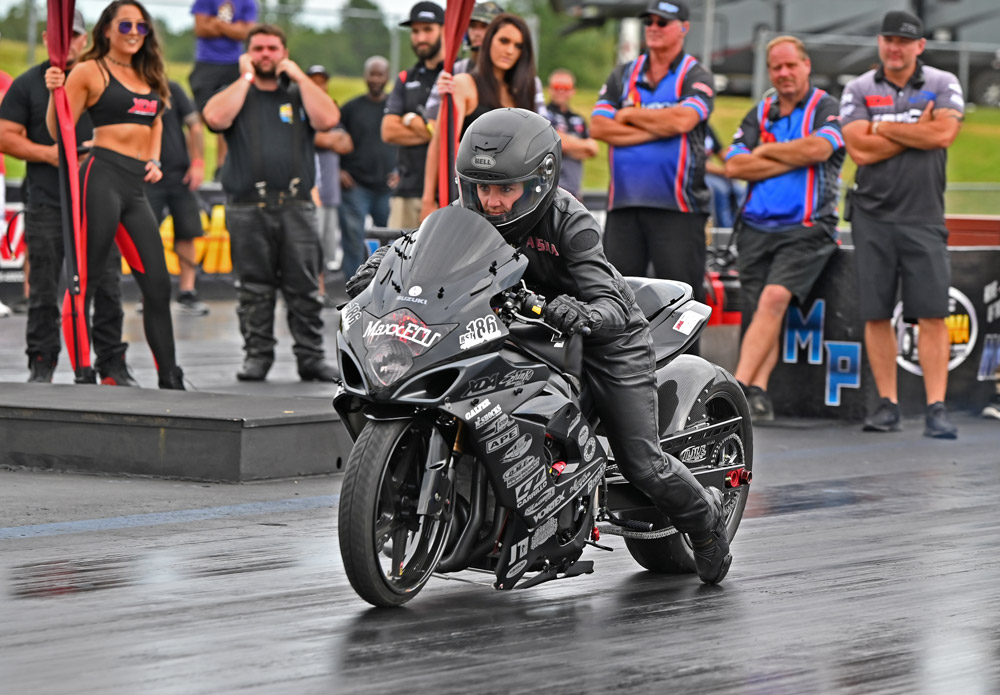 In round one Herron, Stinnett, Teasley, Bud Harrod, Anibal Merced, Spencer Claymomb and Devin Ragland all took wins. Points leader Mark Hylton took his second first-round loss of the season when he lost to Jeremy Teasley with a -.005-red light. This loss would open the door for Merced, Claycomb, or Teasley to overtake his points lead.
In round two Stinnett, Merced, Ragland, and Teasley all took wins. Claycomb took his loss to Merced thus allowing both Merced and Teasley to pass him in points.
In the semi-final Devin Ragland took out Stinnett on his personal best pass with a 7.619. And Teasley took out Merced, and with that win he took over the points lead in Real Street. He now leads two Pro classes with the XDA.
With Teasley and Ragland in the final against each other, Anibal Merced was fired up for the all AM Performance final. Both bikes were built, tuned and maintained by Merced, along with the help of Ragland, Teasley, and Crow Teasley.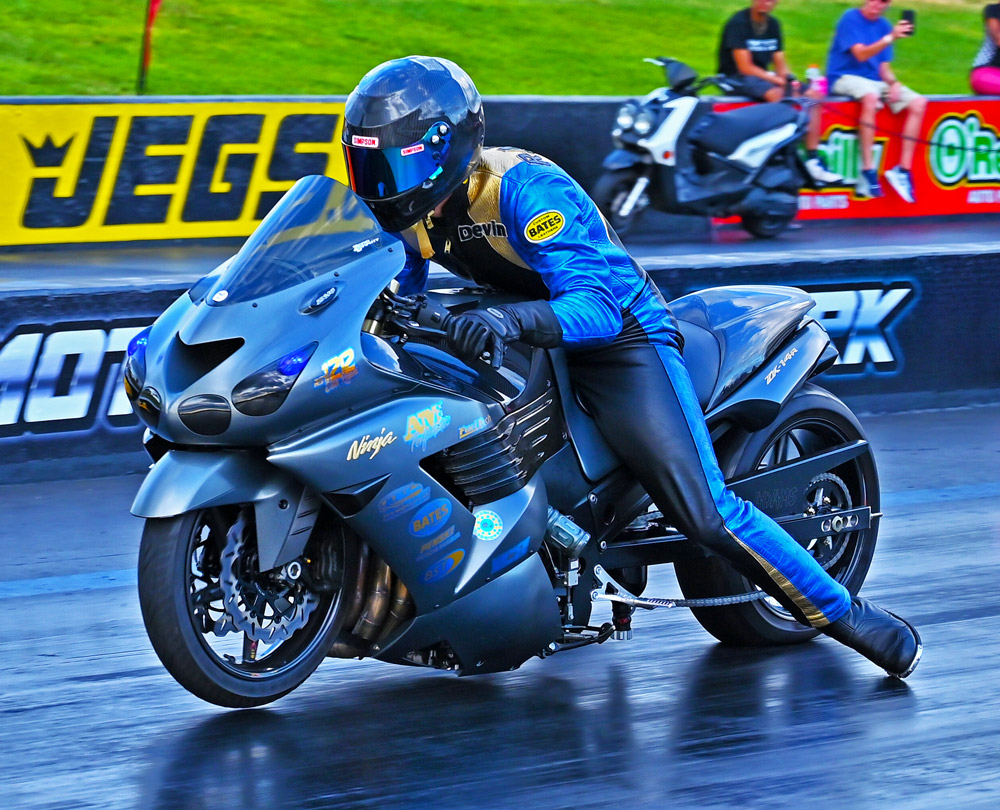 Before the bikes even roll into the water box, it's already the most exciting Real Street final of the year. The Internet was buzzing immediately and the XDA crowd was excited. The Real Street class is one of the weaker classes when it comes to reaction time performances. And this would give Teasley the edge over Ragland in the final. When the bulbs dropped Ragland cut a .102 light and Teasley a .085. Teasley's front wheel came up, and Ragland took off to get out in front of him. It wasn't until half-track that Teasley caught him, but he couldn't get around him, and the win light came on for Ragland. And when the times lite up the board, we had the fastest side-by-side Real Street pass in history with Ragland's 7.590 to Teasley's 7.614.
Pro Xtreme
The eighth-mile heads-up class of Pro Xtreme saw three different racers take over the number one qualifying spot each round. In round one Kevin Clarke ran a 4.039, in round two Rodney Williford overtook him with a 3.989. And then in the final qualifying session, Ehren Litten came out and reset the class record to a 3.959. The record had been previously held at 3.962 by his teammate Rodney Williford.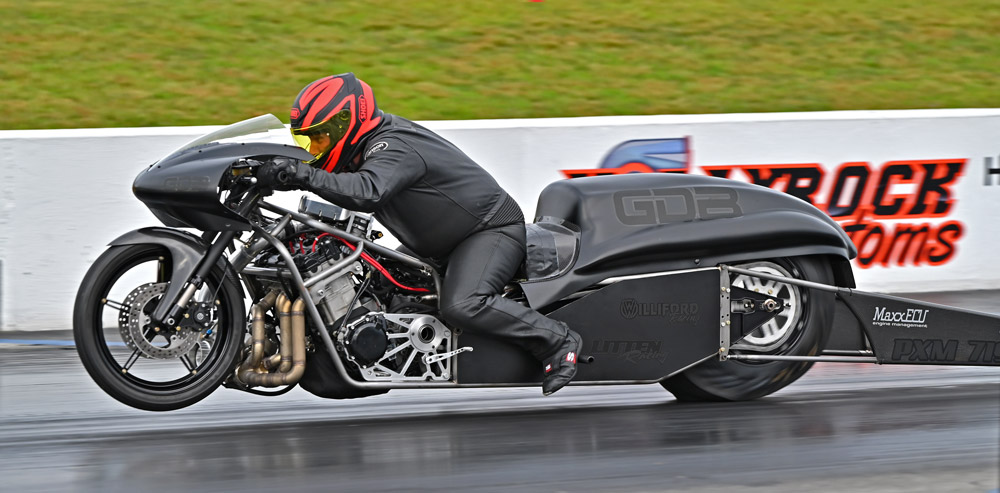 On Sunday Ehren Litten, Rodney Williford, Rob Garcia, and Kevin Clarke all took wins first round. Garcia was the only racer in round one to take his win with a reaction time advantage cutting a better light on John Collins to win with a 4.128 on Collin's 4.114 pass. Chris Cutsinger broke in the water box to send points leader Clarke to round two. Tony Steele just couldn't produce the power needed running a 5.679 to Litten's 4.061. And Bobby Lovingood took the reaction time advantage, but it wasn't enough with Williford's 4.02 to his 4.314.
In round two Pottstown, PA racer Garcia took an easy win when Litten's bike would not go into gear as he attempted to roll into the beams. Williford who is behind Kevin Clarke in points needed to win against him in round two, and he did just that running a 3.985 to his 4.004. This closing the gap between the two front runners putting Williford twenty-four points behind Clarke for the 2019 championship.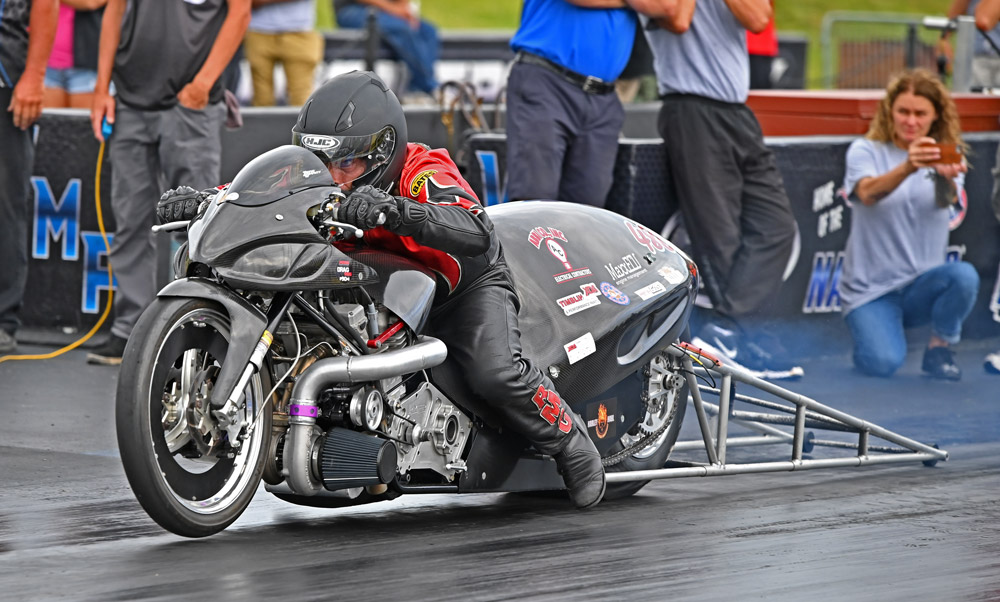 In the final anyone betting on the sidelines would have put their money on Williford for the win. And they would have lost big as Williford uncharacteristically turned on the red light, handing the win to Rob Garcia. Garcia who had the win at the tree came dangerously close to hitting the wall as he approached the eight-mile, he pulled the bike hard to save it as he rolled through the beam for a 5.428 time. Had Garcia touched the wall, it would have been a DQ, and the win would have gone back to Williford. This is Garcia's first win of the season and will no doubt put him in work mode to prepare for the final shot at a championship next month.
Pro Xtreme is presented by DME Racing, Fast by Gast, Harley Haul, MaxxECU, McCoy Motorsports, MTC, Rob Bush Motorsports, Timblin Chassis, and Worldwide Bearings.
Vance & Hines 4.60
In the Friday night round of Vance & Hines qualifying, Dystany Spurlock ran a 4.600 to take the top spot, and her time would stand even after two more rounds on Saturday. Spurlock's excitement could not be hidden after such a great accomplishment in her rookie year of 4.60 competition with the Marks Racing Team. You could see the electricity around her all weekend when she was racing or when she was standing on the track to support boyfriend Courtlan Whiting. In round one of competition, she would take an easy win when Darryl Hollins broke at the line and gave her a single pass. Despite the luck, she demonstrated her extreme focus when she cut a .013 light and ran a 4.598 pass. In round two against Boo Brown, Spurlock's dream weekend would be clipped when she went red with a -.004.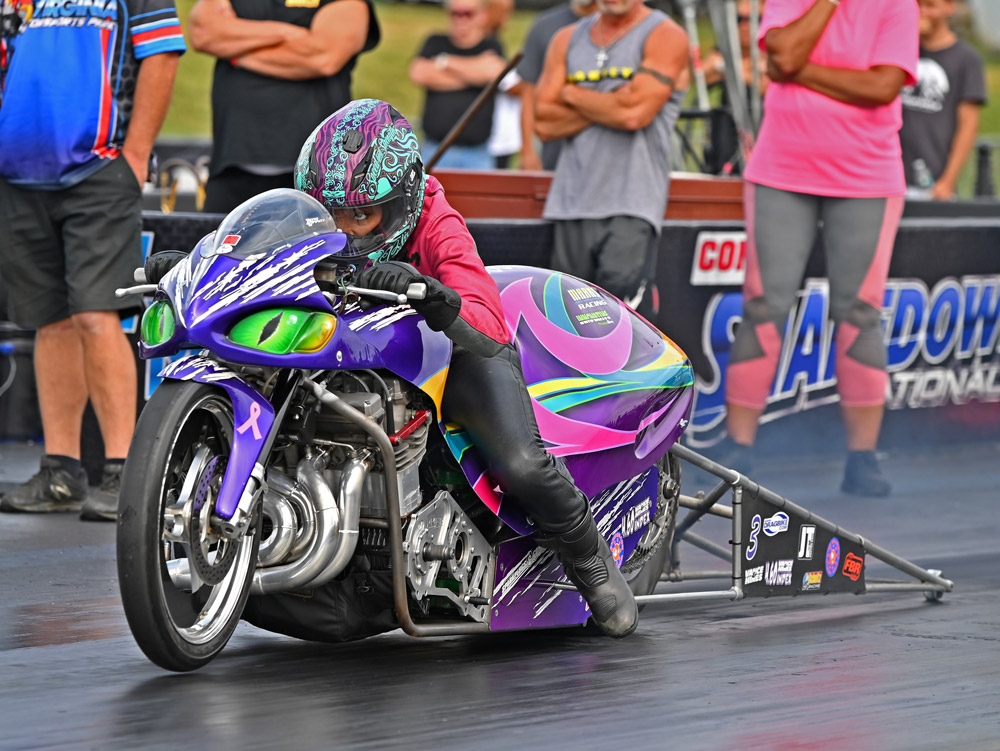 Brown went on to win two more rounds taking out Ron Bonitatis and Alan Fields before heading to the final against Tyler Cammock. Cammock equally had fierce competition on his way to the final taking down Rob Hunnicutt, Wes Hawkins, Jim Jordan, and Mac McAdams. Going into the final, Brown had the better average reaction time over Cammock.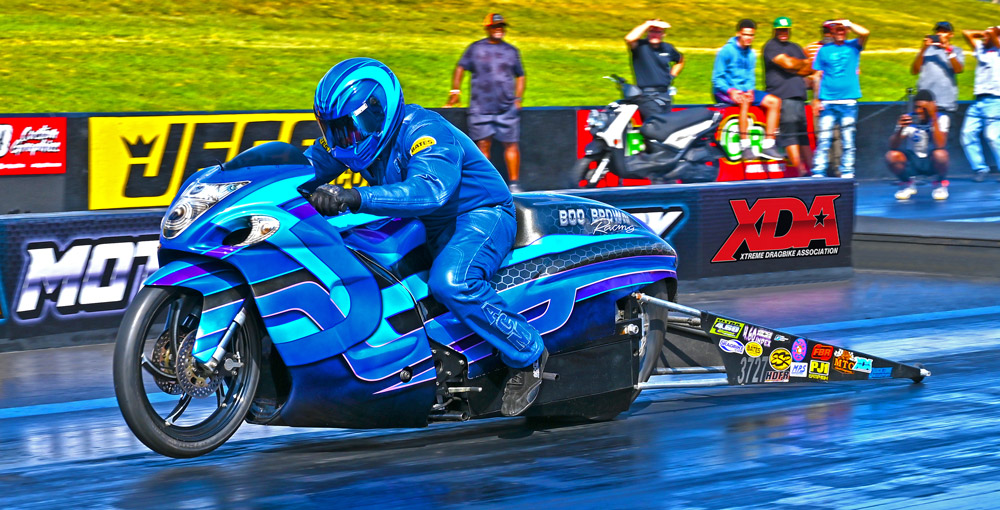 However, Cammock got the advantage on Brown at the tree with a .010 reaction time to Brown's .015. And as both racers battled to the eighth mile, it was Brown who would get the win light with a 4.602 over Cammock's break out 4.584 time. This win will give Brown points to close the gap on leader Michael Ostrowski going in the DME Racing Fall Nationals next month.
HTP Performance Grudge
In Monster Bulls, first-time entrant, David Martin on 'Black Panther' made a final round appearance against Rendolf Torbed on 'Kastigala' who has taken two wins already this year. Torbed also took out the class points leader, 'Pickin Pockets' on his way to the final and was looking for a win to overtake the points lead. But this hope would be dashed as 'Black Panther' turned on the win light.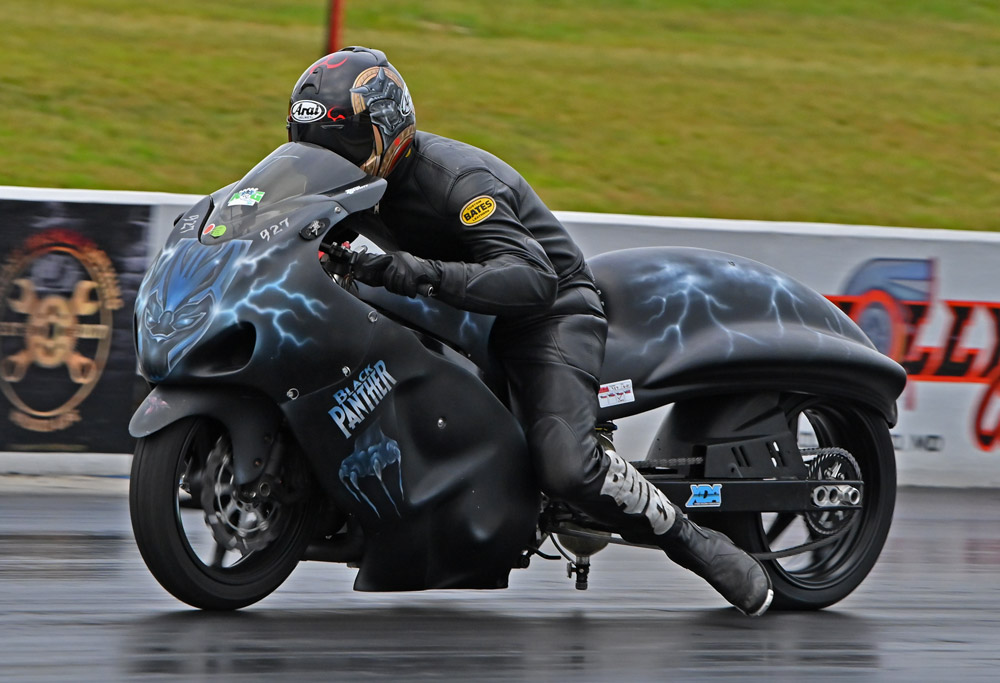 APE Nitrous Bulls also had a first-time entrant with Gaige Herrera on 'Pee Wee.' Unfortunately, he would face points leader Dave Norris on 'Yellow Jacket' for a first-round sting that would send him home. Norris would go on to take out Richard Gadson on 'Dead Man Walking' for his second win of the season.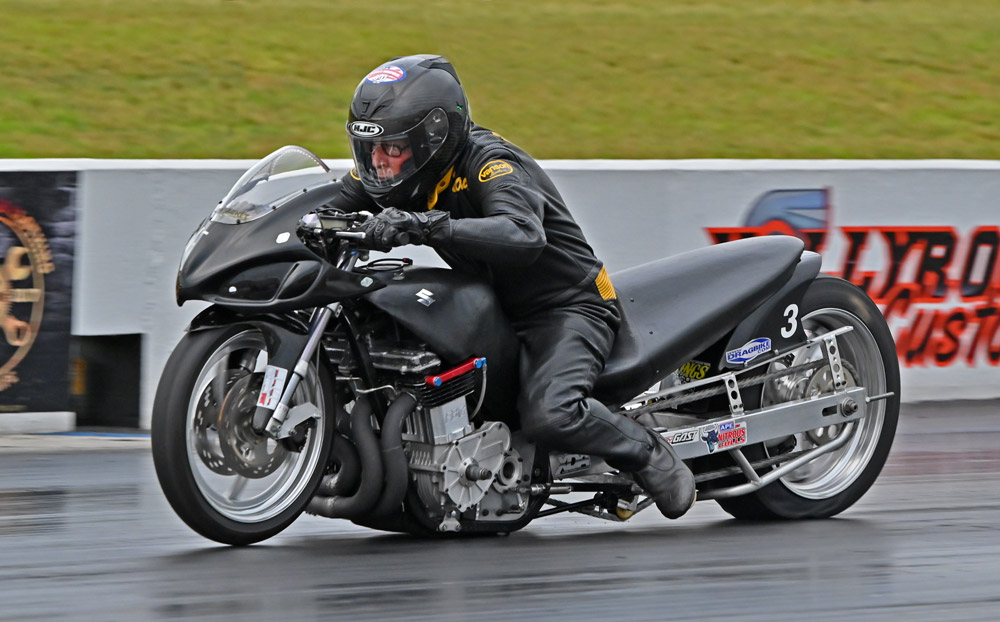 Staying on trend with the other Bull classes, Unit 5 Brahma Bulls also had a first-time entrant with Mathew Dozier on 'Flight Risk.' In the final he would be denied take-off as Nicholas Mazeika on 'Clockwork' would take his fourth win of the season to lock up the 2019 championship.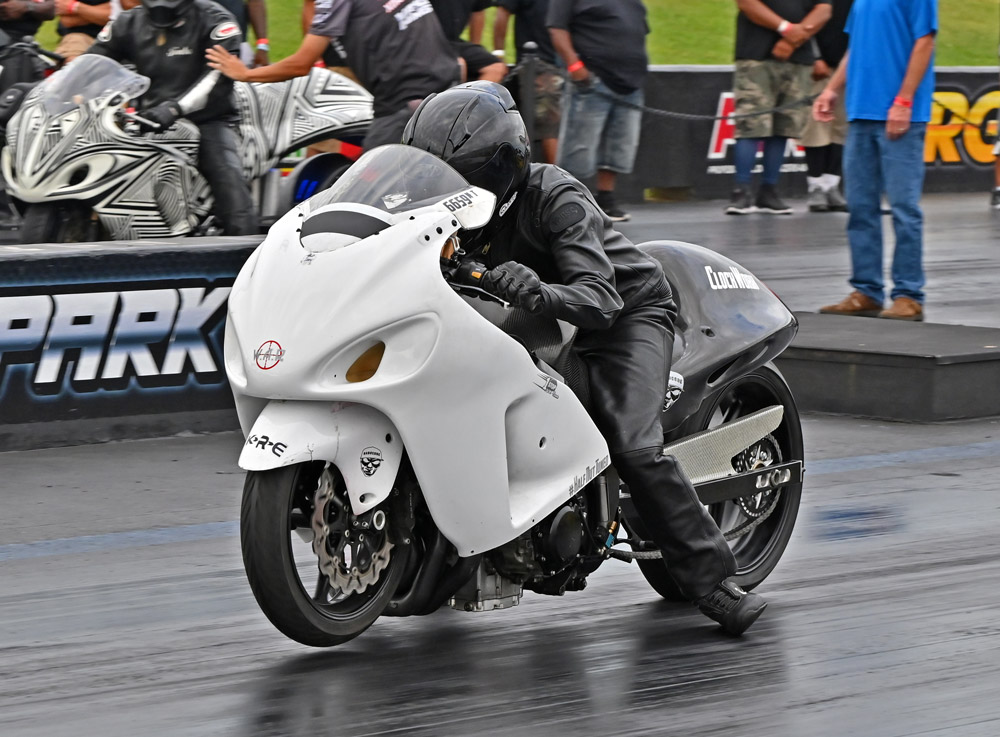 The FBR Shop 5.60
In the FBR Shop 5.60 class Turon Davis with a 5.609 took the top spot in qualifying over forty-seven other competitors. New XDA racer Jeremy Fox entered his 1978 Kawasaki bar bike to make it to the final round taking out previous event winner, Courtlan Whiting, along the way. There he would face Maegan Bowers who was a first time 5.60 competitor. With two first timers in the final, the win light was going to be special. Fox had a .008 reaction time giving him the advantage over Bowers at the tree. Fox ran a 5.602 over Maegan's 5.733 to take the win for an unforgettable first-time experience with XDA.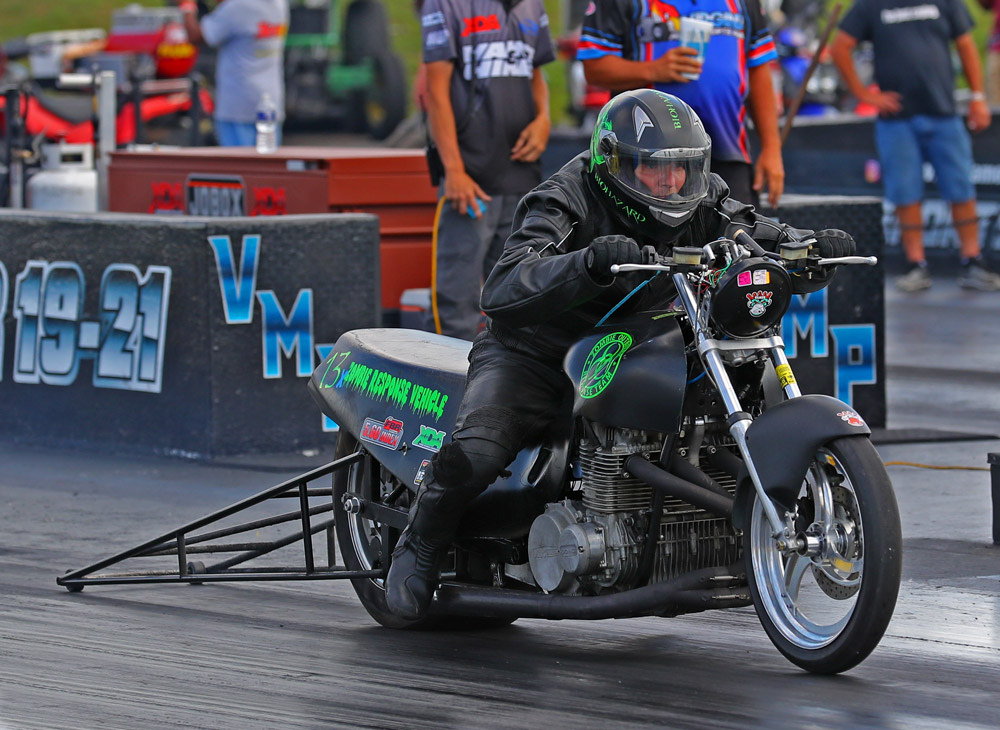 Shinko Tires Crazy 8's
Steve Holden took the top spot in Shinko Tires Crazy 8's qualifying on Saturday with an 8.881 over thirty-two other competitors. However, on Sunday Holden's bike would run off the number to take a first-round loss to Jason Miller of Pennsylvania. Courtlan Whiting who going into this event was fifth in points, won five rounds of competition to meet Spencer Claycomb in the final round. Both racers faced tough competition along the way taking out fierce competition like Mike Schulz, Boo Brown, and Dustin Lee, to name a few.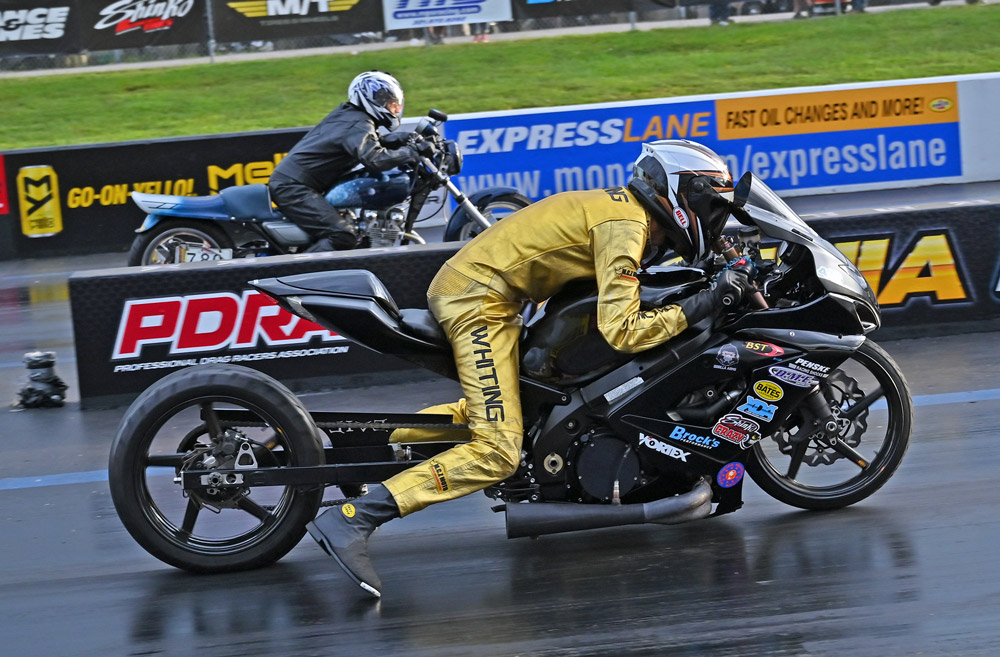 In the final round, Claycomb cut a .054 light to Whiting's slightly better .046 as they raced side-by-side down the quarter mile. With neither racer wanting to give up the stripe, they both broke out crossing the finish line. Whiting's win light came on with a margin of victory of just thirteen inches running 8.787 over Claycomb's 8.784 pass. This win, although not my much, will close the gap on points leader Dustin Lee as they go into the last battle for the year next month.
Mickey Thompson Performance Top Sportsman
Class newcomer Richard Gadson took the number one qualifying spot in Mickey Thompson Performance Top Sportsman with a 7.479 on his Hayabusa street bike. Gadson not only qualified number one, he stopped Dustin Lee from taking over the points lead in round three, and then went on to make his first final round appearance in the class. In the final he faced Robin Procopio in the other lane. Procopio with the championship chase on the line wasn't going to go down without a fight. However, the final would be no battle for Procopio as Gadson turned on a -.008 red light to give the win to Procopio at the starting line. With this win Procopio now leads the points heading into the final round next month at the DME Racing Fall Nationals.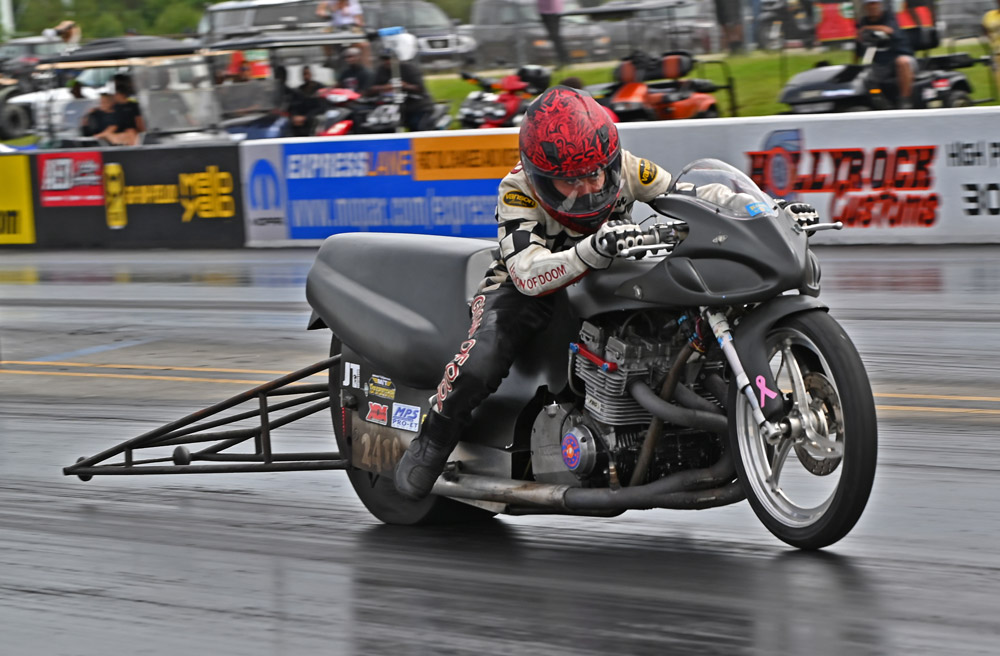 MPS Racing Pro ET
After Robin Procopio took a win in Top Sportsman, she was entered back into round six of MPS Racing Pro ET for a chance at another win and an additional $3,000 payday. She won two more rounds to meet Mike Schulz in the final. Both Schulz and Procopio were killing the competition with their reaction times and dial-in accuracy, and their final would be no exception. Procopio had a slight starting line advantage as they both raced to the finish line. Procopio ran an 8.011 on her 8.00 dial taking the win against Schulz who ran an 8.716 on his 8.71 dial. That's a margin of victory of .006 seconds or sixteen inches.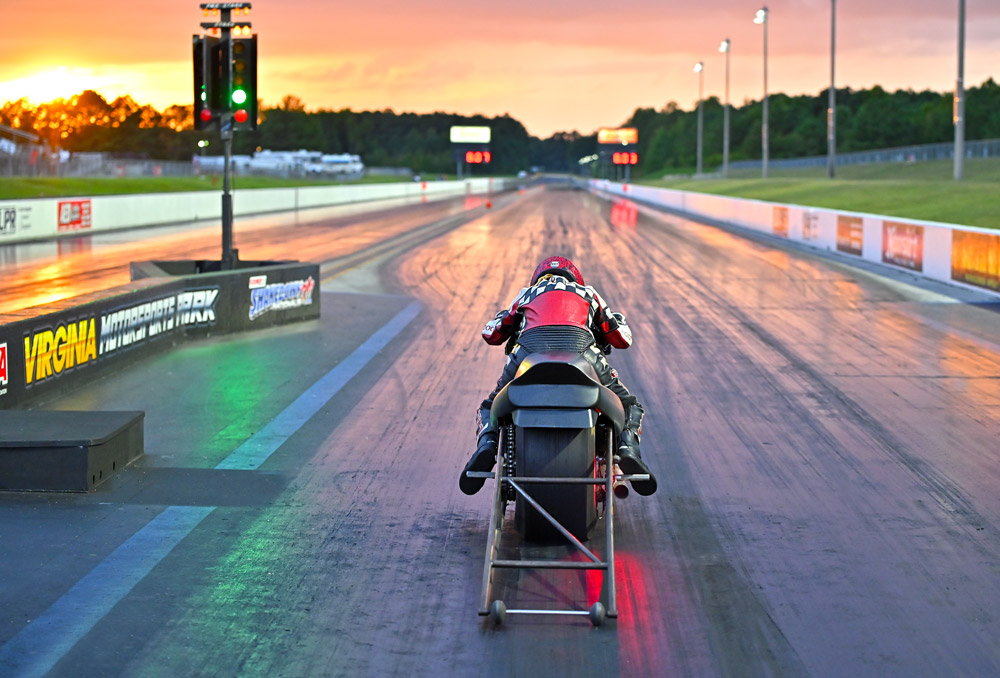 While Procopio took the crown, this performance put Schultz at the top of the leaderboard knocking Shayne Proctor out of the lead and putting a target on his back for the final next month.
Brock's Performance Street ET
In Brock's Performance Street ET, Duane Jackson is loving VMP. He took his first win of the season at the MTC Summer Nationals and now again this past weekend. Jackson and Brandon Thompson worked their way past eighty other competitors to a seventh-round battle. With both racers evenly matched in their overall round performances for the day, it was a 50/50 bet who would take the win. Jackson dialed an 8.70, Thompson a 9.16, both racers left the tree with close reactions and ran down the track side-by-side. Jackson took the win running an 8.713 on his dial, defeating Thompson's 9.192 run. The class points leader, Dustin Lee, lost in round two of competition, so these extra round points give Jackson a shot at the championship.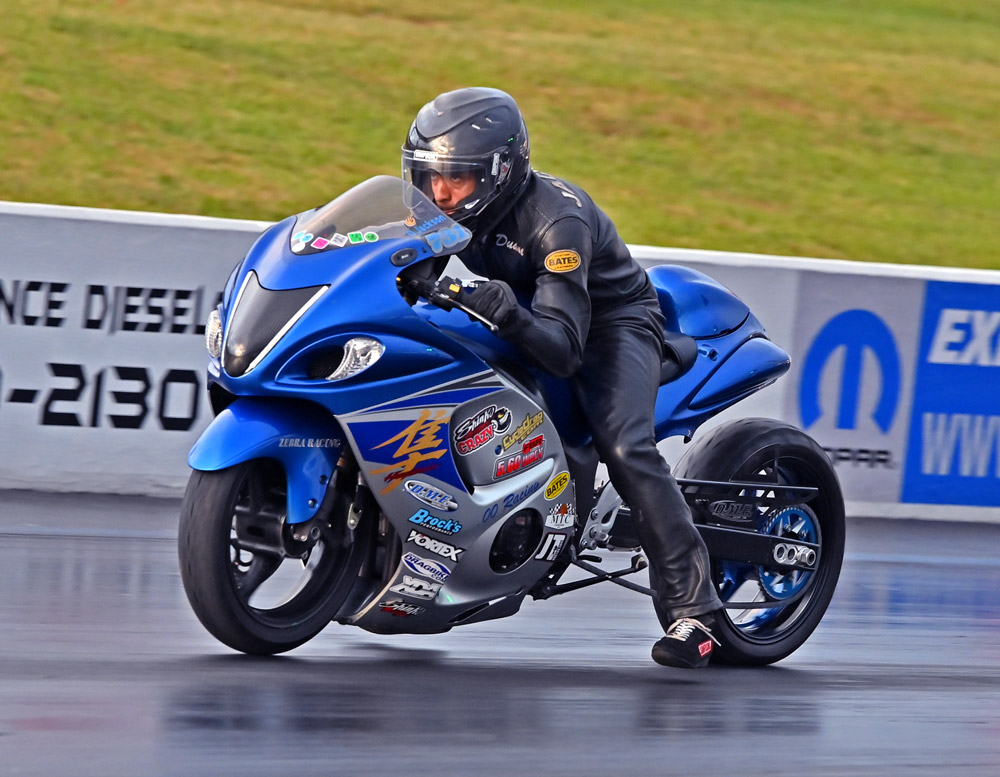 For full qualifying and round-by-round results of the event, visit www.xdaracing.com.
The XDA season concludes in a few weeks at Maryland International Raceway for the 27th annual DME Racing Fall Nationals on September 21-22, 2019. Mark your calendars now as this event will also feature the 7th annual Orient Express Pro Street Battle Royale paying $10,000 to win and a 32-Bike Field! Champions will be crowned, and the Fall air is bound to bring out record performances.
Visit www.xdaracing.com for event information, class rules, schedule, and more.
There are more videos on the Cycledrag Youtube channel (please subscribe here) and the Cycledrag.com Facebook page (Please like here) and more will be coming soon. Check back daily.
About XDA Racing
The Xtreme Dragbike Association (XDA) is an east coast motorcycle drag racing series with 700+ motorcycle racers competing at each event. Every XDA event hosts professional classes, sportsman classes, grudge racing and a vendor midway. Lifestyle activities such as bike shows, bikini contests, DJ and live bands are also held at select events. For more information on the XDA, please visit www.xdaracing.com or connect with us on Facebook, Instagram, Twitter and YouTube @xdaracing