The XDA encountered unfavorable weather conditions for the second time this season. Despite this, dedicated XDA racers arrived at the track on Thursday night to prepare for the 23rd annual WPGC Bike Fest. These racers put on an impressive display of motorcycle drag racing, ensuring that the event was as exciting as ever.
And while the forecast changed rapidly over the three-day event, the XDA staff adjusted the schedule on the fly to deliver another completed event. The event included live music from Critical Condition Band, a bike show and sound competition, a bikini contest, and a vast vendor midway.
The on-track action was electrifying, with 629 entries taking on MIR's quarter mile. The racers were fully prepared for intense competition and didn't let the rain or warm weather affect their performance. The pits were bustling with various activities, and with full fields, there was non- stop action throughout the weekend.
Orient Express Racing Pro Street
Despite the challenging weather conditions, the bad boys of Orient Express Racing Pro Street showed no signs of slowing down. It was once again a full field of six-second machines producing more than 650 horsepower with impressive six-second times.
Rodney Williford put the smackdown on Saturday afternoon with a 6.388 at 229.82 mph pass when the temperatures were pushing over 90 degrees. And with only two rounds of qualifying, the top eight qualifiers all ran in the 6.60s or better making it another quick field, and the 16 bike field bump spot was a 6.81!
With Williford qualified number one, we prepared for another Williford show. In round one, he took out teammate Jamie Lopes; in round two, he cut a .000 light and took out rookie Brandon Litten. Williford should have saved that triple zero light for the next round.
In the semi-final, the clouds parted, and the sun shined down on Darion Payne who cut a .047 light to Williford's .078, and both competitors rocketed down the track toward the finish line.
At the 330' mark Payne was leading, but Williford was pulling hard with that big MPH! Payne crossed the finish line first with a 6.457 and a Holeshot win over Williford's quicker 6.428 pass that lost by .0022.
The starting line was madness; Williford's win streak ended after four consecutive XDA events.
This event last year was the only event that Williford did not make a final-round appearance. In
fact, Darion Payne got the win over Williford in the semi-final and took a runner-up finish to Jason Dunigan in the final after he turned on a red light.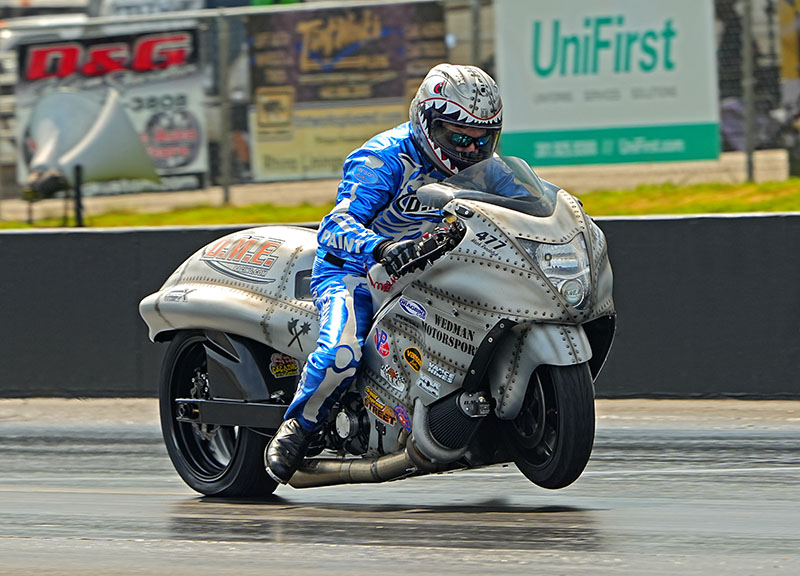 Darion Payne would face Dunigan's teammate Mark Rendeluk this year, and Payne would surely not push the tree to the red side. Rendeluk has had a banner year as a rookie, already running in the forties after only two events. Rendeluk took the number two qualifying position with a 6.520 and had to face teammate Jayson Geerman in round one. He then went on to take wins over Ryan Bonitatis and Greg Wallace before making it to his very first Pro Street final.
And with Payne coming off a win over Williford, the starting line was electric as these two competitors faced each other for the first time in a final. Payne was living on the edge as he got the starting line advantage when he pushed the tree to a .002 reaction, almost repeating last year's red light. Rendeluk was more reserved and cut a .051 light allowing Payne to take the lead on the track. Rendeluk closed the gap by the 1000' mark, running his career-best time of 6.449 at 228.04. But again, it was Payne's win light that came on, running a 6.480 at 225.48 for another holeshot win and sending himself to his first-ever Pro Street winner's
circle.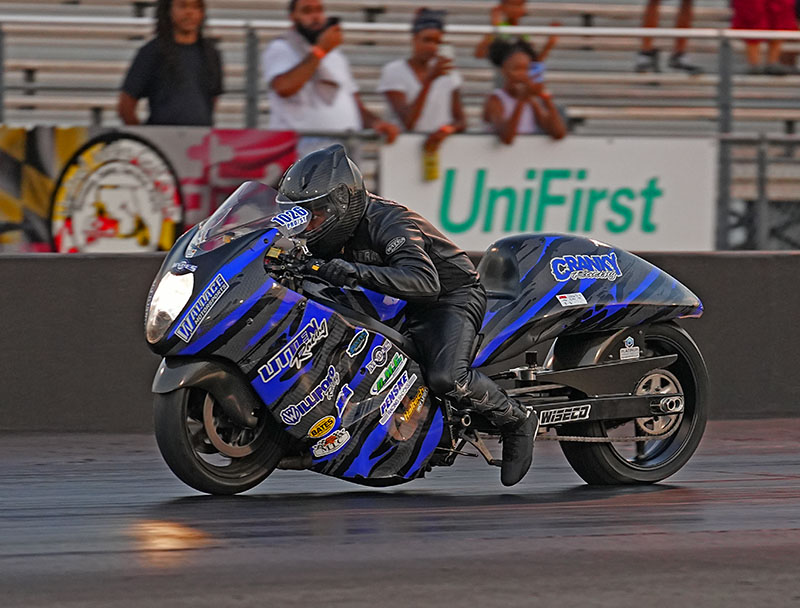 We can't wait to see what happens at the FuelTech Bike Bash next month at Virginia
Motorsports Park; get August 25-28 on your calendar now!
DME Racing Real Street
The DME Racing Real Street champions again went to battle at the WPGC Bike Fest. Class champion David Stewart left the last event setting two class records. He showed the class he wasn't letting up by qualifying number one with a 7.466 and then breaking the MIR track ET record by running a 7.438 during eliminations. He missed resetting the overall class record of 7.435 by only three thousandths.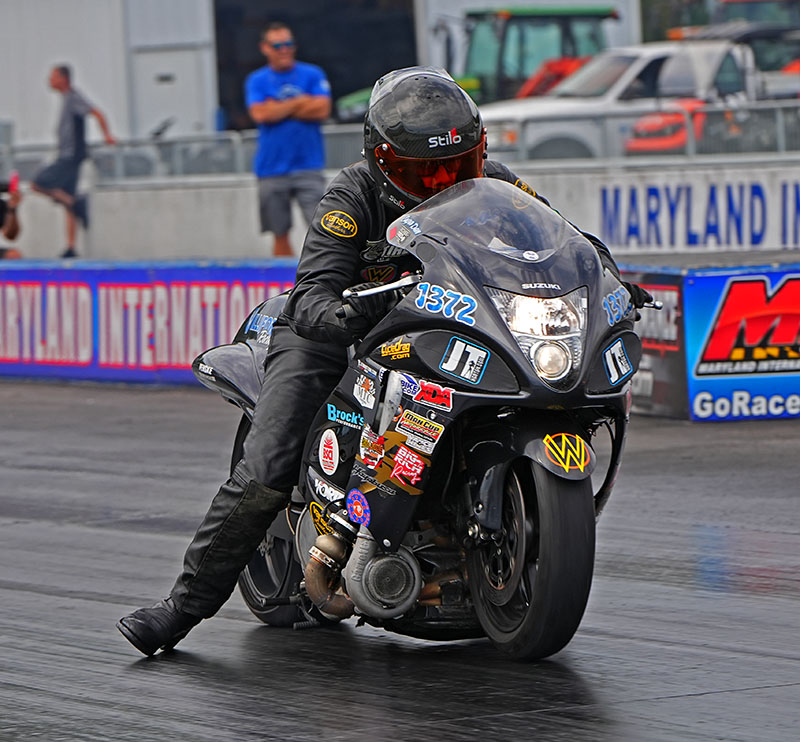 Stewart and Mark Hylton dominated eliminations as they reached the coveted final round. Both riders were looking to win their first Real Street event of the season. Class champion Hylton was a runner-up at the last event, and Stewart went home with his motorcycle in boxes after a tear- down at tech, so both riders were laser-focused on a win. Hylton cut the tree with a .085 to
Stewart's dead late .145 reaction. Hylton crossed the eighth-mile mark first, but Stewart's Hayabusa kept building power and took the lead to cross the finish line first with a 7.451, a good bike length ahead of Hylton, who ran a 7.605.
Not too bad for Stewart, who went from leaving the track with a bike in pieces to leaving with the trophy!
MaxxECU Pro Xtreme
Hard work paid off in MaxxECU Pro Xtreme for Tommy Saxon when he finally turned on the win light this past weekend. Saxon joined XDA at the end of the 2020 motorcycle drag racing season with his 700 lb—turbocharged monster. He made a final-round appearance at the close of the 2022 season but couldn't surpass Ronnie Procopio.
Saxon took wins over Chris Theodoridis and Chris Cutsinger before meeting John Collins in the final. Collins qualified number one with a 4.033 to earn a bye in the first round and then took a win in the semi-final over England's Dale Leeks. Quality racing action was on tap for the final, with the number one and two qualifiers ready to battle.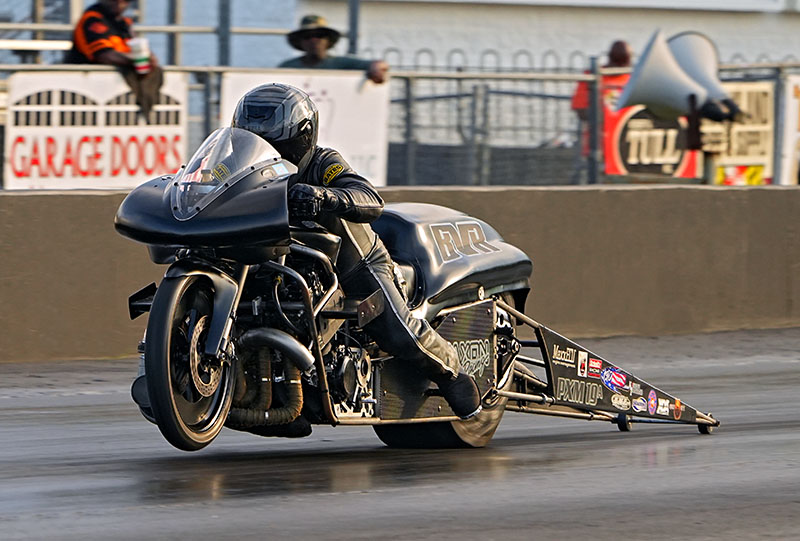 Collins cut down the tree with a .010 for the advantage over Saxon's .062 reaction time. Collins shot out from the tree like a rocket to take a significant lead on Saxon. But as they approached the 660' finish line, Collins lost power, and Saxon continued to build power as the first three-second pass of the weekend lit up the board with a 3.974. Saxon gave a big thanks to Billy Vose, along with the rest of his team, for helping him hit this milestone.
MaxxECU Pro Xtreme is presented by Billy Vose Racing, Fast by Gast, Dunigan Racing, DMERacing, Grothus Dragbikes, Rob Bush Motorsports, Robinson Industries, Schnitz Racing, Timblin Chassis, and Worldwide Bearings.
HTP Performance Super Stock
Mike Davis has been in more HTP Performance Super Stock finals as a runner-up finalist than we can count. But this past weekend, he finally got the monkey off his back and finished with a win! Davis, aboard his Kawasaki ZX-14, won four rounds to land in the final opposite of Tim Cottrell, who was also aboard a Kawasaki ZX-14. Super Stock is the only class dominated by Kawasaki motorcycles.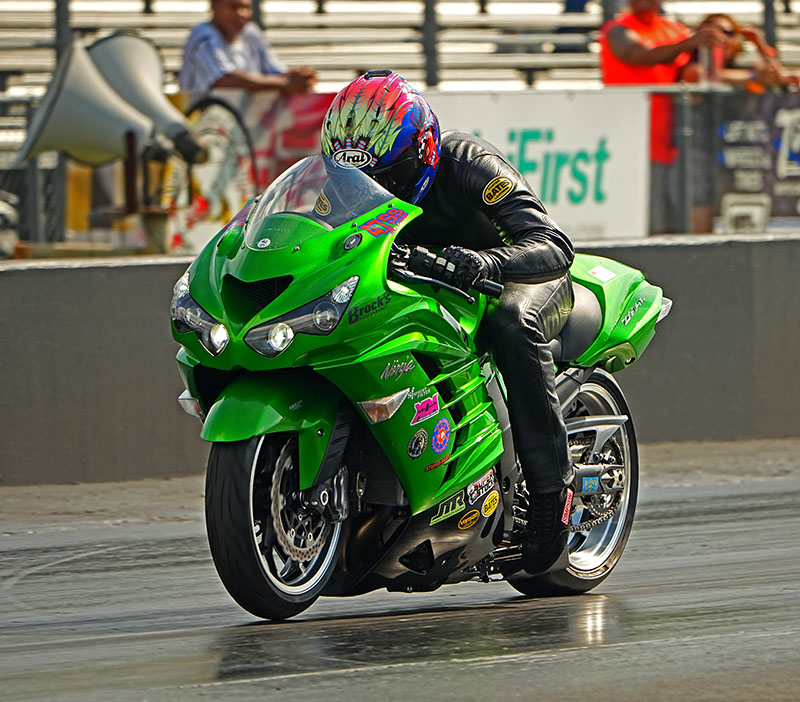 In the final, Davis cut one of his best weekend lights with a .113 for the starting line advantage. As the pair took off for the finish line, they both fought to keep the front wheel down. Cottrell caught Davis by the 1000' mark, and they were side-by-side to the finish line, where Davis pulled off the win by running an 8.992 to Cottrell's 9.001. It was a close one, but you could hear Davis's team celebrating at the starting line from the end of the track!
HTP Performance Grudge
Saturday night's Running of the Bulls was delayed until Sunday after a heavy rain cell hit the track. However, the competition was still flying with tight track prep and a continuation to Sunday for the final rounds. Turbo bikes were in short supply as Geoff Godfrey on 'Minion' took the Boosted Bull to a win unopposed. The All Motor Bulls will be completed at the August Bike Bash between David Fondon on 'Bad Bitch' and La Payne on 'Dark Knight.'
APE Nitrous Bulls
Malcolm Phillips on 'Strip Tease' won a big money race during shakedowns against Lavar Delee on 'High Roller.' After the random chip drawing, Phillips faced him again in the first round of competition. And for the second time in the span of a few hours, Phillips kicked those dice to the side for another win.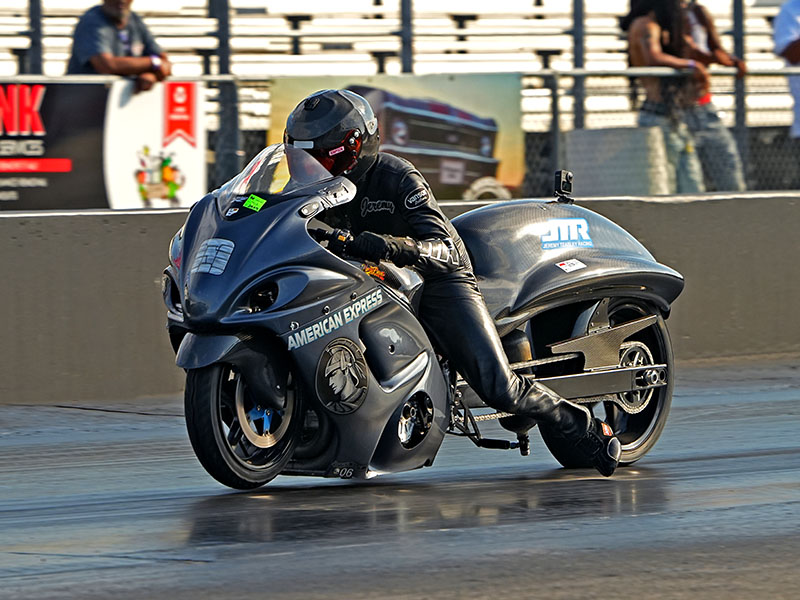 Teasley on 'American Express' won over 'Sho Nuff' in round one, and David Fondon on 'Storm Shadow' in the semi-final. Phillips was a no-show for his semi-final bye and would not be able to advance to the final. This left Teasley with an unopposed win.
This is Jeremy Teasley's second Bike Fest win in a row in APE Nitrous Bulls. Last year he won on 'Unhinged,' and this year, he did it again, but this time on Chris Connelly's 'American Express.'
3 Sixty 5 Monster Bulls
In 3 Sixty 5 Monster Bulls, Howard Gerken on 'Son of Sam' made it to his second final round finish after slaughtering Brandon Tyree on 'Plan B' in round one and John James on 'Dope Sick' in round two. His competitors struggled to keep their front wheels down while Gerken was cool and controlled on his winning passes.
Crow Teasley on 'Unhinged' sent Spencer Claycomb on his '1 Trip' back to the trailer in round one, and disposed of John Carter on 'Grey Matter' in round two.
In the final, Gerken had his first misstep and got caught up in a side step off the starting line while Teasley made a clean pass to the finish line. This is the first ever XDA Father, and Son win at the same event.
Tommie's Motorsports DMV Bulls
Tommie's Motorsports DMV Bulls was a sell-out stacked with heavy hitters and young guns. Brandon Litten, who had a final-round finish at the last event on 'Butch Cassidy,' earned his way to another final round. Litten went on a spree stealing win lights from Caleb Holt, David Fondon, and Aubrey Valentine before he made it to the final to take one more from Antonio Patton on 'Big Dirty.' Patton made a run for it, but Litten caught him by the 330' and rocketed past him for his first winner's circle finish!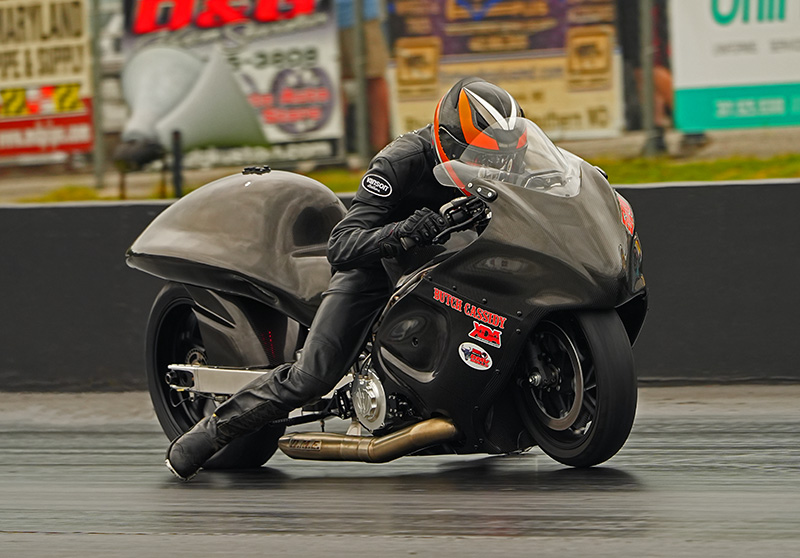 Vance & Hines 4.60
The Vance and Hines 4.60 Index class had a record turnout for Bike Fest, with fifty bikes competing for the thirty-two-bike field. Due to the increased turnout, XDA moved the qualifying field to forty-eight bikes allowing more racers to enter the competition. Rick Bunting led the class of eighth-mile races with a 4.603 in qualifying. Bunting would take this momentum and turn on five-win lights as he made his way to the final round. Steven Shriver, who qualified number two with a 4.607, was also on his game as he sat in the opposing lane for the final round.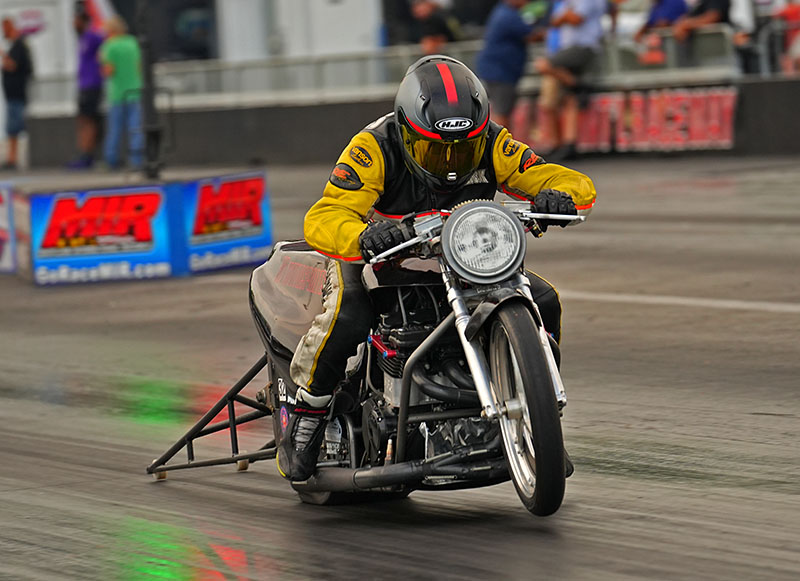 And for the second time at this event, the number one and two qualifiers would make it to the final round. Shriver Sr. left the starting line first with a .019 reaction time, and Bunting followed with a .046. Bunting quickly caught Shriver Sr., and as they approached the finish line side-by-side, both racers backed off the gas at the last second as they broke out. In a heart-pounding final, Bunting took the win with a 4.569 over Shriver's 4.568!
1 Stop Speed 5.60
In 1 Stop Speed 5.60, Jeffrey Santin led the qualifying field with the only perfect 5.600 run over thirty-five other competitors. Santin's time on top was short-lived, as class champion Dustin Lee eliminated him in the third round.
Arizona racer Chad Kacagias would make his mark at this event by defeating Lee in the semi-final and advancing to the final. He met NHRA Summit National Champion Mark Schwalm for the final round battle there.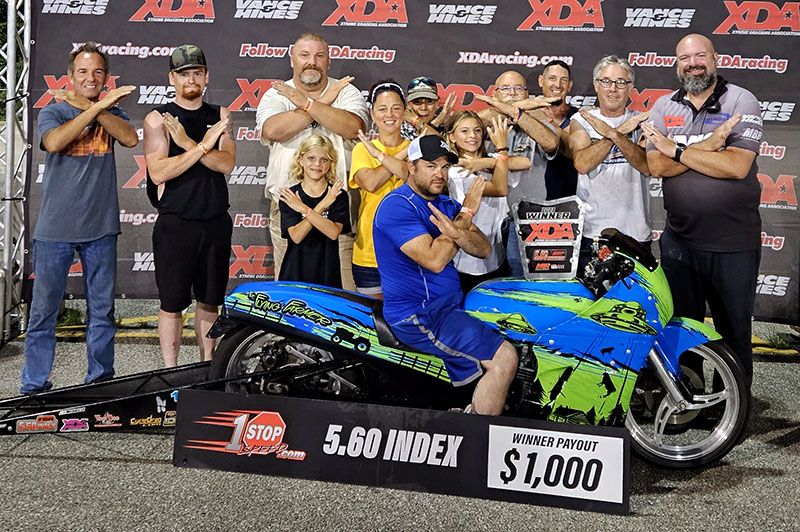 Both competitors ran close to the 5.60 index, making them well-matched for the final. Schwalm took the starting line advantage with a .067 over Kacagias' .080 reaction. And with very little room for error in the 660', Schwalm made sure he got there first, and he did it by ten feet with 5.616 over Kacagias' 5.661 for a winning run.
Mickey Thompson Tires Top Sportsman
Ryan Burnell leads Mickey Thompson Tires Top Sportsman, XDA's quickest sportsman class, running a 7.386 in the quarter-mile. Unfortunately for Burnell his weekend would come to a quick end when he met class champion Jimmie Miller in round two. Miller would win two more rounds before meeting Robin Procopio in the final.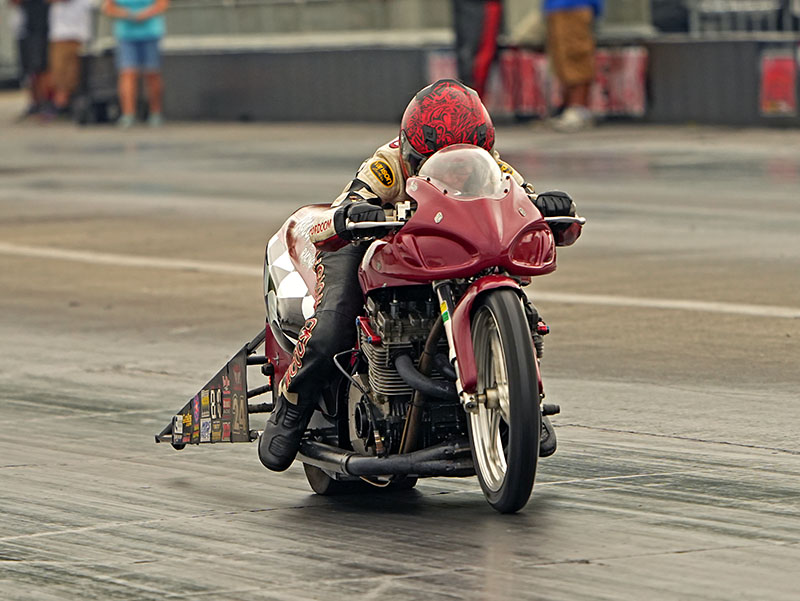 Procopio, one of the toughest racers to face, also won this class at last year's WPGC Bike Fest.
Miller was ready to put his best on the track, but he jumped the gun and cut a -.041 red light to
hand Procopio another Top sportsman win and send her back into the Pro ET competition for a
chance at another win.
MPS Racing Pro ET
We had the first-ever XDA Monday morning winner. With Sunday morning rain delays, the
event pushed our sportsman races until late on Sunday night. With one hundred and twenty-
seven racers in MPS Racing Pro ET, their final was the last to run shortly before 1 am on
Monday. Despite the previous night's racing after a long weekend, the sportsman racers were
on their game as they stayed focused on the finish line.
Brock's Performance Street ET
Montrell Johnson dominates the WPGC with back-to-back wins in Brock's Performance Street ET for the second consecutive year. Johnson won six rounds of tough bracket racing before meeting Laray Proctor in the seventh and final round. In the semi-final round Proctor pushed the tree to a .002 to take the win over Daniel Stribling. However, chopping on that tree caught up with him in the final when he cut a -.040 red light to give the win to Johnson before he even left the starting line.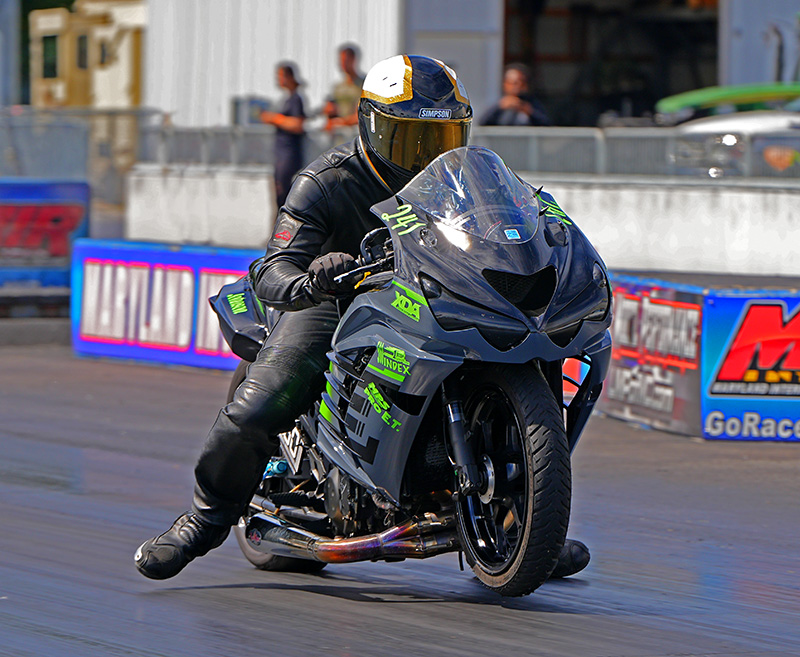 Hard Times Parts & Service Gambler's Race
In Friday night's Hard Times Parts & Service Gambler's Race, Nick Hamlett brought it home for .00 Racing in memory of his friend and XDA Champion Derrick Milbourne. At this event last year, Hamlett won the VooDoo Components Bracket Bash, making him a WPGC Bike Fest winner circle staple. Hamlett won six rounds before meeting Alex Maturo in the final. With an 8.47 dial, Maturo got the starting line advantage on Hamlett, but when it became a race to the finish line, Maturo would break out running an 8.451, and Hamlett got the win by running 8.246 on his 8.21 dial.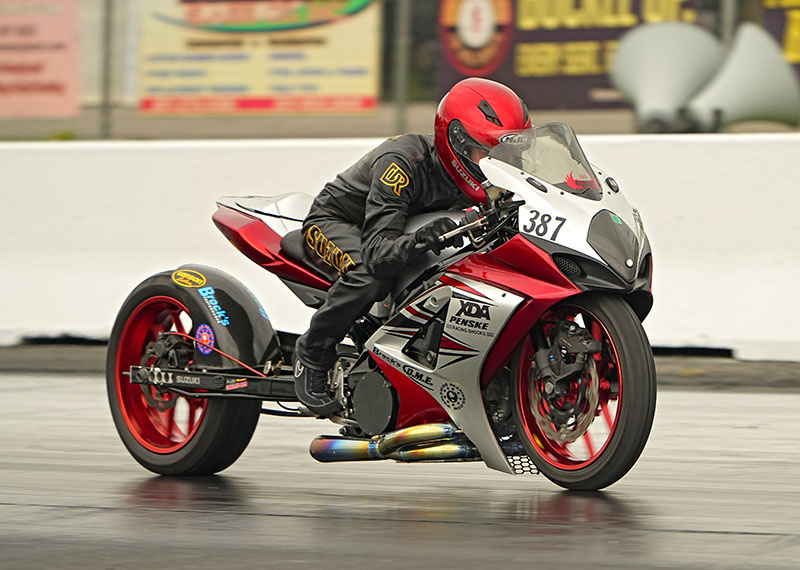 The XDA will return to Virginia Motorsports Park for the 5 th annual FuelTech Bike Bash on August 25-27, 2023. There will be over 700 Professional, Sportsman, and Grudge motorcycle racers in competition, battling it out for over $90,000 in cash purses at this event. Get August 25-27 on your calendar now!
There are more videos on the Cycledrag Youtube channel (please subscribe here) and the Cycledrag Facebook page (Please like here) and more will be coming soon. Check back daily.
To take advantage of some amazing discounts at Brock's Performance, click – http://brocksperformance.com?aff=12
USE cycledrag5 coupon code.