The Xtreme Dragbike Association (XDA) heads back to Maryland International Raceway (MDIR) located in Mechanicsville, Maryland for the 2nd annual Superbike Showdown on June 21-23, 2019!
This event features the Orient Express Pro Street class running at speeds over 230 mph in only 6-seconds! Over 80 Professional riders, plus another 700+ Sportsman, and Grudge motorcycle racers will compete for over $40,000 in cash purse at this event. This season XDA will payout over $200,000 in purse money along with a $120,000 contingency fund that spans all classes.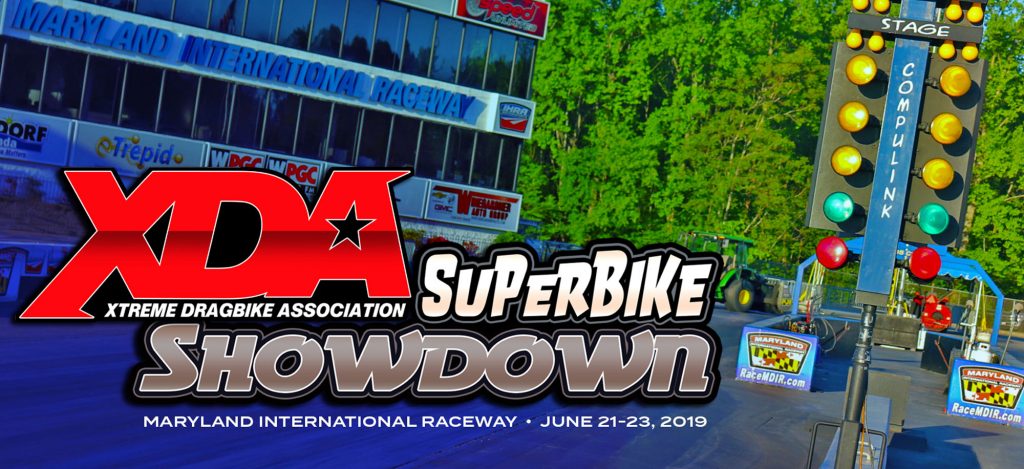 The Superbike Showdown marks the halfway point of the season. Racers will begin to crank up the performance and put even more pressure on the points leaders as the run for the championships continue. One lousy light, one missed tune-up or even one mechanical failure, could mean the difference between hoisting the championship trophy and being second place.
Orient Express Racing Pro Street
Points Leader – Rodney Williford
Next weekend's Orient Express Racing Pro Street class will deliver another healthy round from the baddest street tire motorcycles in the world. These 650+ horsepower motorcycles running at speeds over 230mph in the quarter mile, in only 6-seconds will keep the excitement level high as this class is always looking for more performance.
Justin Shakir who surprisingly struggled at the MTC Engineering Summer Nationals, returned to Connecticut and didn't waste time getting his problem figured out and fixed. He'll be making a statement next weekend to make up for the lack of boost at VMP.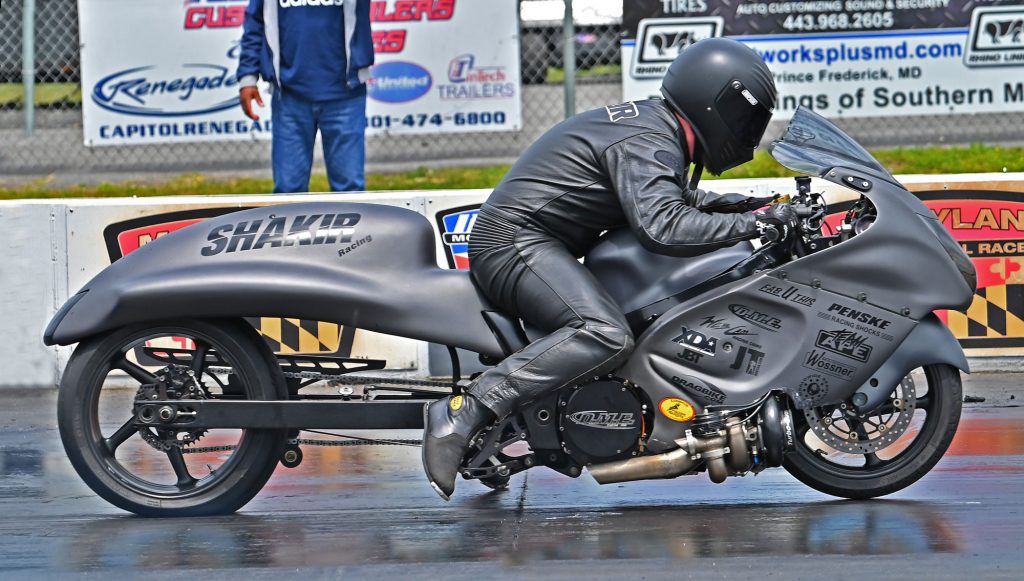 Also coming from Connecticut is Jake Dugan, who just missed a top ten finish last year, with a brand-new bike. Dugan showed up to the season opener but wasn't entirely ready for competition. However, the Superbike Showdown will be a different story on his freshly made standalone chassis and turbo kit.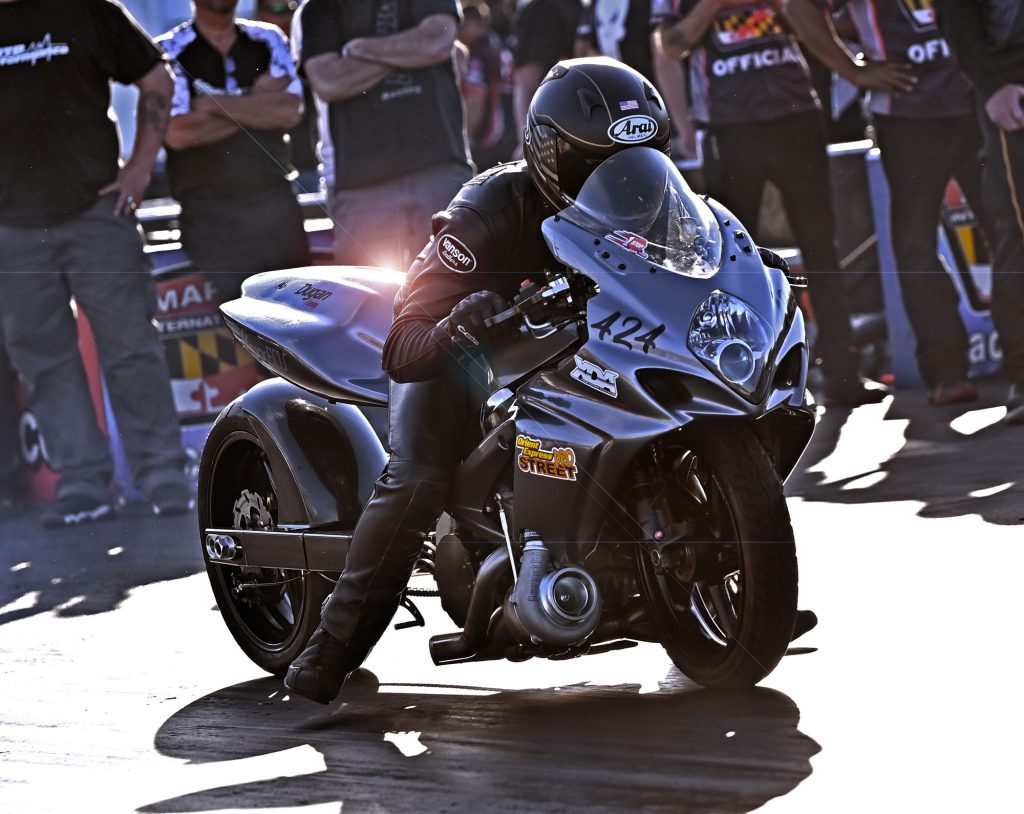 Chris Connelly Jr. ran his personal best at the MTC Engineering Summer Nationals with DME Racing's new header/turbo combo, and team tuner Andy Sawyer says he's expecting Connelly in the mid 60's next weekend. That performance improvement will keep his rivalry with Jordan Haase hot.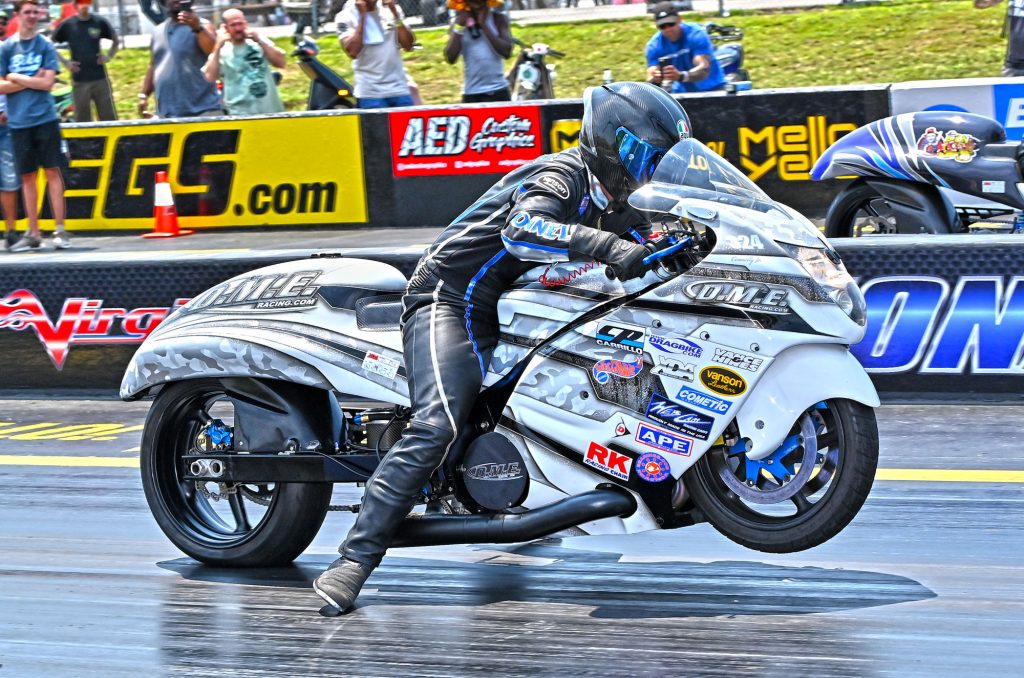 The Williford Racing faction currently holds the top three spots in points with Rodney Willford leading, followed by Jordan Haase and Ehren Litten. With Haase coming off his first win high, he is going to be eager for a repeat, and tuner John Gover has been hard at work the last two weeks to make that happen.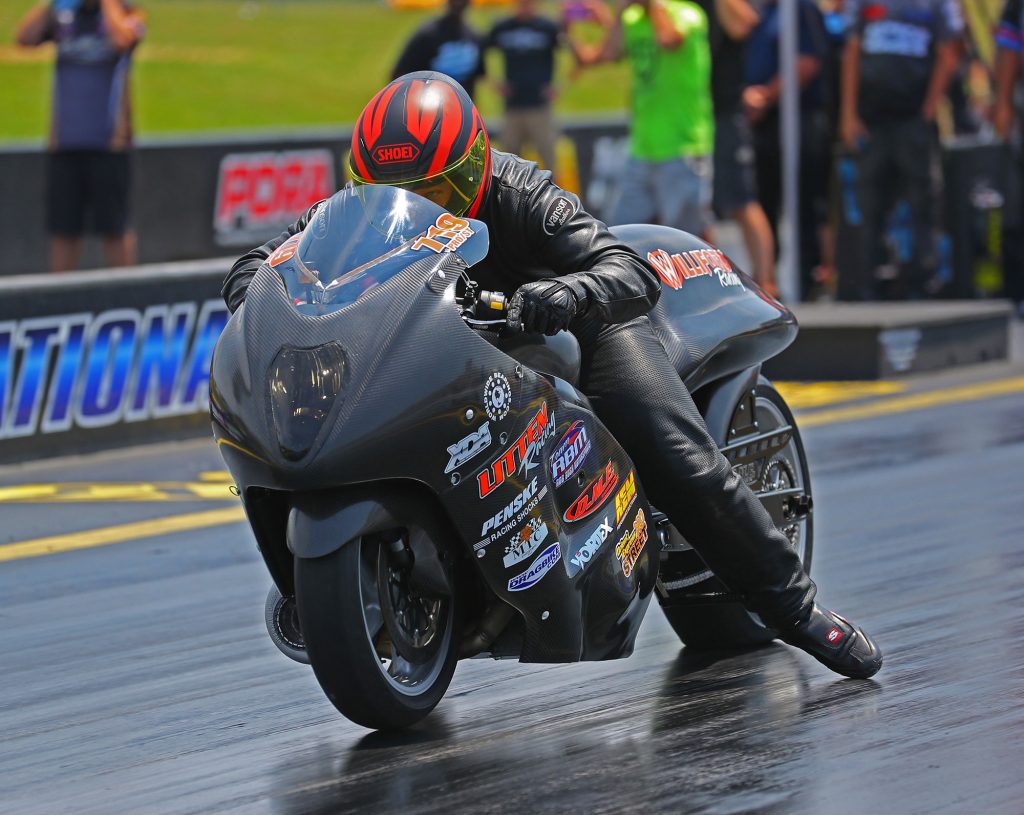 The battle for a spot at the Haltech World Cup Finals presented by Wiseco Import vs. Domestic event in November at MDIR continues. Racers need to participate at a minimum of four events and take a top ten finish in points for the chance to compete in front of 40,000+ fans in the $5,000 to win Pro Street Shootout sponsored by Platinum General Services.
DME Racing Real Street
Points Leader – Anibal Merced
Where are the girls at? DME Racing Real Street was looking forward to having two promising females in the mix at the season opener. However, Alisha Malone and Ashley Cotnoir have both missed the first two races of the year as their bikes were not mechanically ready to complete. Malone, will once again be sidelined as she waits for motor work to be completed. But Cotnoir's name is firmly on the pre-entry list for this event along with fifteen other competitors too as she prepares for her pro debut. Ashley has never run a bike with a gen 2 clutch, so there may be a bit of a learning curve next weekend. However, with her Top Sportsman background, she will catch on pretty quick.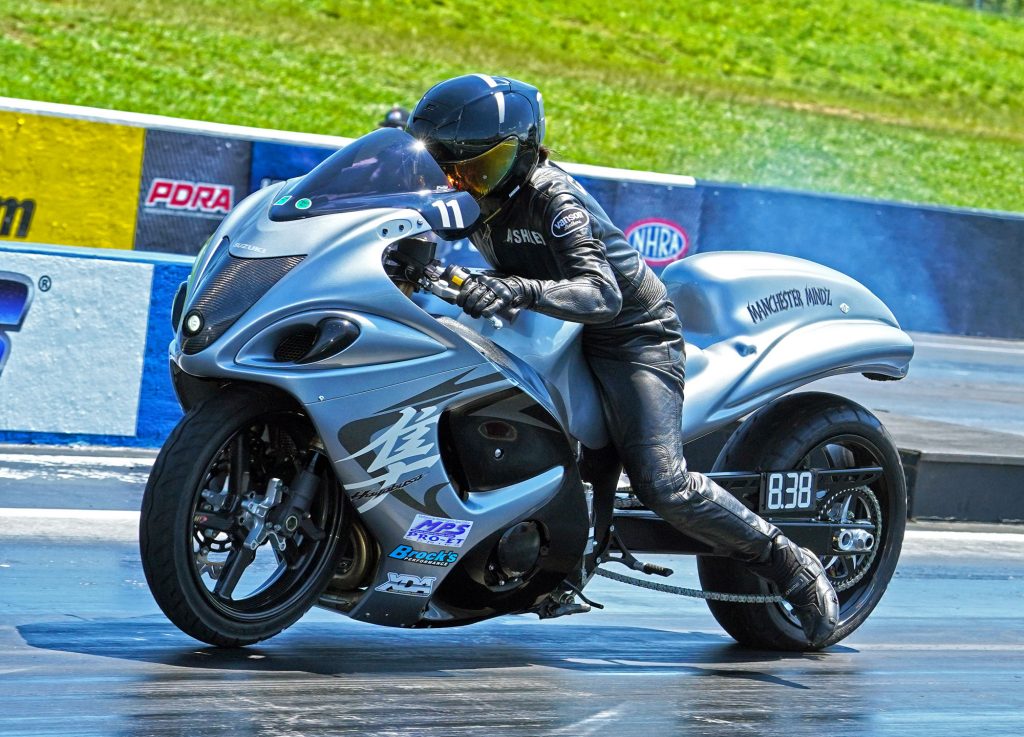 Ashley's fiancé Michael Sweeney Jr. who finished third in the 2018 points chase, will also return to Real Street next weekend. Like a proper gentleman, he made sure Ashley's bike was complete before his. But Sweeney feels confident jumping right back into competition with tuning help from ARB Tuning and plenty of benchmark data from last year. They have not been able to test locally, mainly because they are spoiled with Jason Miller track prep standards, so they will both be in the lanes early Friday for testing.
There are more videos on the Cycledrag Youtube channel (please subscribe here) and the Cycledrag.com Facebook page (Please like here) and more will be coming soon. Check back daily.
Rookie Real Street racer Ralphie Navarro who made the switch from land speed racing won't miss this race. With only two races under his belt, he has seen steady improvement as he gets adapted to reacting and launching hard at the tree, not something land speed guys practice.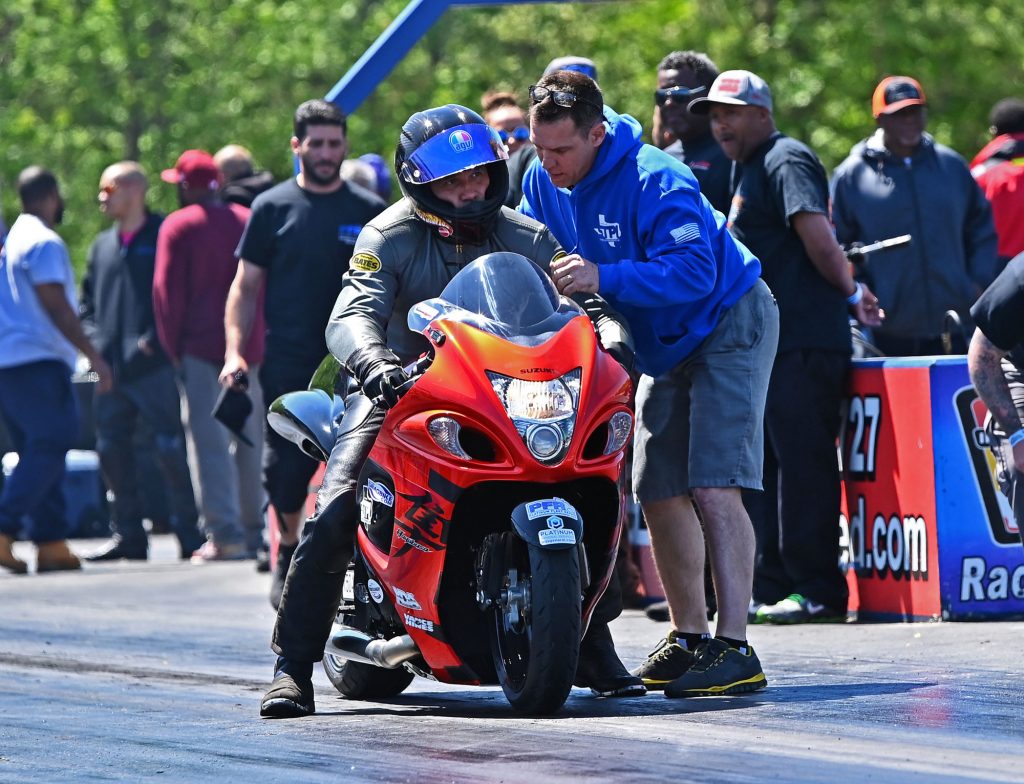 His builder and tuner Shane Stubbs has made a slew of changes since the last event back at his shop in Texas. Yes, that's a twenty-hour drive one way for him from #STPI! And with only two weeks of turnaround time, Stubbs was also able to break a MPH record last weekend running 262mph in the standing mile. We congratulate him on that World Record and look forward to seeing that performance translated into his Real Street tuning.
Pro Xtreme
Points Leader – Kevin Clarke
This eighth-mile heads-up class is presented by DME Racing, Fast by Gast, Harley Haul, MaxxECU, McCoy Motorsports, MTC, Rob Bush Motorsports, Timblin Chassis, and Worldwide Bearings.
With Pro Extreme only competing at four events this year, every point matters in this class. Kevin Clarke who took the inaugural win to lead points will have even more competition next weekend as Ehren Litten joins the Williford faction. With Williford setting the ET record at the last race to a 3.962, the duo will be a force.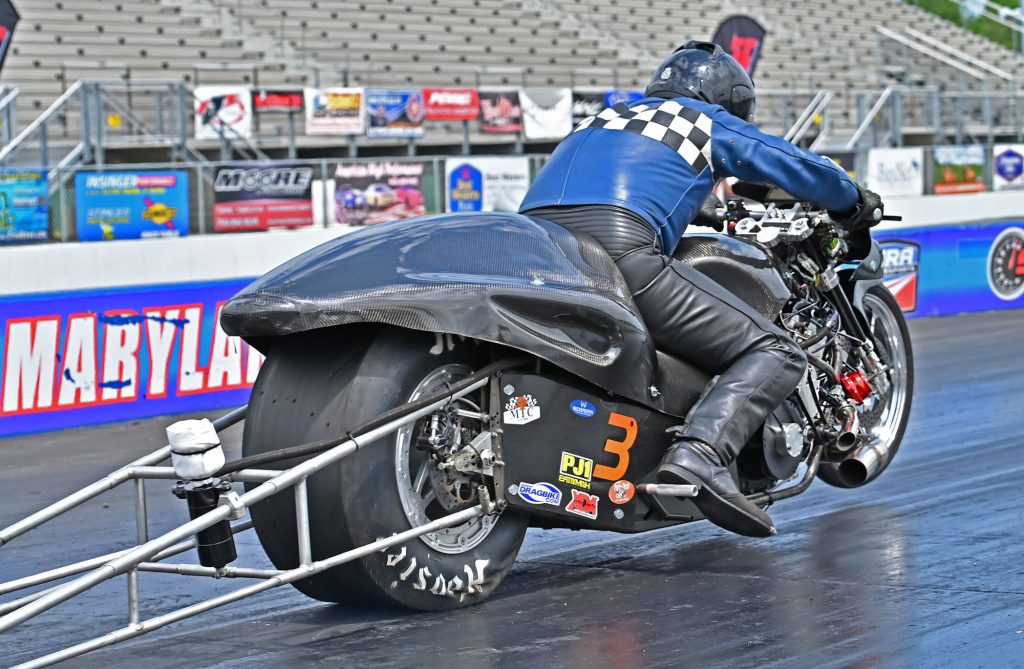 We will also be watching for Tony Steele to see what kind of trim his bike is in at this event. His Kawasaki was almost 100lb over the minimum weight requirement at the last event, so we should see a considerable performance improvement at the Superbike Showdown.
And Champion racer Chris Cutsinger will be making the 600+ mile trip from Indiana looking for a win and a 3K payday.
HTP Performance Grudge
The Saturday night HTP Performance Afterdark Underground Grudge Program will feature the four Bull classes. XDA's "Running of the Bulls" features Boosted Bulls, APE Nitrous Bulls, Monster Bulls, and Unit 5 Components Brahma Bulls headlining Saturday night with a potential 54K payout for full fields.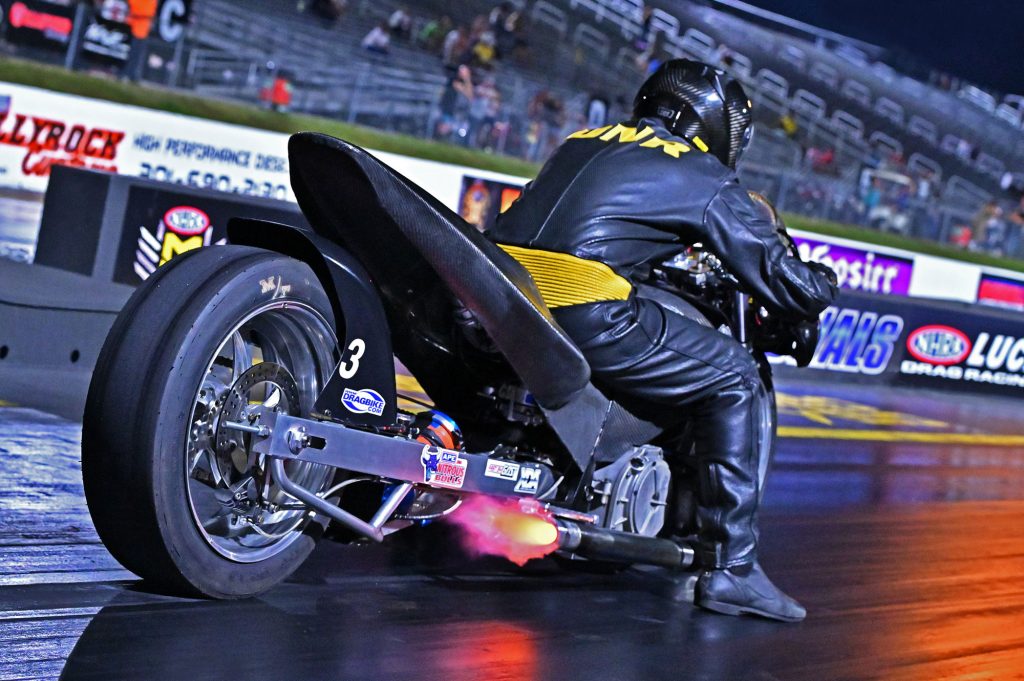 HTP Performance Grudge will run on our 'no excuse' prepped track all three days behind the Pro classes as part of XDA's world-class show. If you want to see your quickest time-slip to date, come out and race with us.
Limited spots are still available, sign up and reserve yours now at www.xdaracing.com/bulls and earn extra points.
Vance & Hines 4.60
Points Leader – Tyler Cammock
Sponsored by Vance & Hines, XDA features the largest 1/8 mile index class in the world, and the Superbike Showdown will be no exception with almost thirty racers already signed up for the event. Boo Brown who calls MDIR home, finished fifth in points last year. He is currently sitting in the seventh spot, eighty-six points out of the lead. Brown knows that with only four events left in the season, he will need to keep his head down and stay focused to gain traction against his competition.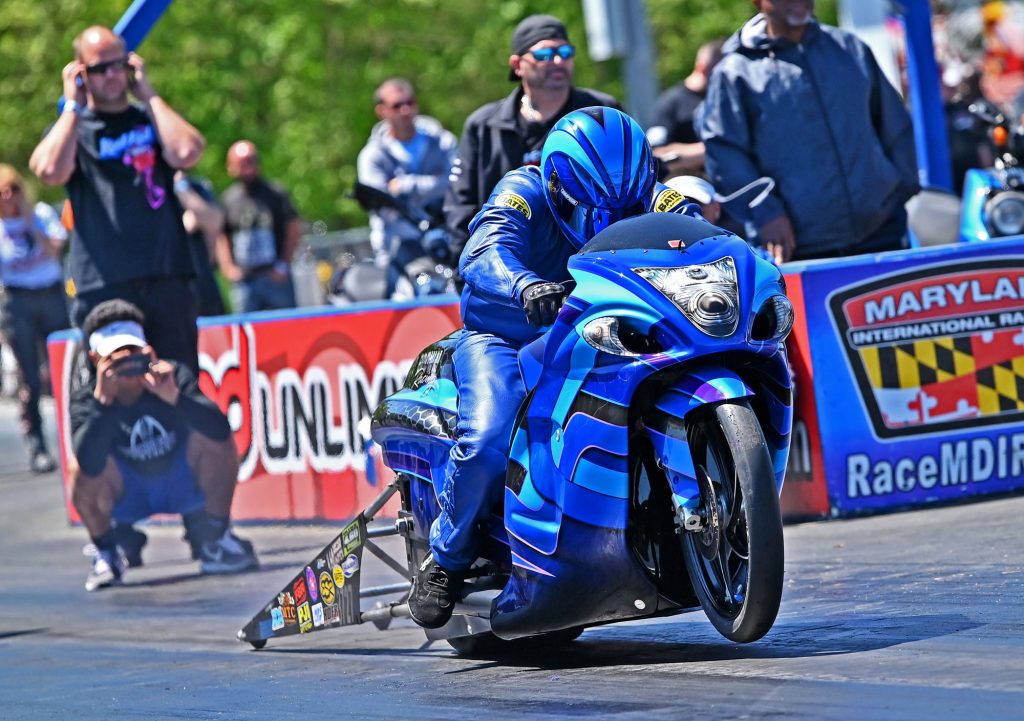 The FBR Shop 5.60
Points Leader – Daniel Joyce
In The FBR Shop 5.60 eighth-mile class, Daniel Joyce is one of the few racers who has been able to hold onto the points lead since the first event of the year. He currently leads with a scarce seven points over heavy hitters like Taylor Dunham, Harvey Hubbard and Dustin Lee. But Jim Mauro, who savored the winner circle last year in this class, is looking for a repeat, and the Superbike Showdown may just be the race for him.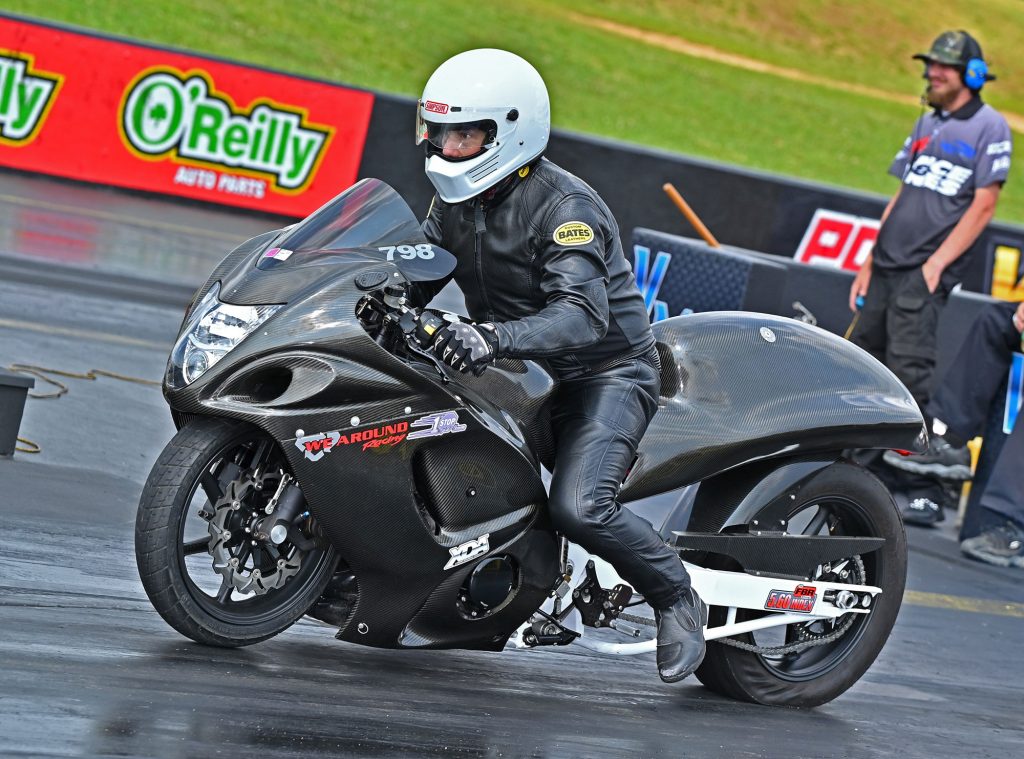 hinko Tires Crazy 8's
Points Leader – Duane Jackson / Dustin Lee
Duane Jackson stole the points lead in Shinko Tires Crazy 8's at the Summer Nationals from teammate Nick Hamlett to bump him down to the third spot behind him and Dustin Lee. But next weekend they will need to keep their eye out for the racer with the best moves of the class. Hip Hop teacher, Thomas Miceli Jr only sits a few rounds behind them and could bounce right past them if they aren't careful. Miceli Jr is XDA's quiet superstar who has numerous hours on mainstream TV on shows like 'America's Best Dance Crew', Disney's 'Shake it up' and for those of you paying attention will remember his feature in Beyonce's 'Let's Move' video. Don't challenge him off the track; you will lose that battle.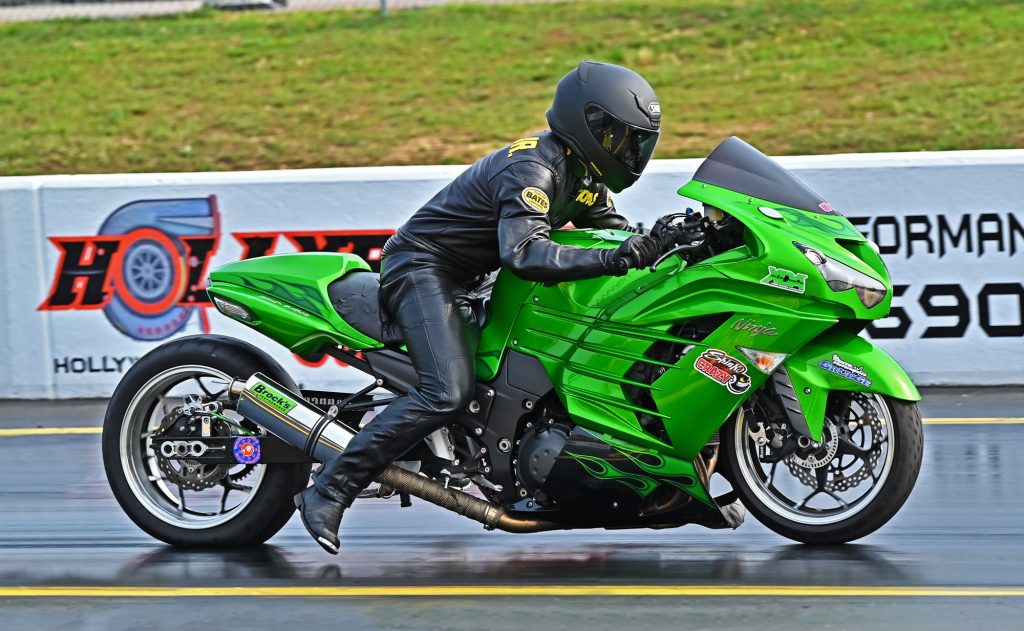 Mickey Thompson Performance Top Sportsman
Points Leader – Jimmy Shifflett
In Mickey Thompson Performance Top Sportsman Jimmy Shifflett is holding an eleven-point lead in the quickest and toughest class to gain points. His teammate Mac McAdams will be looking to depose him next weekend and claim the number one position for himself, while keeping the other class heavy hitters at bay. The winner of this class takes home a $3,000 payout, and advances back into Pro ET for a second chance at another win for a potential $6,000 payout in just one day.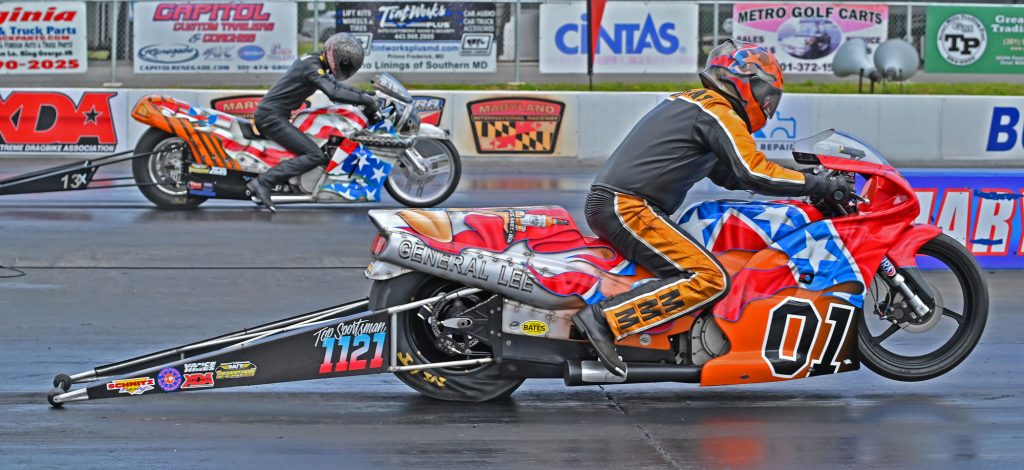 MPS Racing Pro ET
Points Leader – Bob Carlson
Jimmie Miller wasn't able to hold onto his MPS Racing Pro ET points lead at the last event allowing Bob Carlson to come around him and gain thirty-nine points on him. Going into the third event, anything can happen when there are two separate races in one weekend to earn points. Shayne Proctor who is no stranger to the winner's circle took a runner-up finish at the Summer Nationals and is looking to follow it up next weekend with a win to keep moving up the leaderboard.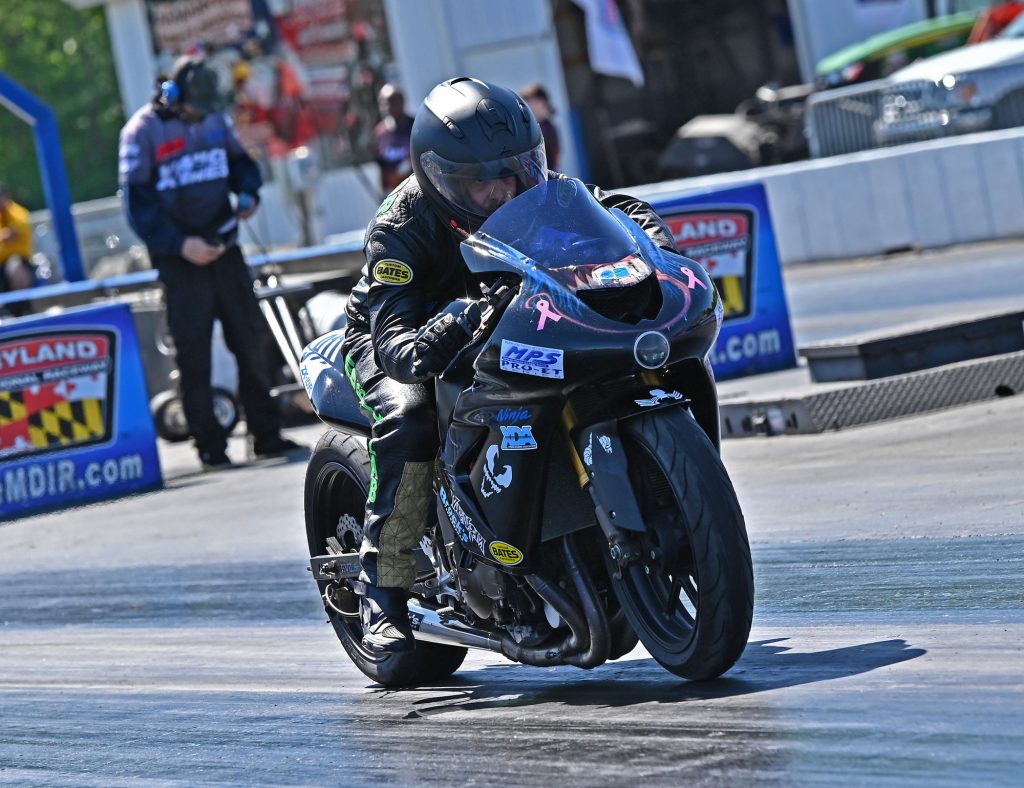 Brock's Performance Street ET
Points Leader – Derrick Milbourne
Brock's Performance Street ET racer Derrick Milbourne pulled out of the first race with a win and the points the lead. He then left the second event with a slim twenty-one point lead over a mob of hungry competitors. Russell Dennison Jr, who can lift three times his body weight, is physically and mentally focused on his performance this year. The seventeen-year-old is in striking distance to a championship, but he'll need to take out several class veterans to get there.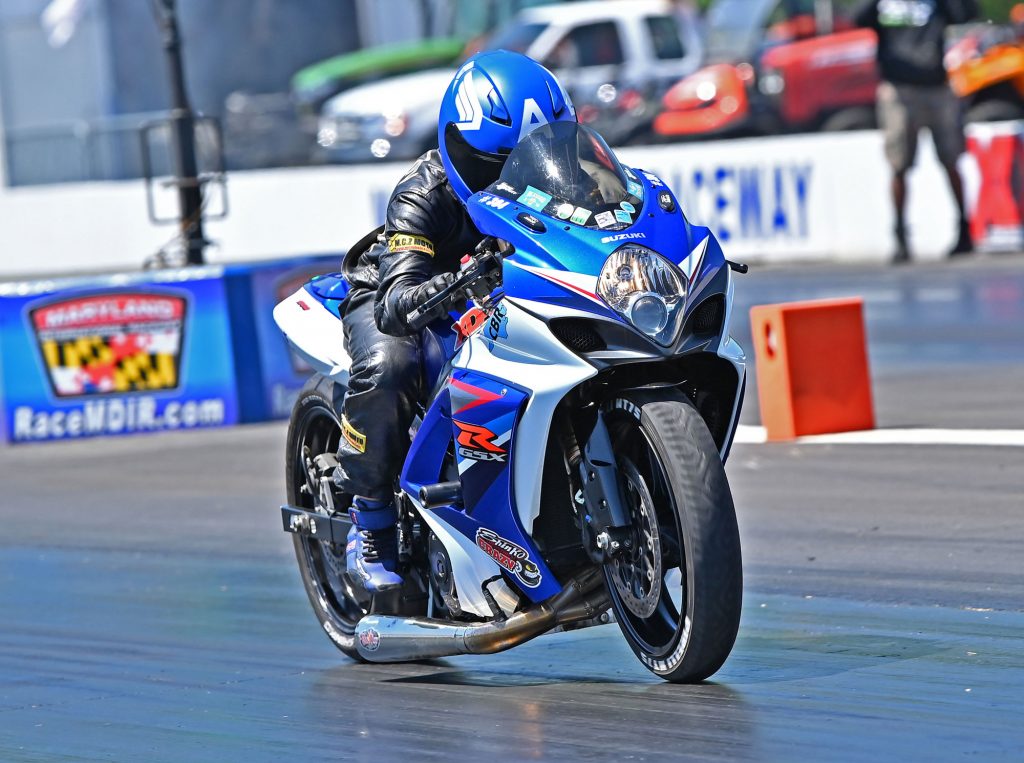 With eighty-degree temperatures on tap for another exciting round of two-wheel motorcycle action, we will be looking for more record performances. So, get your motorcycle buttoned up and roll out for another competitive round of XDA at Maryland International Raceway on June 21-23, 2019.
Visit xdaracing.com for event information, class rules, schedule and more.
About XDA Racing
The Xtreme Dragbike Association (XDA) is an east coast motorcycle drag racing series with 700+ motorcycle racers competing at each event. Every XDA event hosts professional classes, sportsman classes, grudge racing and a vendor midway. Lifestyle activities such as bike shows, bikini contests, DJ and live bands are also held at select events. For more information on the XDA, please visit www.xdaracing.com or connect with us on Facebook, Instagram, Twitter and YouTube @xdaracing