360fly, Inc., the world's only single-lens camera capturing stitchless 360-degree video with interactive and virtual reality viewing capabilities, today announced the signing of world-renowned road racer Jorge Lorenzo. The two-time MotoGP World Champion will represent the brand and its game-changing video technology and utilize 360fly to capture and share immersive 360-degree and virtual reality content.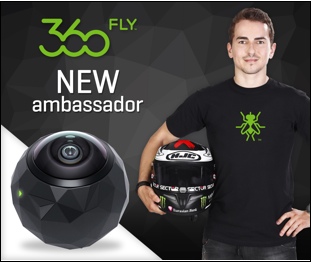 Whether capturing the breathtaking, heart-stopping experience of his on-track training sessions, or providing fans an immersive view of his day-to-day life off the track, Lorenzo will provide the ultimate perspective for the power of 360fly's immersive, 360-degree video technology. In competition, Lorenzo will feature the 360fly logo on both sides of his helmet visor.
The 28-year old Spaniard has been racing MotoPG since 2008, capturing the World Championship in 2010 and 2012. Lorenzo will look to add to that on October 18, when he heads to the Pramac Australian Motorcycle Grand Prix. This year's World Championship has officially become a two horse race, as Lorenzo is just 18 points back of the current points leader, with merely 75 points still available.
"Jorge possesses truly global appeal as one of the world's most popular and exciting athletes, and he will help us showcase the power of 360fly to consumers across the globe," said Peter Adderton, 360fly CEO. "Jorge also personifies the lifestyle that 360fly exists to serve – one of action and adventure whether he's on a motorcycle, mountain bike, or traveling the world. We can't wait to experience Jorge's life, through the lens of 360fly."
"360fly is really impressive to me: the image quality, the originality of the camera, because it allows you capture what's happening in every direction, without limits and un-cropped. It doesn't miss anything," said Lorenzo. "I'm excited to share experiences with my fans through 360fly immersive videos and panoramic pictures. I'm proud to be an ambassador of a brand as innovative as 360fly."
360fly is a single-lens camera capturing 360-dgerees of HD-quality video. Unlike other action cameras, 360fly pairs with an iOS and Android mobile app that eliminates any time-consuming uploading and editing. Instead users can literally, shoot, edit and share right from their mobile device. With 360fly viewers can not only experience virtual reality, but create their own virtual reality content.
Lorenzo joins a 360fly athlete roster that is highlighted by Olympic mountain bike rider and national champion Todd Wells, motocross star Chad Reed, freestyle BMX rider Terry Adams, BMX Rider Alex Cordova and pro surf champion Carissa Moore. Additionally, 360fly has a strategic partnership with Chip Ganassi Racing (CGR), who won a 2015 X-Games silver medal in Global Rally Cross. 360fly will also sponsor CGR in one round of the NASCAR Sprint Series.
360fly retails for $399 and sold exclusively through Best Buy. To locate a Best Buy store near you, visit , visit 360fly.com/store-locator. 360fly is on Twitter and Instagram @360fly, and on Facebook at facebook.com/360fly.
About 360fly
360fly creates unique, 360-degree digital products that inspire users to capture, share and experience life's greatest moments in 360 degrees. Our passion has led us to redefine video capture, because we believe life is too rich to capture just part of it.