Just like last year, David Vantine and his screaming yellow Vantine Nitrosports bike have started off 2019 undefeated with the Top Fuel win at the Manufacturers Cup Spring Cup at South Georgia Motorsports Park near Valdosta.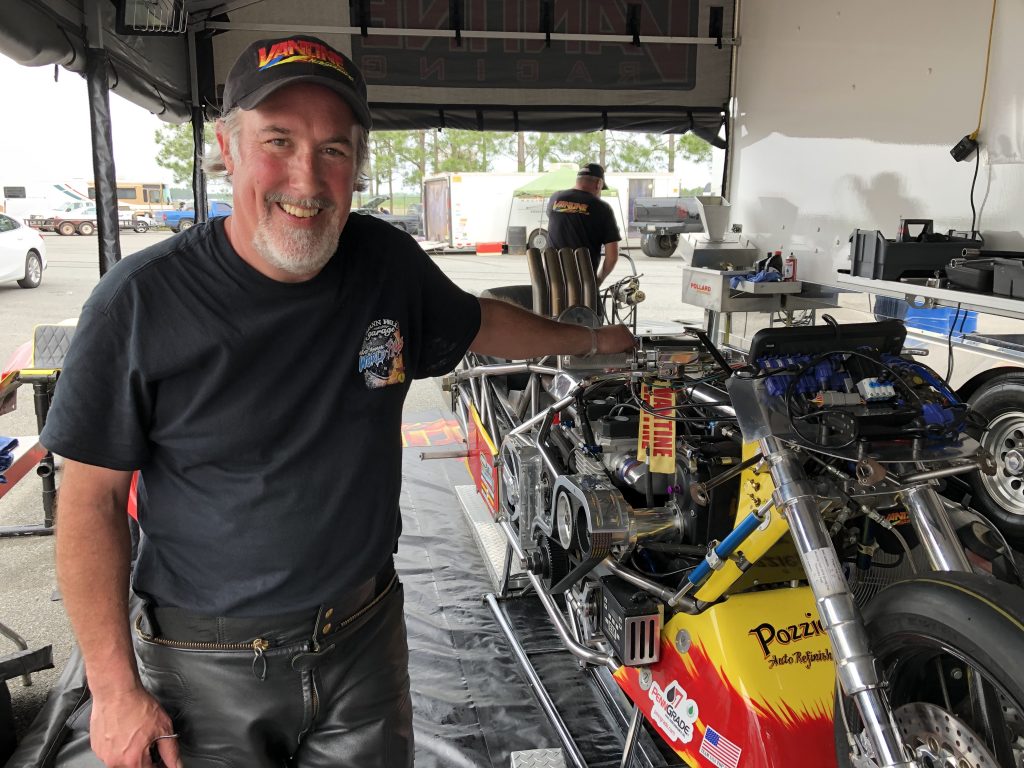 But the winning weekend started off with a destructive struggle. "We had a hard-to-find fuel pump problem that hurt our motors Thursday through Saturday," said crew chief and co-tuner Greg Pollard.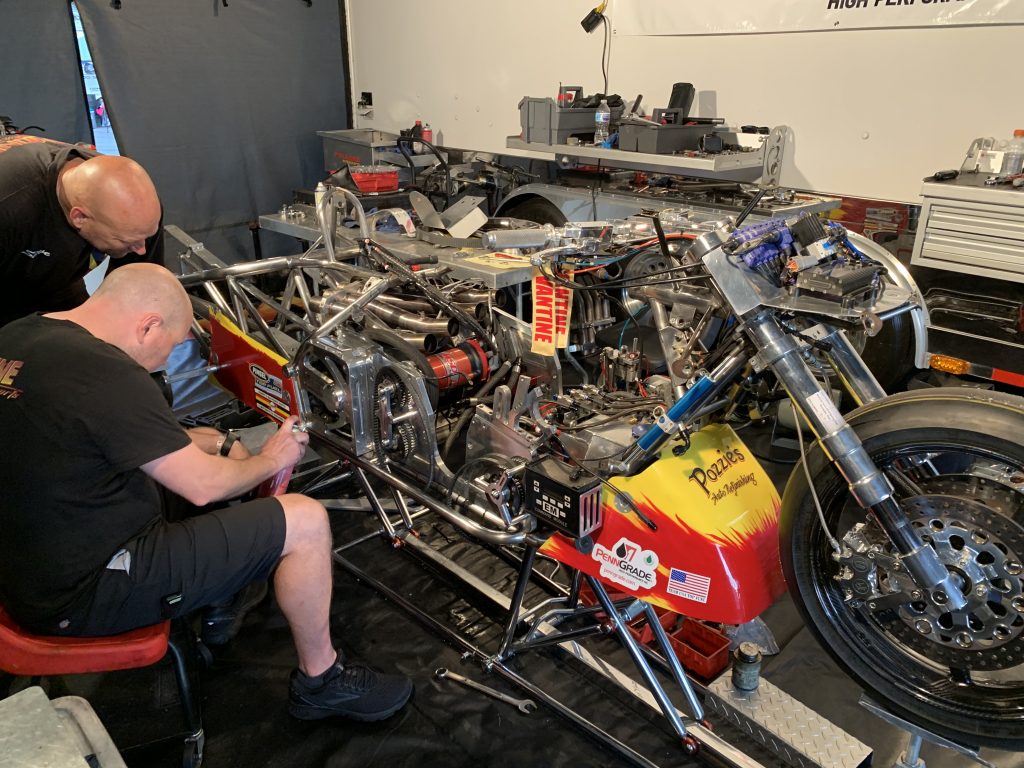 "We lost almost a gallon and a half of fuel pressure, and it hurt the heads for sure," said co-tuner Joe Taranto. "We were blowing chunks of piston out of the spark plug holes."
"When we went into high gear, we were able to stick it—which is great. You can put the clutch in because it's not striking the tire," explained Vantine. "But what happens then—versus driving through he clutch a little bit—is a bigger RPM drop. So on a belt-driven bike, that obviously slows the fuel pump down. That gave us a straight drop of almost two pounds of fuel pressure. So between the two (a serious load on an underperforming pump), that was just causing the motors to eat themselves."
Despite the carnage, Vantine held number one qualifier with a 5.87 at 243 mph until Larry "Spiderman" McBride took it with a 5.83 in Saturday's final round.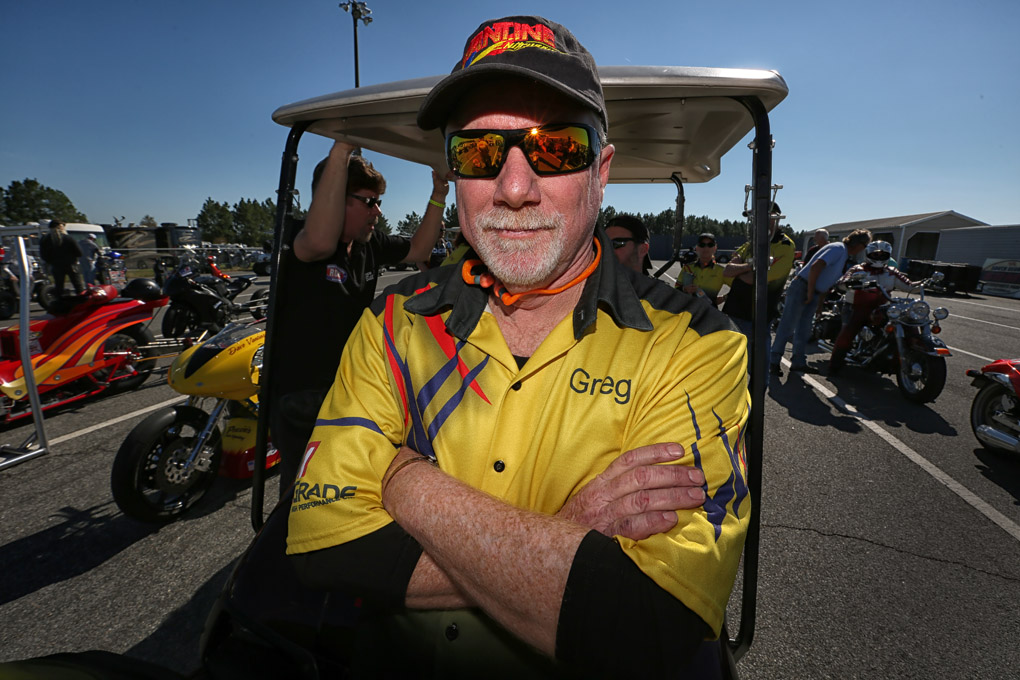 "We got some good data and put together a good tune-up for Sunday morning," said Pollard.
The Vantine team was able to borrow a motor from McBride for raceday. "His and ours are the same, he builds them all," said Pollard. "Hats off to them for giving us one."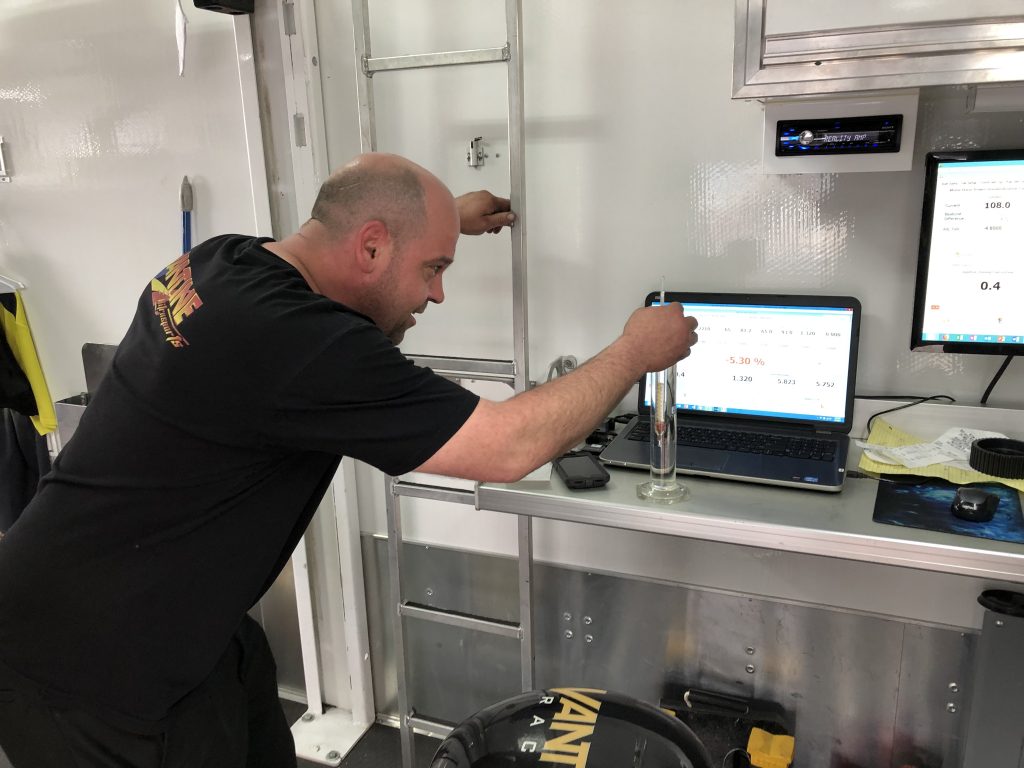 "Larry runs a different fuel system, but we ran our fuel system," said Vantine. "We run the old solenoid return type thing, I think he runs more of an all-valve. We put his motor in our frame rails with our fuel system, so our motors should have run the same at that point."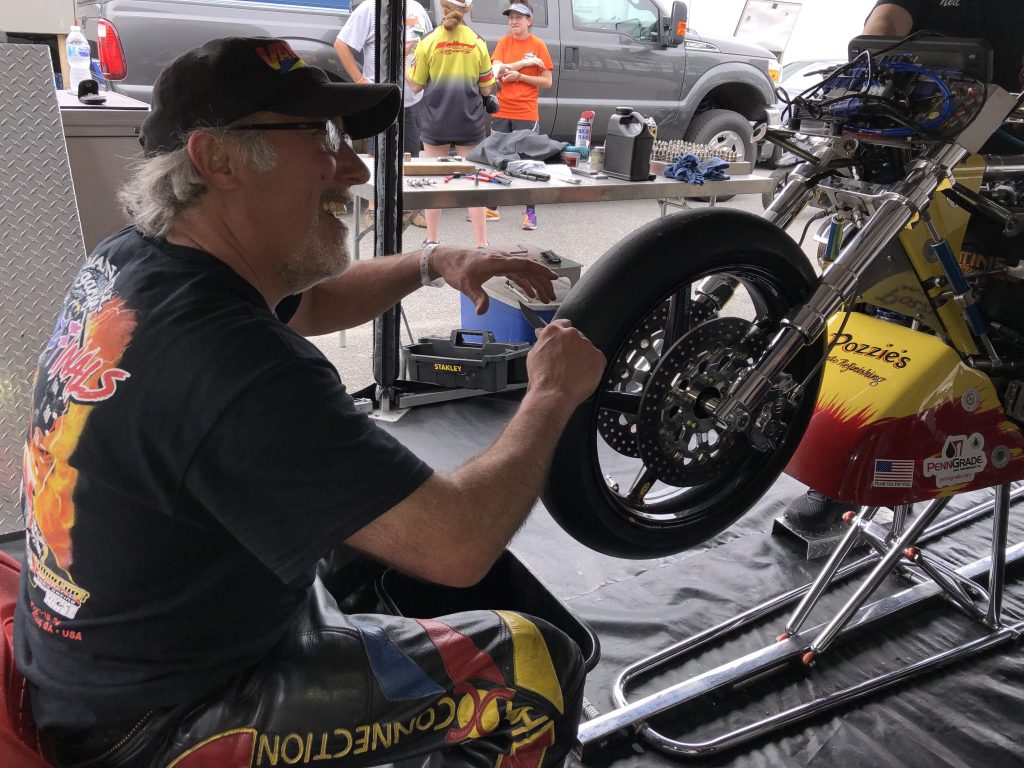 "Not knowing how the ladder would pan out, we figured we'd put his in for at least first round, and if we made it to the second, we'd see," said Taranto. "I figured I'd run on his until I hurt that one and then put Old Smokey (a motor the team tested with) in if we had to."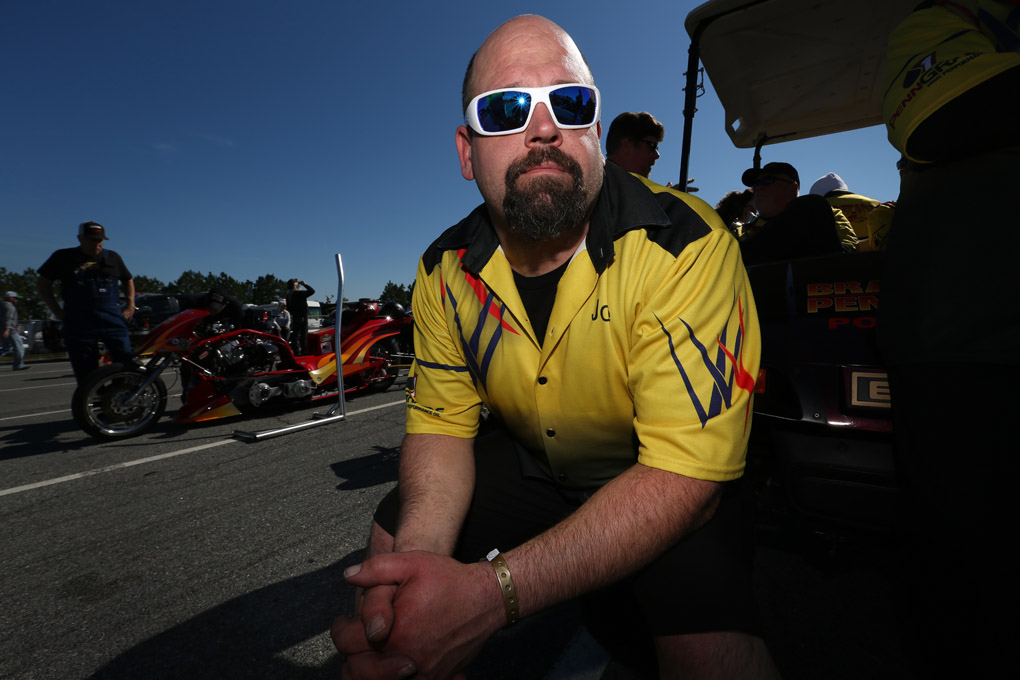 McBride struck the tire and lost first round, so he wouldn't need his motor back the rest of the day.
Vantine had a bye in the first round of eliminations when opponent Don Becker was a no-show. "We planned to shut off early to get some short times," said Taranto.
"That was a great 6.09 shut off run," said Pollard. A really great run—the closest the team has seen to what could have been a 5.60.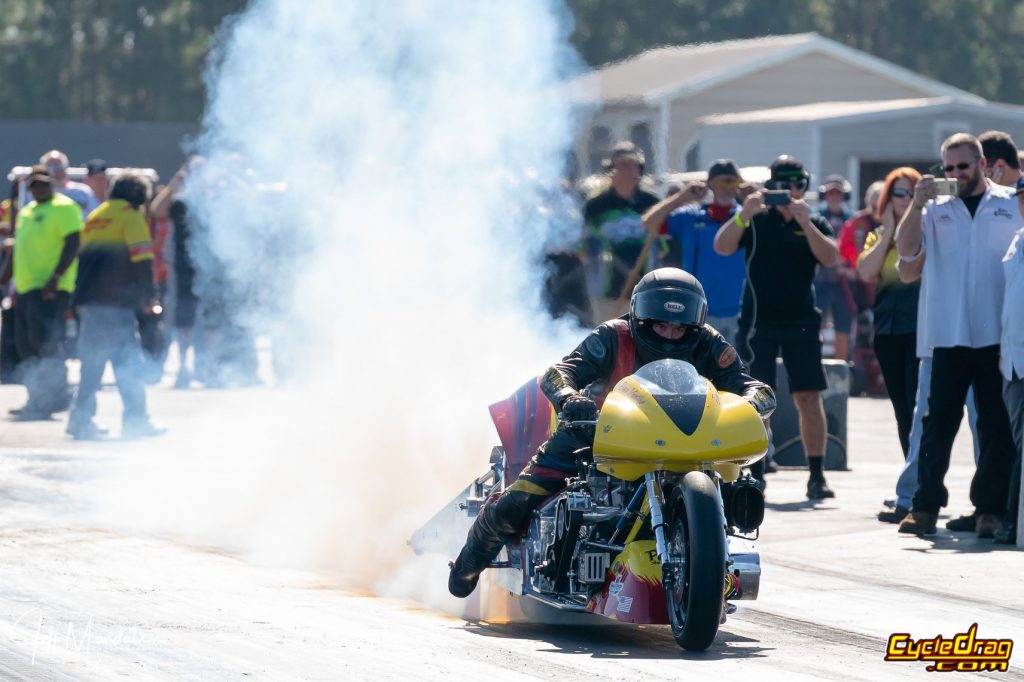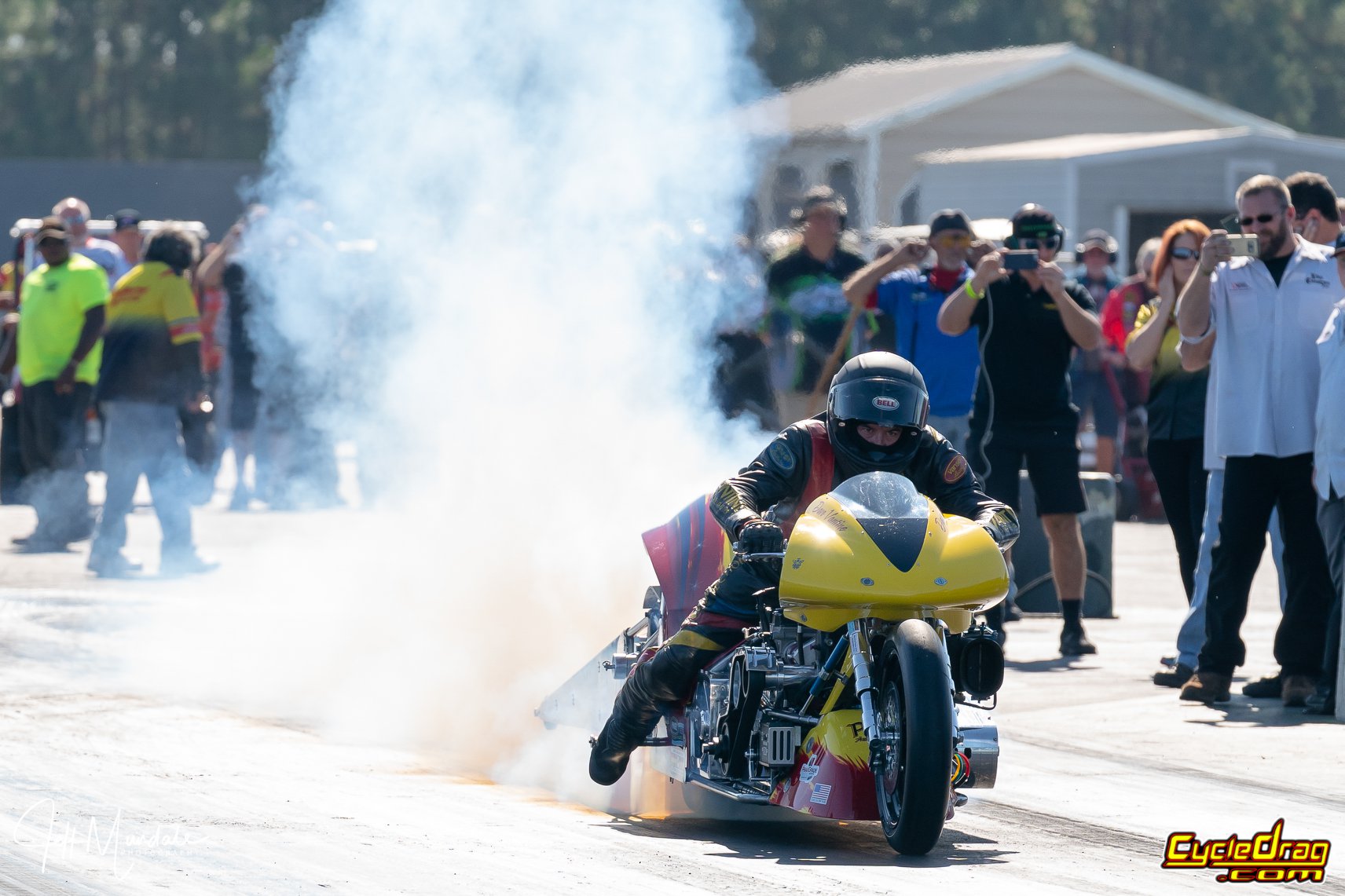 "That was one time that we should have run it through," regretted Taranto. "The air was better, all my pipes were lit, and the short times were awesome."
Vantine then posted personal bests of 5.745 at 254.33 mph in a semifinal win against November race winner Mitch Brown. That pass had only a 2.68 330 time, compared to 2.60 on the shut off pass. "We'd never made a full pass with the new pipes we have, all the work we've done over the winter, with a proper fuel pump, and the bike firing on all four," said Vantine.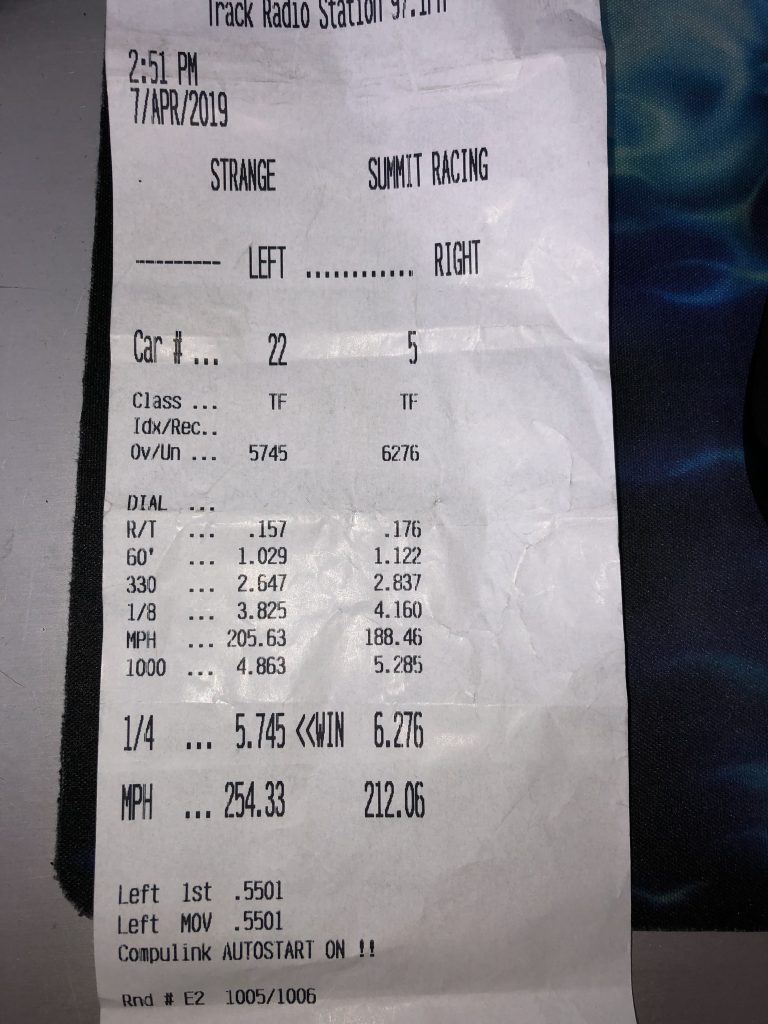 Turns out going 8 or 9 mph made SGMP's transition from racetrack to shutdown a bit bumpier and challenging than Vantine was used to, but nothing he couldn't rise to the occasion and handle.
In fact, both Pollard and Taranto heaped praise on Vantine's riding. "Dave did a great job!" said Pollard.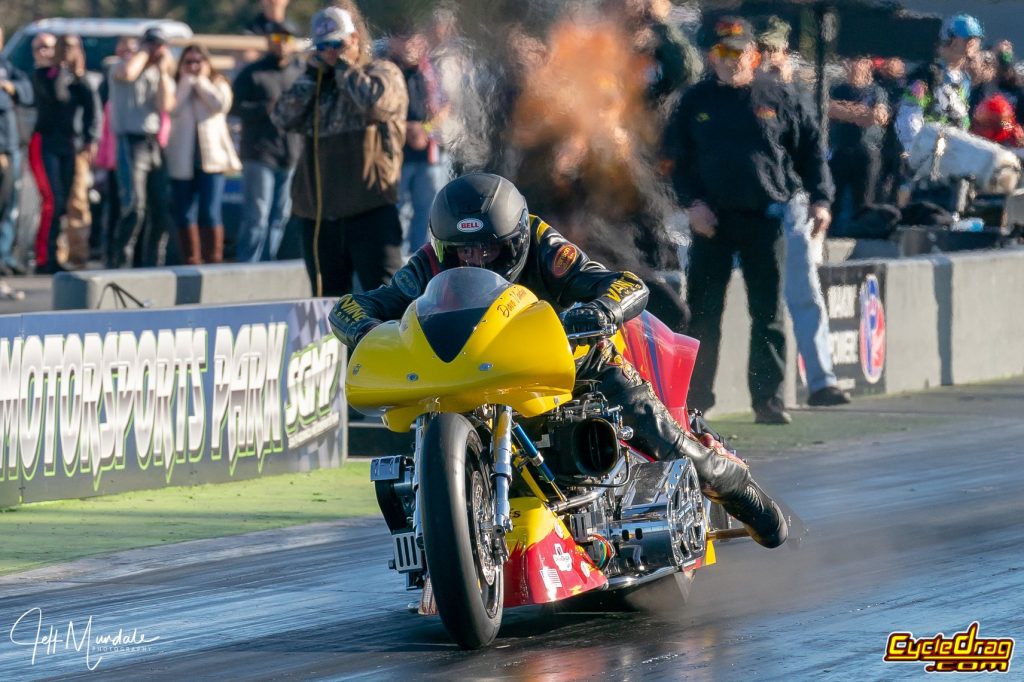 "David rode the piss out of the bike," agreed Taranto.
Vantine attributes Taranto and Pollard's compliments to a new process the team has adopted for chassis tuning. "Before, we were more focused on fuel tune-ups and the clutch," noted David. "But the bike would go right or left and I'd have to shut it off. So I said 'We can make all the power we want, but if I can't get it to the other end, it does us no good.' So chassis tuning is now part of our process.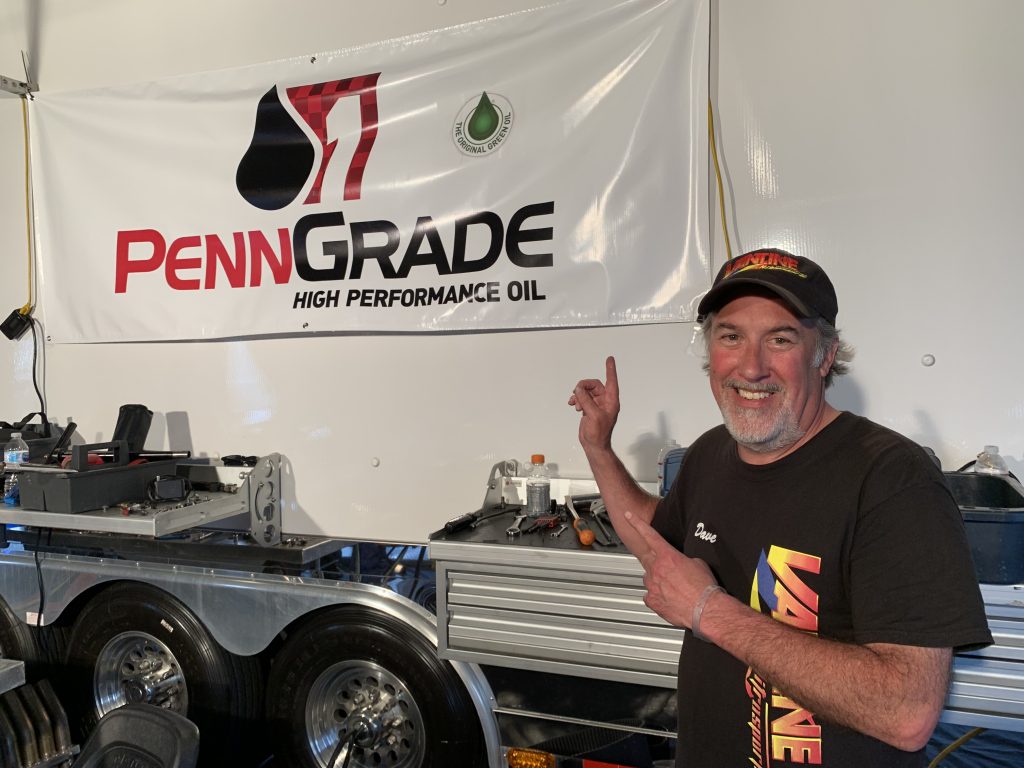 "So I wouldn't go so far as saying my riding has changed, but I have a more ridable motorcycle."
There are more videos on the Cycledrag Youtube channel (please subscribe here) and the Cycledrag.com Facebook page (Please like here) and more will be coming soon. Check back daily.
The team has always put the bike on the scales, but are now looking beyond the numbers to Vantine's own seat of the pants feel. "I don't care what the scale says if I can't keep the bike in the lane. So now when I say we need to take some weight off, or add to one side or the other, that's part of the process. So that's allowing the bike to go straight and me to keep the throttle pinned. Before, despite my best efforts, the bike was just gonna go where it wanted to go. So now we're moving in the right direction."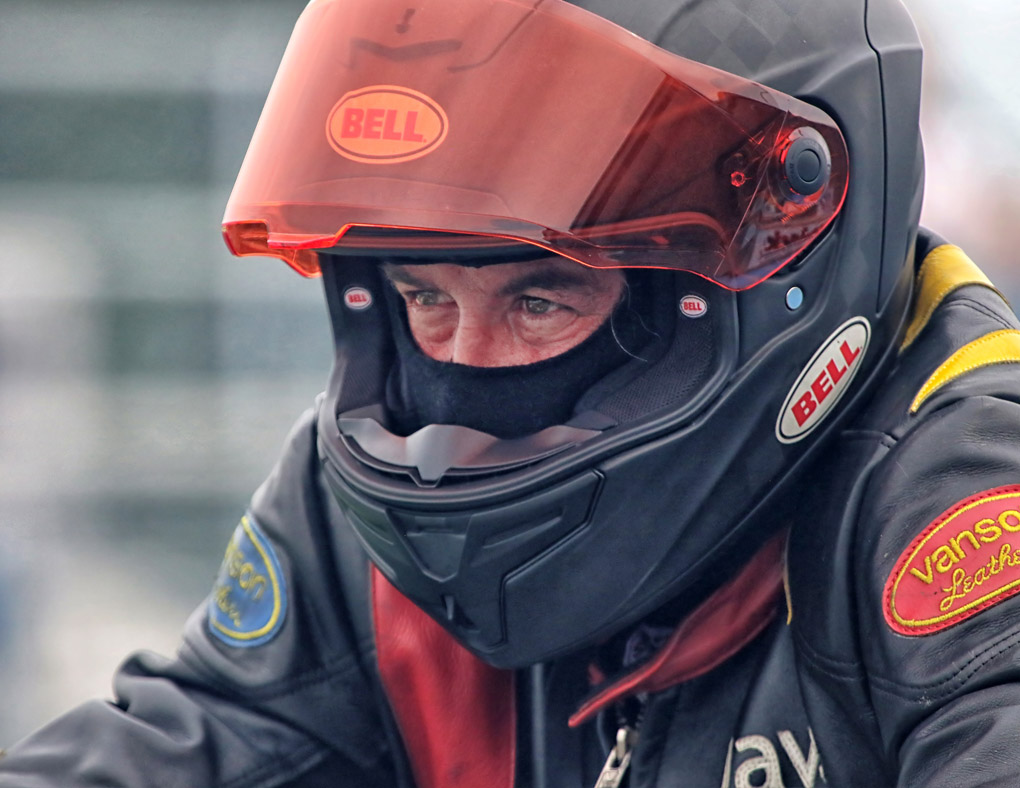 "Moving in the right direction" included a final round win over Chris Hand with a 5.93. "Chris is the biggest wild card out there," noted Taranto. "He can put down a lap anytime and I was worried about racing him."
Last year's Spring race win was not necessarily the prettiest for Team Vantine, but they took the points home to their Hamilton, New York, shop anyway. This time they've got the points and full pride knowing they had race winning performance from qualifying right through the final pass.
"We've adopted a 'start under and work up' strategy, as opposed to starting off maybe over the top and dialing down," said Vantine. "Sometimes that method doesn't look so good at the beginning, but at least you know where you're at."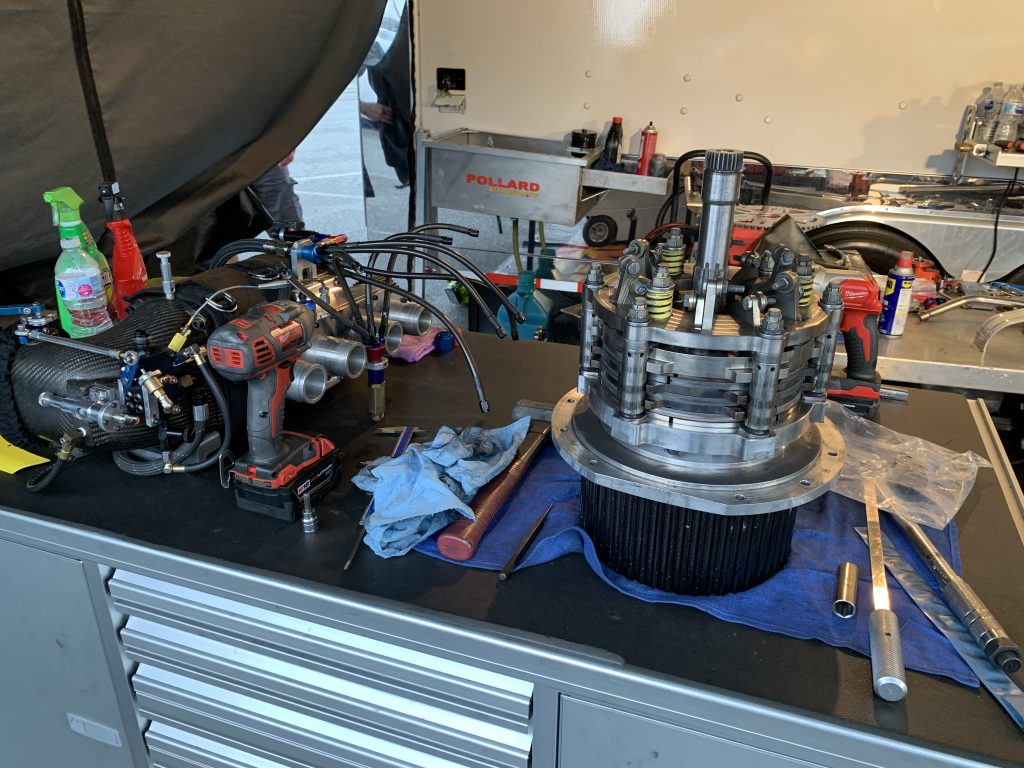 "It was a very satisfying win!" said Pollard. "It was a long winter after a four point loss (to McBride for the Top Fuel championship) last year. Some over-the-winter changes paid off quickly to get us our personal best ET and MPH.
"And I'm proud of the guys who changed three motors and three tires in four runs of racing."
"The team was flawless," agreed Taranto. "That many motor swaps and no one chirped, no one got on each other, everyone did their jobs."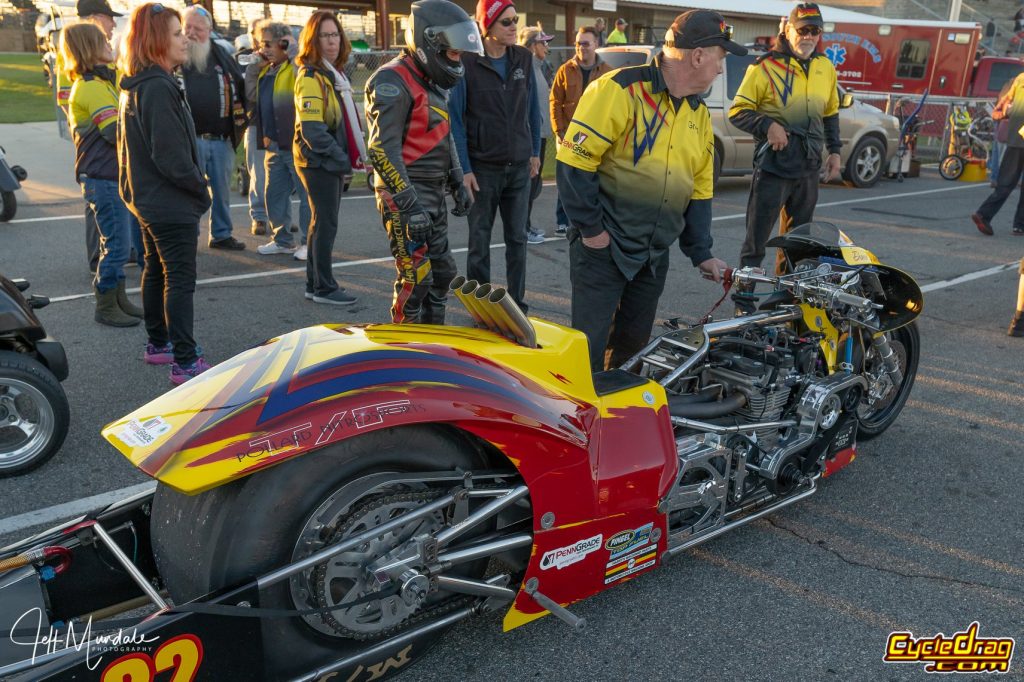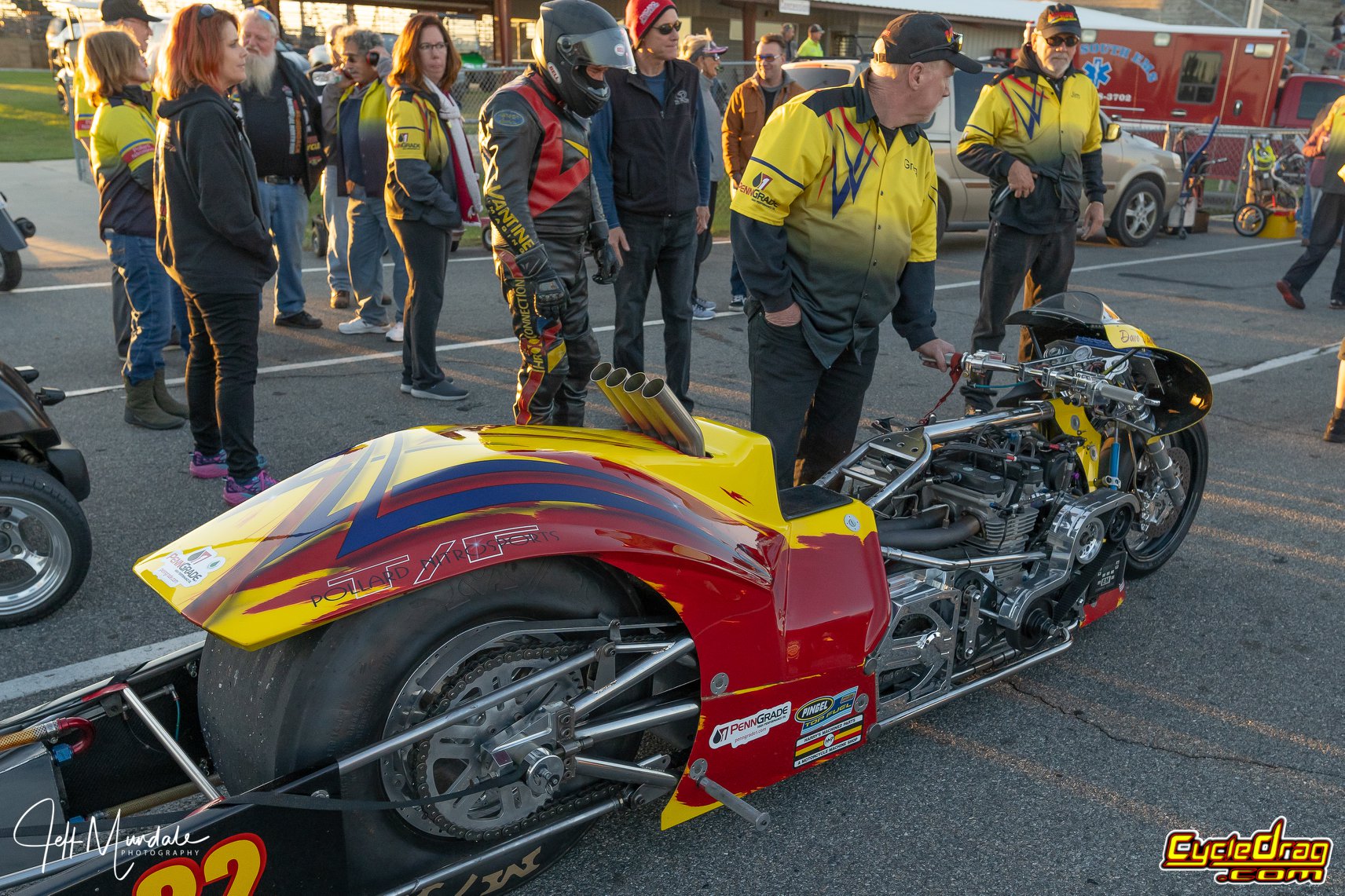 And with a brand new bike on the way, Vantine's winning beauty could be yours. "The bike is for sale race-ready and comes with some help.
"The only reason we're building a new bike is for the chassis configuration," noted Vantine. "Everything else will be the same. We think we'll be able to apply the power a little better with a new frame and different dimensions.
"Even when we finish our new bike, we're gonna run the old fuel system. For now, the old system seems to work better."
"The tune-up is safe," added Taranto. "It's a good tune-up."
It's the third quickest motorcycle in the world and getting better at both ends.
One 17 GPM Waterman fuel pump delivers the nitro to an Auto Rotor 2.1L blower/supercharger. That charge flows through a Cycle Specialist/McBride 1500cc engine and exits via brand new 34 degree swept-back exhausts.
All that power is transferred through a Cycle Specialist clutch with a Pollard custom 9-stage clutch control to a B&J 2-speed transmission and finally to a Hawaya Racing billet rear wheel.
An Electrmotion 24-channel control box and Power Pack, and RacePak V300 computer, keep things under control through a variety of sensors (complete list available.)
Everything rides in a Puppet/Gary Clark chassis built in 2009, steered by a BST carbon fiber front wheel, and held in place by wheelie bars built by Cycle Specialist. The starter and a Projack stand are included.
All for a reduced price of $155,000.
Further reduction to $135,000 can be had by taking the bike away with an MTC clutch, 1.5L supercharger, and original pipes.
The team would aid in the transition with riding, maintenance, and tuning—here or overseas. "It's all negotiable," said Vantine.
For more information contact:
Joe Taranto: 315-824-3200 x758 or jtaranto@vantine.com
David Vantine: 315-824-3200 x722 or dvantine@vantine.com
"Special thanks to Larry and Steve McBride of Cycle Specialist," finished Vantine. "Also Brad Penn Oil https://www.penngrade.com , Web Cam, Worldwide Bearings, and the whole team— Greg and Neil Pollard, Joe Taranto, Jim Althaus, Peter Vantine, Mary Dangrow, Steve Crouse, and Genie Muldoon. Huge thanks to the awesome employees of Vantine Imaging (http://www.vantineimaging.com/home.html) and all the media outlets that cover our team."
The Vantine Nitrosports team races next with the Manufacturers Cup on July 12-14 at Dragway 42 in West Salem, Ohio.