Gaige Herrera saw his hefty point lead get reduced by more than 250 points with the Countdown reset, but he's still the No. 1 seed nonetheless. Will it be a position Herrera rides to a first career NHRA Championship?
After a month-long layoff, Herrera came to the team's home track in Indianapolis as the clear favorite following his historic sweep of the NHRA's three-race Western Swing earlier this summer. Picking up where he left off after the last race in Sonoma, Herrera piloted his Gen III Suzuki Hayabusa to a track-record 6.746-second/198.96 mph pass on Friday to earn his eighth number-one qualifier in nine races so far this season.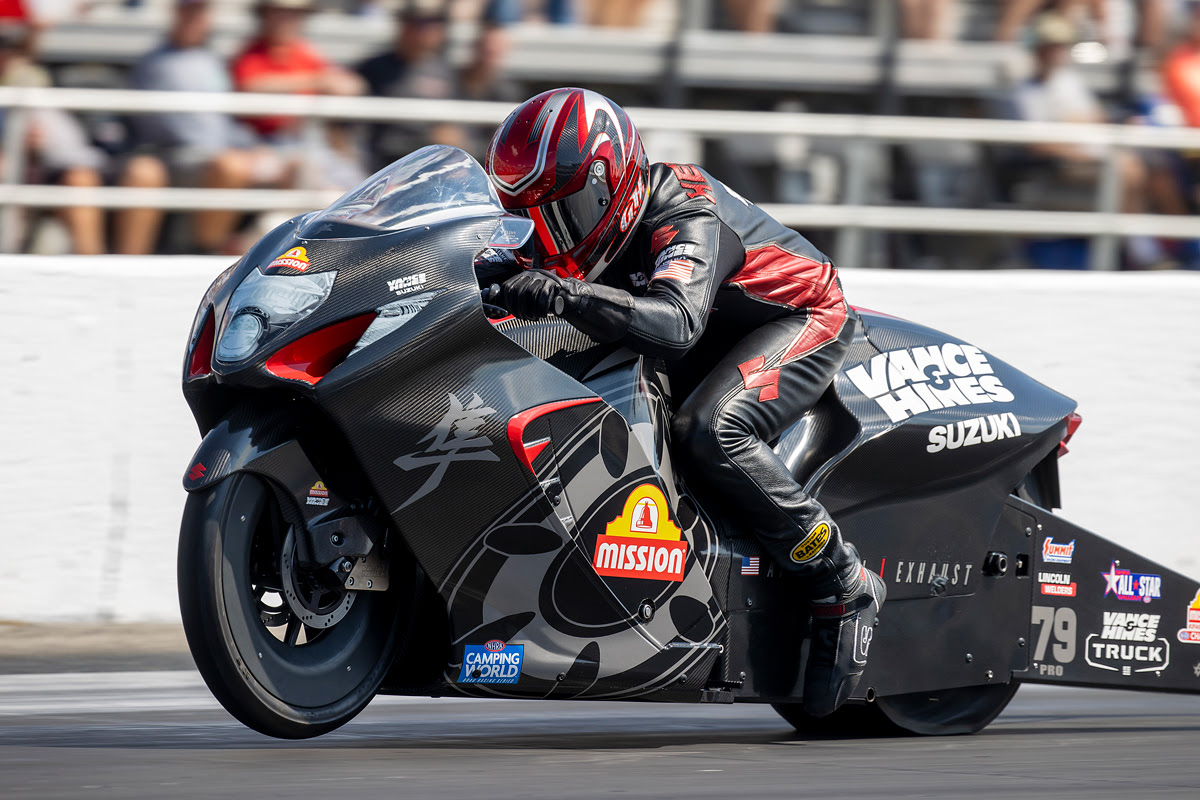 Herrera charged through the field in the early elimination rounds, knocking off Cory Reed (7.091-seconds/189.79 mph) in round one with a 6.793-second/198.58 mph run, and facing down Ron Tornow in round two with a 6.768-second/199.29 mph run against his opponent's
6.991/193.46 mph pass.
However, his bid to win a fourth straight race ended in the semi-final round against Matt Smith also on a Gen III Suzuki Hayabusa, due to an unfortunate parts malfunction. Herrera ran his slowest pass of the weekend, a 6.920-second/197.97 mph run that fell just short of Smith's 6.876-second/198.35 mph pass. Suzuki congratulates Smith on the well-earned victory.
"My Hayabusa ran great through qualifying and the early rounds, but we had a spark plug fail in the semi-final round that cost us the win. Overall, I'm happy with how this weekend went and I'm looking forward to the Countdown. I have all the confidence in the world in my team and I have a great motorcycle under me going into the most important six races of the season. There's a big bullseye on my back because we have an awesome hot rod Hayabusa," Herrera said.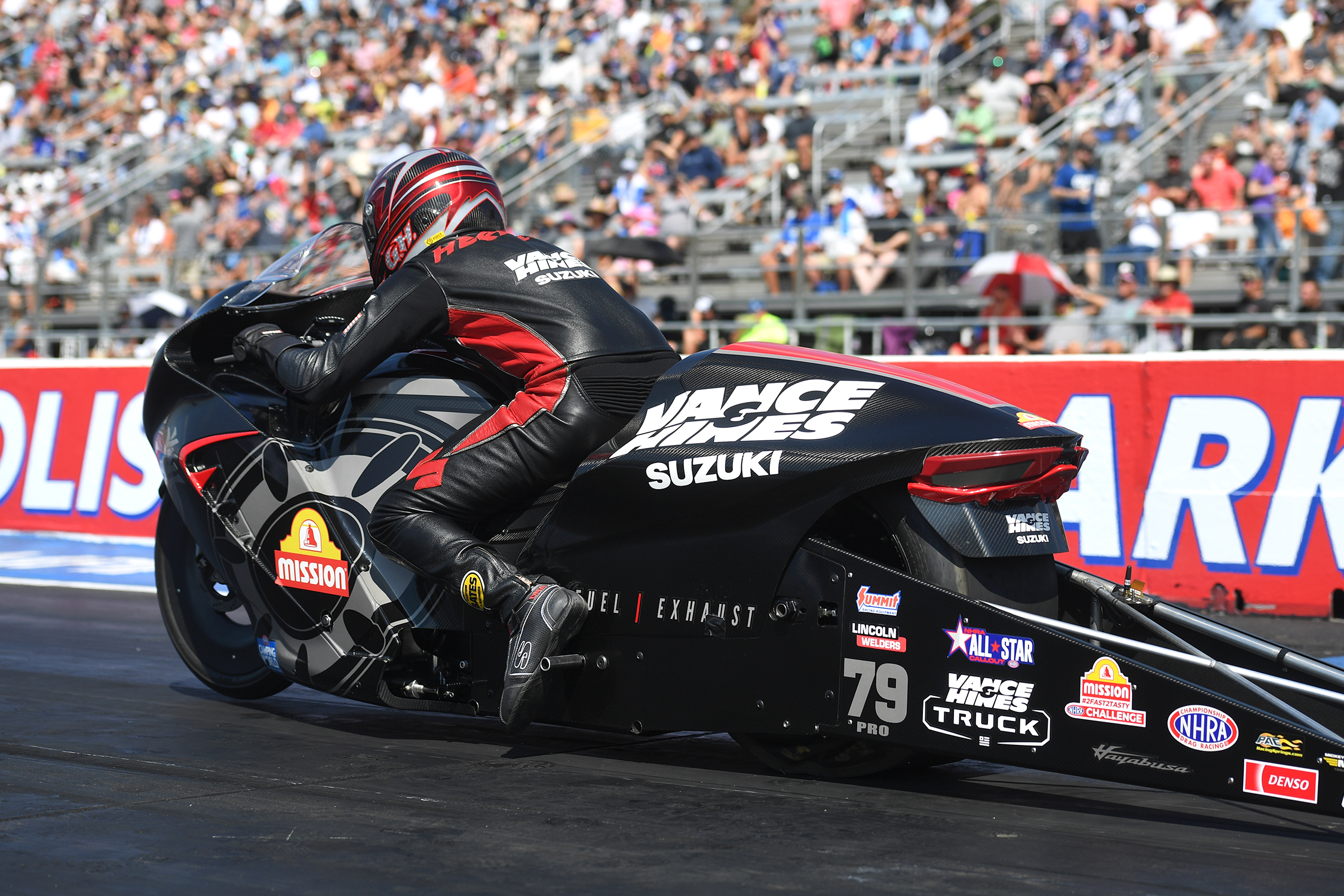 Eddie Krawiec came into Indianapolis hoping to continue building on a strong upswing in performance that began during the Western Swing. He qualified number two with a 6.800-second/199.29 mph run; the third time this season the Vance & Hines/Mission Suzuki team has locked out the top two qualifying spots.
Krawiec defeated Bud Yoder (7.028-seconds/191.95 mph) in the first round, making a 6.870-second/198.50 mph pass to advance past the rookie and become only the second rider in Pro Stock Motorcycle history to win 500 elimination rounds. The record of 543 round wins is held by Vance & Hines/Mission Suzuki crew chief Andrew Hines, who retired as an active rider at the end of the 2021 season.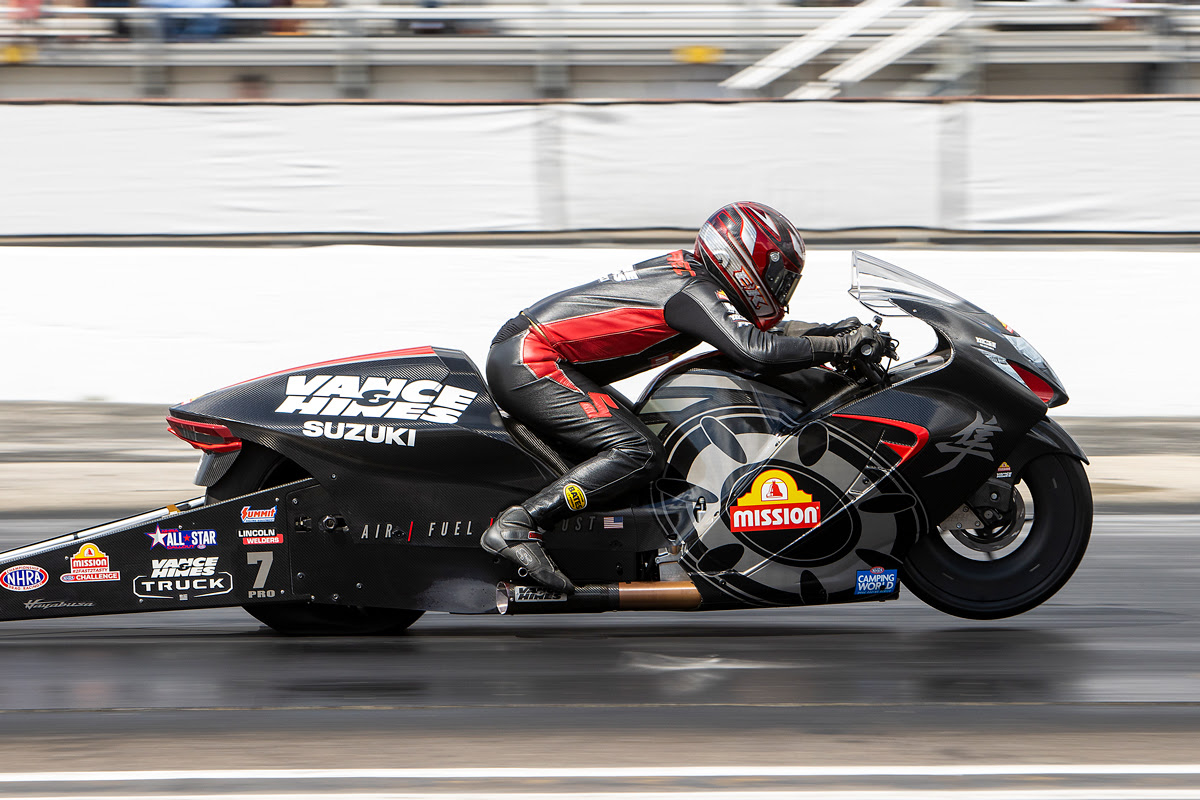 However, Krawiec's weekend came to an early end in round two when a sensor failure caused his engine to bog off the starting line in a matchup against Angie Smith. Krawiec fell short of advancing with a 7.059-second/198.47 mph run against her 6.932-second/196.62 mph run.
"I had a throttle position sensor failure. It's an inexpensive part, but sometimes that's all it takes to lose a round and valuable points. I would have loved for our team to start the Countdown in first and second positions instead of first and fourth, but we're still in an exceptionally good position going into the final six races. I have a great motorcycle. I believe the only one better in the class is the one I'm racing against out of my trailer," Krawiec said. He was happy to earn his 500th-round win but admitted he hadn't been keeping track of the milestone.
"I never really sat down to figure out how many I had. It's one of those statistics that you look back on and think, how is that possible? It's a testament to having a long and successful career, and it's special that my teammate Andrew Hines and I are statistically the two most successful racers in Pro Stock Motorcycle."
For his part, Hines was disappointed about the mechanical problems but pleased with the success the team has achieved and its position entering the second part of the season.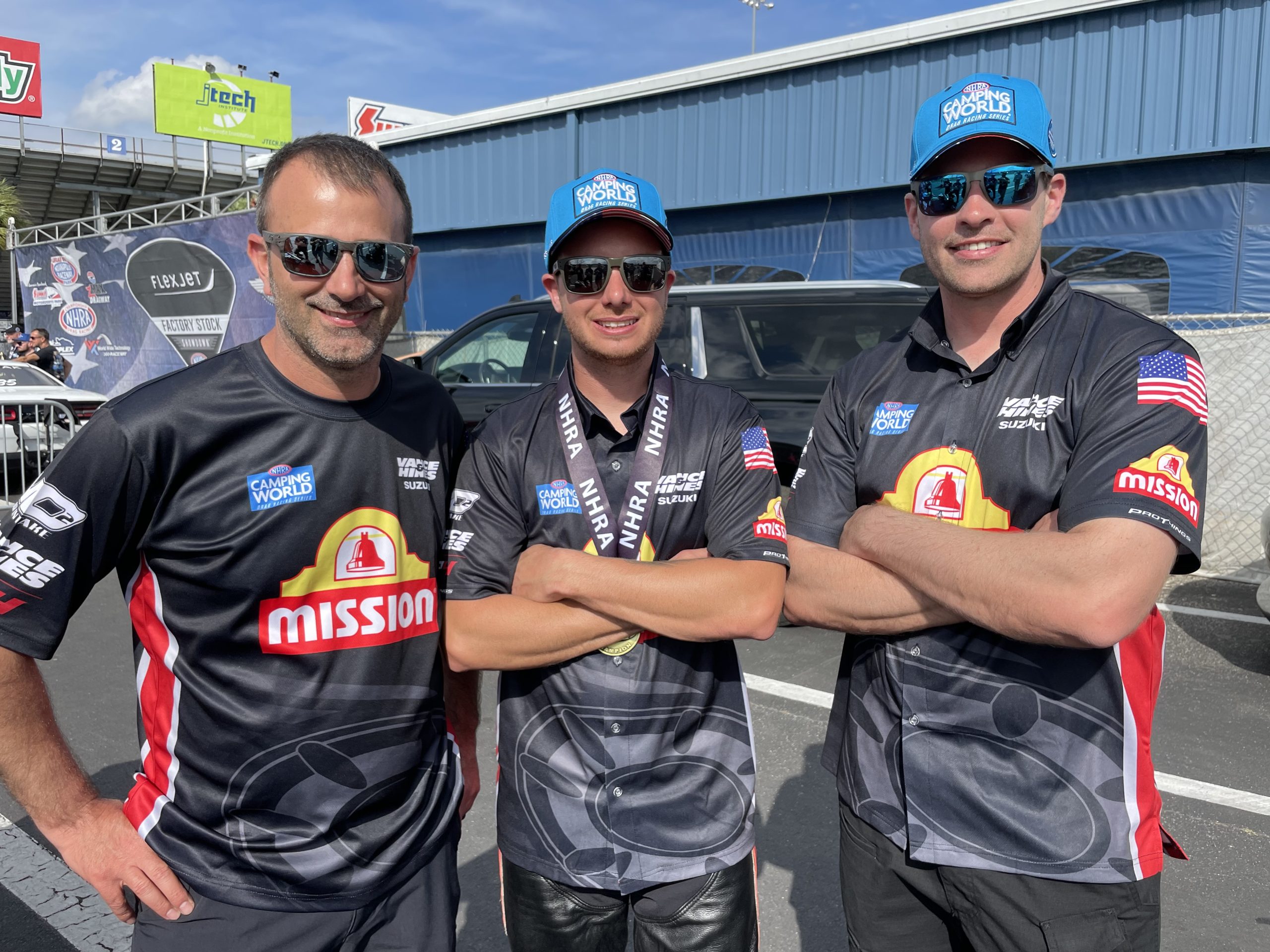 "We've already achieved more success than I ever thought we would so far this year. Gaige is riding great, and the package is very solid. This weekend we had some mechanical failures that took us down, but we learned from those setbacks and are better as a team because of them. Unfortunately, Indy got away from us, but we're in a great spot with points and team morale. This Suzuki Hayabusa is in a window of performance that I believe is unattainable by any other motorcycle in the class. I'm really excited for the Countdown."
After the nine rounds of the regular season, points are reset for the top ten riders in the class, who will contest the six-race Countdown to the Championship to crown the Pro Stock Motorcycle champion. Herrera starts the Countdown on top with 2,113 points, a 30-point gap over U.S. Nationals winner Matt Smith in second. Krawiec begins the Countdown in fourth position with 2,062 points.
The Vance & Hines/Mission Suzuki team is back in action September 14-17 at the Pep Boys NHRA Nationals at Maple Grove Raceway in Mohnton, PA.
There are more videos on the Cycledrag Youtube channel (please subscribe here) and the Cycledrag Facebook page (Please like here) and more will be coming soon. Check back daily.
To take advantage of some amazing discounts at Brock's Performance, click – http://brocksperformance.com?aff=12
USE cycledrag5 coupon code.