Turbo drag bike racer Rob Garcia has issued the call out of his 15-year racing career.
The 51-year-old Pottstown, Pa. resident has challenged any Top Fuel Motorcycle to a $10,000-race, off-the-trailer showdown at any track that doesn't have a super sticky, drag radial type prep.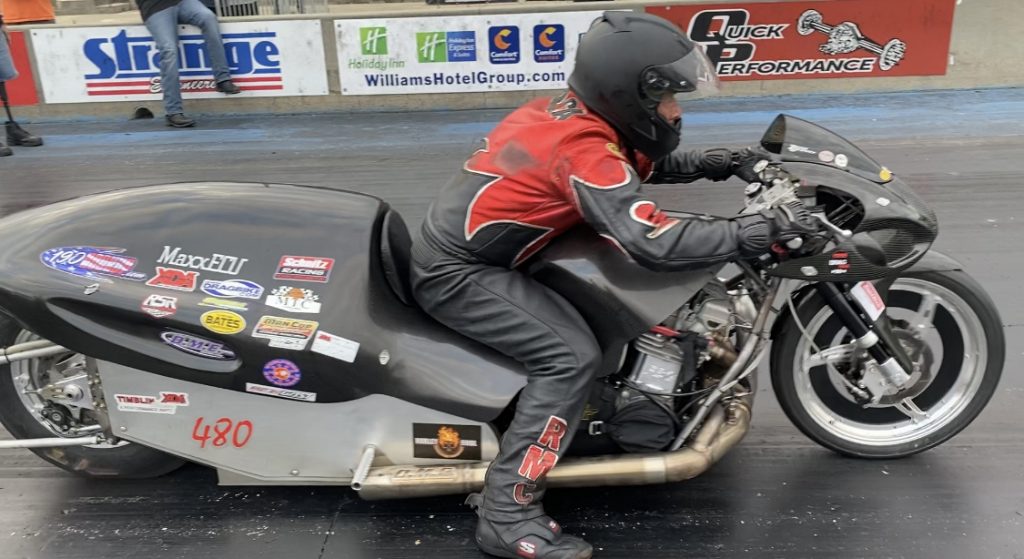 "I have a motorhome and I'm willing to travel," Garcia boldly said.
The call out is good for the 2021 season as Garcia is currently fixing his motorcycle from a scary ride at the Man Cup Finals that saw his tire fail at high speed – something Garcia says was due to an over-prepped race track.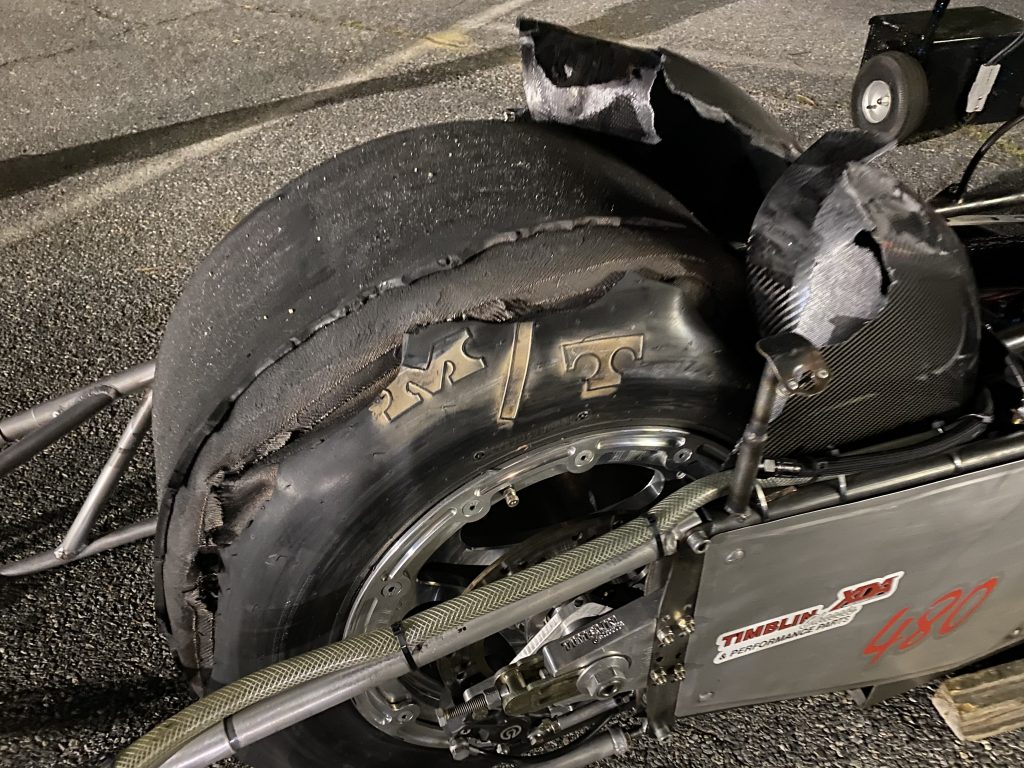 Garcia says the motivation behind the call out is to prove his new-age turbo drag bike is safe to run against Top Fuel Motorcycles in the quarter-mile, following the frightening outing at the Man Cup Finals.
The world's quickest turbo bike of Kevin Clarke, ridden by Terry Schweigert, also chucked tires and destroyed a pair of bodies. On one terrifying run, Schweigert was thrown to the wall with his hand stuck on the open throttle.
Garcia also encountered a tire failure, destroying his wheel tub and bodywork. He sustained cracked ribs when he was struck by pieces of the tire. Garcia was able to stop the motorcycle just shy of the sand trap, where his opponent Mike Chongris was the first to him.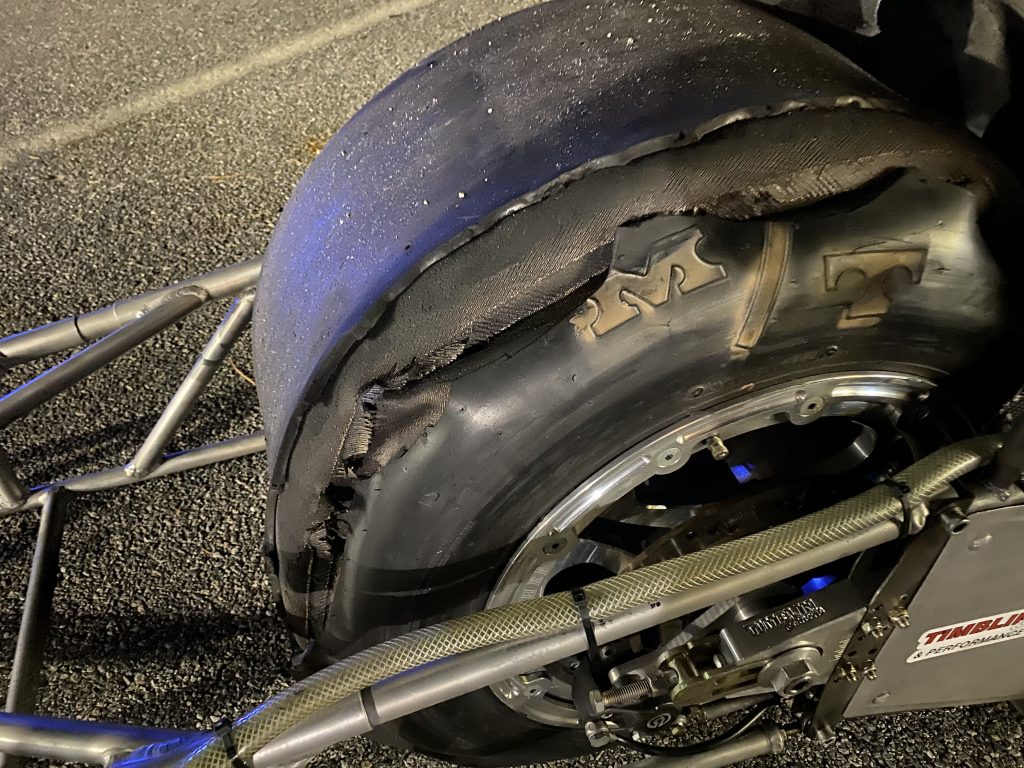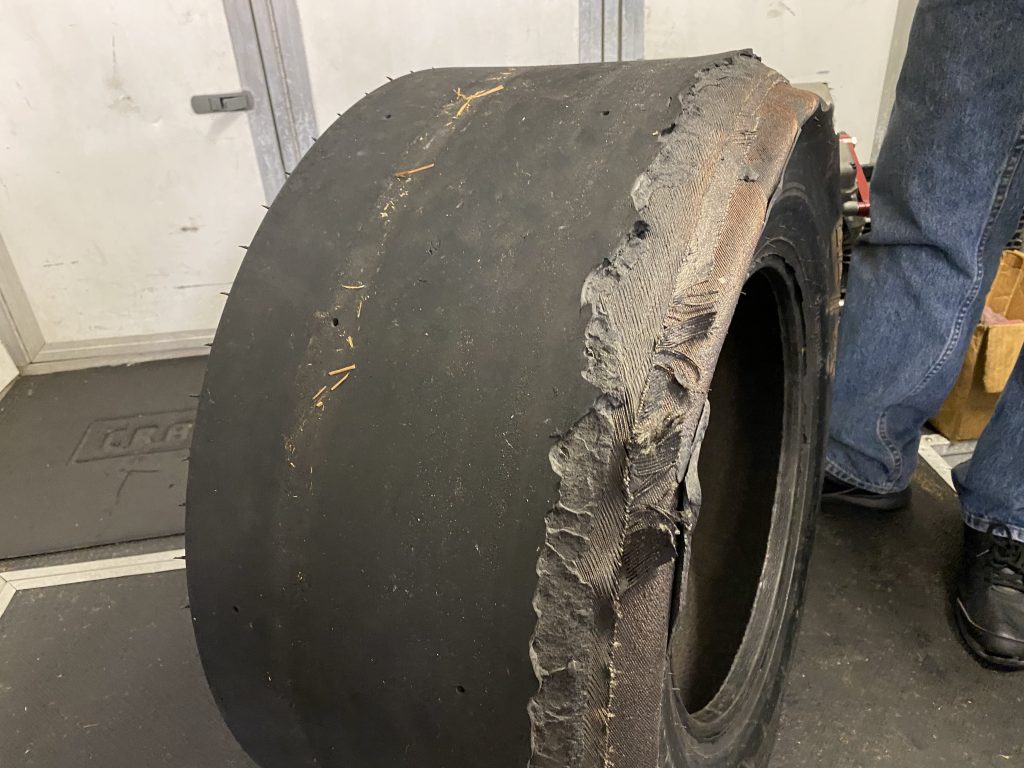 Both Garica and Schweigert opted not to race on Sunday.
During an opening round bye run, disaster struck as Chongris crossed the finish line at 197 mph and smashed into the wall. The incident sent the racing veteran to the ICU and the cause of the accident is still under investigation. Sources say Chongris was experimenting with a drag radial tire on the errant run.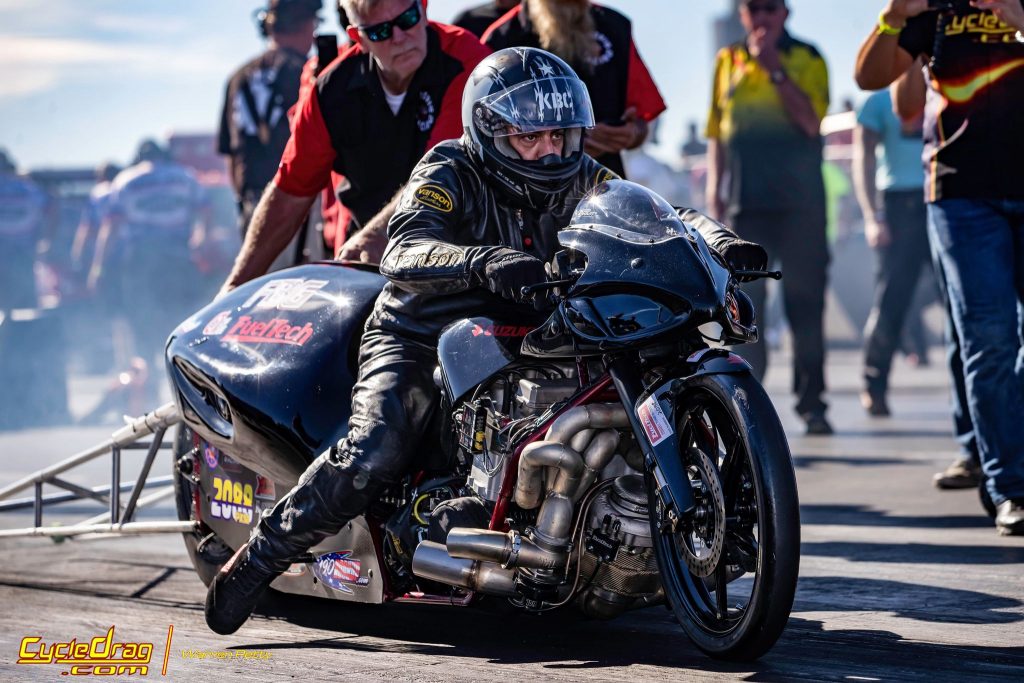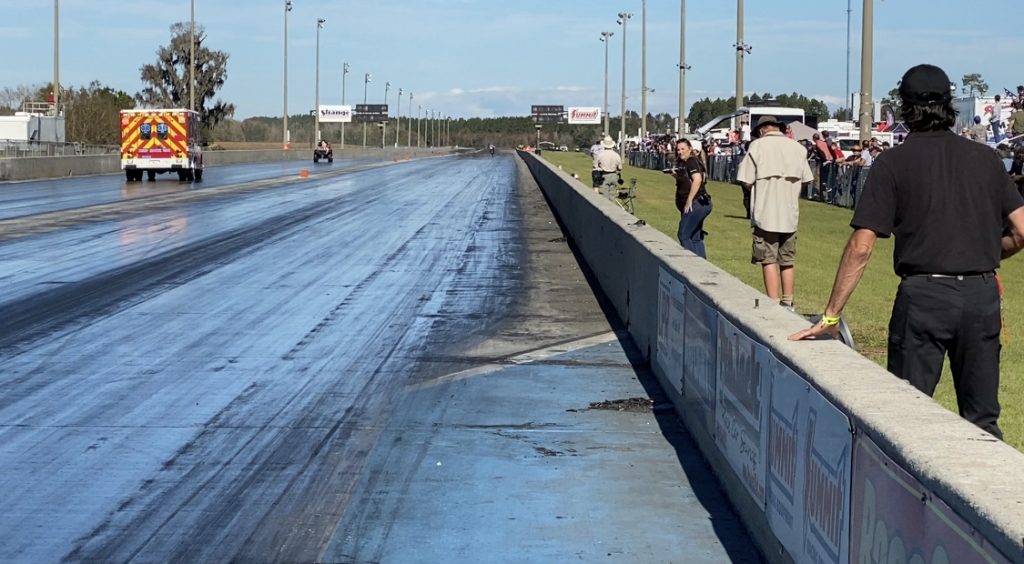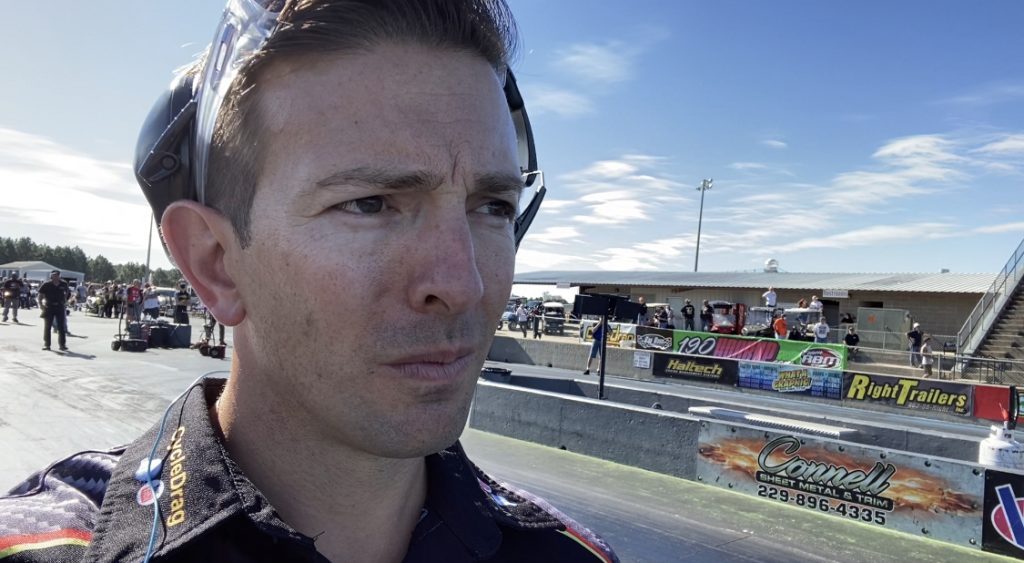 Videos have been reviewed, experts have weighed in and Garcia says it was track conditions that caused all the problems for his team. To prove his point he is willing to put up $10,000 to show his 2020 Timblin Chassis, DME Turbo Suzuki GS is perfectly safe, and capable of defeating a Top Fuel Motorcycle.
"That track made our class look bad. It was way too tight (heavily glued)," Garcia said. "As the tire is trying to release from the track , it chucks and comes up and tears up the body. That's the only racetrack where we bring seven tires. I won Pro Open last year and ruined six tires."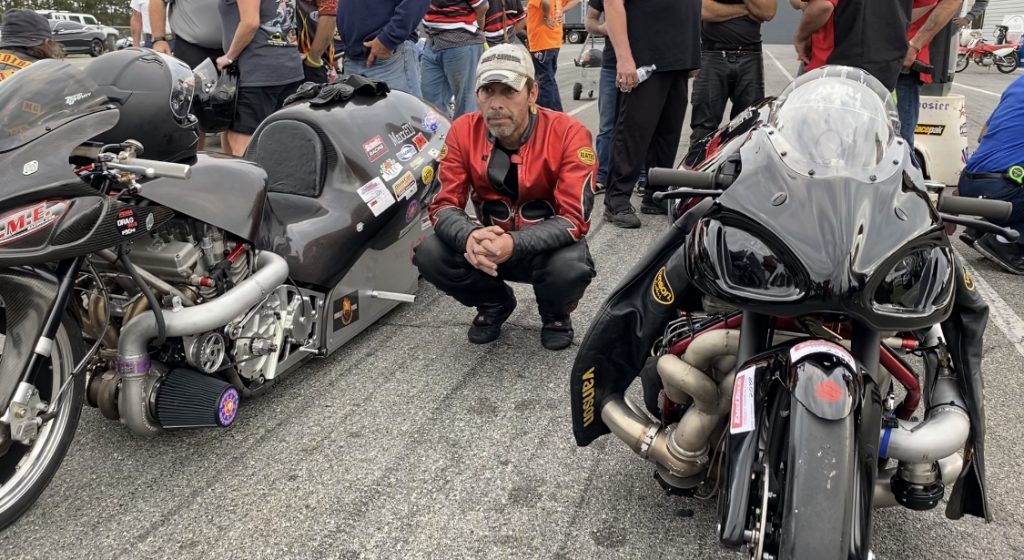 It was the first race where turbos were allowed to compete in Man Cup's Top Fuel class, after two years of debate on each side. Man Cup's Jay Regan altered rules to allow turbos to enter Top Fuel after a July race at Dragway 42 that saw only one Top Fueler show up. Regan cited the abundance of new turbo bikes as one of the reasons for the rule change. Most Top Fuel racers did not welcome the change. For Turbo racers it was an opportunity to race for a much larger purse.
"I don't like how people are saying our bikes are unsafe. They are not," Garcia said. "It goes where it is pointed."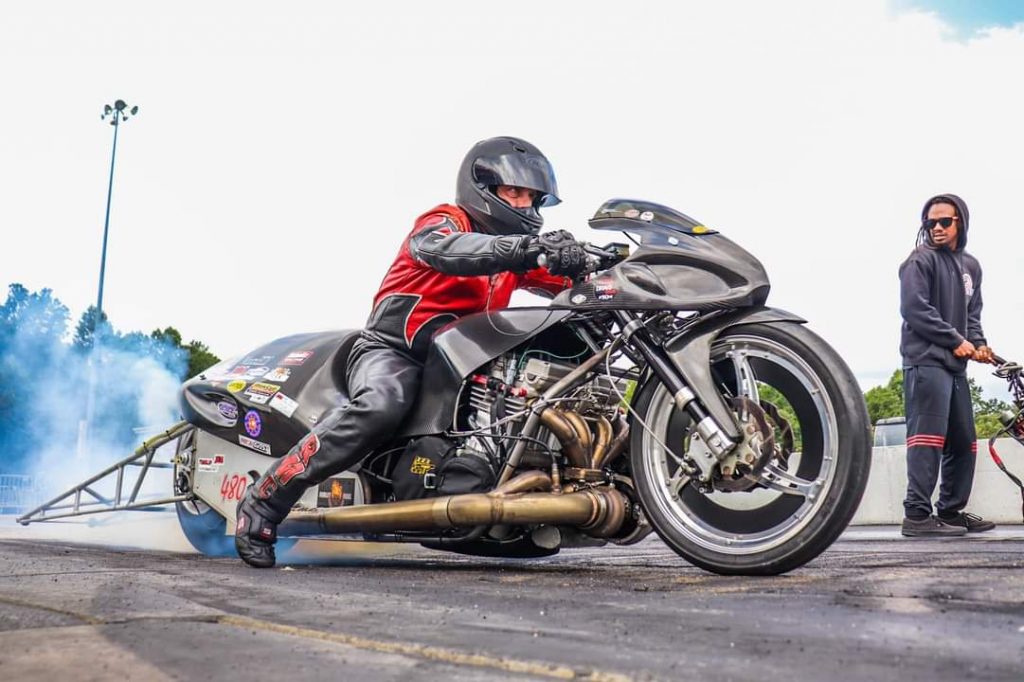 Garcia's personal best numbers are impressive at 6.22 /225 mph, but even he admits that's a far cry from most Top Fuel runs. Garcia says racing with no testing or shakedown runs will be the great equalizer.
"If you give Larry (McBride) five shots at the racetrack, you are not beating him," Garcia said. "But at the last race if the turbos raced the Top Fuel bikes off the trailer, we could have beat them all."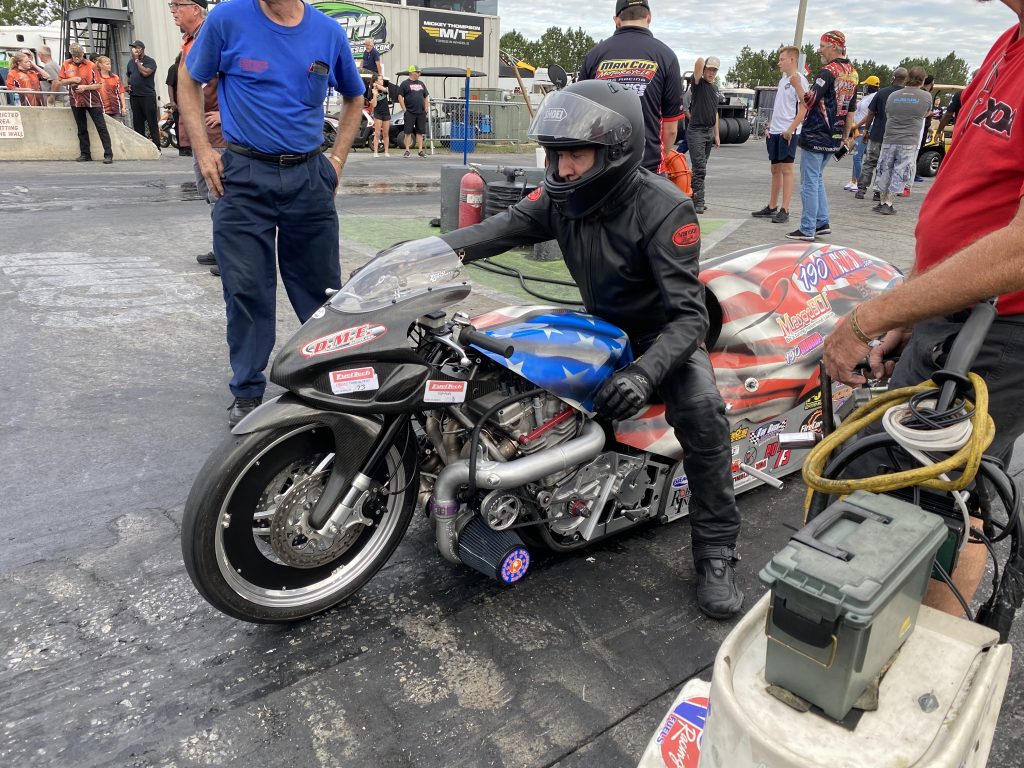 Garcia is a former nitrous Pro Mod racer who crossed over to the turbo world when he took notice of the immense power and potential in the combination. He says he knew his nitrous motorcycle could not compete with such a combination.
He considers his best pass a run at Dragway 42 in West Salem, Ohio where he ran 5.14 to 1,000-feet before a gear on the back of the clutch basket broke.
Terry Schweigert holds the overall turbo record at 6.19, set at the 2018 Man Cup Finals. There are few opportunities to set quarter-mile records. In the XDA Pro Extreme class the bikes only race to the eighth-mile.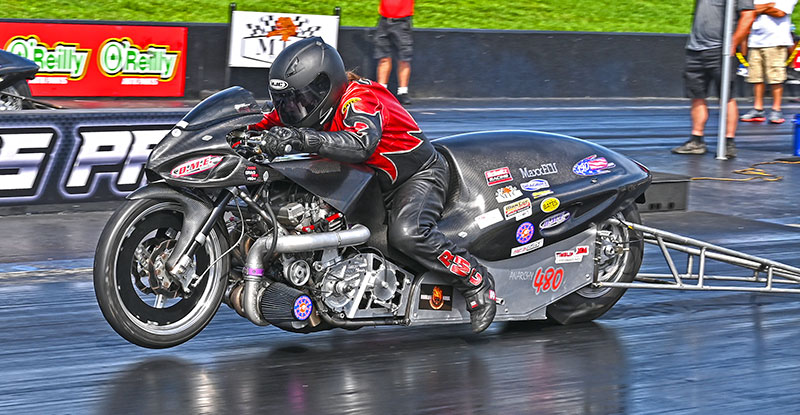 Garcia wants nothing more than to line up against a Nitro burner.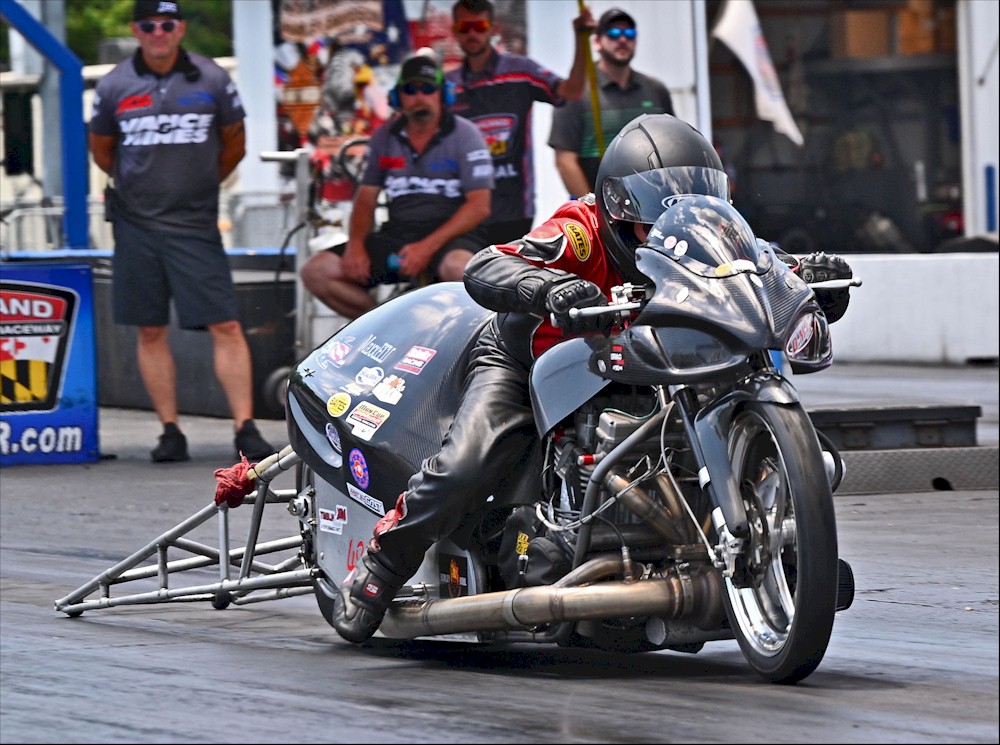 Now he's got $10,000 for the Top Fuel Motorcycle racer to accept the challenge.
"I can't explain how much I want to race these guys. As long as we stay away from the drag radial prep, I'm ready," Garcia said. "When my tire came apart at the last race I just couldn't go back up and try again. I knew the track was not right. I walked out at 2am and stuck to the track trying to walk down it. I was really excited to line up against Sam Wills, but I just couldn't do it. We have ran on tracks in Oklahoma and Ohio and never had a problem like this."
Garcia is confident a tracked prepped to his liking will provide the fix he longs for.
Now we await if anyone to answer the challenge. This could get interesting.

There are more videos on the Cycledrag Youtube channel (please subscribe here) and the Cycledrag.com Facebook page (Please like here) and more will be coming soon. Check back daily.
To take advantage of some amazing discounts at Brock's Performance, click – http://brocksperformance.com?aff=12
USE cycledrag5 coupon code.