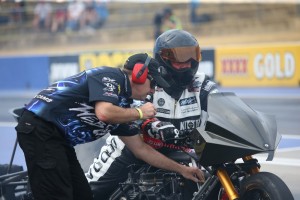 Australian Multiple Top Fuel Motorcycle Champion and National Record holder Chris Matheson and his Nitro Voodoo Team are aiming to right his wrongs after red lighting at the recent X Champs in Sydney earlier this month.
Matheson said s#*t happens, but that's history, we're all fired up to re-write history at the Winternationals in early June.
The whole Team has been fired up since Sydney, as we want to keep improving our recovery from last year's major "off". We are trying some new things in our quest to improve our short times, which have been disappointing. The bike has plenty of mumbo, and Roger, my Crew Chief, has been refining the set up over the last couple of meetings. We are scheduled to run the Winternational Warm Ups this weekend, which will give us more opportunities to refine the set-up in readiness for the main event the following weekend.
Top Fuel Motorcycle has an oversubscribed field of 9, which will be great. All entrants have a chance in getting the win, as these bikes are temperamental, even sitting in the trailer.
Current Australian No.1 plate holder Chris Porter on his Fraser Motorcycle and Royal Wolf sponsored Nitro Harley is keen to continue to accrue points in his quest to back up last year's Championship, while WA based fellow Nitro Harley Rider Mark Drew is rumoured to be debuting one of the quickest Nitro Harley's in the World, fresh out of the States. Sources report that the bike has run consistent 6.2 second passes and will be the machine to beat at the Winters.
Western Australia will field two other Nitro Harley's, Gordon Crawford and Terry Burnett will also make the cross country trek to compete.
Matheson said his multi-cylinder machine is out-numbered by the contingent of Nitro V-Twins, but he said he's seen it all before and revels in the challenge.
The Winters will be a great event, as it always has and will continue to be an iconic event on the World Drag Racing Calendar.
The Winternationals Warm Up will be held at Willowbank Raceway over weekend of 31 May & 1 June, whilst the Fuchs Winternationals will be held over the long weekend 6-9 June 2014.
Thank you once again to our Sponsors & Supporters:
WebCam, Red Line Oils, RB Performance, Rocket Industries, CRC Industries, PDS Graphics, Kitten Car Care Products, GT Radiators & Machining, Vance & Hines, Hi-Side Leathers, PR Factory Store, Boninfante Friction Inc. and special thanks to Larry "Spiderman" McBride & Steve McBride.
www.nitrovoodoo.com.au