Redneck Express Top Fuel bike pilot Chris Hand knew the importance and significance of a five-second time slip long ago. To the fearless veteran the feat meant everything.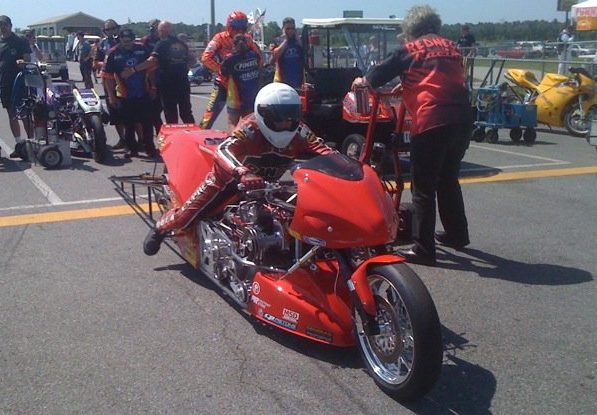 After decades of unrelenting labor, long nights in the shop and marathon drives to races, a hot August night in 2013 gave Hand the air he needed. The racing facility had the track prepped just right, the tune-up was there and Chris Hand drove his beloved drag bike 1,320 feet in under six seconds for the very first time. Bedlam ensued on the starting line in the wake of his accomplishment.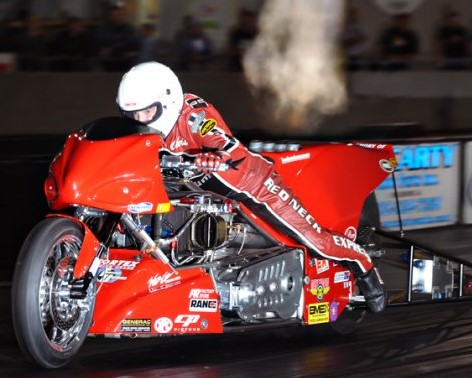 Chris became the sixth official member of the MTC Engineering sponsored "Five Second Club." Eight racers were honored in the prestigious club and MTC gave each member a check for $500 and a plaque to commemorate their accomplishment. Two exceptional drag bike pilots outside the US have also crossed the sub-six-second barrier; Ian King of Great Brittan, and Peter Svensson of Sweden.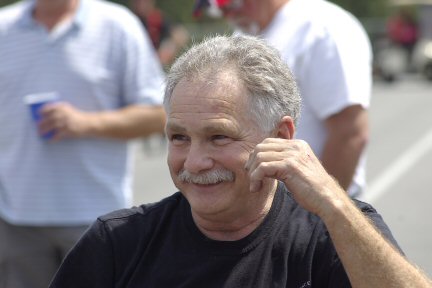 During the starting line celebrations, it's interesting to note, some of the cheering hoard were not even born when Chris Hand started motorcycle drag racing in 1968. There's no small measure of satisfaction in that for Chris Hand. Make no mistake about it, the 5.89 elapsed time at a thundering 230 mph was long time coming and Chris earned it with over four decades of effort as did his one team mate who's been at his side the whole time: his wife some forty one years, Sharron Hand.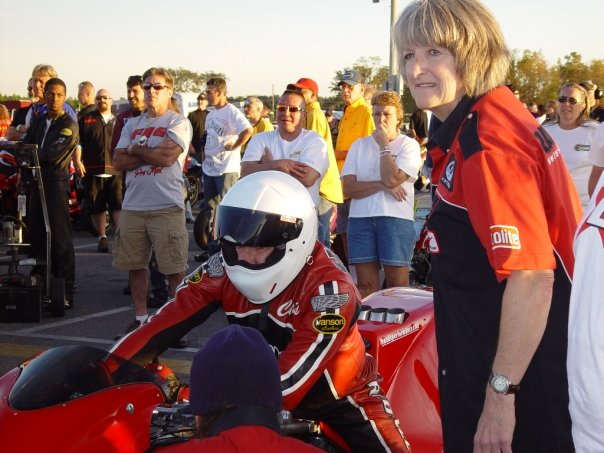 His interest in motorcycles began at a young age. He was born in 1952, and by the time he was twelve he had his first motorcycle, a Honda 90. Soon there after, being a teenager in the mid 1960's, Chris was into all things fast. He took interest in motorcycle drag racing in 1968, at a time when the sport first began to become an organized formal motorsport. This was a time when the first motorcycle drag racing sanctions were being formed. When Chris first attended racing at Lassiter Mountain Dragway in Mount Olive, Alabama, racers left the starting line when a 100 watt light bulb suspended above the starting line, was turned on.
Years later, when Chris attended his first "All Bike" drag race, an AMDRA event in Memphis, Tennessee, in 1972, he had an epiphany of sorts: inside he just felt this was something he just HAD to do. One year later, in 1973, Chris built a C/M, or class C – Modified, drag bike if you prefer, as he entered the 1320 wars for real with a modified Harley Davidson Sportster. By 1975 he advanced into nitro racing and started racing in A/F (class A – Fuel) with a dragster type chassis bike as he switched from sit-up bikes to lay down dragster chassis machines.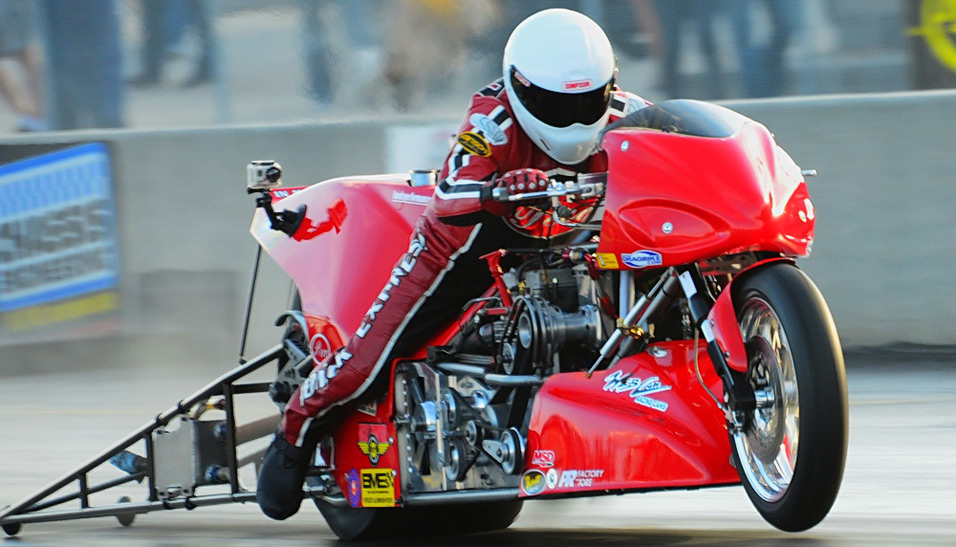 Through out the mid 70's as the sport of motorcycle drag racing was growing in leaps and bounds, Chris was also growing as a racer and he began experimenting with inline powered bikes, not just V-twins. His earliest drag bikes were Harley Davidson powered, but by 1977, he began working with a nitromethane powered, fuel injected SOHC Honda intended for class B/F racing.
This was a very tricky time for building and racing drag bikes as the primary sanction, the AMDRA, was ceasing operations and Tom Loughlin's "DRAGBIKE!" sanction was just starting in the north east, as was the I.D.B.A. or International Drag Bike Association of Wayne Molpus and Tony Lee began forming in the south eastern United States. So building bikes to conform to the rules of the sanction was difficult when sanctions themselves were in flux.
However, by the late 70's, after being involved in fuel racing for a few years, Chris came into an event that changed his life forever. He received a letter from Tony Lee, the head of IDBA, informing him a man named Denny Hickman had recently purchased a Top Fuel bike from Ronnie Teason and Denny wanted to know if Chris would drive it for him. They really needed to talk.
That was not just any drag bike Chris was about to throw his leg over and he knew it. He had read all about the bike in national magazines. The Teason and Bernard Honda powered Top Fuel bike was the predecessor to their Top Fuel Yamaha that Teason and Bernard raced in the late 70's early 80's. Historically, this was the bike that inspired Mike Gray to build the Terminal Van Lines T/F bike. To be asked to drive the Ronnie Teason built Honda T/F bike was a hell of an opportunity for Chris to enter T/F motorcycle drag racing! He was not confident he was quite ready to do this but his wife Sharon encouraged him, "you may never get a chance like this again in your life."
Once Chris started racing that bike, there was no other class for him – that was it.
Chris spent much of 1979 and 1980 learning the ropes in Top Fuel motorcycle with the Hickman and Hand T/F Honda. Along the way, he became good friends with fellow T/F racers Sam Wills and Carl Ahlfeldt who were very much at the center of Top Fuel bike racing at that time. Sam had a chassis building operation in big Carl's building known as Racing Innovations. Carl and Sam had been building winning Top Fuel bikes since the mid 1970's.
In 1980, when Carl Ahlfeldt was doing business as Motorcycles Unlimited, and Sam was next door with Racing Innovations, in Oklahoma City, Oklahoma, they built a Top Fuel bike for Chris. 1981, Sam and Big Carl created and delivered the Redneck Express (II) to Chris Hand. Chris and Denny had named their first bike they raced together, the T/F Honda as their first "Redneck Express" and the name just stuck with the Chris Hand racing operations ever since. The moniker for the bike was kind of a way to poke fun at themselves as southern racers.
Time passes and over four decades later, Chris is still at it.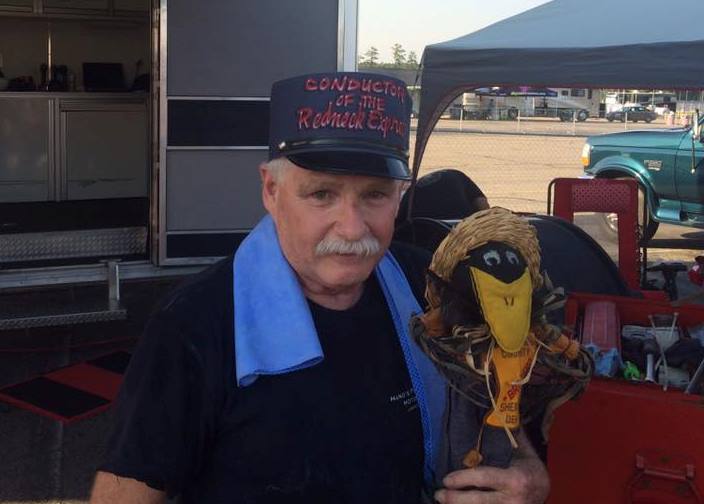 There's no telling how many miles, or how many dollars went into that five-second elapsed time pass for Hand. The sacrifices along the way to this success are almost too numerous to mention.
How many birthdays, family celebrations, missed holidays or fishing trips did he miss? There's no way to tell. What he missed out on was the kind of sacrifices every professional racer makes every season. Chris has endured this for over forty seasons. The sacrifices are not what Chris dwells upon, he's driven to succeed to do better every time he goes racing.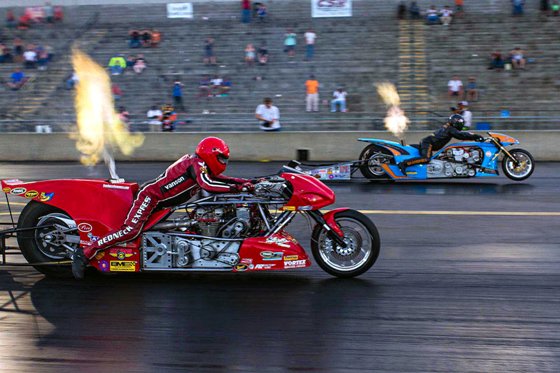 Rather than think about the sacrifices necessary to go racing, Chris chooses to accentuate the positive. He prefers to be with his own kind, a rare breed, Top Fuel motorcycle drag racing, that's what matters on race day. For Chris, doing what he loves and loving what he's doing, this is the bedrock of his matter. Top Fuel bike racing is like anti-matter against life's dull moments: when T/F bike racers are doing what they do, not much else matters.
Mr. Hand's accomplishment in entering the five second elapsed time zone was a great validation of his forty years of drag racing, most of it in Top Fuel. In this frightfully expensive class where every pass down the quarter mile will cost a T/F bike team close to two-thousand-dollars, how much longer he will continue to race is subject to review on an annual basis.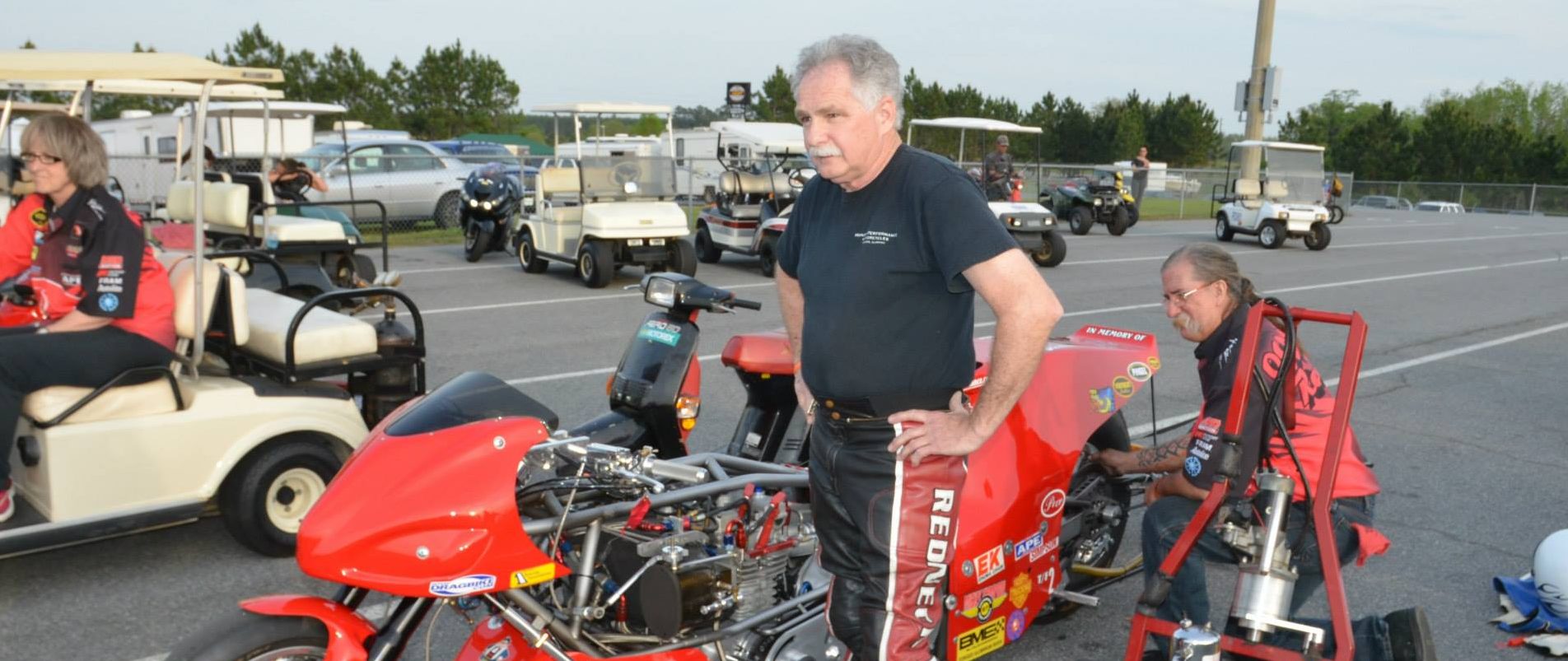 He didn't get to this level of performance alone of course, no one does. If you were to ponder what brought Chris to this lofty achievement, if you distill down all the chafe to look at the heart of the matter, you'll see it's all about heart, in fact just another sappy love story, the best kind of all. It's not just his love of Top Fuel racing that takes the center stage in this love affair.
Yes, love, sweat and tears brought him to his greatest level of mechanical accomplishments in life. But Chris's partner for life, his beloved wife Sharon was with him all the way, just as she's always been, just as she always will be. The Hand's pray together, live and love life every step of the way together and they have raced in Top Fuel bike together for many a season. Chris and Sharon married in 1972 and they've raised a family together, now the extended family is what keeps them racing.
Top Fuel motorcycle itself you see IS a family. One where all the teams are all at war in one way, yet they all love, need and support each other to press forward. Chris and Sharon entered the Top Fuel family in 1979 and when they go racing, they are with this extended family. There's bond there that can only be experienced when they are in the pits racing, thrashing fighting the good fight together.
This is why there was so much jubilation, complete with tears streaming down cheeks in fact, when Chris ran "The Number." A member of the family just ascended to a very lofty place. And when one rises up, they all rise together. It's about time, they earned it.
Chris Hand would like to thank his team mates: Sharon Hand, Steve Legendre and Dick Boxel for their endless hard work. He'd also like to thank, the Alwine family, Jim Fox, Steve Rominski and Andy Wall who lend support to his racing efforts. And a very special thank you to all his sponsors: Peco Foods – Denny and Patsy Hickman, PR Factory Store, Mickey Thompson, MSD ignitons, Sam Wills' Racing Innovations, WebCam Cam Shafts, APE, Ward Performance, Worldwide Bearings, Belt Drives Limited, Cycle Specialist, Red Line Oil, and Hand's Performance in Jasper Alabama.