The three-time Pro Stock Motorcycle champion has faced a new challenge this year on a new bike, but she's hoping it all comes together at the Big Go, where Sampey has two career wins

The 2019 NHRA Mello Yello Drag Racing Series season has been a challenging one for three-time Pro Stock Motorcycle world champ Angelle Sampey, but all of that could be wiped away with an impressive showing on drag racing's biggest stage, this weekend's 65th annual Chevrolet Performance U.S. Nationals at Lucas Oil Raceway at Indianapolis.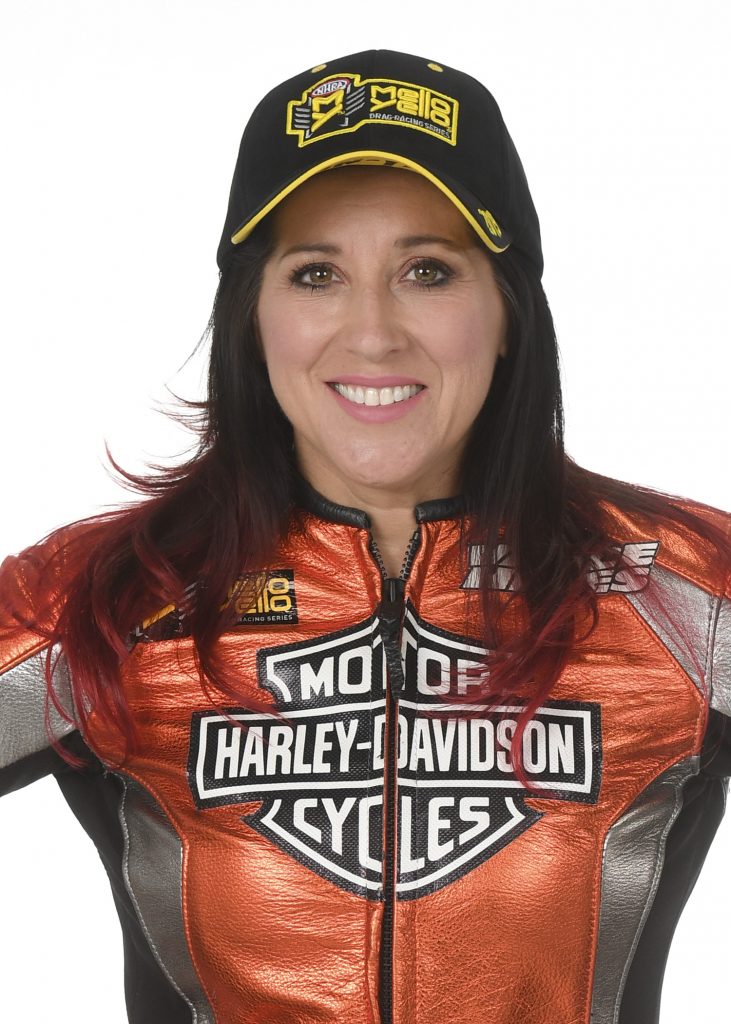 Sampey joined the Screamin' Eagle Vance & Hines Harley-Davidson team this year and it's been a learning process to say the least. But Sampey continues to fight and currently sits ninth in points heading to the Big Go. With a spot in the Mello Yello Countdown to the Championship on the line, Sampey hopes to turn the corner in Indy, where she has two event victories.
"I can't lie and say I'm not thinking about how close the points are. It's very close and I know I can't get bumped," said Sampey, who has 42 career wins. "Hopefully I can get qualified well and I can go into raceday feeling good. It's really important to me, personally, that I'm in the top 10. The situation I have going on, and getting the chance to ride this motorcycle, I would feel like I failed if I didn't get into the top 10 because I feel like I've got a great motorcycle."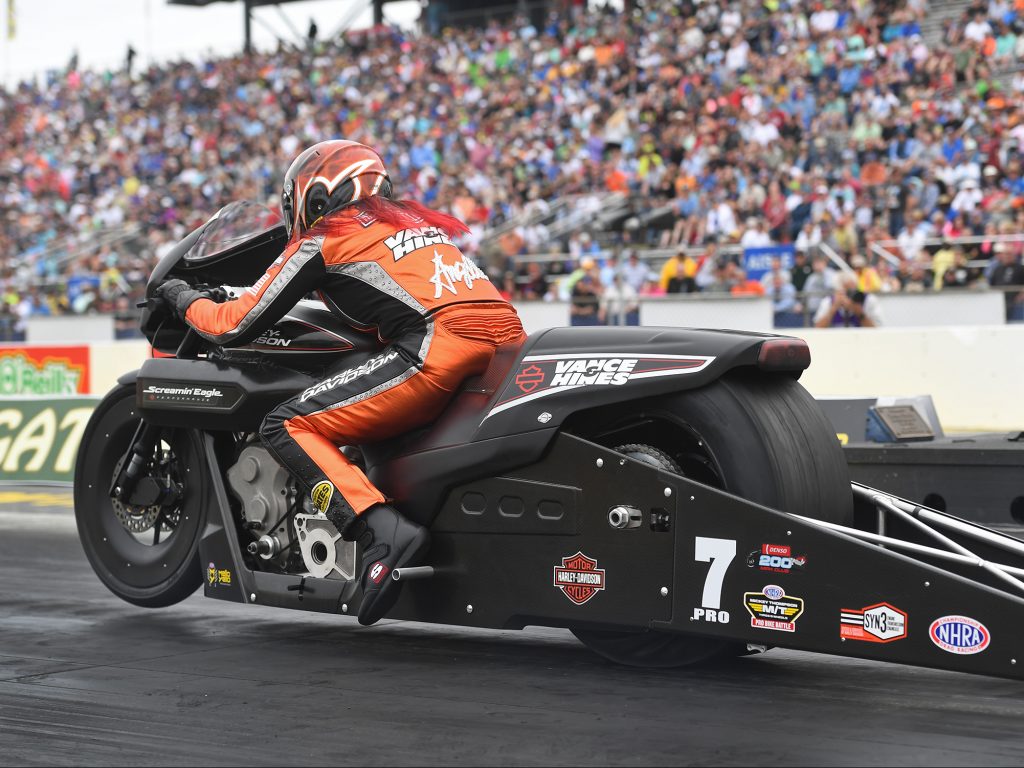 It is the 10th of 16 races during the Pro Stock Motorcycle season and with the with an increased amount of points via the points-and-a-half system in play at Indy, a lot can happen during the race for the final spots in the Countdown to the Championship.
Sampey is just 22 points – or less than one round at Indy – out of sixth, meaning there could be a whole lot of shuffling in the group of Angie Smith, Ryan Oehler and Hector Arana. Jerry Savoie is only 18 points back of Sampey and is currently 10th, 32 points ahead of Scotty Pollacheck. Joey Gladstone also has a shot to make the playoffs with a strong showing in Indy, but Pollacheck said he can only focus on what he's doing this weekend.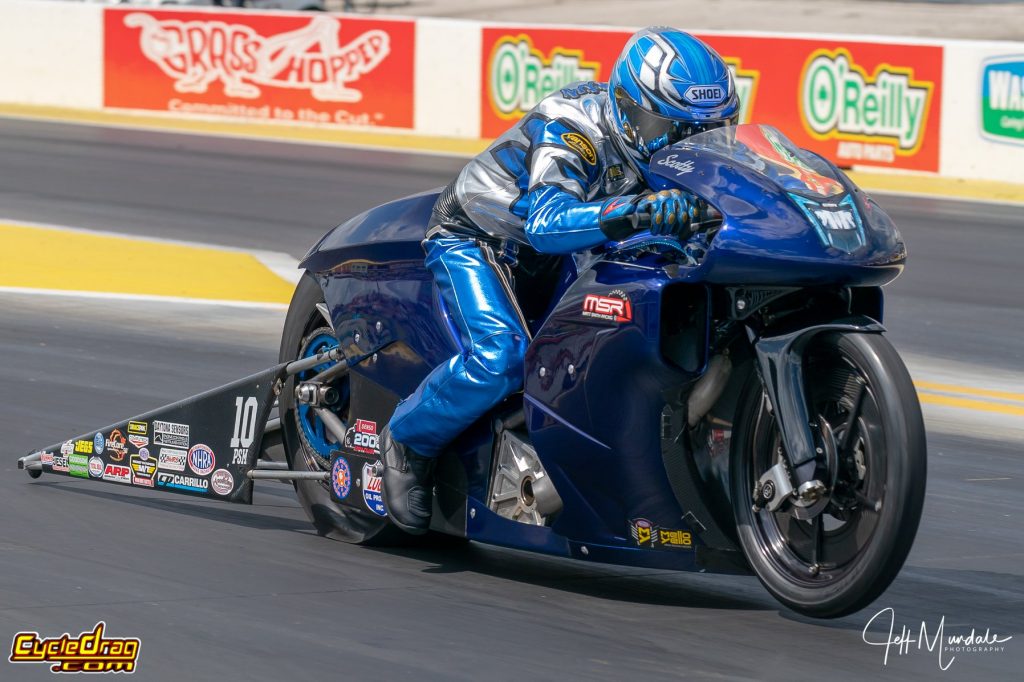 "It's obviously an uphill battle trying to get in when you're not in the top 10," Pollacheck said. "There's some really good riders in front of us, but that's the situation we're in and we're going to do the best we can to qualify well and try to go some rounds. The best thing you can do is make the very best lap you can on Friday."
Pollacheck struggled at the outset of the year on his Quality Tire/Matt Smith Racing EBR, but has shown signs of improvement the last three races, advancing to the semifinals in Norwalk. That puts him in a solid position to make a move at Indy, as the bike is performing at its best at a key time.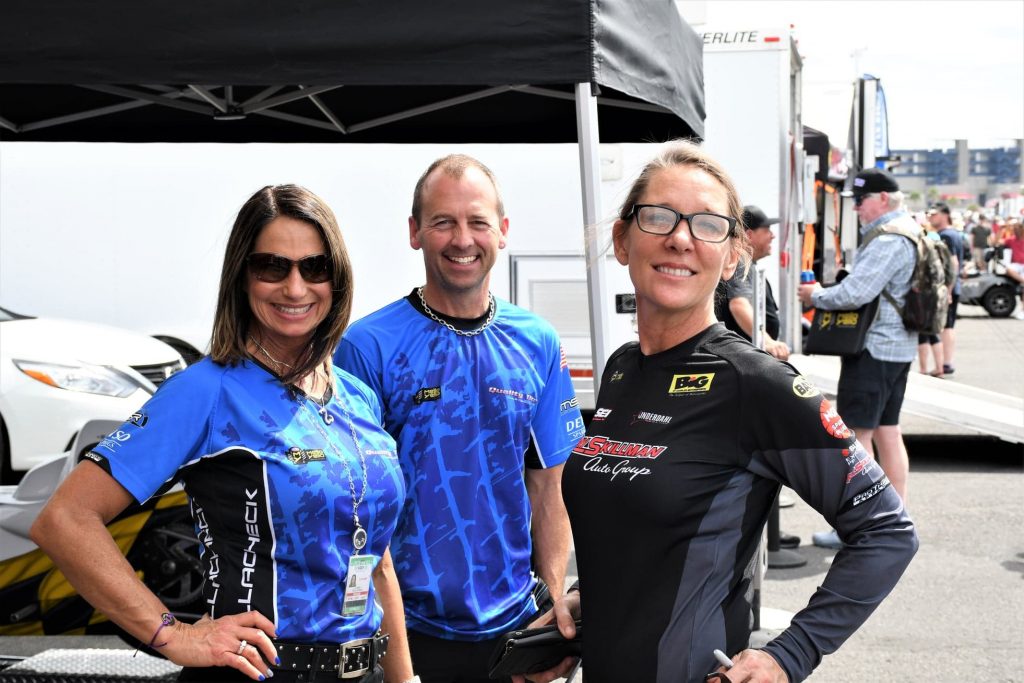 "We've definitely made a lot of progress," Pollacheck said. "We started out slow and definitely struggled a bit, but we're making headway the last 4-5 races. It's to a point where we're as good as we've been all year, and hopefully we can continue that trend in Indy. We're headed in the right direction and we're feeling good about it."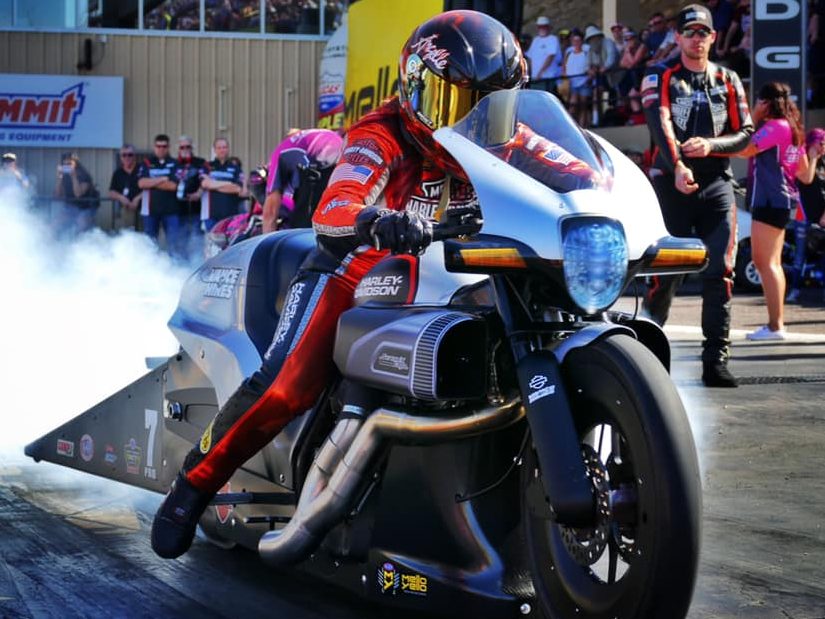 Sampey will try to steal some of the spotlight from teammates Andrew Hines and Eddie Krawiec. Hines has been incredibly dominant this year, winning seven of the first nine races en route to a commanding points lead, while Krawiec is second in points. Sampey will also have to contend with the likes of defending world champ Matt Smith and Hector Arana Jr., but she's relishing the opportunity to again compete on drag racing's biggest stage.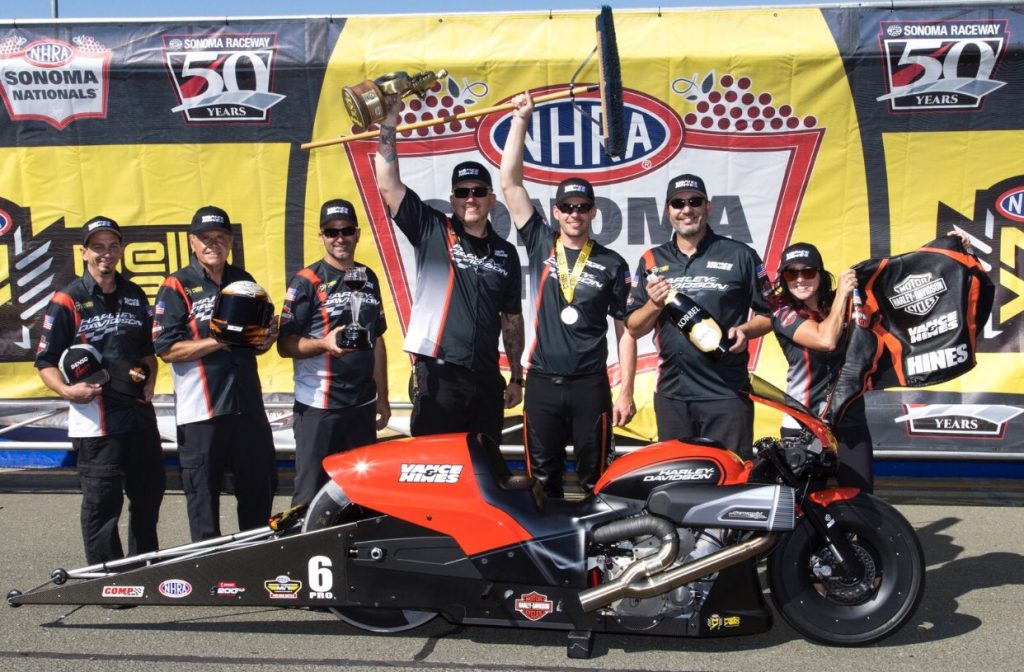 "I just have to focus on some things," Sampey said. "I haven't gotten to where I want to be yet. I still have lots of room to improvement and I'm comparing myself to Andrew, and he's flawless. I've got some work to do, but I'm going to enjoy every minute of it. I'm so happy we have five qualifying runs – who wouldn't want an extra run down the track? I'm looking forward to enjoying it all."
NHRA fans can take part in the Mello Yello Walking Tour to see the teams hard at work in the pits. Fans can also attend a number of different NHRA schools throughout the weekend, including Nitro School, to learn how the cars and motorcycles operate and reach their thrilling speeds. Factory Stock School will take place on Friday, while Pro Stock and Pro Stock Motorcycle Schools follow on Saturday. Pro Mod School and Nitro School will both take place on Sunday, giving fans an incredible behind-the-scenes learning experience throughout the weekend.
Lucas Oil Raceway at Indianapolis will also host a Mello Yello autograph session and allow fans to meet their favorite drivers. Another can't-miss experience is the winner's circle celebration on Monday after racing concludes. NHRA fans can congratulate the winners as they celebrate their Chevrolet Performance U.S. Nationals victories.
As always, fans can interact with their favorite drivers as they're granted an exclusive pit pass to the most powerful and sensory-filled motorsports attraction on the planet. This unique opportunity gives fans direct access to the teams, allowing them to see firsthand the highly-skilled mechanics service their hot rods between rounds, and get autographs from their favorite NHRA drivers. Fans also will want to visit NHRA's popular Nitro Alley and Manufacturers Midway, where sponsors and race vendors create a carnival atmosphere, with interactive displays, simulated competitions, merchandise, food and fun for the entire family.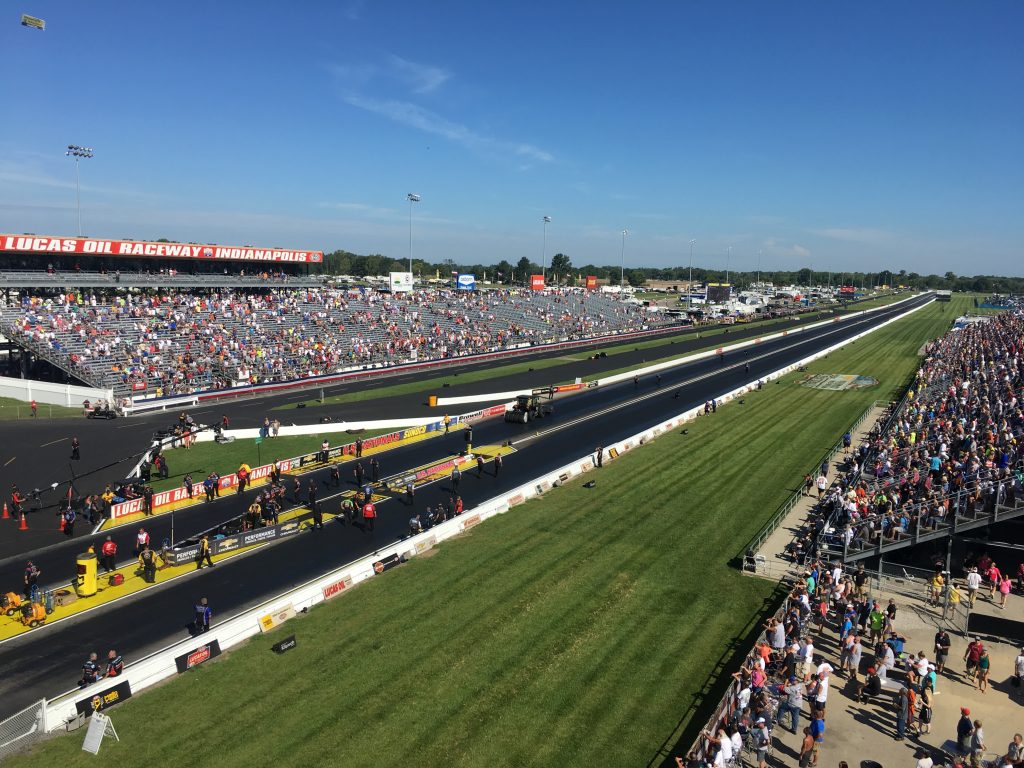 The first of five Mello Yello Series qualifying sessions is scheduled for 7:15 p.m. on Friday, Aug. 30. Two more sessions will take to the track on Saturday, Aug. 31 at 1:15 p.m. and 4:15 p.m., and the final two qualifying sessions will take place on Sunday, Sept. 1 at 1:15 p.m. and 4:15 p.m. Final eliminations begin at 11 a.m. on Monday, Sept. 2.
FOX national broadcast and FS1 will televise coverage of the Chevrolet Performance U.S. Nationals, starting with qualifying on Sunday, Sept. 1 on FS1 at 2 p.m. and 11:30 p.m. EST. The broadcasts continue on FS1 with two hours of live coverage of eliminations on Monday, Sept. 2 starting at 11 a.m. EST, continuing live on FOX at 1 p.m. EST.
There are more videos on the Cycledrag Youtube channel (please subscribe here) and the Cycledrag.com Facebook page (Please like here) and more will be coming soon. Check back daily.