NHRA Pro Stock Motorcycle rider Joey Gladstone and bike owner/tuner Joe Riccardi planned on shaking out the bugs and getting in some competitive testing before the 2017 season kicked off in Gainesville. What happened instead is that Gladstone himself was nearly shook off the bike when the San Marino Excavating Suzuki went into a 1000 foot long, slow but violent wobble that broke and shed parts along South Georgia Motorsports Park's quarter mile.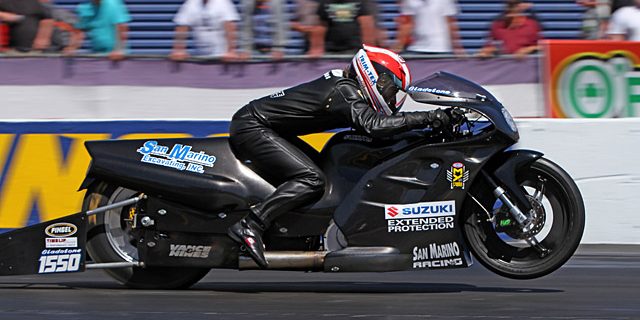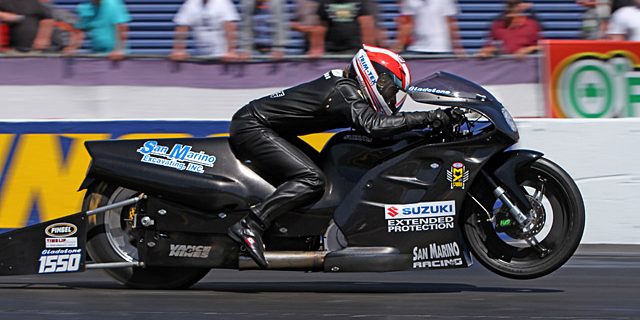 An overnight drive-and-thrash to Georgia chassis-master Walt Timblin's shop put the bike back together again, but after three days of testing (one rained out, one nearly crashed out, and the other too cold to be productive), the team arrived in Florida with no new knowledge to show for their efforts.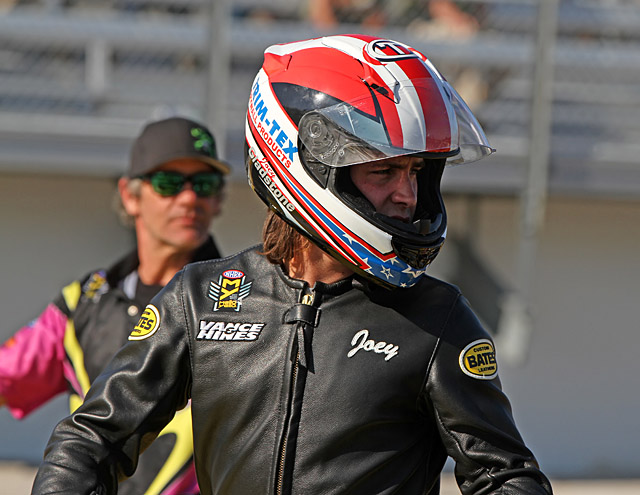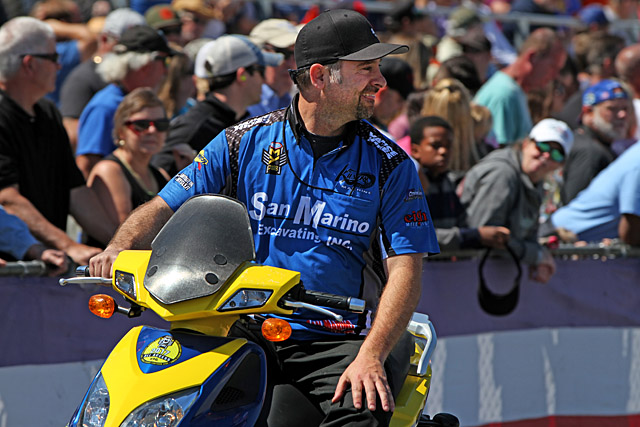 So it was shocking even to them when they finished qualifying third in the order of a very competitive field, then absolutely mind-blowing when Gladstone raced the bike into the semifinals.
Joey Gladstone and Joe Riccardi thank Eddie Krawiec and everyone at Vance & Hines http://vanceandhines.com , San Marino Excavating http://www.sanmarinoexcavating.com , Suzuki Extended Protection https://www.suzukisepdirect.com , Underdahl/Stoffer Racing, Kustom Machine http://www.kustom-machining.com/ , Eight Mile Signs http://eightmilesigns.com , Northeast Ohio Dyno, Pingel Enterprise http://pingelonline.com/ , Manitoulin Chrysler http://www.manitoulinchrysler.com , Dave Vantine and Vantine Imaging http://www.vantineimaging.com/home.html , Mike Androwick of Mike's Racing Heads https://mikesracingheads.com/ , Walt Timblin and Timblin Chassis, and their families.
The San Marino Excavating team races next on April 28-30 at the NHRA Four-Wide Nationals, zMAX Dragway in Concord, North Carolina USA.
Contacts: joe@sanmarinoexcavating.com and jgladstone231@aol.com
For media inquiries: Tim Hailey timhailey@eatmyink.com