Rivalries are inevitable. Any time money and ego are at stake, strong and unchecked emotions often find their way into the equation.
Technically speaking, those involved in a rivalry don't have to dislike each other. But, as we've seen with the Hatfields and McCoys, Los Angeles Lakers and Boston Celtics, and Angelle Seeling and Matt Hines, it certainly makes things more interesting.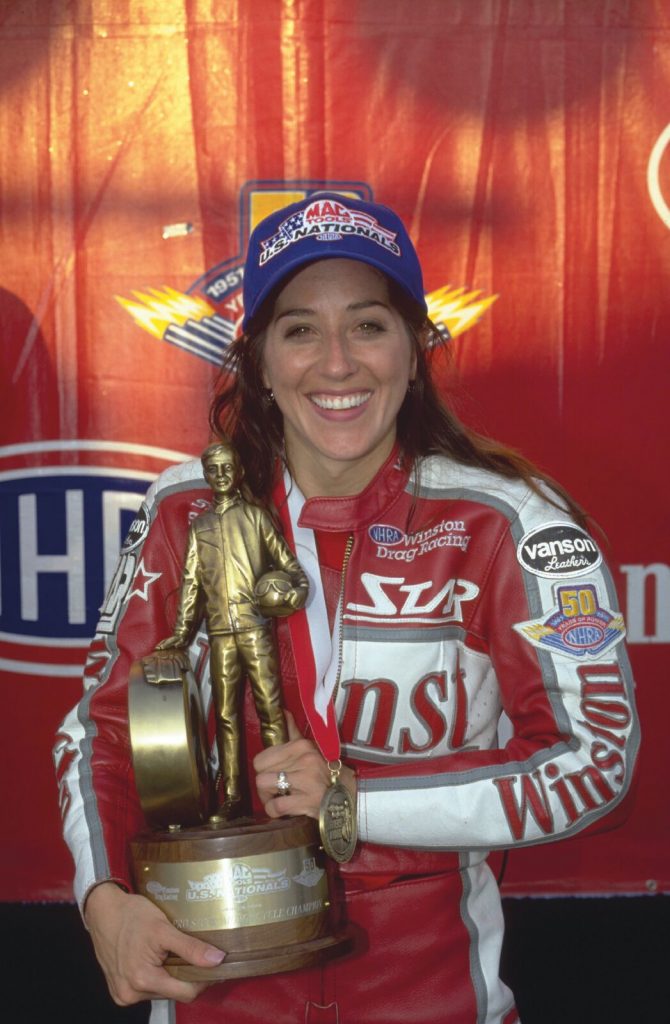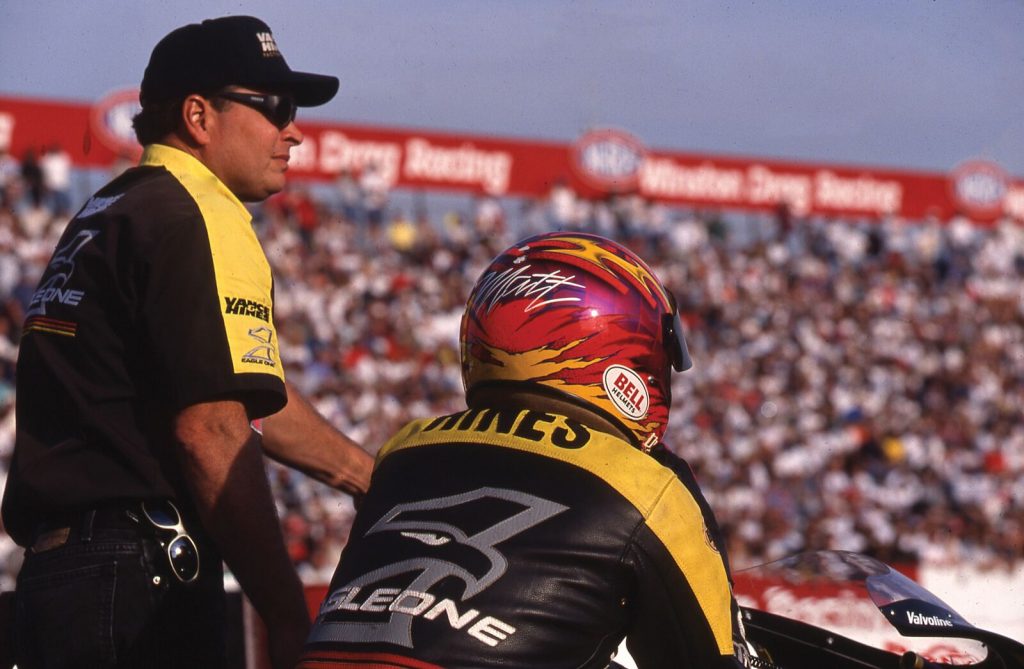 It also helps if the riders are successful and reasonably equal in performance. You won't find a rivalry between winners and also-rans, nor will you find one between teams that have had only a handful of close races. "The best rivalries," says sportswriter Larry Dobrow, "are the ones in which individuals or teams and their fans find themselves on opposite sides of the court/field/police blotter with metronomic regularity."
And it helps if strong personalities are involved—which, of course, there are and always have been in motorcycle drag racing. "A lot of times it's not all about the racing, it's about the personalities," says Pro Stock Motorcycle racer Steve Johnson. "NASCAR had some great fist fights back in the day. Obviously, it's not all about fighting; it's about good racing too, but I think there is a certain amount of professional wrestling that needs to be involved in everything."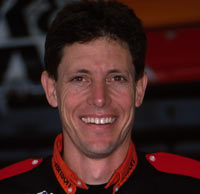 In some respects drag racing may be more conducive to rivalries than other sports. Because the races are so short and the "conflict" resolved so quickly, a sort of compressed reality is in effect. A baseball game may last for three hours; a drag race may last for seven seconds—making the competition tougher on nerves and friendships.
There is another factor at work, and it is one that has found its way into all motor sports. Some teams feel they are not competing on a level playing field, that certain teams competing with certain brands of machine have an advantage—not just because the machines are quicker but because the manufacturer is in a position to exert more influence on sanctioning bodies, which skews the game. It's not a new argument and there are many opinions as to whether it is a valid one.
Battle of the Brands
Most often, rivalries are between brands. You can be a Harley-Davidson guy or Suzuki guy or Victory guy but you can't be more than one at the same time. It doesn't work that way.
Sometimes, though, the rivalry isn't between brands of motorcycle or even between "peripheral" brands such as oils, but between brands of products having nothing to do with the sport. And those rivalries are especially heated when the sponsors are in the same business, as in the long-time rivalry between Budweiser and Miller in Top Fuel. Even though neither product improved the machines' performance, the association was enough. Both made beer and both wanted theirs to be associated with winning.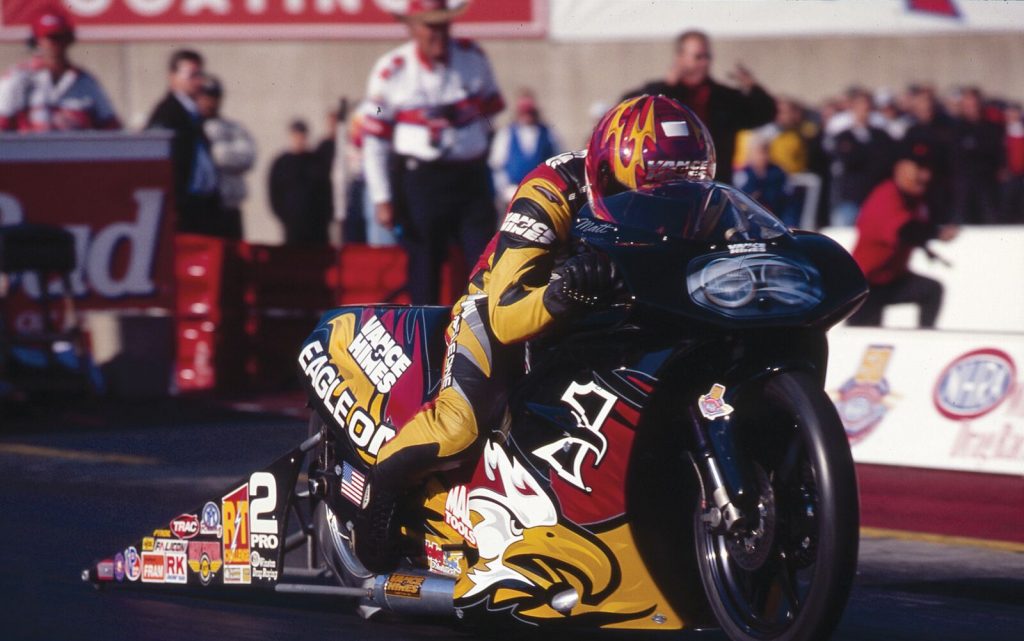 Battle of the sexes
When Angelle Sampey started racing professionally in 1996, it was she against "the guys". In time and as the lines were drawn, it became her against a few guys in particular. It doesn't matter what the sport is, the men versus women rivalry is constant and guaranteed and will probably always be.
As time went on the male versus female rivalry lessened considerably. Sampey won three NHRA Pro Stock Bike championships and doubters soon became believers—just as they did when Karen Stoffer, Stephanie Reaves, Peggy Llewellyn, Angie Smith, and Connie Cohen became racers—and increasingly winners.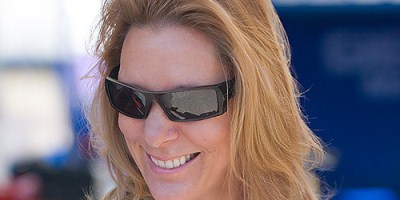 They weren't the first. In the late 1960s Southern Californian Joy Houston rode a Triumph 650 prepared by her husband, Art. Bebe Fox of Houma, Louisiana, held the national H/Stock record on a Honda 175 tuned by husband, Al. And Vicki Farr of Tulsa on a Kawasaki tuned by husband Marshall won the IDBA World Finals in 1981, becoming the first woman to win a Pro Motorcycle Drag Eliminator at a National event.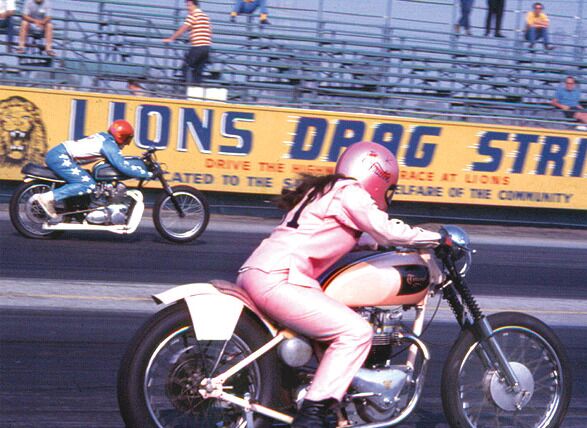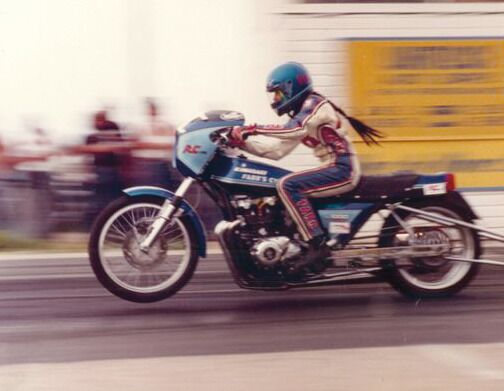 Not surprisingly, women had made their presence felt in automobile drag racing several years earlier. In 1964, Barbara Hamilton became the first female to receive an NHRA license. Two years later, Shirley Shahan became the first to win an NHRA national event. But it was at the NHRA Mile-High Nationals in 1996 that women's presence in motorcycle drag racing would be established. Stephanie Reaves, Karen Stoffer, and Angelle (at the time) Seeling made their professional debuts and each of them qualified.
When women were involved in the earlier years of the sport, it was generally in more of a supportive role. In time that changed and women like Jackie Hill , Jackie Trett. Carolyn Thronson. Kathy Owens, Phyllis McClure and Meredith Schultz—were very much part of the team.
Vicki Farr not only won a number of races, she also left quite an impression because of her riding style. As husband and tuner Marshall Farr recalls, "Vicki would stage the bike, put both feet on the pegs, and stay perfectly balanced before the light came down. Clutch released, and I knew it was a good launch when her pony tail stuck straight out."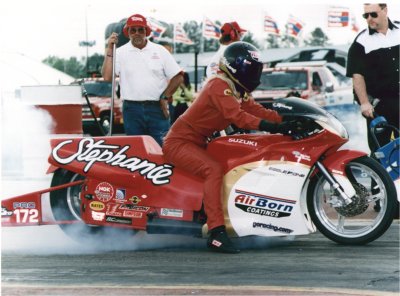 Battle of the Riders
Unlike some professional sports where rivalries are created for the purpose of increasing ratings, certain rivalries in motorcycle drag racing weren't based on anything as calculating or manipulative. The participants simply didn't like each other.
Angelle Seeling vs. Matt Hines
The rivalry between Angelle Seeling and Matt Hines in the mid- to late-Nineties had to happen. Too many of the prerequisites were met for it not to. "It's a real rivalry," Hines said at the time. "It's not some fake WWF thing. It's legitimate. It's Dale Earnhardt versus the world. It's Angelle versus the guys." But in that Matt Hines was the best of the guys, it was likely that he would become her greatest rival—which he did.
While a rivalry such as theirs is never good on a personal level, it did have a positive impact on the sport. "It definitely brings the fans around to the trailers," said Hines at the time. "Obviously a lot more go to her trailer, but she is in the motorcycle pits now and it brings a lot more around here. The fans like it, and it gives the media something to talk about."
And they did. When Hines defeated Seeling at a race in 2002, he was interviewed by a newspaper reporter. Hines apologized to the fans if they were disappointed he had won. "I like to think I'm a nice guy who's just trying to do my job and win a few races."
Seeling, not surprisingly, saw it differently. During the previous two seasons, Hines had won 13 races and she suggested that the fans simply wanted a different face in the Winner's Circle.
Hers.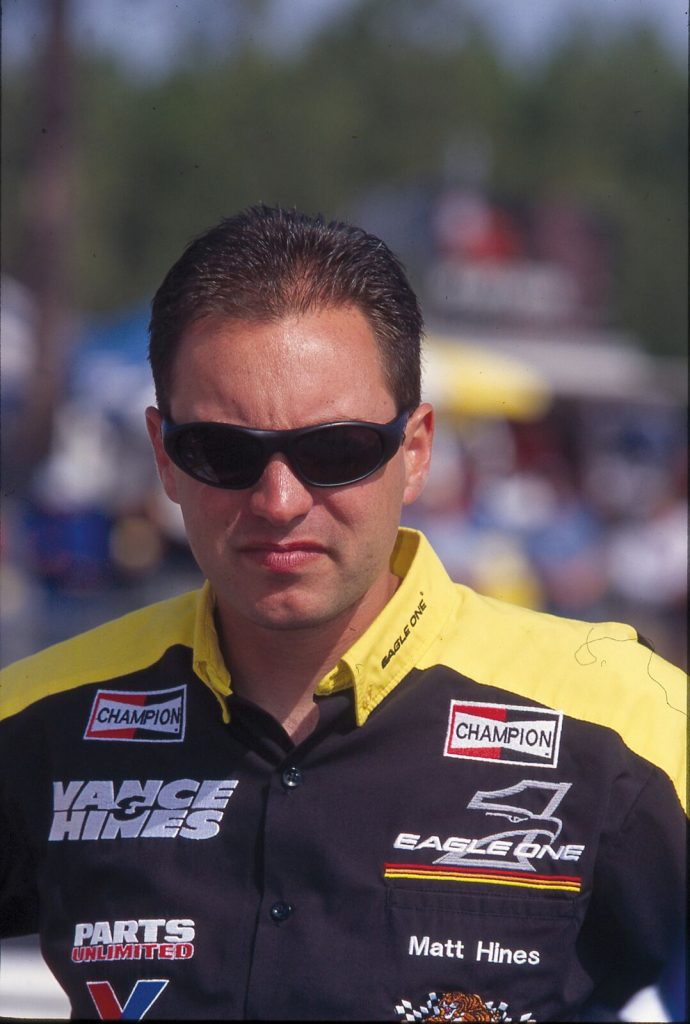 Because Hines and Seeling entered the sport at the same time and were equally dominant they were continually compared with one another.
Dave Schultz versus John Myers
There was also a tremendous rivalry in the late 1980s and early 1990s between John Myers and Dave Schultz in NHRA Pro Stock Bike. And yet, where other racers were seemingly always rivals, Myers and Schultz were actually very good friends until Myers joined Star Racing. "Even then," said Schultz, "I never thought bad of John because I knew he was just doing his job there. We had many great battles. We loved to race each other and we respected what the other would and could do."
At the 1993 Winston Finals in Pomona, for instance, Schultz won the season championship. Myers, in turn, peeled the Number One stickers off his bike and said to Schultz, "I think these belong to you now." Even after being in a good fight, John came over and congratulated me. There was never a time when I didn't have tremendous respect for John."
Myers had reason to respect Schultz as well. The pair finished first or second in NHRA Winston point standings every year between 1990 and 1995. Schultz won the title in 1991, 1993 and 1994; Myers won it in 1990, 1992 and 1995. "There was a time," said Angelle Seeling, "when there were only two people in the whole United States of America who could win a Pro Stock Bike race — John Myers and Dave Schultz. And if anybody else won, it was a pure accident."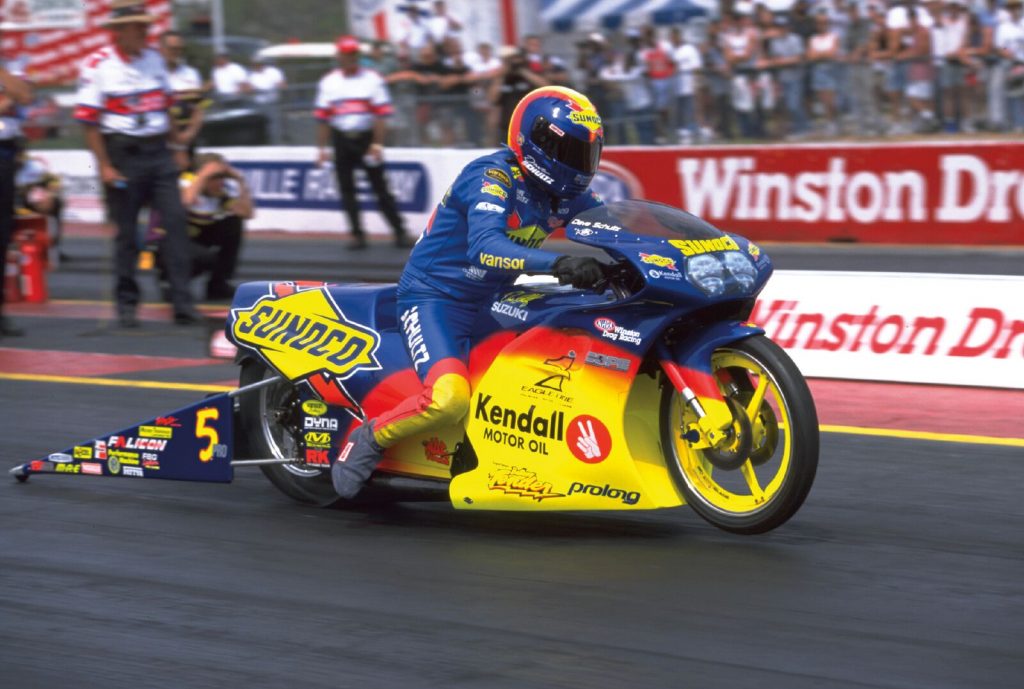 While the pair dominated the sport, they weren't so self-absorbed that they couldn't appreciate its effect. Schultz, in fact, believed that their dominance actually slowed its growth. "For so many years it seemed like he (Myers) and I were sewn together," said Schultz, "and when Matt won the championship and Angelle started winning a few races, we suddenly didn't have to shoulder the burden of carrying the class. We weren't butting heads at every single race and that helped make us close again."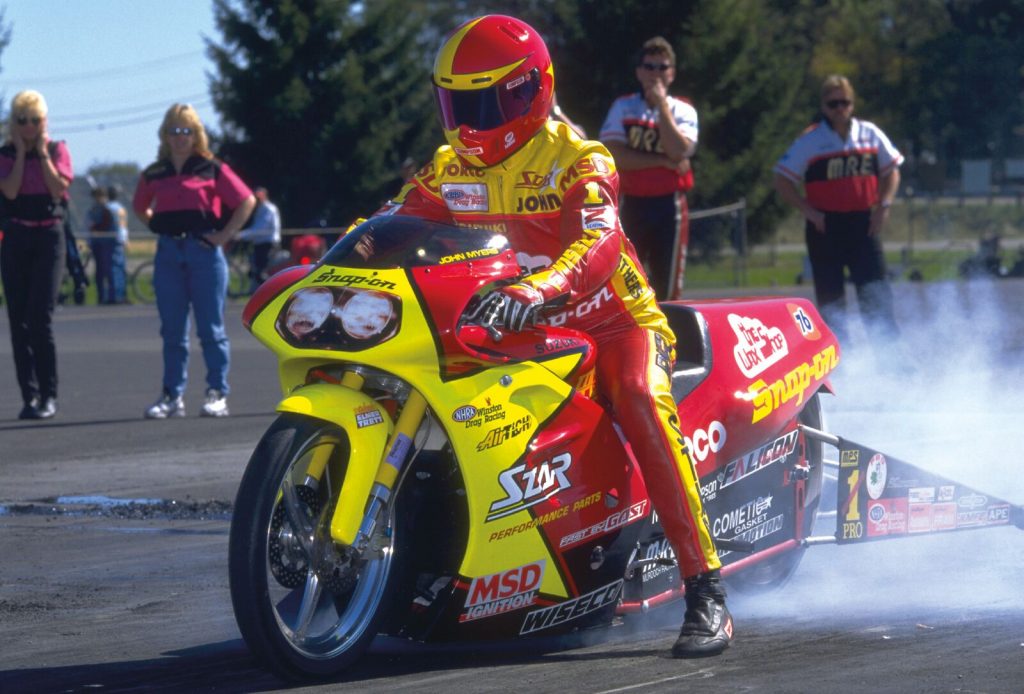 Battle of the Teams: Vance and Hines vs. Star Racing
The rivalries between Hines and Seeling and Myers and Schultz, while significant, were but part of a larger rivalry between Star Racing (and later including G-Squared) and Vance and Hines Racing. It was inevitable.
For one thing the teams were closely matched. One team would win one year; the other would win the next. Each team had its share of strong and gifted personalities. And importantly, each was a premier manufacturer of racing machines and equipment. A victory therefore not only benefited them emotionally but financially. It was a "Battle of Businesses" as much as it was personalities.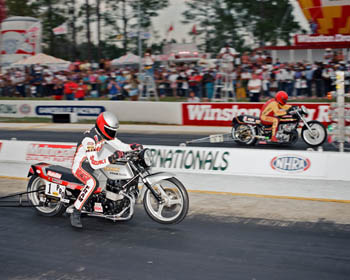 "I say if Vance and Hines raced Pro Stock Cars they would win," said George Bryce. If Vance and Hines raced Nitro, they would win. I'm just unlucky that they are in the class I race in."
The Star Racing team of riders John Myers and Angelle Seeling, and the Sunoco Racing team of Dave Schultz and Stephanie Reaves. There was a lot of talent and inevitably, a lot of emotion.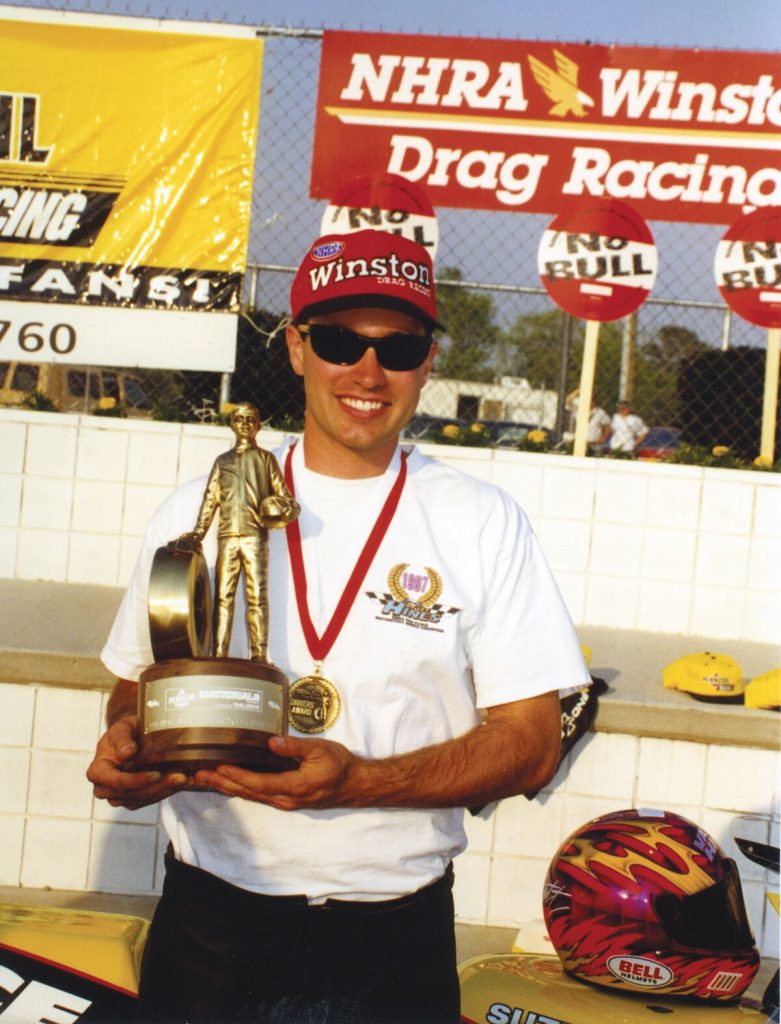 Battle of the Coasts
And then, there are the inevitable geographic rivalries, as in East Coast versus West Coast. It happened in music, it happened with in football, and in the late Sixties, it happened in Top Fuel Motorcycle.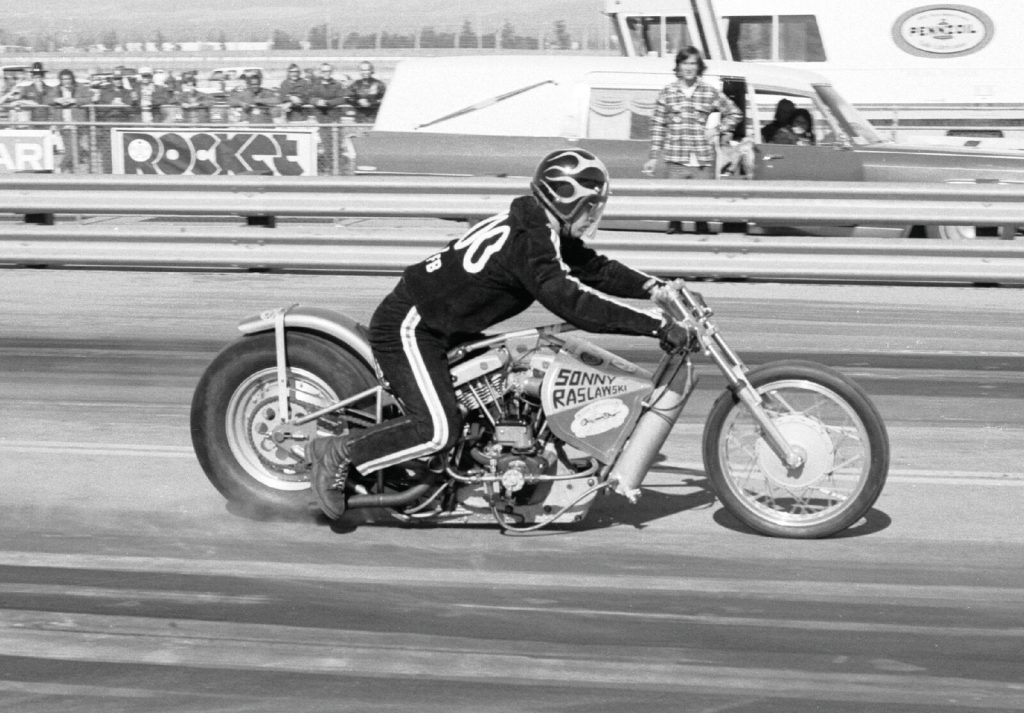 The East-West rivalry was very real in the late Sixties, and Californian Sonny Raslawski was right in the middle of it.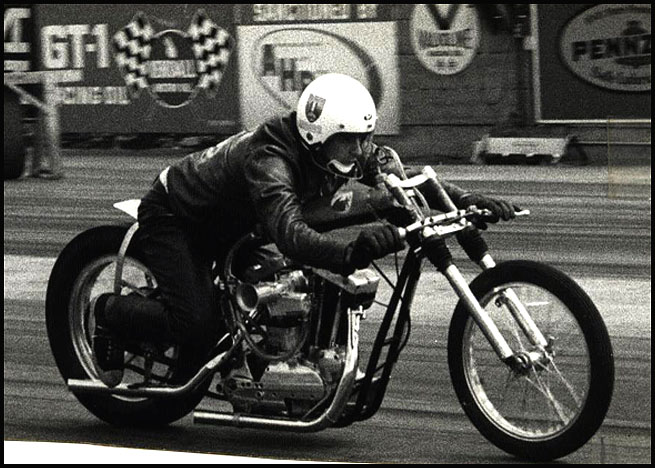 An article appeared in an issue of Harley-Davidson's "Enthusiast" magazine profiling the "Super Sportster" of Ohio's Tom Reiser and Bob Barker. Included in the article was the sentence, "Tom and Bob have challenged one and all and now there is no one left. They are supreme. The fact is obvious to many now."
It wasn't to Joe Smith, Boris Murray or Sonny Raslawski. The three California racers, in fact, actually took out an ad suggestion, "Until you challenge and beat us, you are still an east coast no-body!"
As a result an even larger ad appeared signed by "the following East Coast Nobodies: Barker and Reiser, Sonny Routt, Larry Welch, Nick Palmerone, Leo Payne, Guy Leaming and Garry Ackerman". The ad read, "Just to be certain that you start off on an even footing, the Gainesville Dragway will give to each of the three of you, absolutely free, your entry in the SUNSHINE NATIONALS, an M&H drag slick (depending on availability), enough of our smog-free atmosphere to fill your cylinders as many times as necessary; and a glass of Florida orange juice—just so you won't have any excuses."
According to Reiser the rivalry was considerably overblown. "It wasn't that we were East Coast guys and they were West Coast guys. You hear about guys and just want to run them. That's what it was all about."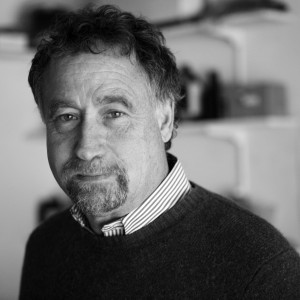 To learn more about the history of
the sport, you can purchase John's book "Motorcycle Drag Racing:
A History". Either go to gearheadpublishing.com or call
(310) 459-7542. The price is $40 and shipping is free.
There are more videos on the Cycledrag Youtube channel (please subscribe here) and the Cycledrag Facebook page (Please like here) and more will be coming soon. Check back daily.