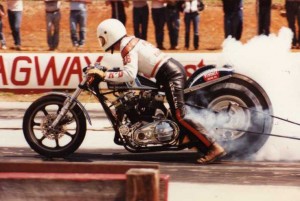 Ray Price has had an enormous impact on the sport of motorcycle drag racing. Where a number of people have been really gifted racers or tuners, the North Carolina Harley-Davidson dealer and legendary drag racer actually came up with two innovations that forever changed the sport.
As Roy Strawn, creator of the Sixties- and Seventies-era American Motorcycle Drag Racing Association (AMDRA) recalls, "Ray is known as the Father of Funny Bike. He built the first one. It was a bad little machine. He qualified in Top Fuel a couple of times with it. The class went on from there."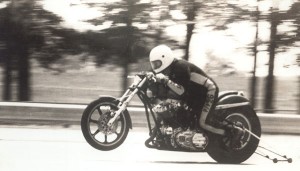 Actually, the idea for the Funny Bike was Strawn's. As Price recalls, "He came up with the idea to build a bike to run exhibitions between rounds of eliminations to put on a show. He wanted it to look like a Funny Car since they were starting to gain popularity at the time. Roy said, 'I'd love to have somebody do that with a motorcycle.' He thought it was a great idea and I thought it was a great idea, so I jumped on it using an 80-cubic-inch Sportster that Danny Johnson had built. First run I made was in Cecil County, Maryland. Fired on rollers and burned the tire from starting line to finish line. Looked like a black snake."
As with many of the more powerful machines of that time, his Sportster had a tendency to lift the front wheel, which led to another Price contribution: The wheelie bar.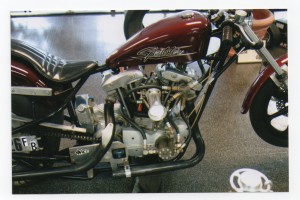 "Back in those days, when the wheel would lift, if it got up a certain amount, you just lifted off the throttle," said Ray. "So I started thinking about what we could do to hold the front end down and came up with the idea of creating a wheelie bar. It takes the fear out of riding because you could leave the throttle on. With the Funny Bike using wheelie bars, you could make it all the way down the track. I started telling the other guys about it. 'Oh no, it don't do that,' they all said. 'Yes it does, I said.'"
And of course, he was right.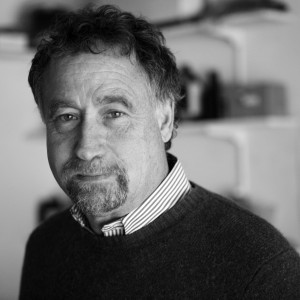 To learn more about the history of
the sport, you can purchase John's book "Motorcycle Drag Racing:
A History". Either go to gearheadpublishing.com or call
(310) 459-7542. The price is $40 and shipping is free.