Although not the fastest or loudest or flashiest form of motorcycle drag racing, Pro Stock Motorcycle has nevertheless become synonymous with the sport. News organizations as prestigious as the "New York Times" cover it, and companies as large Fortune 500 members have become sponsors.
"Every motorcycle racer wants to race in Pro Stock Bike," said former racer Craig Treble, "because that's the pinnacle of motorcycle drag racing."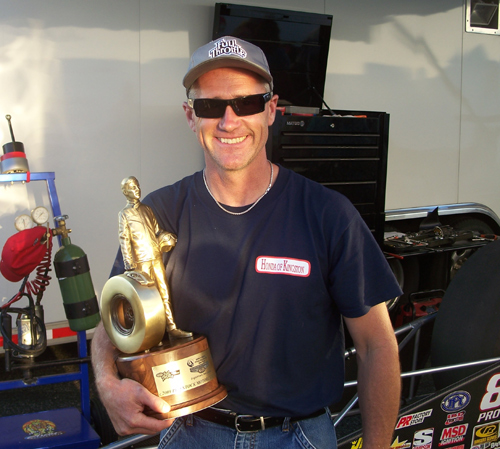 The first to promote the class was the East Coast-based American Motorcycle Drag Racing Association (AMDRA) guided by Roy Strawn. In 1973, the group merged with the larger West Coast-based NHRA. When they did Pro Stock Eliminator became a new class of racing.
As the organization said its press release, "Patterned after its four-wheel counterpart, the new division promises some exciting heads-up racing. Smokey burnouts like the fuelers and mid-10-second times at speed of 130 mph or better should make these stock-appearing machines super-exciting for racers and spectators alike. The machines in this eliminator will run together in one class, with weight-displacement minimums allowing different brands to compete heads-up on an even basis."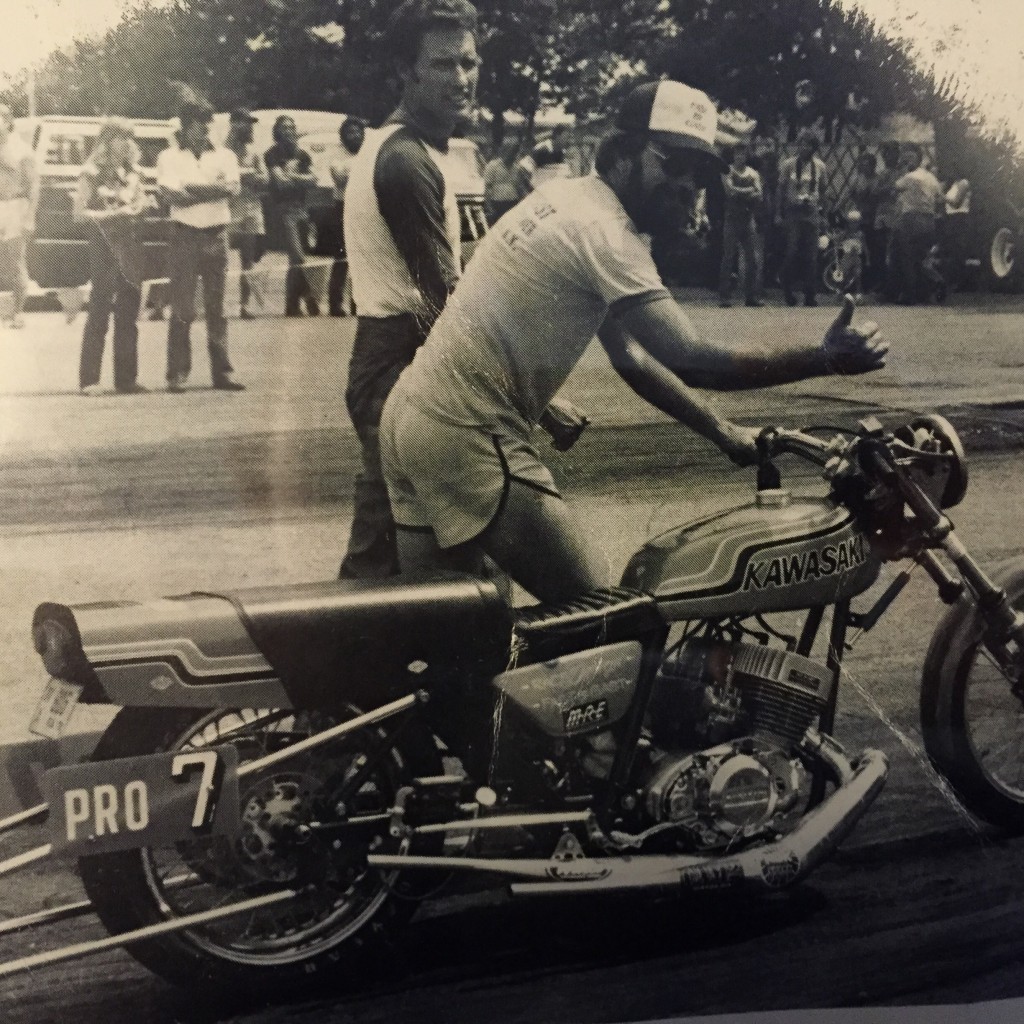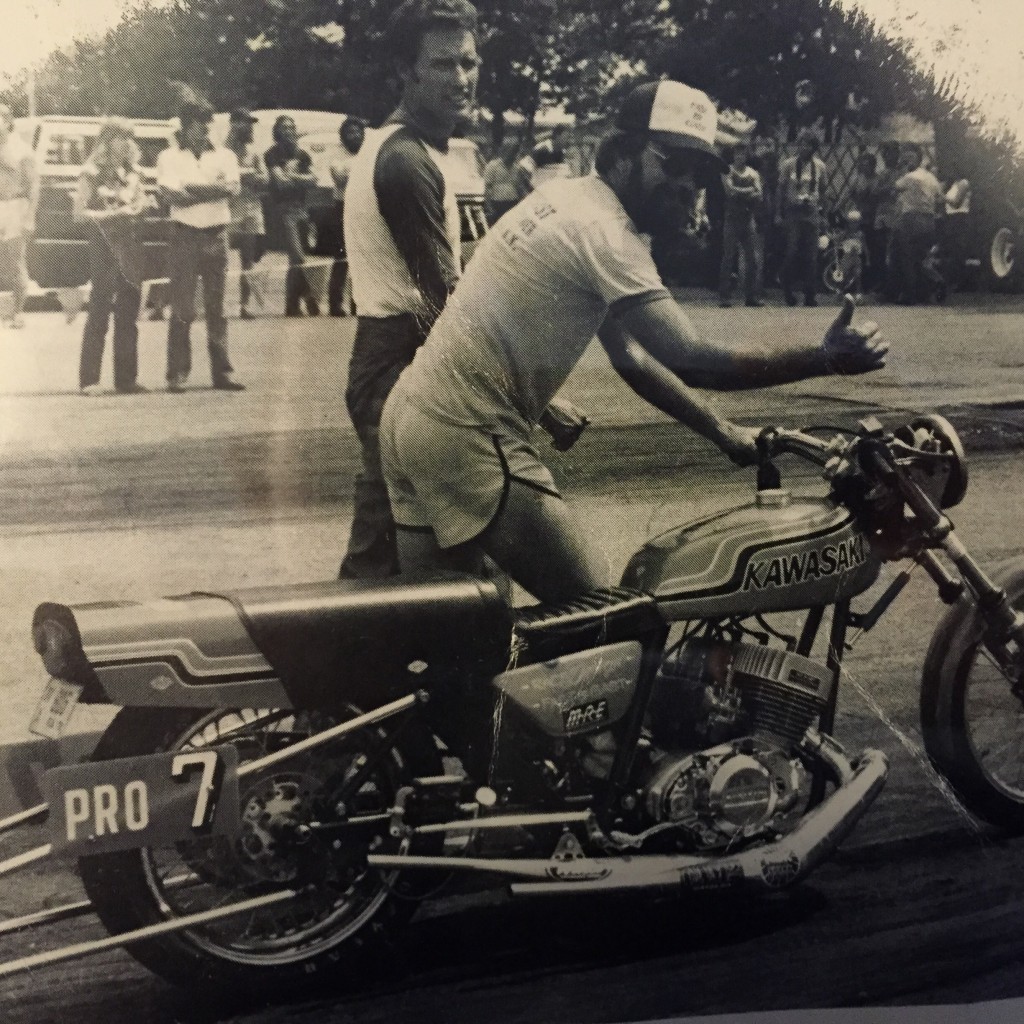 The class made perfect sense. Pro Stock, after all, had become a Professional category for cars in 1970 and was gaining in popularity every year. The AMDRA wisely chose to emulate it.
To competitors the class offered a relatively inexpensive way to race. To fans they could see on the track something close to what they could buy at a dealership. To aftermarket manufacturers it represented a huge new market for their products. And to sanctioning bodies, it offered a way forward.
The first races were modest affairs at best, with sanctioning bodies sorting things out as they went. And sometimes, things needed a lot of sorting. At the AMDRA Sunshine Nationals in 1975, for instance, sixteen of the 23 Pro Stock Bike entries were disqualified. The following year at a race in Orlando, one of the promoters absconded with the money.
And then, there was the first NHRA event for Pro Stock Bikes–the 1977 Summernationals in Englishtown. "We won the event but didn't get any prize money," recalled Terry Vance. "In fact, they had to give us Don Garlits' Top Fuel trophy to hold in the winner's circle because they didn't have one for the Pro Stock Bike class. They just thanked us for coming and that was it."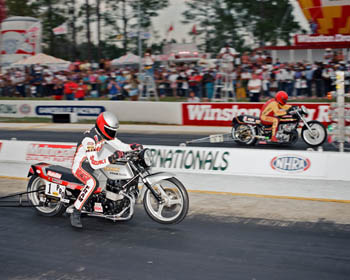 "For drag racing purists, Pro Stock Motorcycle is the class of choice."–journalist Matt Polito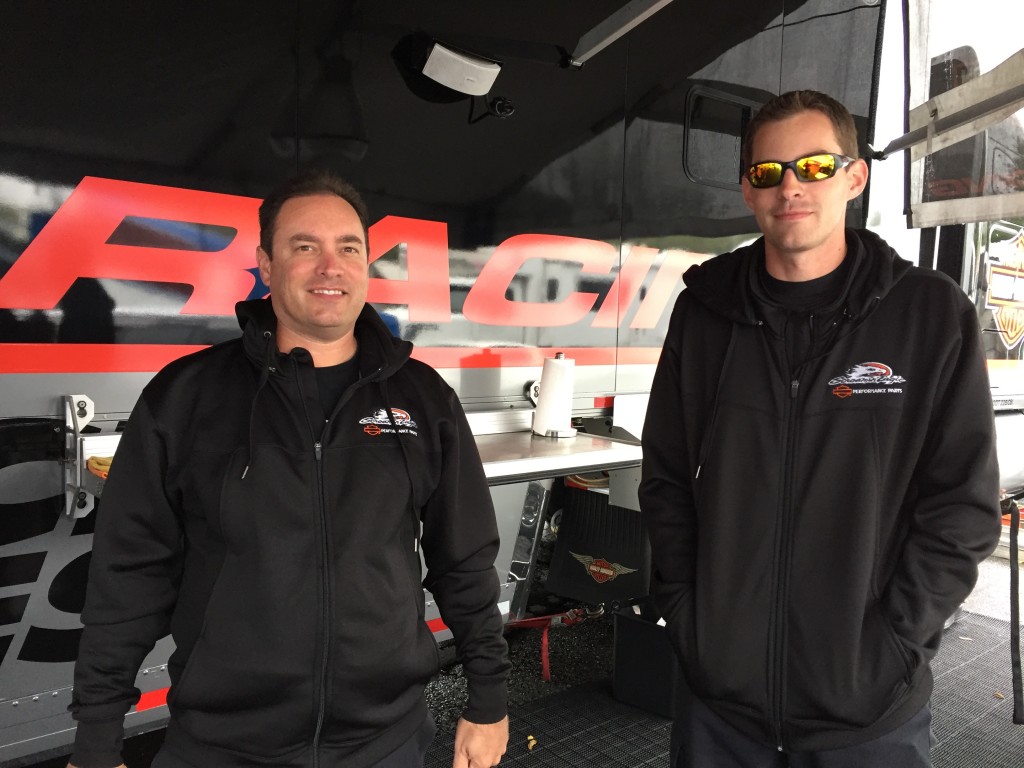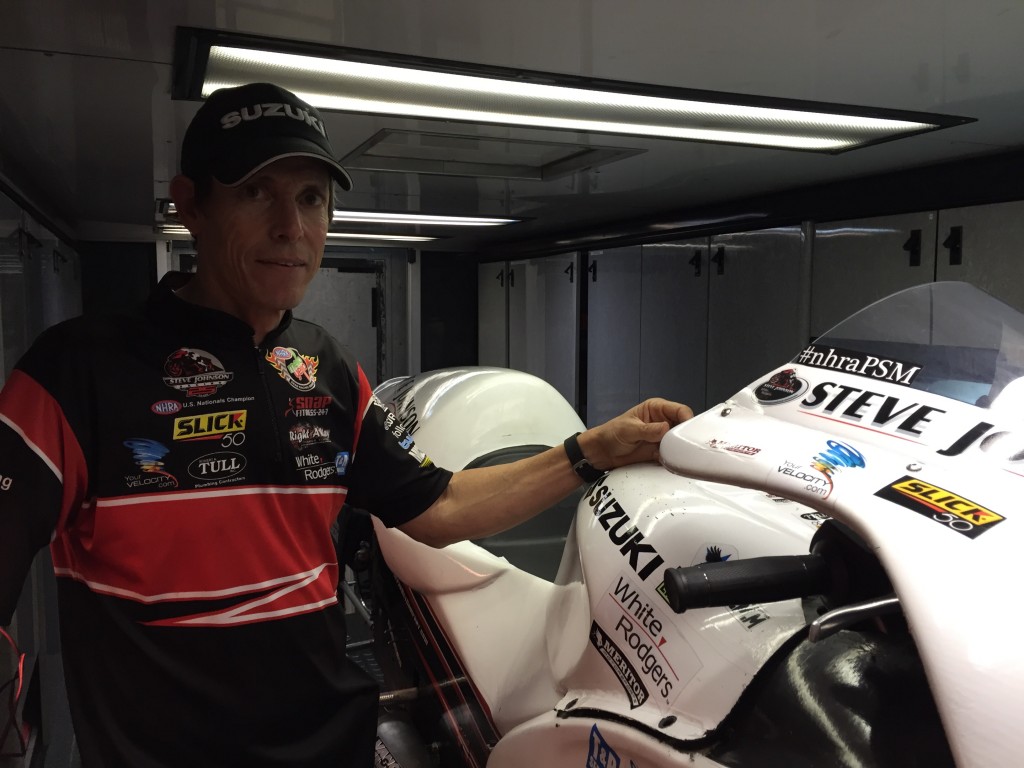 Despite the predictable missteps, the class has succeeded brilliantly in bringing interest to the sport. But then, that was the reason for it in the first place. The sanctioning bodies needed a way to help spectators better understand motorcycle drag racing, as well as giving them a method with which to more closely identify with their favorite brand of motorcycle. That, of course, is the genius of NASCAR. Ford lovers cheer for their guys just as Chevy guys cheer for theirs. When fans cheer, everyone wins–not the least of which are the sanctioning bodies.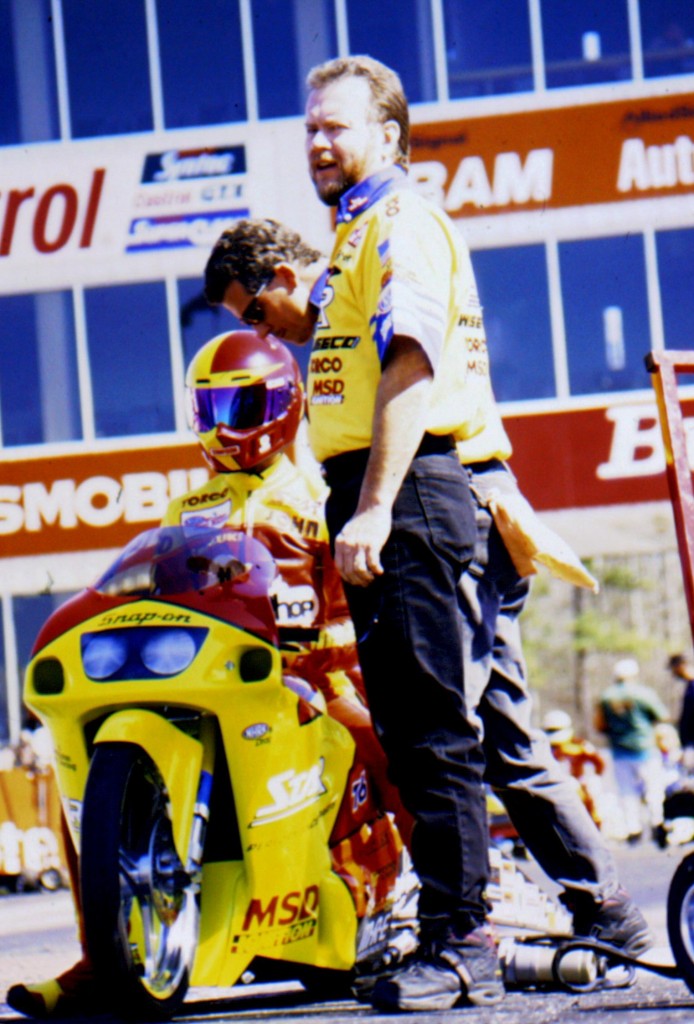 A variety of approaches

As in the earliest days of motorcycle drag racing, there were a number of different approaches a racer could take. Four-cylinder, four-strokes were of course popular, as were three-cylinder two-strokes and even the occasional V-Twin. Some riders campaigned multiple machines, which only made sense: You go with what wins and what wins changes over time.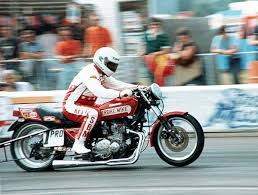 Regardless of the type of machine a racer chose, Pro Stock Bike quickly established itself as the "finesse" class. Where other classes rely on mechanical means for adding power (such as superchargers) and exotic fuels (such as nitro-methane), Pro Stock Motorcycle is much more nuanced–where seemingly little things can have very large consequences. "There is creativity in the class," says noted chassis manufacturer Sandy Kosman, "but it is squeezed into small area."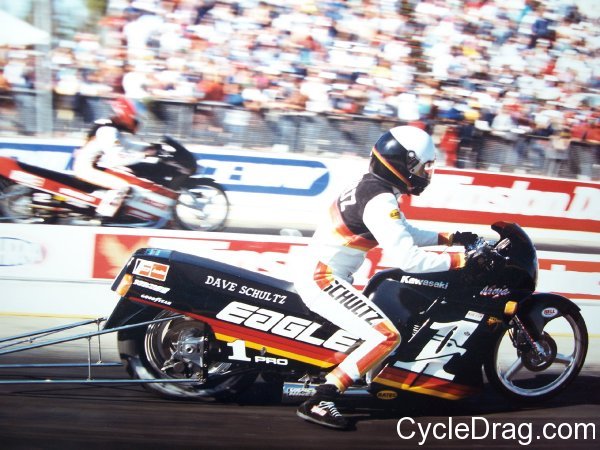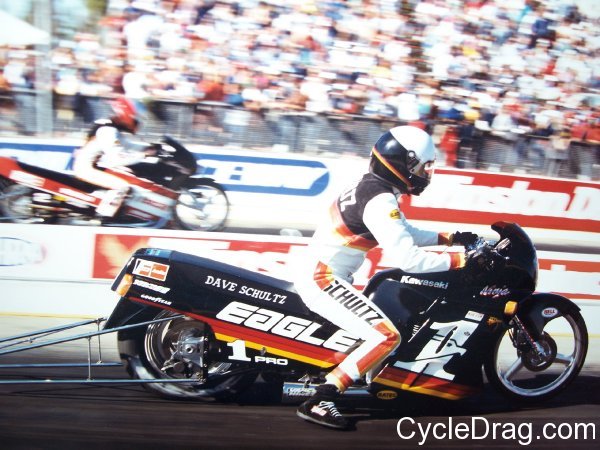 Not surprisingly, the early machines seem almost archaic by today's standards—more like "tweaked" bikes for the street rather than all-out racers for the track. Specially built frames weren't allowed; instead, stock frames were heavily modified. Bob Carpenter's four-cylinder Suzuki, for instance, had a rectangular-section swing arm five inches longer than stock, strengthened steering head, and saddle height fully ten inches lower than stock.
The engines were equally straightforward. The Kawasaki Z-1 of Mike Bruso and Floyd Twedell had its displacement increased from 903 cc to 1170cc, and used conventional performance parts such as Yoshimura cams, Powroll pistons, and 31 mm Keihin carburetors.
As a result, early Pro Stock bikes were remarkably affordable. You didn't need a deep-pocketed sponsor to be competitive. Now you do.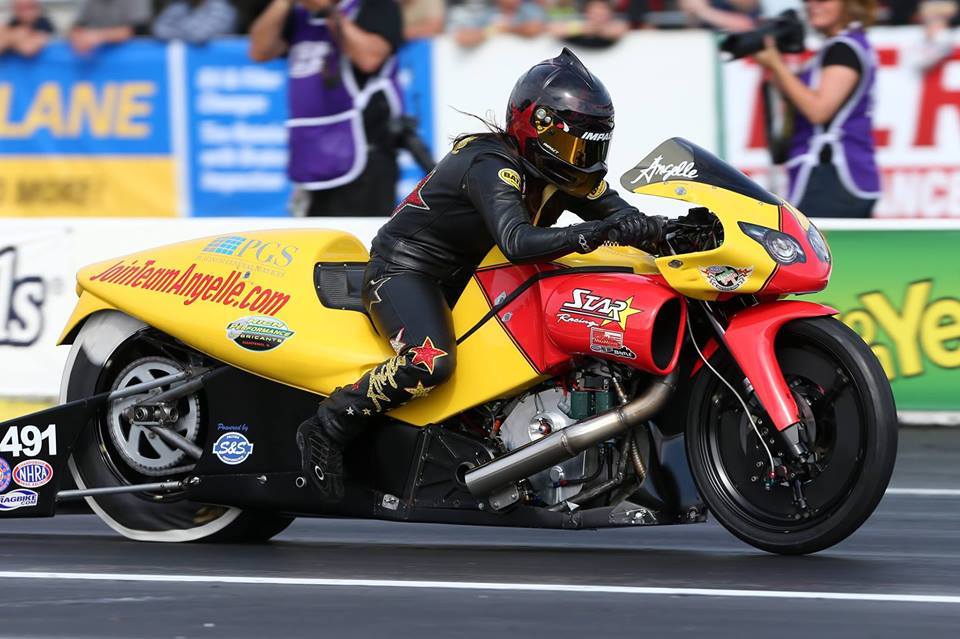 There are more videos on the Cycledrag Youtube channel (please subscribe here) and the Cycledrag.com Facebook page (Please like here) and more will be coming soon. Check back daily.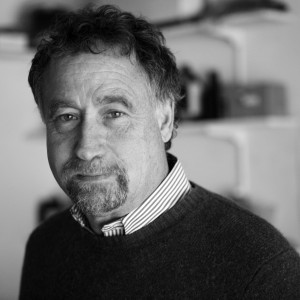 To read more of John Stein's great work and learn about the history of the sport, you can purchase Stein's book "Motorcycle Drag Racing:A History". Either go to gearheadpublishing.com or call
(310) 459-7542. The price is $40 and shipping is free.