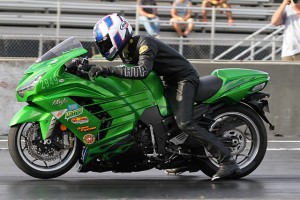 Anybody who is not a member of Orient, Ohio's Teasley family no doubt gets tired of seeing their name in the coverage headlines of nearly every major motorcycle drag race in the nation. But truth is, they are at all of those races with a full trailer of motorcycles prepped for all-out assaults on checks and trophies, and walk away with more than their share.
Usually it's Jeremy taking the Teasley headline honors, and he more than held up his end this past weekend at the Dragbikelive.com Sportsman Showdown at Steve Earwood's Rockingham Dragway in North Carolina, stop number six on the nine round Mickey Thompson MIRock Superbike Series schedule.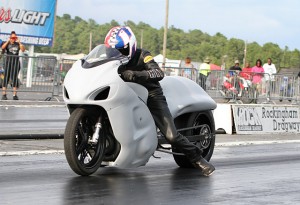 In what really was a test session for Teasley and the RS Motorsports Kawasaki ZX14 he rides in DME Real Street, Jeremy entered the eighth mile FBR Shop 5.60 class. The team fully intends to run Real Street 7.60s on the bike, and owner/tuner Roger Starrette was throwing more nitrous pills into the stacks to see what it would do. Razor-sharp leaver and finishline judge Teasley took the opportunity to collect another MIRock win along the way, beat class sponsor and points leader Marion Ford in the 5.60 final.
Jeremy rode his legendary foot-shift, stock wheelbase, stock motor, no weight added, no MSD SB6-equipped, 8.60s Kawasaki ZX14R streetbike to beat August race winner Scottie Keller in the MIRock Crazy 8s final for his second win of the weekend.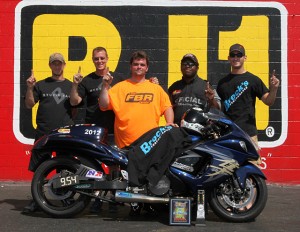 Younger brother Cameron Teasley started the season on the CarrCraft Racing Suzuki Hayabusa, but lingering effects of a puppy love bite have baby brother spending more quality time with his lady than at the track. So dad James "Crow" Teasley Jr. took over the CarrCraft seat this weekend, scoring the Brock's Performance Street ET win on Saturday before bent clutch steels sent the bike rocketing skyward and out of competition on Sunday. He beat frequent winner Jerry Turner in Saturday's final.
Barry Pryer Sr. won Brock's Performance Street ET on Sunday, keeping fellow finalist Dustin Lee from doubling up. But August race winner Lee and his 'Busa streetbike took out Mark Schwalm and his Kawasaki dragbike in the Trac King/APE Top Sportsman final for that crown.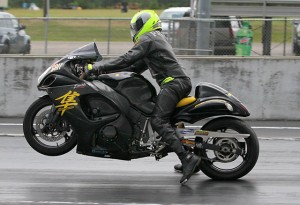 The season long Louis Concrete 4.60 battle between three-time winner Kenny Cornnell and Ronnie Smith continued at The Rock, with the world's quickest eighth mile index bike class boiling down to these two in the final. Cornnell took the tree but Smith took the stripe for his second win of the season.
Sunday Street winner Pryer runner-upped to the fine looking turbo 'Busa dragbike of Brian Canoles in Saturday's Nitrous Express Pro ET final. "Formerly Big" Stanley Russell won Sunday's final over Virginia racer Michael Rankin—both on no-bar bikes.
Afterdark Underground was rained out, but grudge sessions saw some shakedowns going on, including Jeremy Teasley on the Adams Performance 'Busa, and Ricky "Hollywood" Grayson and Super Dave Stewart on their Real Street bikes.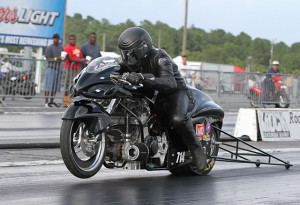 The Mickey Thompson MIRock Superbike Series races next September 6-8 at the historic U.S. Motorcycle Nationals at Atco Dragway in New Jersey.
Find out more about PJ1 motorcycle products at http://www.pj1.com/
Find out more about the Mickey Thompson Performance Tires MIRock Super Bike Series at http://www.mirockracing.com
Find out more about Rockingham Dragway: www.rockinghamdragway.com
This report was prepared by Tim Hailey. Photos are for editorial use only. Enjoy everything there is to read, see and watch about motorcycle drag racing and more at http://www.eatmyink.com