The PDRA, Professional Drag Racers Association, is technically a new organization, but a quick glance over the classes, schedule and rules reveals the American version of the ADRL was basically given a new acronym while the parties involved iron out some legal issues.
While much is the same from last year, a rule change was recently announced for Pro Extreme Motorcycle which has caused a bit of an uproar and a hot debate. Racers are no longer able to utilize auto shifters.
It's a polarizing issue.
A handful of competitors who utilize the technology are threatening to race elsewhere.
Meanwhile, Scott McKinney, who as a team owner has won the last two season championships with his son Eric riding, applauded the PDRA's decision.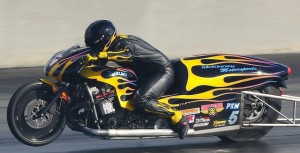 "It's getting to the point where with auto shift and traction control all we are going to need is a dummy on the bike and a remote control on the starting line because there isn't much skill involved," said McKinney, who funded Hammer Motorsports' purchase of AMA/Prostar from Keith "Scooter" Kizer. "I think they need to ride them. There is a reason auto shifters are illegal in NHRA Pro Stock Motorcycle and Pro Stock car."
Longtime engine builder and tuner Dan Wagner and highly-accomplished racer Bill Vose are two in favor of auto shift. McKinney thinks keeping it simple will greatly benefit the class.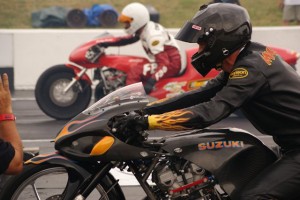 "The next thing you know we will have a five-page rule book and everyone will be mad," McKinney said. "You don't want to give teams with more money another advantage. A guy with skill should be able to win on ability. That's drag racing."
The five-speed Pro Extreme Motorcycles shift four times in just 660 feet. Racers are shifting into third at about the time they reach the 60-foot block.
"The hardest part is quickly hitting the shift to second gear," McKinney said. "A lot of times if a guy is behind he will make a mistake and short-shift to try to catch up."
McKinney wants to see that margin for driver error remain.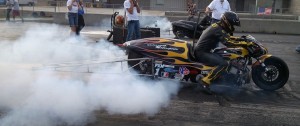 The 2014 PDRA series tour features eight races –
April 4-5 : Rockingham Dragway (Rockingham, NC) May 9-10 : South Georgia Motorsports Park (Valdosta, GA) May 23-24 : Memphis International Raceway (Millington, TN) June 27-28 : U.S. 131 Motorsports Park (Martin, Michigan) July 25-26 : Virginia Motorsports Park (Richmond, VA) Aug. 15-16 : Osage Casino Tulsa Raceway Park (Tulsa, OK) September 5-6 : Rockingham Dragway (Rockingham, NC) October 10-11 : Virginia Motorsports Park (Richmond, VA)
Where do you stand on the issue? Should auto shifters be allowed? Leave a comment.