In Pro Stock Motorcycle at the AAA Insurance NHRA Midwest Nationals at Gateway Motorsports Park near St. Louis.,  Jerry Savoie grabbed the day No. 1 qualifying lead with a 6.832 at 196.50 on his Savoie's Alligator Farm Suzuki.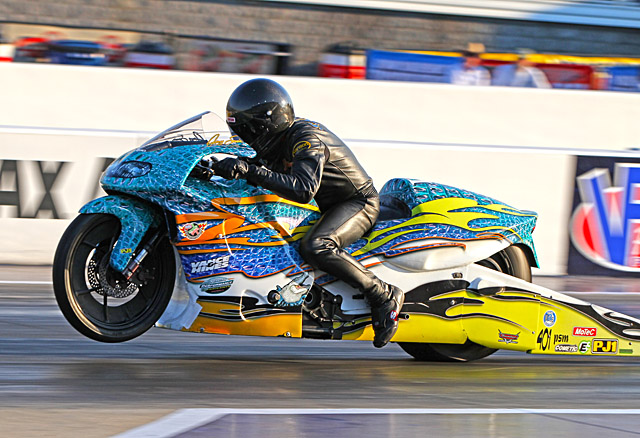 Savoie, who raced to his first career victory at this event one year ago, currently sits third in points with two wins this season. The Louisiana alligator farmer is two sessions away from his second career No. 1 qualifier.


"All week I said that whatever you leave Charlotte with is what you're going to have coming in here, and we have some good momentum," said Savoie. "I've found that on these bikes, the fastest passes are the smoothest. After our first run, I told (crew chief) Tim Kulungian that we had more left because the bike was not graceful. On the second run, I hit third gear and I said to myself, 'Boys, we've got us a motorcycle now.'"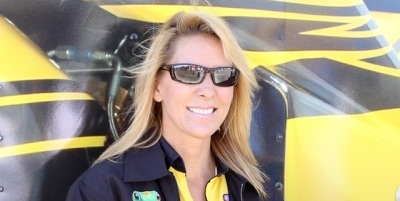 Karen Stoffer sits second with a 6.885 at 194.21 on her Big St. Charles Motorsports/Suzuki Extended Protection Suzuki. Stoffer, who is sixth in the points standing, has two wins this season. Defending world champion Andrew Hines is third after two sessions with a 6.895 at 193.16 while Hector Arana is fourth with a 6.902 at 194.35.
Qualifying for the AAA Insurance NHRA Midwest Nationals resumes Saturday at 1:45 p.m. with the final two sessions to set the fields for Sunday's 11 a.m. eliminations.