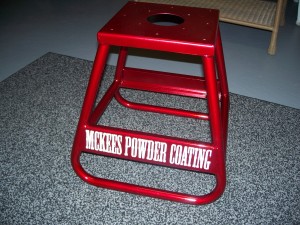 At Cycledrag.com, we are always searching for outstanding parts and services at affordable prices to help your motorcycle look and perform its best. We found a true gem with McKees Powder Coating, who is offering unbeatable deals on their first-rate service. Give them a call at 724-480-7297 and mention this Cycledrag.com product review for knock-your-socks-off pricing on sand blasting and powder coating.
Specializing in dirtbikes, streetbikes and dragbikes, McKees superior powder coating is eight times more durable than paint. The chemical reaction that bonds the powder and the workpiece enables the luminous finish to hold up against the roughest elements the dirt, street or racetrack can offer.
Father and son, Tom and Cody McKee, got into the powder coating business out of pure desire to make their own race bikes standout and look cool. After regularly turning their machines into works of art, friends and fellow racers begged the McKees to make their bikes look just as eye-catching.  This led to McKee building a full-service shop with top-notch sandblasting ability and an oven large enough to powder coat any motorcycle frame.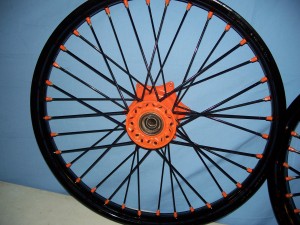 "We strive for premium quality. Nothing leaves my shop without looking absolutely flawless," McKee said.  "We want everyone to have a killer bike. We really enjoy doing this and that is why our prices are the best around."
McKees' process begins with a thorough cleaning and sandblasting of the surface. Next, McKee searches though his vast color selection to match the customer's specific need.
"Our finished product is the best and we will beat any price," McKee said. "We take a lot of pride in that. A lot of people can't afford a new bike so we have found a way to make your motorcycle look new for much less."
McKee offers inexpensive shipping rates, or for local customers, parts can be dropped off at his Indianola, Pa. shop.
"We even have a special service for riders who want to bring us their bikes and have us tear them down and reassemble them," McKee said.
Call for a quote. McKees Powder Coating can be reached at 724-480-7297.
We put McKees' powder coating ability to the test with an unbelievably ugly 1999 Suzuki RM250 project bike. We could not have been more pleased with the end result.