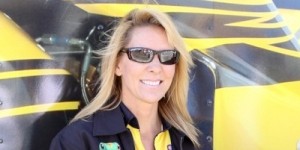 Karen Stoffer has finished 11th or better in the Pro Stock Motorcycle points standings all nine seasons her and her teammates have been together in the NHRA Full Throttle Drag Racing Series.
Seven of those seasons, the Doug and Debbie Johnson-owned team has partnered with GEICO, and the parties will be together again in 2012 as the insurance leader announced it is continuing its sponsorship of Stoffer.
As other teams have come and gone, or replaced key members over time, Stoffer's GEICO team has remained intact.
"That's a positive thing for me," Stoffer said. "I think fans see loyalty, and we're a team that's recognized for our loyalty."
Fans also recognize the familiar yellow-and-black Suzuki that Stoffer rides, as she's beginning her eighth season sponsored by insurance leader GEICO. The relationship dates back to the 2004 season, when Stoffer and GEICO got together on the same weekend she won her first career race.
"My first race I ever won was in Houston 2004," Stoffer said. "We got a phone call on that weekend that they wanted to sponsor us for more races during the year. And they signed for the full year after that."
Together, they have been a force ever since, and Stoffer has no intention of changing that in 2012.
Stoffer has been racing motorcycles in the NHRA for more than nine years, and she's been drag racing even longer than that.
It takes passion to race that long at any level, even more to race at the highest level of NHRA as Stoffer has done.
"I love drag racing," Stoffer said. "I love having the ability to do it. It's not gender-specific, it's not age specific, it's not physically-specific. There are no limitations to someone who wants to do it. Drag racing is without boundaries. Anybody who has the passion can come in and do it."
Stoffer began her NHRA career in 1996, and has been racing full time since 2003. Along the way, she's racked up six victories, numerous final-round appearances and the respect of her competitors.
The 2011 season was one of Stoffer's best. Her sixth career victory, in Denver, was part of a year that included 22 round wins, four final-round appearances and one semifinal. Stoffer won at least two rounds in five of the first seven races, and she led the Pro Stock Motorcycle points standings for four weeks.
But a series of mysterious mechanical problems struck the GEICO team later in the year, causing myriad issues. But the team stayed together, led by crew chief Gary Stoffer – also Karen's husband – and Stoffer finished sixth in the points standings to match her best career mark.
"With circumstances that were out of our control and out of our hands, we rose to the occasion and we performed to the best of our ability," Stoffer said. "The team is stronger because of that. We've always had a great team, but we certainly had a close team last year. What happened late last year cemented our team the way trying circumstances usually do."
Stoffer also finished the season as the highest-ranked Suzuki.
"We're proud of the fact that we finished as the top Suzuki," Stoffer said. "We want to do that again – and get higher in the overall standings, too."
The team remains intact for 2012 as Stoffer aims to duplicate the strength and consistency displayed for most of last year.
"We have a great package, as far as the riding and the tuning and the sponsor," Stoffer said. "We look forward to hopefully starting off the season the way we started off last year. We generally start off very well. There have been no changes to our team, so that bodes well for this year."
Her team has been a consistent performer in the Pro Stock Motorcycle class for nine year, as Stoffer has finished in the top 10 eight times.