Pro Stock Motorcycle veteran Steve Johnson picked up a memorable win on Sunday, powering to the victory at the 36th annual Mopar Express Lane NHRA Nationals presented by Pennzoil at Maple Grove Raceway.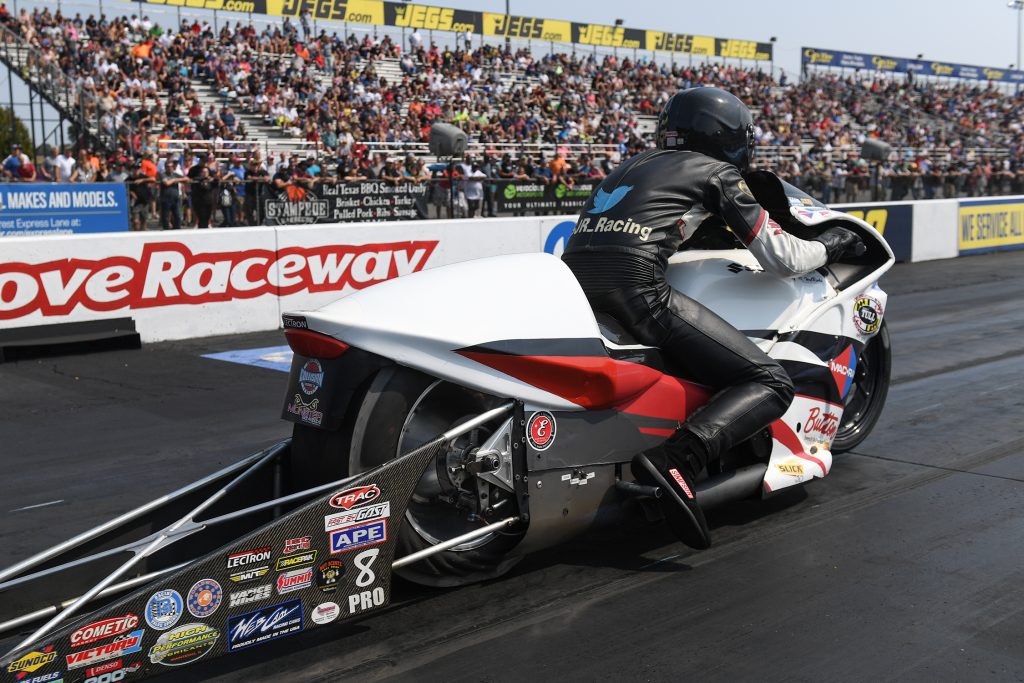 Johnson finds himself in the points lead for the first time in seven years after beating Eddie Krawiec in the final round on his Mac Rak/Slick 50 Suzuki with a run of 6.775 at 196.87. It was the quickest run of eliminations in the class and Johnson earned his second win this season and eighth in his career. It's also the first time Johnson has won two races in a season since 2008. To get there, he knocked off Jim Underdahl, Scotty Pollacheck and No. 1 qualifier Angelle Sampey, quickly turning things around this weekend after a slow start.
"Clearly you want to be leading the points and it's great, but what it really boils down to is the process," Johnson said. "Leading the points is just a dream. The driver that was here on Friday and Saturday, he was atrocious. I just got sideways and everybody said go back to fundamentals. I was out here for a long time before racing started just working on the fundamentals. You can always learn. I was really, really bad on Friday and Saturday, and everyone was going fast. That's a classic example or riding a bike or driving it, and the driver was here on Sunday."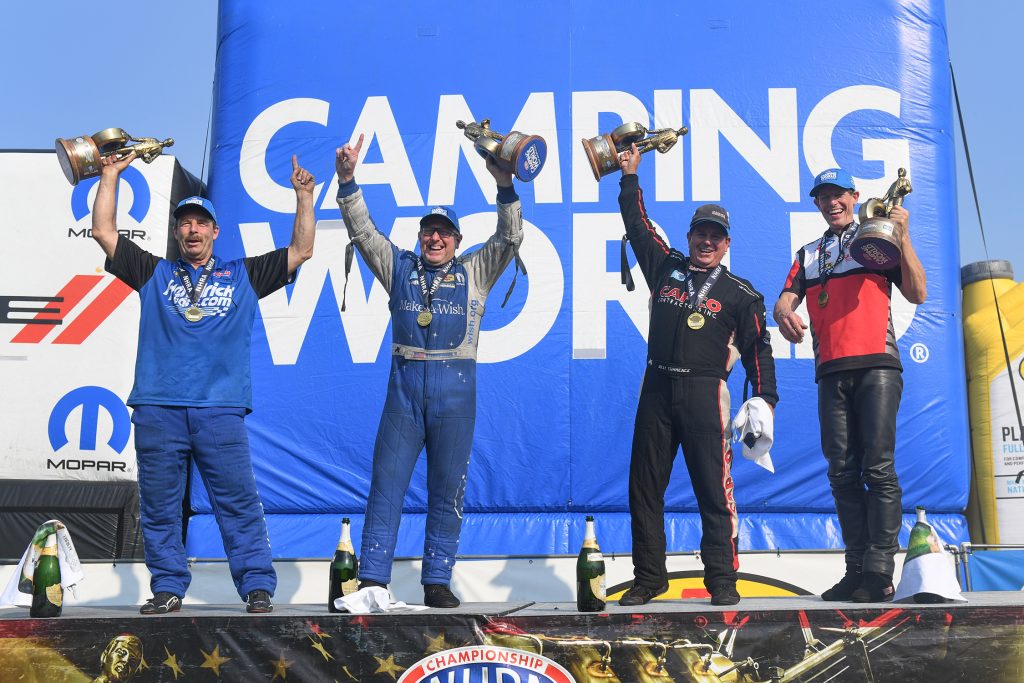 Krawiec reached his second straight final round and 78th in his career by defeating Kelly Clontz, Angie Smith and defending world champ Matt Smith, who now trails Johnson by 12 points. Krawiec is 36 points back of Johnson.
The NHRA Camping World Drag Racing Series returns Sept. 17-19 with the DeWalt NHRA Carolina Nationals at zMAX Dragway in Charlotte.
ROUND ONE — Karen Stoffer, Suzuki, 6.972, 192.63 def. Joey Gladstone, Suzuki, 6.977, 193.96; Angie Smith, 8.428, 110.82 def. Andrew Hines, Buell, Foul – Red Light; Steve Johnson, Suzuki, 6.825, 197.19 def. Jim Underdahl, Suzuki, 7.015, 193.02; Scotty Pollacheck, 6.892, 195.08 def. Chris Bostick, 20.043, 32.30; Eddie Krawiec, Buell, 6.858, 198.58 def. Kelly Clontz, Suzuki, 10.608, 73.75; Matt Smith, 6.882, 201.07 def. Ron Tornow, 7.070, 186.38; Angelle Sampey, Suzuki, 6.815, 196.79 def. Jianna Salinas, Suzuki, 7.067, 191.10; Cory Reed, Suzuki, 6.972, 193.40 def. Ryan Oehler, 6.984, 194.21;
QUARTERFINALS — M. Smith, 6.855, 199.20 def. Reed, 6.986, 191.59; Krawiec, 6.886, 197.57 def. A. Smith, Foul – Red Light; Johnson, 6.788, 197.31 def. Pollacheck, 7.559, 133.14; Sampey, 6.847, 196.30 def. Stoffer, 6.940, 193.85;
SEMIFINALS — Krawiec, 6.906, 196.79 def. M. Smith, 6.942, 187.89; Johnson, 6.804, 197.22 def. Sampey, 6.860, 194.52;
FINAL — Johnson, 6.775, 196.87 def. Krawiec, 6.870, 197.16.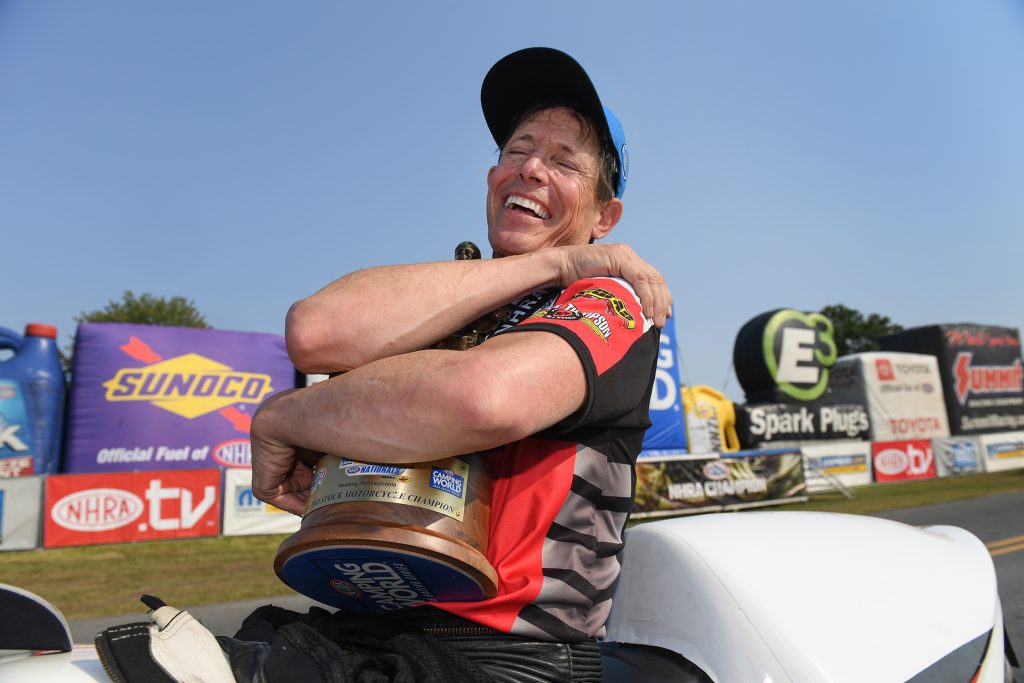 Points
1. Steve Johnson, 2,195; 2. Matt Smith, 2,183; 3. Eddie Krawiec, 2,159; 4. Angelle Sampey, 2,136; 5. Scotty Pollacheck, 2,125; 6. Angie Smith, 2,089; 7. Karen Stoffer, 2,082; 8. Ryan Oehler, 2,077; 9. (tie) Joey Gladstone, 2,073; Cory Reed, 2,073.
There are more videos on the Cycledrag Youtube channel (please subscribe here) and the Cycledrag.com Facebook page (Please like here) and more will be coming soon. Check back daily.
To take advantage of some amazing discounts at Brock's Performance, click – http://brocksperformance.com?aff=12
USE cycledrag5 coupon code.