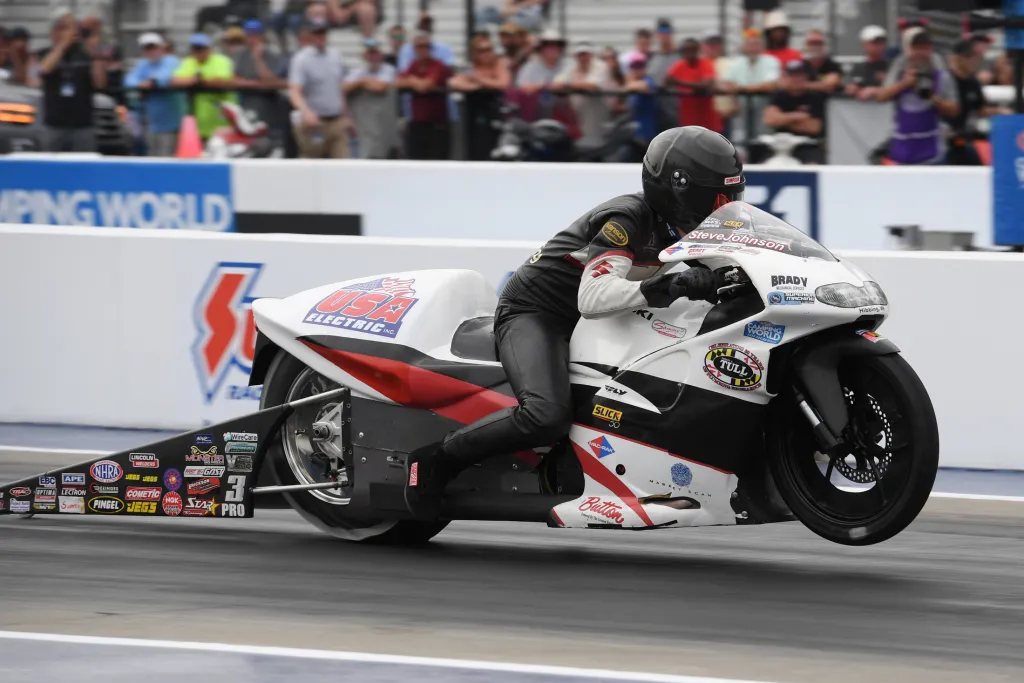 Steve Johnson finished off a dominating weekend with his second consecutive victory of the 2022 NHRA Camping World Drag Racing Series season on Sunday at the Circle K NHRA Four-Wide Nationals at zMAX Dragway.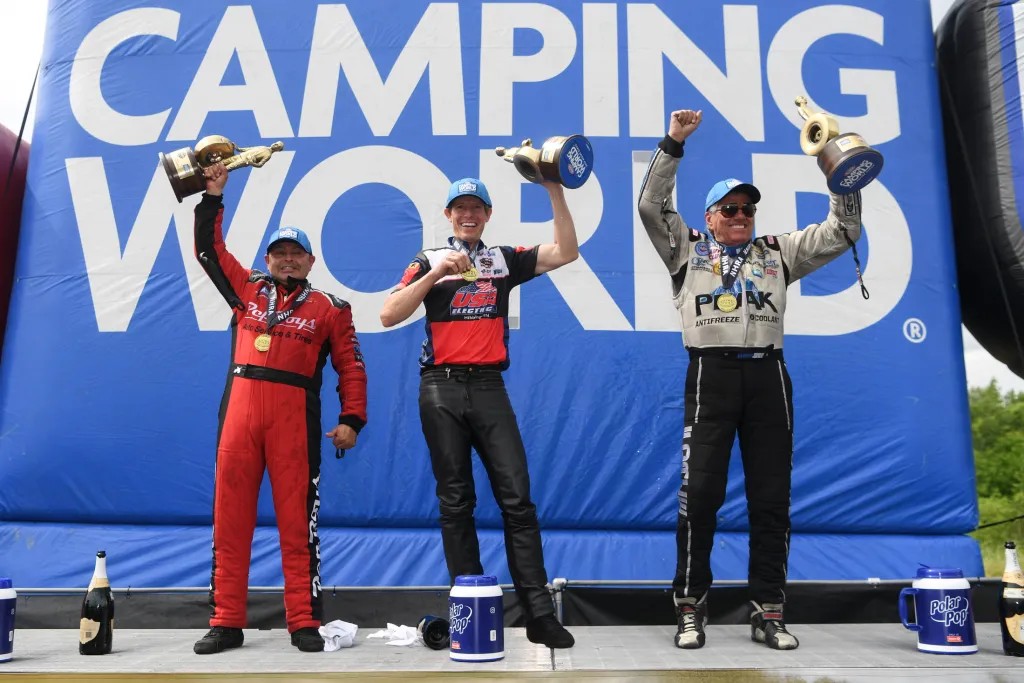 The Charlotte four-wide event continues to treat Johnson very well, as the Pro Stock Motorcycle veteran rode his way to a second straight win and a second consecutive victory at the Circle K NHRA Four-Wide Nationals. Johnson went 6.740 at 200.65 on his USA Electric Suzuki in the finals, easily distancing himself from Karen Stoffer, Eddie Krawiec and Joey Gladstone. It gives Johnson his 11th career victory and plenty of momentum after also winning last weekend in Houston. At zMAX Dragway, Johnson had the quickest bike of every session during eliminations, including an impressive run of 6.712 at 201.40 in the second round that set the track record. He also moved into the points lead with his second victory this season.
"These bikes, they're so hard to ride perfectly," Johnson said. "We made some good runs today, but it's never going to be an easy day in this class. For us to win, it's special and this track is always a special place. Anytime you can win and win a race at a Bruton Smith track, you're killing it and doing a great job."
Stoffer, who won the opener, in Gainesville finished as the runner-up with her run of 6.824 at 198.88 in the championship round quad. She now trails Johnson by six points.
The NHRA Camping World Drag Racing Series returns to action May 13-15 with the Virginia NHRA Nationals at Virginia Motorsports Park.
PRO STOCK MOTORCYCLE:
ROUND ONE — Eddie Krawiec, Suzuki Haybusa, 6.796, 199.40 and Jerry Savoie, 6.804, 198.93 def. Marc Ingwersen, EBR, 6.932, 197.86 and Michael Ray, Victory, 6.962, 192.47; Karen Stoffer, 6.793, 198.12 and Jim Underdahl, 6.833, 199.88 def. Ryan Oehler, EBR, 6.931, 198.35 and Chris Bostick, Suzuki Hayabusa, broke; Steve Johnson, 6.769, 201.04 and Angie Smith, EBR, 6.819, 199.46 def. Hector Arana Jr, Buell, 6.867, 198.03 and Ron Tornow, Victory, 6.972, 189.39; Angelle Sampey, Hayabusa, 6.760, 199.20 and Joey Gladstone, Hayabusa, 6.848, 200.26 def. Matt Smith, 6.869, 198.61 and Kelly Clontz, Suzuki TL, 13.436, 45.62;
SEMIFINALS — Johnson, 6.712, 201.40 and Stoffer, 6.810, 198.64 def. Underdahl, 6.861, 200.44 and A. Smith, 6.807, 201.79; Gladstone, 6.818, 198.90 and Krawiec, 6.847, 199.67 def. Sampey, 6.801, 201.40 and Savoie, 6.789, 199.79;
FINAL — Johnson, 6.740, 200.65 def. Stoffer, 6.824, 198.88, Krawiec, 6.859, 198.23 and Gladstone, 6.909, 199.32.
Pro Stock Motorcycle Points
1. Steve Johnson, 295; 2. Karen Stoffer, 289; 3. Eddie Krawiec, 206; 4. Joey Gladstone, 197; 5. Angie Smith, 181; 6. Jerry Savoie, 158; 7. Matt Smith, 156; 8. Angelle Sampey, 150; 9. Jim Underdahl, 139; 10. (tie) Chris Bostick, 113.
Marc Ingwersen, 113.
There are more videos on the Cycledrag Youtube channel (please subscribe here) and the Cycledrag.com Facebook page (Please like here) and more will be coming soon. Check back daily.
To take advantage of some amazing discounts at Brock's Performance, click – http://brocksperformance.com?aff=12
USE cycledrag5 coupon code.