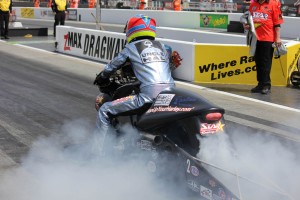 The Star Racing dragbike team has swept No. 1 qualifying in NHRA Pro Stock Motorcycle (PSM) so far in the 2014 Mello Yello Drag Racing Series following last weekend's NHRA Four-Wide Nationals in Charlotte, N.C. This marks the fifth career No. 1 qualifier for the team's racer Michael Ray as he also set a new track ET record at zMAX Dragway over the weekend.
Ray's Star Racing teammate and Rookie of the Year contender, Chaz Kennedy, also had a successful weekend as he won the first round of his professional career and established new career bests for ET and speed during his first Four-Wide appearance.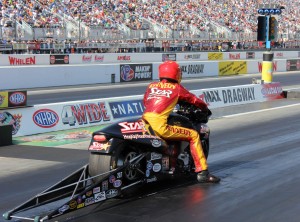 "I am very proud that we were able to qualify No. 1 again. Our engine program and performance are way ahead of the curve compared to this point last year. Plus, we have both bikes in the top ten (overall points standings), and we are leading the points race for the (MiraMonte Records NHRA) Pro Bike Battle," said Star Racing co-owner and team crew chief George Bryce.
The MiraMonte Records NHRA Pro Bike Battle program is a special race-within-a-race competition for the Pro Stock Motorcycle category to be held annually during the NHRA Sonoma Nationals, July 25-27, 2014. Qualifying for the MiraMonte Records NHRA Pro Bike Battle program is based upon points awarded for final qualifying positions at each PSM National Event.
After securing the No. 1 qualifier, low ET and top speed for the PSM season opener in Gainesville, Ray continued to lead the class at the Charlotte Four-Wide with his 6.816-second pass that held the No. 1 qualifying position for him throughout the weekend, giving him a strong lead over No. 2 qualifier Hector Arana Jr. who had a 6.825 ET.
"I think those two back-to-back No. 1 qualifiers really say a lot about what our focus has been showing up every weekend at the track ready to race. The guys at the shop are really bringing the full package, and I think the numbers we've been posting say a lot about the equipment and the preparation of that motorcycle," Ray said.
Kennedy was also a strong competitor for the Star Racing team at the Four-Wide Nationals as he set new career bests for both ET and speed with his 6.874/194.80 mph pass during the first qualifying round on Friday. In the next session, Kennedy ran an even better career top speed of 195.31 mph.
"Compared to my first three races at the end of last season, I think everything is 1,000 percent better. Especially from Gainesville to now, it's a big improvement. I want to carry this momentum into (the Southern Nationals in) Atlanta and the next 13 races. I feel really good going forward and competing for Rookie of the Year and the Pro Bike Battle," Kennedy said.
The Four-Wide setup provides a four-lane dragstrip instead of the regular two lanes, which requires all four racers in that quad to stage their vehicles simultaneously.
In addition to the different staging lights and starting line procedures, the Four-Wide event also modifies the structure of the elimination brackets for Sunday, since four competitors run at one time. During the first two rounds of eliminations, the first and second racers to cross the finish line on each run advance to the next round. The third and final round of eliminations includes the final four competitors from the previous rounds, with the drivers winning first through fourth place in the order they cross the finish line, barring any red light starts.
Due to the unique Four-Wide racing setup, the round one eliminations quad on Sunday included both Star Racing teammates as well as Mike Berry and Katie Sullivan.
Kennedy claimed the first round win of his professional career as he crossed the finish line about 25 feet ahead of Mike Berry. Kennedy was first off the line with a 0.029-second reaction time and led most of the way to post a 6.903/192 mph, the quickest of this quad.
"When I crossed the finish line and saw the win light come on, I was freaking out in my helmet a little bit and celebrating to myself. When I finally calmed down, I was literally seeing stars. It felt like a win in itself to me, because that's something that I've been shooting for since (my first professional race in) Reading, and I came really close in Vegas last year. This round win really boosted my confidence and made me feel like I'm more prepared to turn on some win lights rather than just go out there and hope that I can," Kennedy said.
Unfortunately, Ray had problems early in the run when his transmission wouldn't shift to third gear, so he sat up before halftrack. Sullivan fouled at the starting line, so the win went to Kennedy and Berry who advanced to round two.
"The win lights will come when they're supposed to. You've got to be really lucky out there and be consistent and that comes from both sides – from my driving and from the other side of the helmet with the bike. If you look at last year compared to this year, we're setting ourselves up to be a dominant team. Star Racing already has shelves full of Wally trophies, but we really want that big championship Wally at the end. If we can get this freight train rolling before the Countdown to the Championship, we're really gonna be awesome. I think we're really setting ourselves up for that, and so is Chaz but he just doesn't know it yet," Ray said.
Kennedy and Berry both went red (fouled at the starting line) during round two eliminations, awarding the win to the other two bikes in the quad, John Hall and Scotty Pollacheck.
"I was in my normal routine. I was just a little bit quicker on the tree than I should've been. It wasn't nerves; I felt calm. I actually felt better going up to the starting line than I did for round one," Kennedy said.
"Michael was ready to win. He had the light (reaction time) we were looking for, but we had that one out of a hundred transmission 'dead head,' where the third gear just would not engage, so he shut it off. Chaz drove twice as good (in Charlotte) as he did in Gainesville. He is showing the focus he needs to win rounds now. This past weekend reminds me of a great quote from a friend of mine: 'It is way easier to fix round wins than find power and speed,'" Bryce said.
The Star Racing teammates are both currently within the top ten Pro Stock Motorcycle points standings, with Ray at No. 7 and Kennedy tied for the ninth position.
The Star Racing Team would like to thank the following sponsors: Star Racing, Georgia International Raceway Park (formerly the Americus Motorsports Complex), HopUpYourHarley.com, Underground Professionals Inc. (UPI), S&S Cycle, Daytona Sensors, Worldwide Bearings, Arrow M, Jay Warner, Carlan Services, Tri Jet Services, and Uncle Hal Gottspeed Racing.
The HopUpYourHarley.com campaign represents Star Racing's state-of-the-art upgrade options for Harley-Davidson® and other Big Twin street motorcycles. Star Racing offers a full range of S&S Cycle V-Twin replacement engines for Harley-Davidson® Dyna™, Softail®, and Touring models that deliver huge increases in horsepower and torque. For 2007 and up Harley models, Star Racing has also developed a 107" Thrasher Upgrade Kit that produces 120+ horsepower while maintaining the stock appearance and reliability.
Star Racing Fast Facts:
·         Based in Americus, Georgia
·         Six-time NHRA Pro Stock Motorcycle Championships
·         80 NHRA national event wins with 10 different riders
·         Owned by George & Jackie Bryce
Michael Ray Fast Facts:
·         From: New Braunfels, Texas
·         Job: Harley-Davidson Motorcycle Salesman
·         Years in drag racing: 12
Chaz Kennedy Fast Facts:
·         Age: 19 years old
·         From: Ormond Beach, Florida
·         Job: Sovereign-Star Racing crew member
·         Years in drag racing: 4