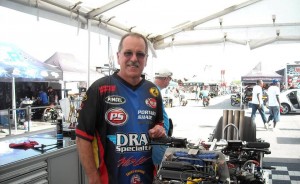 Top Fuel Dragbike 12-time champion Larry "Spiderman" McBride was the quickest of the more than 500 motorcycle racers at the MANCUP Spring Nationals, April 11-14, from South Georgia Motor Sports Park in Adel, Ga.
During Friday night qualifying McBride seized the pole position with a stellar 5.79, just .05 off of his all-time best of 5.74.
The crowd-pleasing run would prove to be the highlight of the weekend for McBride.
Under the hot Georgia sun the next two days, The Spiderman uncharacteristically struggled to get down the drag strip, smoking the tire on four of his next five runs.
"The racing surface got really hot and it was tough to get a handle on," McBride said. "We kept taking nitro and timing out of it but it just wanted to overpower the track."
After an opening round bye run went up in smoke, McBride lost traction again in round No. 2, slowing to a 8.44 at 109 mph, behind eventual class winner Ian King's 6.33 at 191 mph.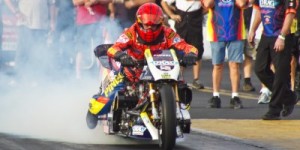 "We just couldn't get it to hook up," McBride said. "I was on and off the throttle and got it completely sideways. I give Ian a lot of credit for coming over from England and having a great race."
Astoundingly, it marked the Spiderman's first defeat in over three years.
"I can't complain about a streak like that," McBride said. "I have an awesome crew and awesome sponsors who made it happen."
McBride thanked his primary sponsors; Pingel Enterprise, Trim-Tex Drywall Products, Drag Specialties-Parts Unlimited, Red Line Synthetic Oil Corporation and Final Swipe Merchant Services.



"Joe Koenig is one of the best guys I have known in my life. He sells the best drywall products in the world."



"Wayne and Donna are like family to me. I make the joke that I'm their oldest and youngest child. Pingel has by far the best quality in America. They have the top of the line, best engineered products and they are all USA made."



"The Web Cam girls and Steve are the best. They are like family to me as well. Laurie Dunlap does so much to help the sport. They also make the best cams on the market."
McBride added –
"Red Line is the best oil on the market or Alan Johnson would not be using it."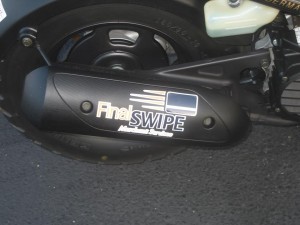 "Drag Specialties is a great company that I'm honored to be involved with. They are the best people to deal with."
"I really appreciate Final Swipe and Gary Baillio. He's a great man with a great company."
"There is not one sponsor that is not important."
McBride thanked his associate sponsors and added, "Everybody is equally important. We couldn't do it without each one of these fine companies."
K&N Air Filters, Web-Cam, Vance & Hines Motorsports, PR Factory Store, Ferrea Valves, Kibblewhite, Precision Machine, World Wide Bearings, Vanson Leathers, Millennium Technologies,  Belt Drives Ltd, Simpson Race Products, Nitrous Express, APE, EK Chain, Arias Pistons, MSD, Protect ALL, Cometic Gaskets, B&J Transmission, Carolina Cycle, L.A. Sleeve, PJ1, Mickey Thompson Tires, Valco, Goodridge, Carlisle Belts and Gates Belts.
Photo courtesy of Robert Zorn