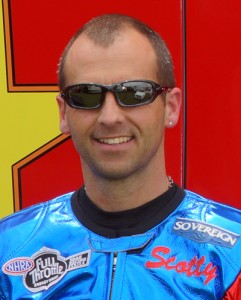 In their first NHRA season, the Sovereign-Star Racing Team already has several round wins under their belts and a small Wally for "2012 Best Appearing Crew" at the NHRA Southern Nationals in Commerce, Ga. The crew has since had four weeks to put appearances aside and concentrate on enhancing their Pro Stock Motorcycle program.
"After being off the (NHRA) tour for three full seasons, it's amazing how far behind we got," Star Racing owner George Bryce said. "Now, after the mistakes we've made, we feel like learning from them will give us a chance to step up in our performance and run better compared to the field than we have been."
Although Bryce's Sovereign-Star Racing drivers, Scotty Pollacheck and John Hall, have posted several Round 1 wins and qualified both bikes at all three races this season, the team continues to strive for bigger wins.
"We have a good winning record at Englishtown. We have several Englishtown Wallys on our trophy shelf at Star Racing. It sure would be cool for John or Scotty to add a new one. As far as preparation goes, we feel that we've put in the hours, the dyno time and track testing to be as ready as we can be, and we want to hit the ground running on Friday," Bryce said.
"I think everybody definitely feels way farther along than when we started the season," Pollacheck said. "We've made improvements everywhere – with the bike and our driving – and I think we're headed in the right direction. When you look at where we are now and you think about the fact that George was basically out of the racing scene for three years – that's a long time for the competition to make progress while he's doing other stuff. As well as we've done so far this season, I think that says a lot. It shows that he really wasn't all that 'rusty.'"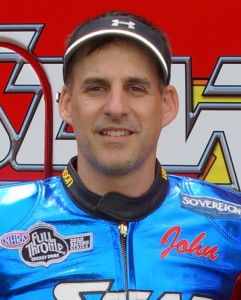 This is the first year since 2008 that Bryce and his Star Racing crew have competed full time in the NHRA circuit.
"It's gonna be Star Racing's first time back (in Englishtown) since 2008," Bryce said. "It'll be a good time for us to turn our performance around on the fourth race of the year. We didn't run the best at the first three races, but I think we learned more than any other team during those first three."
Hall thinks the crew is close to finding its rhythm after these past few months of racing together.
"If you look back at day one, we're light years ahead now. You don't realize how much you've moved forward until you look back at where you started. And it's only gonna get better from here," Hall said.
The Sovereign-Star Racing Team will compete in the Toyota NHRA SuperNationals June 1-3 at Old Bridge Township Raceway Park in Englishtown, N.J.
Hall, who lives in Hamden, Conn., and grew up learning to drag race at this track, is looking forward to a weekend of familiar faces and surroundings.
"That's basically my home track since the late '90s until now because there's no track in Connecticut. It'll be nice to be close to home and have lots of friends around to support me," he said.
The Sovereign-Star Racing Team would like to thank the following sponsors: Sovereign, Star Racing, S&S Cycle, Daytona Sensors, Worldwide Bearings, Americus Motorsports Complex, Who's Up Next?, and Quality Tire.
#
Television Coverage
Toyota NHRA SuperNationals – June 1-3 – Englishtown, N.J.
Qualifying: June 2 from 4:30 p.m. – 6 p.m. ET (ESPN)
Eliminations: June 3 from 4:30 p.m. – 7 p.m. ET (ESPN2)
Star Racing Fast Facts:
Based in Americus, Georgia
Six-time NHRA Pro Stock Motorcycle Championships
78 NHRA national event wins with nine different riders
Owned by George & Jackie Bryce
Sovereign Racing Team Fast Facts:
Based in Budapest, Hungary
2011 European UEM Championship Team with rider Jesper Thiel
Owned by Jeno Rujp
John Hall Fast Facts:
From: Hamden, Connecticut
Job: Real Estate Investor
Years in racing: 16
Scotty Pollacheck Fast Facts:
From: Medford, Oregon
Job: Owns "Quality Tire" store
Years in racing: 27