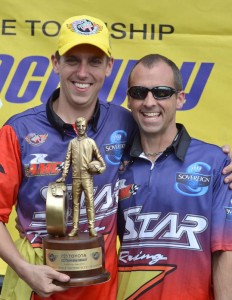 Sovereign-Star Racing will begin their challenging schedule of five races in only six weeks with the inaugural Auto Plus NHRA New England Nationals this weekend, June 21-23, at New England Dragway and Motorsports Park in Epping, N.H.
After the team's big win at the last race in Englishtown, N.J., drivers Scotty Pollacheck and Michael Ray are both in the top four in the Pro Stock Motorcycle points standings at No. 2 and No. 4 respectively.
"The win hasn't changed our goals at all because our goals are to win every round we can, go faster, make more power and win races. So, those are still the same. The difference is that we know now we can do it. Like Scotty said, going to the finals several times proved that we could run good enough to win," Star Racing owner George Bryce said.
Ray, the winner of the Englishtown event, agrees that taking home the Wally is just one aspect of the team's past successes this season. He plans on keeping his sights focused on the challenges ahead.
"We have that momentum on our side, and we definitely need that since we will be going to races the next three weekends in a row. The wonderful and humbling sport of drag racing can show you that no matter how well you did last weekend, it makes no difference once you go back out there to race," Ray said.
Ray's teammate, Pollacheck, will be returning after a challenging weekend at Englishtown where technical issues kept him out of the field for Sunday. After a few weeks off, Pollacheck is returning to the track with his winning attitude and good expectations for what is to come for this team.
"I think the best thing is to not worry about what happened at the last one and to just make the next one as good as it can be. I know that the bikes are good and that everybody's doing a great job and working hard. I believe that things are going to be better this time," Pollacheck said.
This weekend's event in Epping will begin a challenging schedule for Pro Stock Motorcycle as the teams travel to five races in only six weeks, with the first three races hosted across the Northeast and Midwest on back-to-back weekends.
After three solid weeks on the road, the Star Racing transporter truck and trailer will return home to Americus, Ga., for only one week before heading west for the next two back-to-back races in Colorado and California. With this much traveling, the Sovereign-Star Racing team must prepare in advance for anything and everything that may happen along the way.
"We built as many engines as we could, loaded the truck with as many spares as we could, and are prepared to do whatever it takes to win. These next five races will be a good endurance test, and it will be survival of the fittest," Bryce said.
After being with the Sovereign-Star Racing team throughout the 2012 season, Pollacheck is confident that his team can handle the challenging schedule ahead.
"We had one stretch last year where we did six weekends in a row, and I think that kind of helps having been through that before. It's a lot of work and a lot of time and travel, but we can do it. We're a good, experienced team so it won't be a problem," Pollacheck said.
Ray also has high expectations for these next few weeks of racing.
"I think this team will rise to the top just because of how prepared we are and how experienced the team members are. Looking at the next three races, it gives us a little practice run for the (hectic schedule of the) Countdown. With this team, with the momentum we've had and the success we've had at the beginning of the year, I think we're setting ourselves up for a championship run," Ray said.
The Sovereign-Star Racing Pro Stock Motorcycle teammates will compete this weekend, June 21-23, at the Auto Plus NHRA New England Nationals at New England Dragway and Motorsports Park in Epping, N.H. Television coverage on ESPN2 will begin with qualifying sessions airing from 8-10 p.m. EST, Saturday, June 22 and finals from 7-10 p.m. EST, Sunday, June 23.
The 2013 Sovereign-Star Racing Team is a partnership between Georgia-based Star Racing and the Hungarian-based Sovereign Racing Team, the 2011 UEM European Pro Stock Bike Championship Team, owned by sugar distributor Jenõ Rujp.
The Sovereign-Star Racing Team would like to thank the following sponsors: Sovereign, Star Racing, Americus Motorsports Complex, S&S Cycle, Daytona Sensors, Worldwide Bearings, CP Pistons, Cometic Gaskets, Quality Tire, and Uncle Hal Gottspeed Racing.
Star Racing Fast Facts:
·         Based in Americus, Georgia
·         Six-time NHRA Pro Stock Motorcycle Championships
·         79 NHRA national event wins with 10 different riders
·         Owned by George & Jackie Bryce
Sovereign Racing Team Fast Facts:
·         Based in Budapest, Hungary
·         2011 European Motorcycle Union (UEM) Championship Team with rider Jesper Thiel
·         Owned by Jeno Rujp
Scotty Pollacheck Fast Facts:
·         From: Medford, Oregon
·         Job: Owns "Quality Tire" store
·         Years in drag racing: 27
Michael Ray Fast Facts:
·         From: New Braunfels, Texas
·         Job: Harley-Davidson Motorcycle Salesman
·         Years in drag racing: 11
Caption for photo:  Sovereign-Star Racing teammates, Michael Ray and Scotty Pollacheck, will compete June 21-23, 2013, at the inaugural NHRA New England Nationals in Epping, N.H.