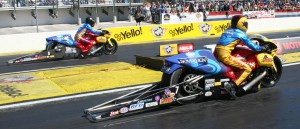 The Sovereign-Star Racing team will have to overcome the unique challenges of this upcoming weekend's Mopar Mile-High NHRA Nationals in Denver, Colo., if they are going to continue their streak of success from the past four races of the Pro Stock Motorcycle NHRA Mello Yello Series.
The July 19-21 Mile-High Nationals at Bandimere Speedway will test the tuning capabilities and engine program of this team that has claimed two NHRA national event wins, two No. 1 qualifying positions, a low ET and high mile per hour of the event, a track speed record, and an additional final round appearance in the past four races alone with their drivers Michael Ray and Scotty Pollacheck.
"It's the biggest challenge of the entire year to run well at Denver because of all the changes you have to make to the motorcycles. The elevation and high temperatures make the corrected altitude about 10,000 feet, when it was only about 3,000 feet at the last three or four races we've been to. You're about 50 horsepower lower than normal, which is why everyone runs slower at Denver," Star Racing owner George Bryce said.
Engine tuning and preparation are essential at this racetrack since its 5,300-foot elevation presents entirely different conditions than any other venue on this racing circuit.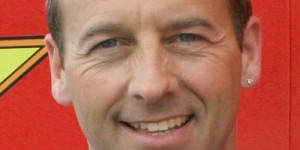 "Most everybody that goes there has log sheets of their past experiences at Denver and what they did to compensate for the altitude. I've already done the first round tuneup for both of our bikes before we even left the shop just from past information from those races," Bryce said.
The special conditions not only affect motorcycle performance but also present challenges for the racers to hit their shift points on time when they are accustomed to a much quicker pass.
"I've been to that track a lot so that gives a little comfort and familiarity with that kind of home track advantage. It's definitely a harder place to tune, but George and the crew have a good handle on that. So, I know they'll do fine adjusting for it. It's also different for me and Michael as drivers because it takes longer for the shift light to come on, so you have to really be patient and keep that in mind when you're up there," Pollacheck said.
This seasoned Star Racing team has been winning at Denver since the 1990s with John Myers and the early 2000s with Angelle Sampey, and they are confident that their S&S Cycle-powered Sovereign combination is up to this high altitude challenge.
"You definitely want to be as prepared as you can be, but it's hard to put a combination together for just one weekend. Star Racing has been coming up here for 20 years and knows how to do it. I think we have a good chance of getting to another final or even winning a Wally. At this point, I'm really focusing on the points because I want to get locked into that Countdown (to the Championship), and then (our strategy) clicks over to championship mode," Ray said.
With only three races left before the Countdown to the Championship points battle, the Sovereign-Star Racing teammates are currently both within the top five competitors in the Pro Stock Motorcycle class. At No. 2 in the standings, Ray is only 48 points behind class leader Hector Arana Jr., and Pollacheck is at the No. 5 spot only 12 points below No. 4 John Hall and 28 behind No. 3 Matt Smith.
Television coverage for the Mopar Mile-High NHRA Nationals will air on ESPN2 beginning with qualifying sessions from 10 p.m. – 12 a.m. (EST) on Saturday, July 20 and final eliminations from 6 – 9 p.m. (EST) on Sunday, July 21.
The 2013 Sovereign-Star Racing Team is a partnership between Georgia-based Star Racing and the Hungarian-based Sovereign Racing Team, the 2011 UEM European Pro Stock Bike Championship Team, owned by sugar distributor Jenõ Rujp.
The Sovereign-Star Racing Team would like to thank the following sponsors: Sovereign, Star Racing, Americus Motorsports Complex, S&S Cycle, Daytona Sensors, Worldwide Bearings, CP Pistons, Cometic Gaskets, Quality Tire, and Uncle Hal Gottspeed Racing.
Star Racing Fast Facts:
·         Based in Americus, Georgia
·         Six-time NHRA Pro Stock Motorcycle Championships
·         80 NHRA national event wins with 10 different riders
·         Owned by George & Jackie Bryce
Sovereign Racing Team Fast Facts:
·         Based in Budapest, Hungary
·         2011 European Motorcycle Union (UEM) Championship Team with rider Jesper Thiel
·         Owned by Jeno Rujp
Scotty Pollacheck Fast Facts:
·         From: Medford, Oregon
·         Job: Owns "Quality Tire" store
·         Years in drag racing: 27
Michael Ray Fast Facts:
·         From: New Braunfels, Texas
·         Job: Harley-Davidson Motorcycle Salesman
·         Years in drag racing: 11
Caption for "Pre-Denver Sovereign-Star Racing" photo:Sovereign-Star Racing teammates Michael Ray and Scotty Pollacheck will face unique circumstances as they compete at the Mile-High NHRA Nationals in Denver this weekend to continue their streak of success this season.