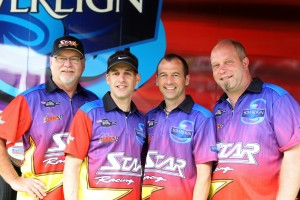 Sovereign-Star Racing's Scotty Pollacheck locked into the NHRA (National Hot Rod Association) Full Throttle Countdown to the Championship after winning in Round 1 against his teammate John Hall at the Mac Tools U.S. Nationals. This biggest race of the year, hosted by Lucas Oil Raceway in Indianapolis, In., is held during Labor Day weekend each year but was postponed one week due to rain.
As qualifying rounds continued on Saturday, Sept. 8, Sovereign-Star Racing teammates Pollacheck and Hall had an opportunity to improve their positions from No. 5 and No. 16, respectively. Although Hall moved up several places to the No. 11 qualifier, this move set him up to race his own teammate as Pollacheck was in to the No. 6 spot in the ladder.
"That's never a good thing when you have to race your teammate and I've had to do that a lot," Pollacheck said. "I have a friend that I've raced with for the past 20 years and we've had to run against each other a lot, so I'm definitely used to it. Everything is still the same, though. I think everybody realizes that sort of thing happens and there's nothing you can do about it."
Sovereign-Star Racing team owners George Bryce and Jenõ Rujp decided to look at the positive side of this unlucky situation.
"Jeno and I looked at it a little bit differently than the rest of the team," Bryce said. "Everyone has their individual effort on the team to make the bikes go fast, which is fantastic, but Jeno and I look at it as a whole not as individual efforts. We wanted to make the bikes go faster and this offered us a chance to make the bikes go quicker and have a guaranteed win first round. Afterwards, I thought, 'Oh that's what it feels like to know for sure that you're gonna win a round.'"
Pollacheck advanced to face Eddie Krawiec on his Screamin' Eagle/Vance & Hines Harley-Davidson in Round 2 eliminations. Krawiec took the win after Pollacheck fouled at the starting line and turned on the red light.
Even though the Sovereign-Star Racing team was looking to get Hall into the Countdown from his No. 11 spot in the point standings, there were no hard feelings between the teammates after Pollacheck's Round 1 win against Hall.
"If I just had to go that one round to get in it might have been different, but I would've basically had to make it to the finals to get the points I needed. I wouldn't expect Scotty to come all the way from Oregon twice for Indy to lay down for me in the first round," Hall said. "I could tell you 100 reasons why I didn't make it into the Countdown, and 99 of them are my fault. So, I told Scotty, 'I'm working for you now.' I'm gonna help my teammate win because whatever points I can take away from the other nine in the Countdown just puts him closer to the top."
Hall's quick transition over the year from spectator and recreational racer to the No. 11 Pro Stock Motorcycle racer in NHRA still surprises even him.
"It's crazy to think of how far I've come this season from watching Indy on my couch last year to actually racing here. I've been a fan of these (PSM) people for years and then I was competing against them for the top ten. We had them worried about it too because we were so close! This year has given me a great learning experience," Hall said.
Even though Indy didn't give the results they were looking for with both racers, the team was thrilled to get one of their rookie drivers into the Countdown at the competitive No. 6 position.
"I'm so happy that we got Scotty into the Countdown, but on the other hand I also wanted to get John in and I wanted a blue, yellow and red bike to win the U.S. Nationals," Bryce said. "As far as the strategy is concerned going into North Carolina, we're 10 points behind Karen Stoffer and 20 points behind Hector Arana. Anything can happen at this point."
"The first thing I want to do when we get to Charlotte is to get in a good qualifying run like we did in Indy to get us solidly in the field where we're not scrambling later to make up for lost ground. Making that first run count like we did at Indy makes everything so much easier the rest of the weekend," Pollacheck said.
The Sovereign-Star Racing team's Pro Stock Motorcycles will compete this weekend Sept. 14-16 at the O'Reilly Auto Parts NHRA Nationals at zMAX Dragway in Charlotte, N.C.
The 2012 Sovereign-Star Racing Team is a partnership between Georgia-based Star Racing and the Hungarian-based Sovereign Racing Team, the 2011 UEM European Pro Stock Bike Championship Team, owned by sugar distributor Jeno Rujp.
The Sovereign-Star Racing Team would like to thank the following sponsors: Sovereign, Star Racing, S&S Cycle, Daytona Sensors, Worldwide Bearings, CP Pistons, Permatex, Americus Motorsports Complex, Who's Up Next?, and Quality Tire.