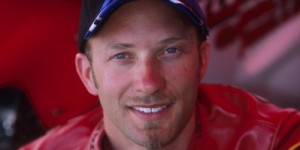 Former NHRA Full Throttle Series Pro Stock Motorcycle champion Matt Smith maintained his provisional No. 1 qualifier status Saturday at the end of Day 2 of the Mac Tools NHRA U.S. Nationals. The 6.954 second ET from Friday continued to be the time to beat and the 2006 winner of this race wasn't able to come close to that mark, running ETs of 7.09 and 7.06, respectively, in the day's two rounds.
"All and all we had a good day," said Smith. "We had something go wrong on my bike on that last pass. My other two bikes are running good. We've got everybody in the top 12 so I can't complain too much."
The "other two" bikes Smith is referring to are being raced by his wife, Angie, and Michael Bay, running a Matt Smith Racing Buell for the Big Go this weekend. Angie is currently eighth after a 7.02 run and Bay is 11th with a pass of 7.066 seconds.
Former class champion Andrew Hines came the closest to Smith's .95 with a pass of 6.962 seconds in the final round of the day.
On the Pro Mod side, Matt is still mired in 19th and on the outside looking in. His dad, "Tricky" Rickie Smith, piloted his 2012 Jerry Bickel-built Camaro to third.