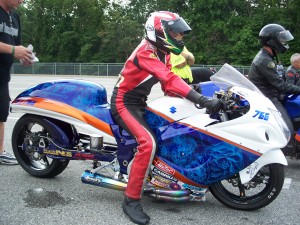 HTP Performance owner, Cecil Towner said if team rider Ryan Schnitz left straight, the first ever six-second Pro Street run would appear on the scoreboard.
He was right.
Schnitz, who has accrued multiple wins and records in MIROCK, AMA Prostar and NHRA, achieved what is likely to be  the acomplishment  of his career with a 6.907 at 203.06 mph during the first round of eliminations at the MIROCK Fall Nationals from Maryland International Raceway, Oct., 1-2.
In round No. 2 Schnitz ran 8.06 at 119 mph during his bye run. Schnitz was upset in the semifinals by Greg Wallace, who ran 7.30 to Schnitz's 12.90.
Schnitz needed a 6.976 to back up the 6.90.
Making the accomplishment even sweeter, Schnitz will collect $10,000 from Hays Machine Works, who agreed to pay the hefty sum only if the first Pro Street rider in the sixes utilized a Hays clutch.  Schnitz and Towner replaced their MTC clutch with a Hays earlier in the week.
Schnitz utilizes a Michelin street tire and will not be eligible for the $3,000 bonus from Mickey Thompson.
For a historical perspective, it has been nearly 12 years since Brock Davidson became the first rider to put a street bike in the seven second zone.  Davidson said it changed the course of his life.  Read about it here.