Samson Exhaust proudly salutes some standout Harley dragbike racers who excelled at the AMRA Michigan All Harley Nationals from Martin. Mich, at US 131 Motorsports Park, July 28-29.
Words by: Lu Ann Topovski
Nitro Funny Bike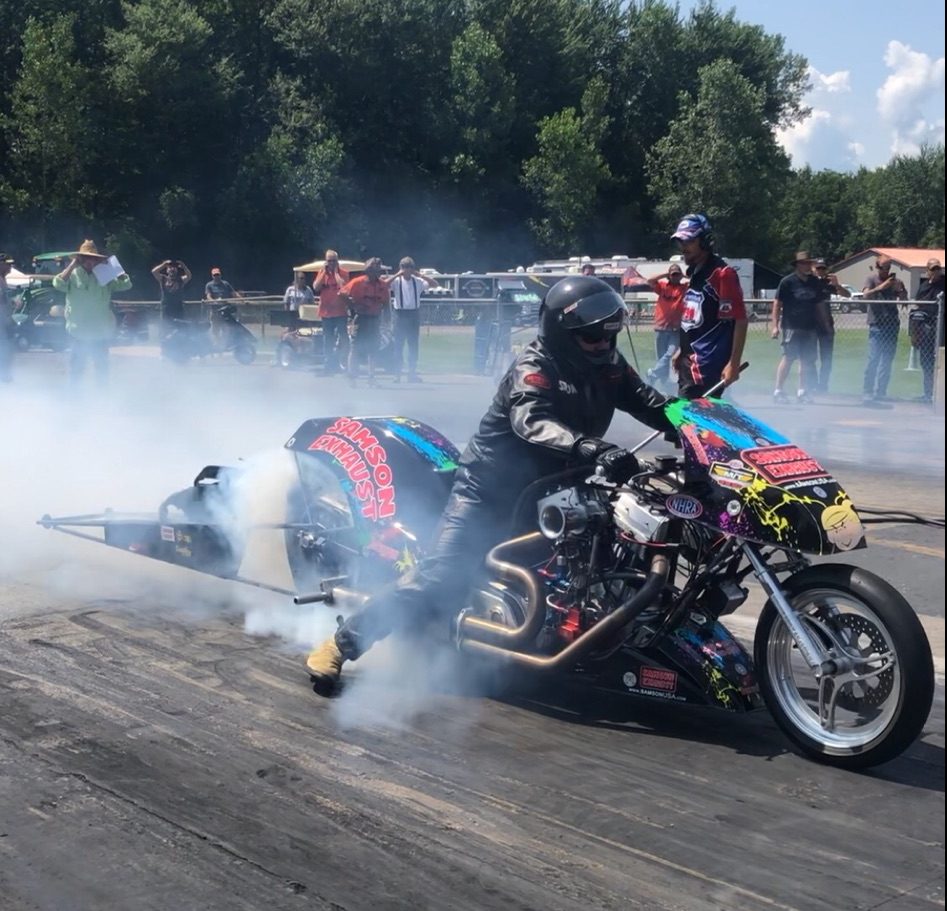 Dennis "The Nitro Menace" Fisher is not only sponsored by Samson Exhaust, he is intelligent, gracious, soft spoken and kind-hearted. He has a successful drone business, Rapid Aerial Imaging, that is flourishing. Yet this man loves to race, and not just any bike. Dennis thrives on the exhilaration of a 6-7 second high that he gets every time he gets on his Nitro Funny Bike. But let me tell you this, there is nothing funny about going 200 mph down a track next to someone else who is trying to out race you. It is a thrill!!
Dennis gets a lot of questions asking him why he races these Nitro Harleys. He might be naturally competitive, but he loves challenges that are stimulating and thrilling. Dennis says, "My experience with these bikes is mine, and mine alone."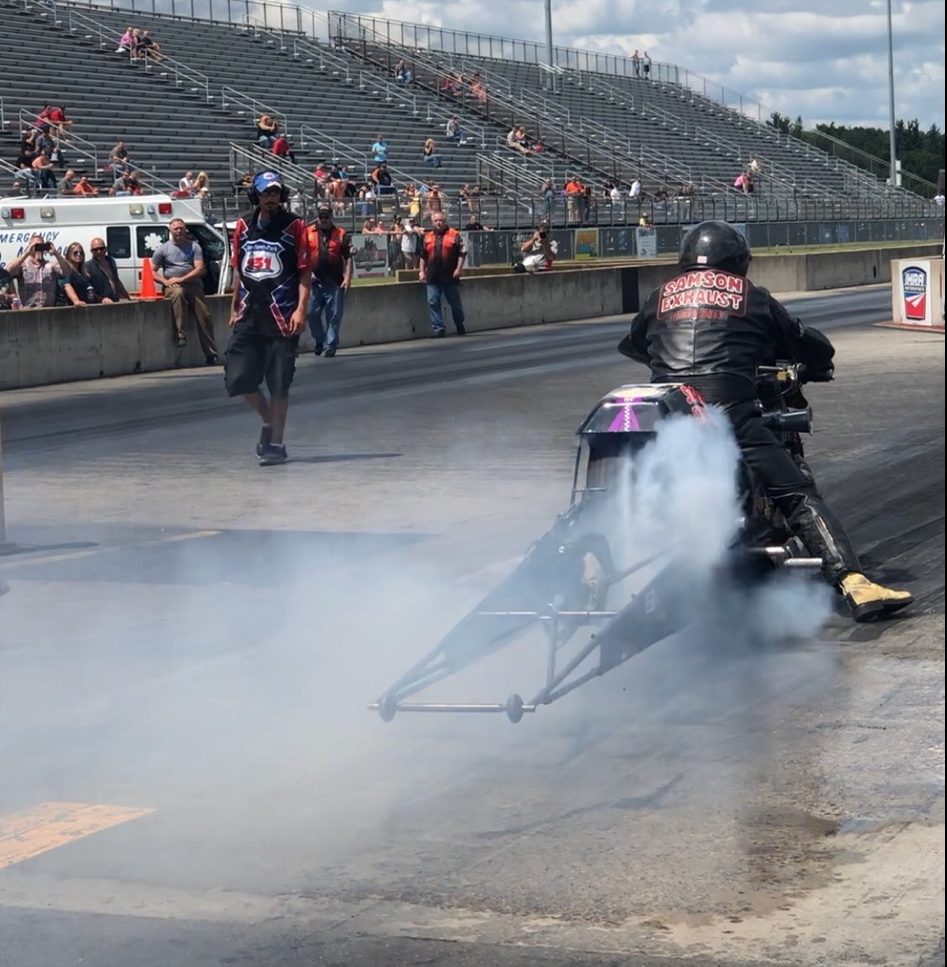 Dennis says, "Whacking the throttle is like being shot out of a cannon. G's are high – 2-3 and you're accelerating at a pace you've never seen before. Gear heads get all worked up over 0-60 times of 3-4 seconds. How about 0-60 in 1 second? Try to hang on gear head! The first incremental time we look at is our 60'. Anything under 1.20 seconds is good, we've been as quick as 1.17 seconds. It's a combination of clutch, tire pressure, track conditions and tuning. Misread it and you leave performance on the table or blow the tire away – and maybe your motor."
At the same time, just because it's a thrill, there is common sense that goes into knowing what you're doing so you don't get into trouble during the thrill ride. This nitromethane powered bike is no doubt a rocket. There is every good reason to know what you are doing before you saddle up on this machine just so parts stay intact! Besides having the best crew and team, Dennis suits up in his best leather and Kevlar chest protector. His crew encircles the engine with a Kevlar strap securing the engine just in case something unexpected happens. Prior to this, every single minuscule thing on the bike is covered with a fine toothed comb by his first rate crew. And that is exactly what happened at US 131 Motorsports Park, AMRA Michigan Nationals Race & Rally.
In the first round of qualifying Dennis did not qualify because he hit the cones at the end of the track. What? You might ask. Well, if you don't know, you cannot steer these beasts of a machine. You guide them and hope that after you have popped that initial wheelie, you come back down on the track with the front wheel straight. That might have been the cause of hitting the last two cones on the track.
Now, you might not think hitting cones with a fireproof leather boot would necessarily hurt, but not only did it hurt, Dennis had a couple of purple toes. That's because he was going down the track like a rocket! The two different boots that Dennis wears on each foot protect him from the engine and nitro heat, not from foam cones. Go figure. So, unfortunately , he did not qualify his first round. However, he refocused and Q2 he qualified at 6.9 and was #3 qualifier overall. He then stayed focused on the #1 spot, which he got! His Q3 placed him #1 qualifier with 6.81 and 201 mph.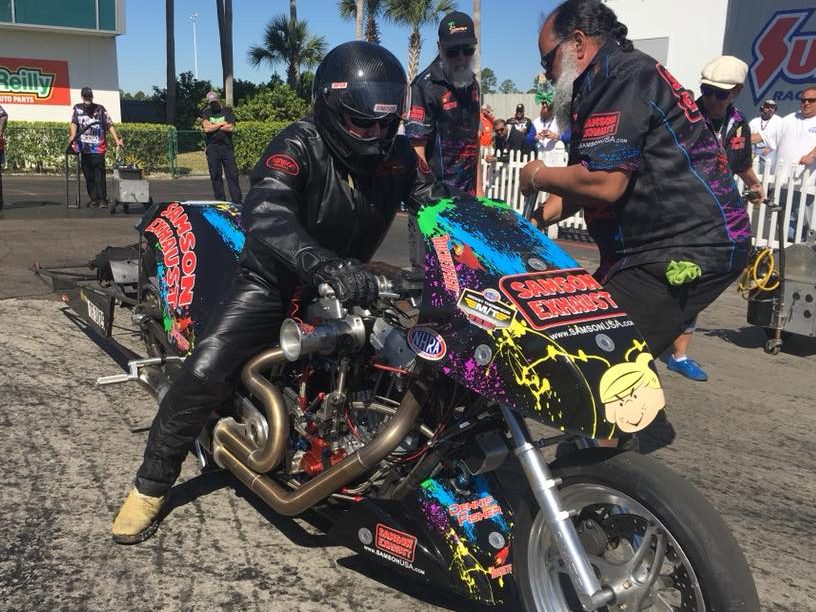 This might have put Dennis at ease for the night, but in reality, he knew he was up against some great competitors the next day. He was top qualifier and he had a good run. Now, crew chief, Steve Vickers, continued his razor focus work on tuning and making a couple minor adjustments.
On Sunday, Dennis "The Nitro Menace" completed round 1 and got the win! He then went into the finals facing off against "The Preacher," Rich Vreeland. Although Dennis had it at the 60' mark, the tire spun and he took 2nd place. Although he said, he was, "disappointed," Dennis "The Nitro Menace" Fisher will be back to race August 25-26 at the AMRA Liberty Nitro Nationals at Numidia Dragway in Numidia, PA.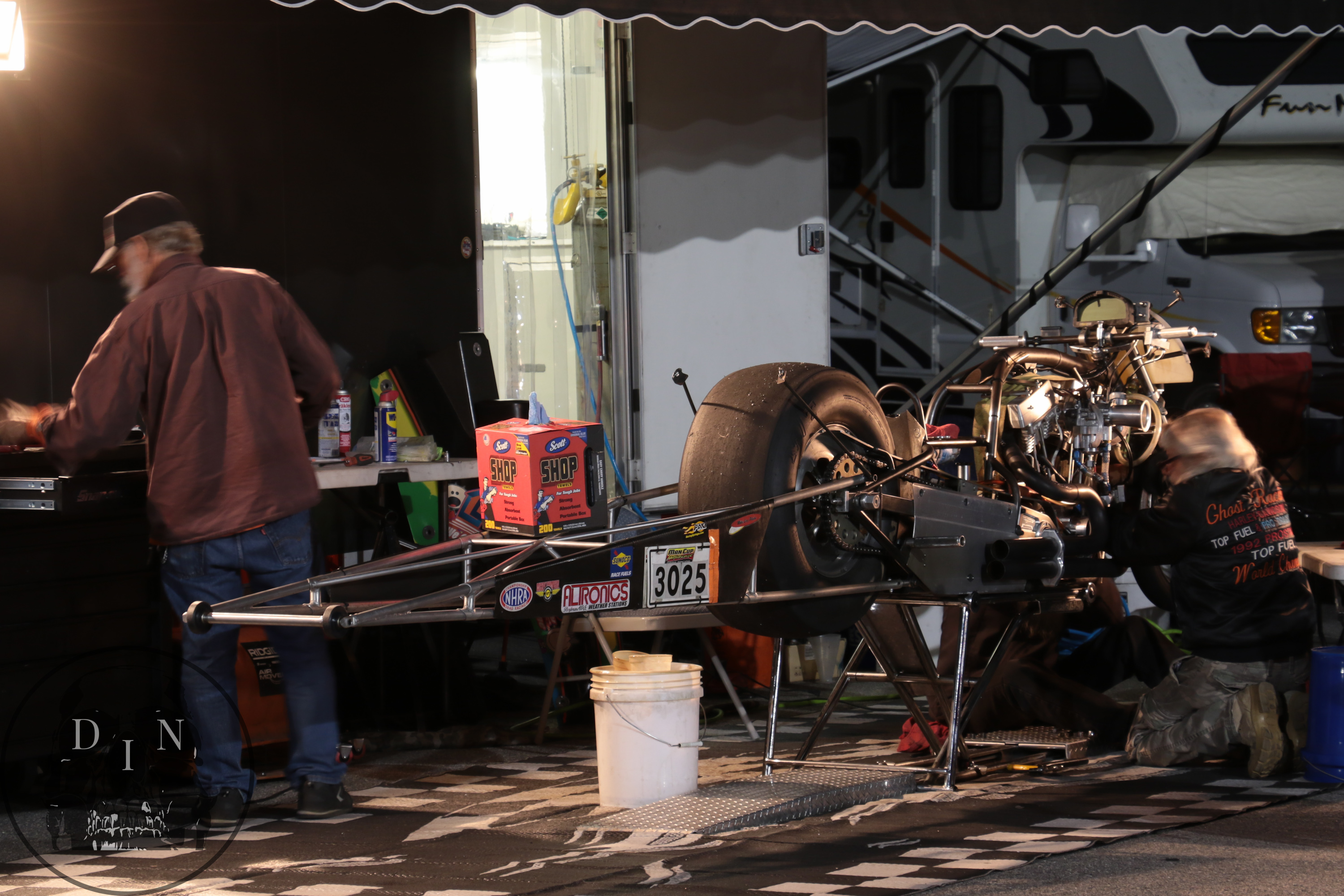 A bit about the bike and Dennis' crew chief who he claims is best in the land: Dennis' NFB was originally built in 2011 for ASB Racing in Canada. Billy Jackson purchased the bike in 2014 to race Top Fuel . Dennis later bought the bike at the end of the 2016 season. He chose to stay with the original builder, Steve Vickers , of Hawaya Racing in Millers Creek, North Carolina to tune and to be his Crew Chief. This has been his ace in the hole.
Dennis's NFB is a Weekend chassis, purchased through and completed at Hawaya Racing. The engine is a 150 cubic inch, Derringer CL by Hawaya Racing. The 150 cubic inch is to comply with the AMRA NFB rules which also dictate high gear only (no transmission), and a maximum rear tire width of 13". These bikes are mechanical fuel injection and use a 2 stage centrifugal clutch. This bike is capable of 210+ mph, in 6.5 seconds.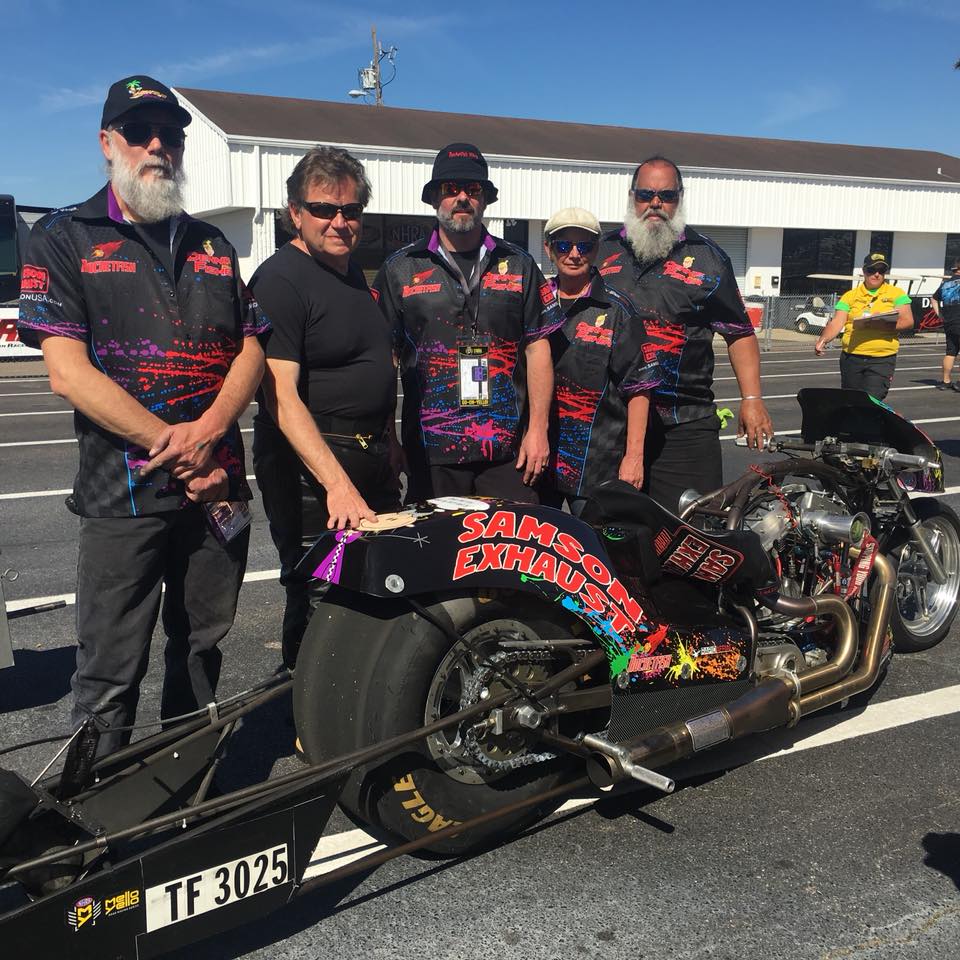 Now, about Steve. Not only did Steve build and tune the bike from conception, he continues to tune Billy Jackson's Top Fuel bike after he sold this NFB to Dennis. To Steve's credit, he won the 2017 ADRL Top Fuel Championship with Billy and the 2017 AMRA Nitro Funny Bike Championship with Dennis. This team works well together and they are sticking to what works. Steve is a certified Power Commander Tuner for Harley Davidson street bikes, has been crew chief for seven years, graduated from MMI (Motorcycle Mechanics Institute) and is manager at Hawaya Racing. If that's not enough, he builds high performance engines and dyno tunes them. He designs and programs parts for race bikes, and makes them on his in house CNC machine. As a whole, Hawaya Racing has won, and or tuned, for many National Championships, and National and World Records.
Now that is a great team! Ride on, gentlemen…
Energy One Clutches Dressers Class
Congratulations to Jeremy Williamson of Evansville, Indiana! Jeremy is champion of the Energy One Clutches Dressers Class at the AMRA, Michigan All Harley Nationals this past weekend! He is also recipient of $50 from Samson Exhaust for his win. When asked how he won the race, Jeremy replied, "A lot hard-work and dedication."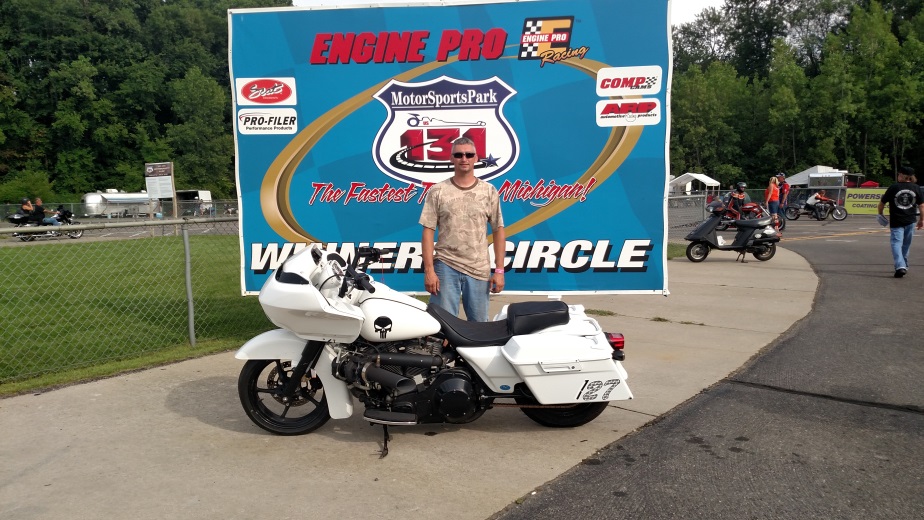 Although Jeremy is not new to drag racing, as he has been racing since he was young, this was Jeremy's first AMRA event ever! He took #1 in the qualifiers, won the first round and took the bye into the finals. Besides his hard-work and dedication, when asked what he contributed specifically to his winning he stated that he went to the event early, on Friday night before the race, and did a few test runs. He then made some adjustments to the gear change, took a few more practice runs and was happy with his performance and time. He stuck to what he knew worked, and it worked for him!
Jeremy is very open and proud of his 2005 Harley Twin Cam Road Glide. When asked how he's feeling about winning, Jeremy stated, "It's pretty rewarding!" Even though he broke 3rd gear transmission during the final race, it was worth the win. This was a new build and he was proud of the performance of his bagger, so much so that he was willing to share a few changes he made which he believes helped him win the race.
Jeremy's bagger is a 2005 Harley Twin Cam Road Glide that is a true street bagger. Here are the specs and a few of the mods Jeremy made in building his Draggin' Bagger winner: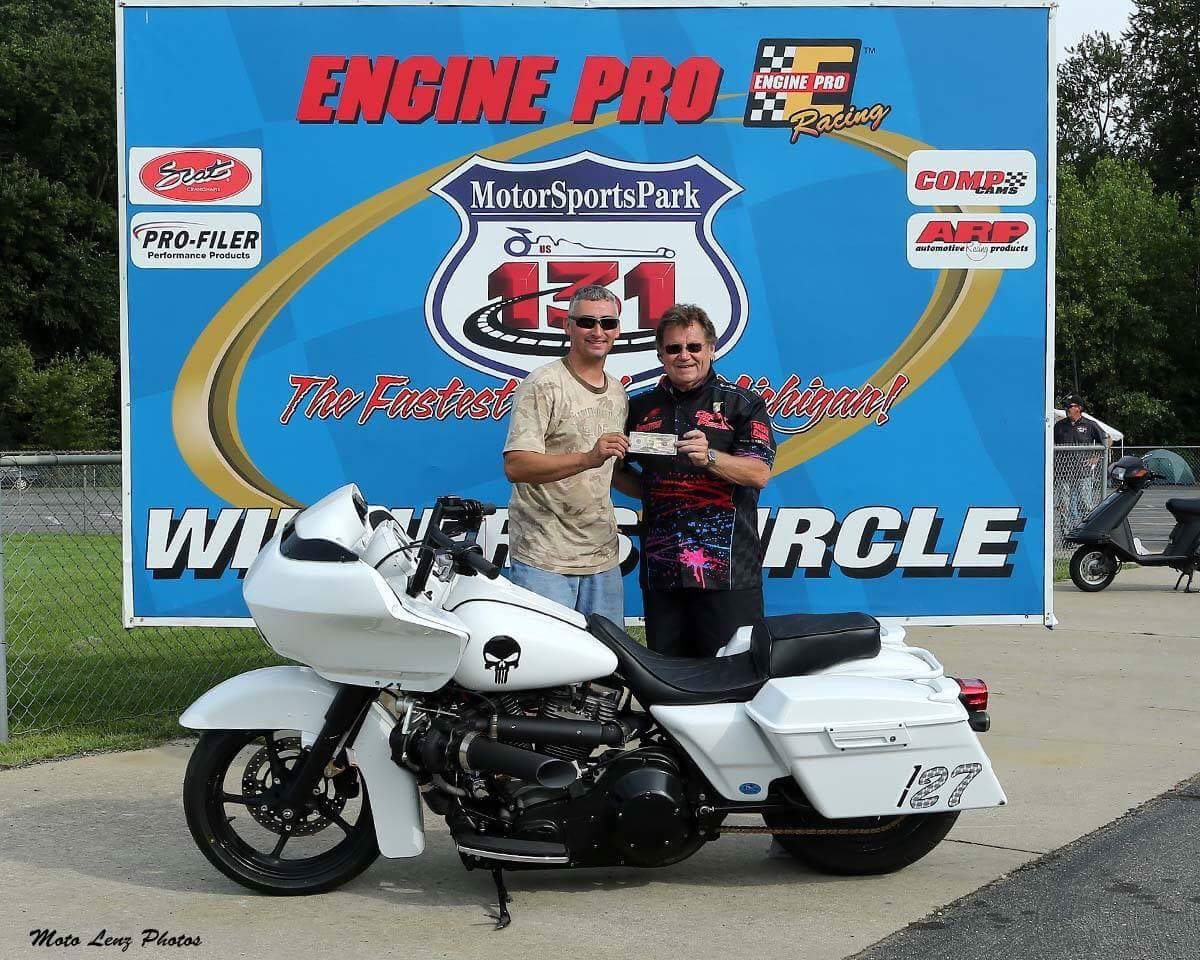 The rods, crank and cylinders are stock Harley. Cylinders are bored to 98 CI and use CP forged piston. The stock heads have been ported and used 1.9"/1.61" valves. The clutch basket and transmission are stock, and since 3rd gear was broken, Jeremy may re-think the use of a stock tranny! An MPS air shifter kit is custom mounted for those lightning fast power shifts. An HPI 55mm throttle body feeds the 98" motor with all the fuel it can burn. The intercooled turbo kit was designed and fabricated by Jeremy (nice workmanship!).
A Thundermax auto-tuner ECM handles the fuel mapping chores and finally a chain conversion from the stock belt drive was necessary with the additional horsepower the turbo generated, and finally, Jeremy modified the swing arm to make chain adjustment manageable. This is what Dennis "The Nitro Menace" Fisher calls, "One bad-ass street bagger!!!"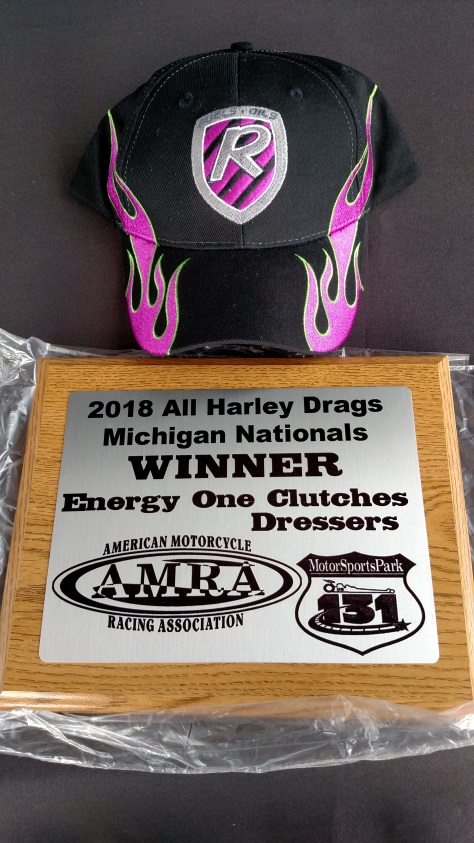 This was an amazing race for Jeremy at the age of 42 fulfilling a dream. Jeremy hopes to be at the Bowling Green race in September, as long as he can get his transmission fixed and operational. Knowing the dedication of Jeremy, and his hard-work ethic, I have no doubt he will do his best to be at Bowling Green. Congratulations again to Jeremy Williamson of Evansville, Indiana! Ride on…
Super Gas Class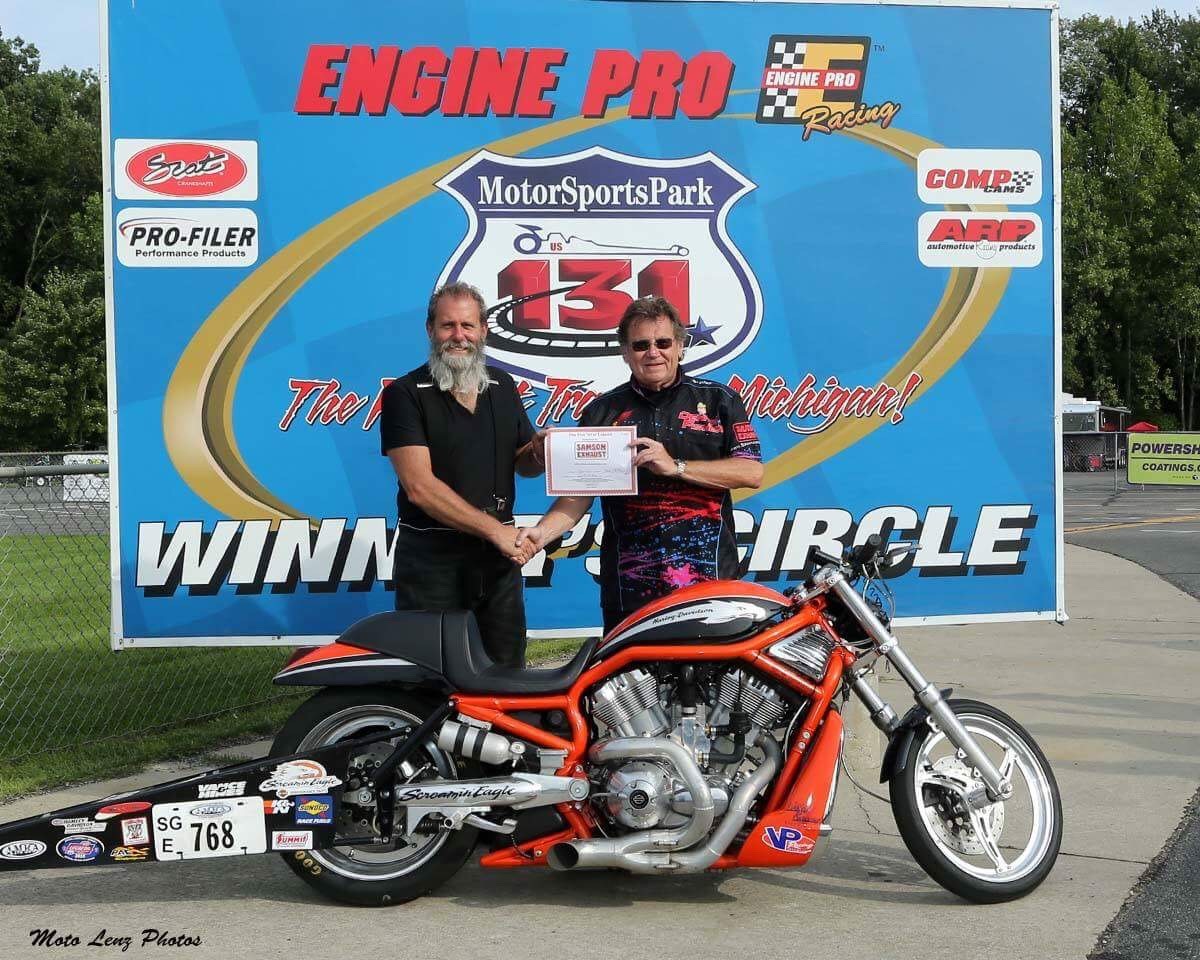 Congratulations to Steve Matthews, winner of the Super Gas Class of the AMRA at Michigan All Harley Nationals! Steve was also the recipient of a set of Samson Exhaust's pipes which he says, "It was icing on the cake and will go on my Harley Road Glide."
When asked how Steve was feeling after the race, he said, "Fantastic!" He said this was his second win since he began racing four years ago. He tries to hit up all 6-8 races throughout the year and it has always been tough competition. Even though this class has the majority of racers, he likes the competition. He said it is always a close race within .2 seconds or closer. That's what he likes. That is why he stays in this class plus, most of the racers are his friends.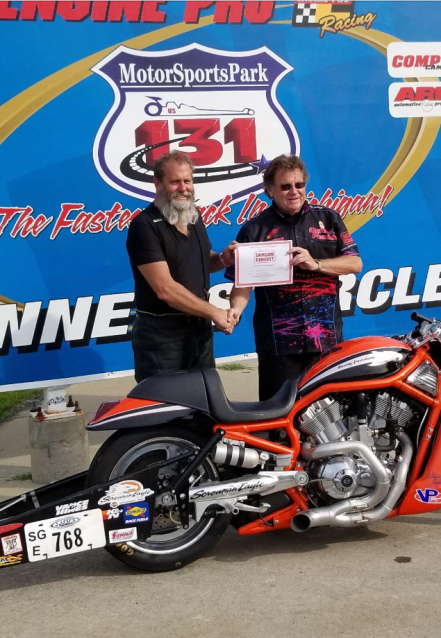 When asked what contributed to his win, Steve replied, "Everything worked out." Although he was 7th out of 16 in the qualifiers Steve said, he adjusted shift points and RPMS which did the trick. Steve said, "I was happy with my performance," also stating, "No one is going to do this on their own."
Steve said that last year he was #2 to Andy Horn who took 1st place. Steve said that getting 2nd place gave him a taste to win it – for the entire year. He said it often comes down to his buddy Andy and himself and he feels they are both at their best when they race each other. They might be friends, but the are both in it to win it!
Steve said it was his dad who gave him the fever to race when he was growing up because his dad was a drag racer himself and Steve used to watch his dad race cars. Although his dad tried to steer Steve away from motorcycles, Steve bought his first bike at age 19. Steve later went to races with his buddy, Jeff Workman and that is how he caught "the bug." He eventually bought one of the 650 VROD Destroyer drag bikes built by Harley Davidson. Steve said he wanted the best and he believes his Harley Davidson Destroyer is the best.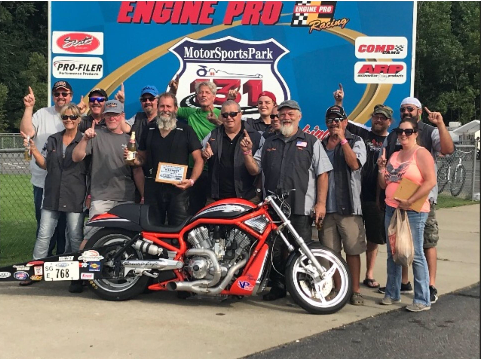 Steve is not shy about giving credit where credit is due. For instance, he gives a lot of credit to Vreeland's who built the motor and states not only is his motor reliable, but Vreeland's gave it a little more magic. Steve also credits his local shop, Valley Racing of Beecher, Illinois. He says co-owner, Brian Conley, is a past champion in AMA Road Racing and champion in AMRA Drag Racing. He believes Brian is the best dyno tuner around.
Steve said that everyone in the Super Gas Class category are willing to help each other out even if they need a part to run the next race. The camaraderie is felt by everyone and they always have each other's backs. Everyone helps and supports each other to be and do their best. Steve said, "Even though I was happy with my performance, no one is going to do this on their own." He gives credit to all of those who he says has helped him become his best including Andy Horn, Dennis Waldron, Jeff Workman, Tony Curtis and Rickey "Griz" Lee – just to name a few.
Steve said this was a great race to win because there were neighbors, friends, family and his Dad in the stands cheering him on. Steve likes to hit up all races so we will see him again in Pennsylvania. Great job Steve! Congratulations on a job well done! Ride On…