June27-28 at Beech Bend Raceway Park was nothing short of exciting for the AMRA Pro Mod and Pro Gas classes. The entire weekend several of the riders were only thousands of a second apart during qualifying and eliminations.   These classes have been building momentum and really putting on a show for the fans. With photo shoots, swimsuit calendar fundraising, and class sponsorship the future of the Pro Mod and Pro Gas classes are really looking good.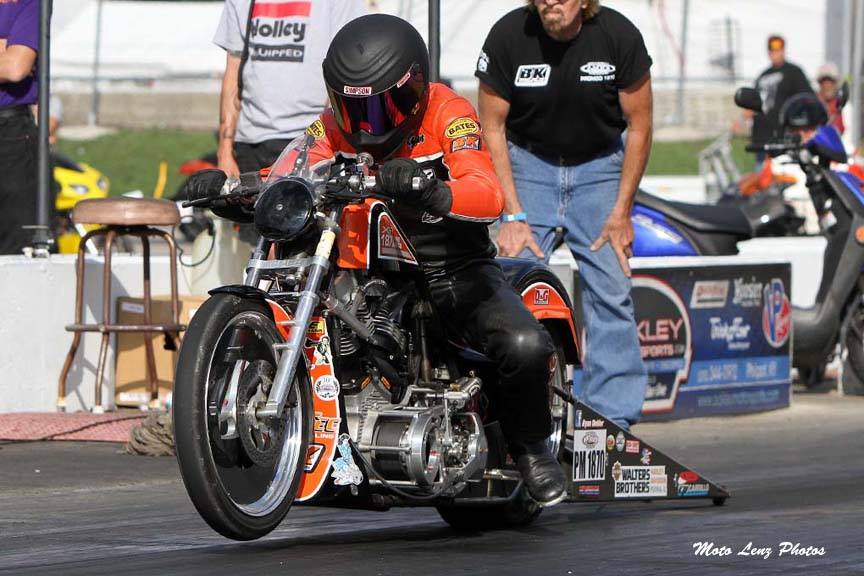 The weekend started out great with a big turnout of spectator and competitor attendance. Qualifying on Saturday started out great with several Pro Mod bikes running right on top of each other. By the end of the day, Ryan Oehler took the number one qualifier position just nudging out Jason Adams by .004 seconds. Ryan's low E.T. was 8.461 compared to Jason's 8.465.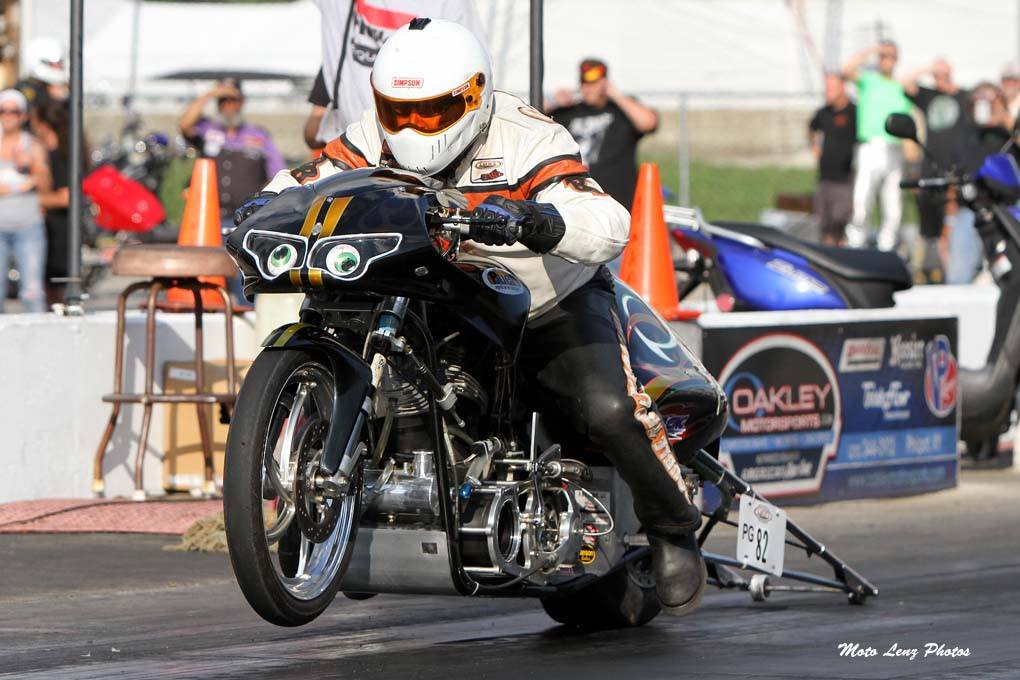 Morry Straubel was right there, qualifying number three running an ET of 8.482 at 155.49 mph, which was also the top mph for the event. Hank Stanton secured the number four spot running an ET of 8.606, with Larry Pesce right on his tail with an ET of 8.635. Larry was really pumped up for this weekend and showed up early in the week to test with Steve Allstaedt, but was unfortunately rained out and unable to complete any testing sessions.  Gary Douglass who is still shaking down his new ProMod bike took the number six spot with an ET of 8.761 and rounding out the class was Jerry Lee Cloyd running and ET of 8.889.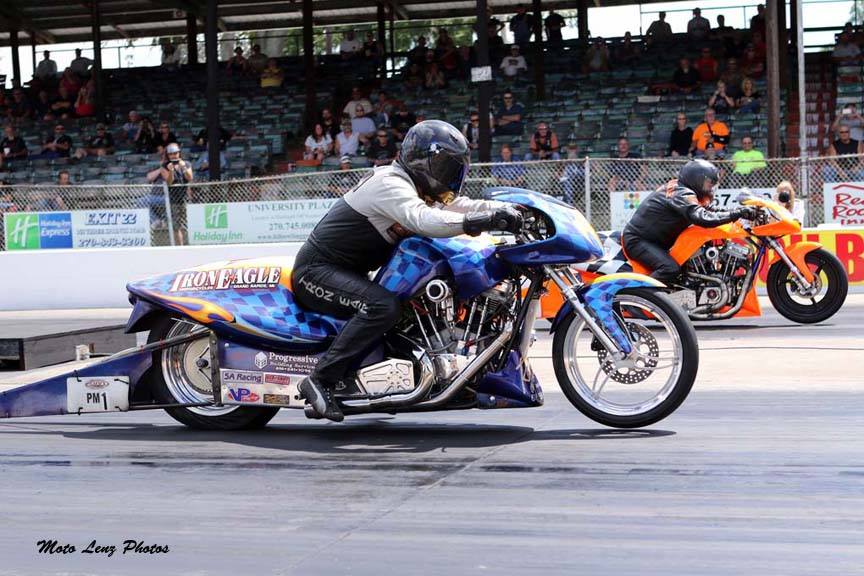 The Pro Gas class was also full of excitement throughout the weekend. Mike Pearce took the number one spot running an ET of 8.051 also with the high mph of 160.59. Billy Doherty really stepped up this past weekend taking the number two spot with and ET of 8.161 at 153.53 mph. Billy has been shaking down this new Pro Gas bike all year and can really breathe a sigh of relief as he has found the gremlins that had been plaguing for the first half of this season. Shane Pendergrast was able to take the number three spot with and ET of 8.765 at 146.97 mph. Shane has also been battling some issues with a new motor and computer system but still laid down some good passes all weekend.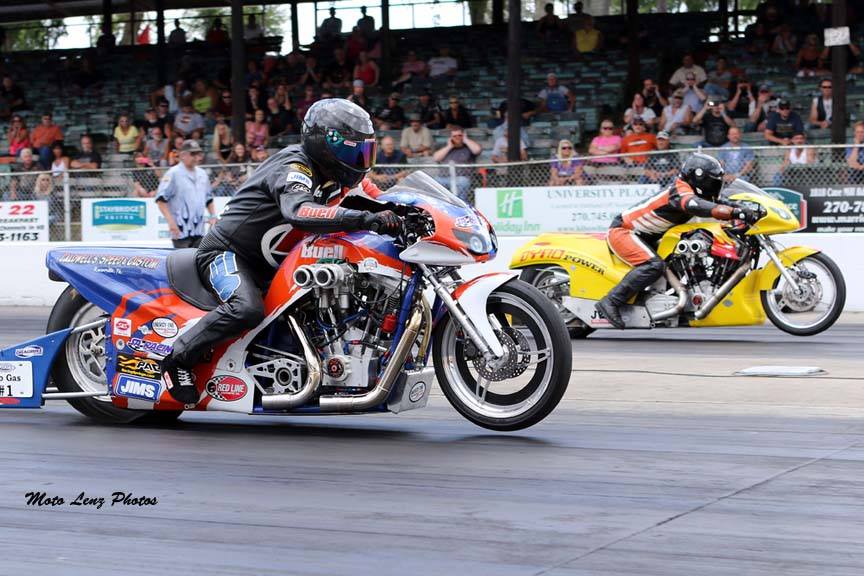 Kyle LeBlanc had been struggling with some clutch issues and took the number five qualifying position with an ET of 9.038 at 140.77 mph. Be looking out for Kyle to step it up as he is really working hard to get this beast to fly. Keith Richner had been really consistent for most of this year but had mechanical issues early in qualifying only running and ET of 9.245 at 142.54, which put him in the number five spot but was unable to compete on Sunday.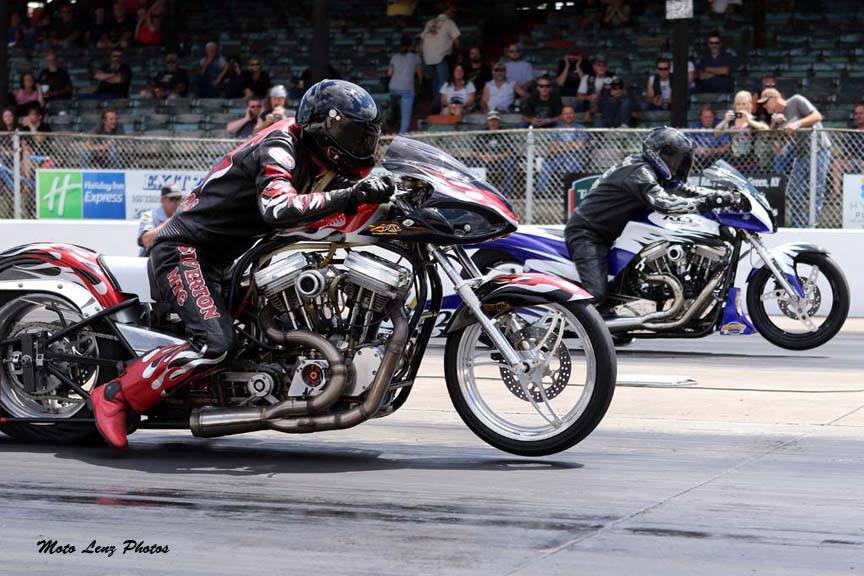 The Pro Mod eliminations were even more exciting than qualifying, the racing surface had improved since qualifying as did the air quality. Ryan Oehler and Jason Adams did not meet during the eliminations but still ran right on top of each other and were only separated by .004 seconds for the 2nd day in a row. Ryan Moved through the ladder staying extremely consistent and making it all the way to the finals where he met up with Morry Straubel for the 2nd race in a row. Ryan laid down the low ET of the day running an ET of 8.503 at 153.23 mph. Morry had traction issues as did many of the Pro Mod bikes and fell off the pace running an ET of 8.653 at 152.59 mph. This is Ryan's third win of the season and he is really carrying some serious momentum as they will head to Martin Michigan next month.
Pro Gas eliminations were also nothing short of thrilling. Mike Pearce was able to move his way to the finals where he met with Shane Pendergrast. This was Shane's first appearance in a ProGas final this season. There was a lot of tension on the starting line as neither rider would turn on the bottom bulb and had the first staging duel of the season. Mike had turned on the red bulb in the finals in Ohio and was sticking to his guns making Shane light the bottom bulb first. Finally both riders were staged and Mike Pearce took the win for the ProGas class running an ET of 8.15 at 161 MPH with the help of Hagen Byrd.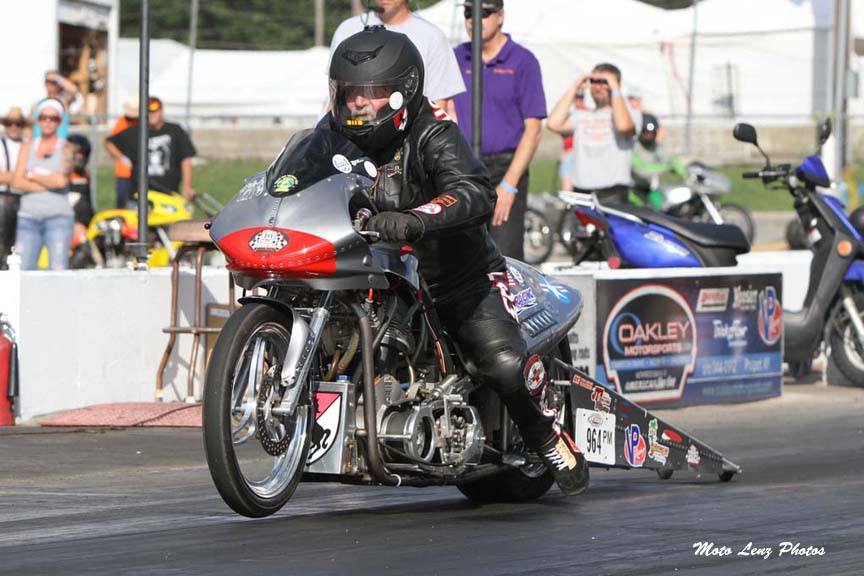 It was a great weekend for both of these classes, with great weather and great spectators we couldn't have asked for a better weekend. Thanks to Capone Racing, Ryan Oehler Racing, B&K Cylinder Heads, Caldwell's Performance Center, Motolenz photography, and the AMRA Pro Mod/Pro Gas Calendar fundraiser we were able to nearly double the purse for both of these classes. Stayed tuned for details for the upcoming race in Martin Michigan as we have big news for both of these classes.