Veteran motorcycle drag racer and owner of MPS (Motorcycle Performance Specialties), Dan Rudd, is the latest of many to prove to the KZ, Z1 and GS-loving dragbike community, there may be no match for new technology.
Rudd has been bracket racing since 1975, aboard mostly the traditional and iconic Kawasaki KZ and Suzuki GS motorcycles.  In late 2005 Rudd felt the need for a change.  Rudd wanted to build a new dragbike, which utilized the modern and ever-popular Suzuki-Hayabusa power plant.
Rudd's technical and mechanical skills from running MPS made him a perfect candidate for the innovative, custom build.  After all, Rudd has been operating MPS since 1980 and his work is so magnificent and inspiring, Vance and Hines wanted the very first air-shifter he ever made.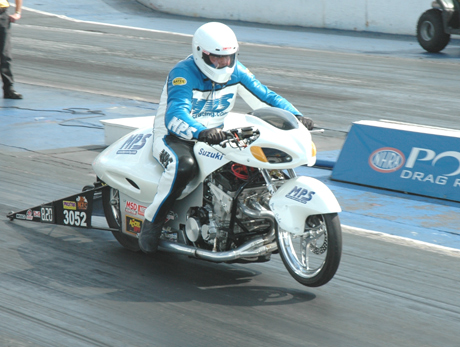 After a vigorous winter of wrenching and some early-spring testing the MPS Hayabusa was ready for battle.
"It really only took a couple months to come together," Rudd said. "We had one real frustrating month, ironing out a bunch of small stuff. The funny part is what was giving us the problems were the old components, not the new ones."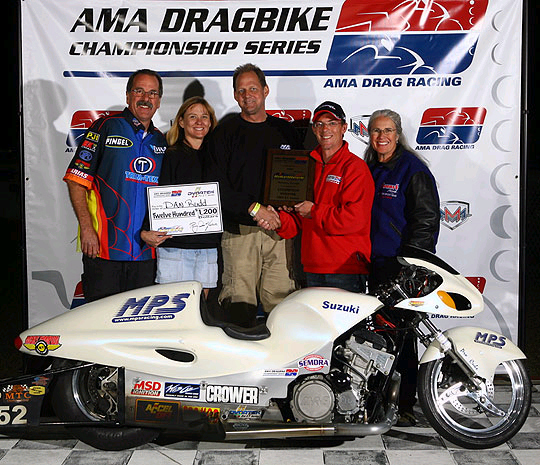 It didn't take long for Rudd to become competitive on his new ride as he scored several victories.
"As far as learning to ride it compared to the old bikes, there really isn't any difference. It's the same as far as racing goes. The biggest overall difference is the Hayabusa is easier to deal with," Rudd said. "It's a push button start and I can ride it back."
Rudd says the Hayabusa's fuel injection makes it more consistent than his carburetor bikes of yesteryear.
Rudd's success on his Hayabusa bracket bike led him to take on a Pro Mod Hayabusa project with Bill Vose and Mike Thyen.  The triumvirate was immediately a force to be reckoned with. Rudd even shipped a Holley EFI, Suzuki over to the Middle East, where Drag 965 rider Mohammed Bourashid piloted it to one of the quickest Pro Mod times ever, 4.02.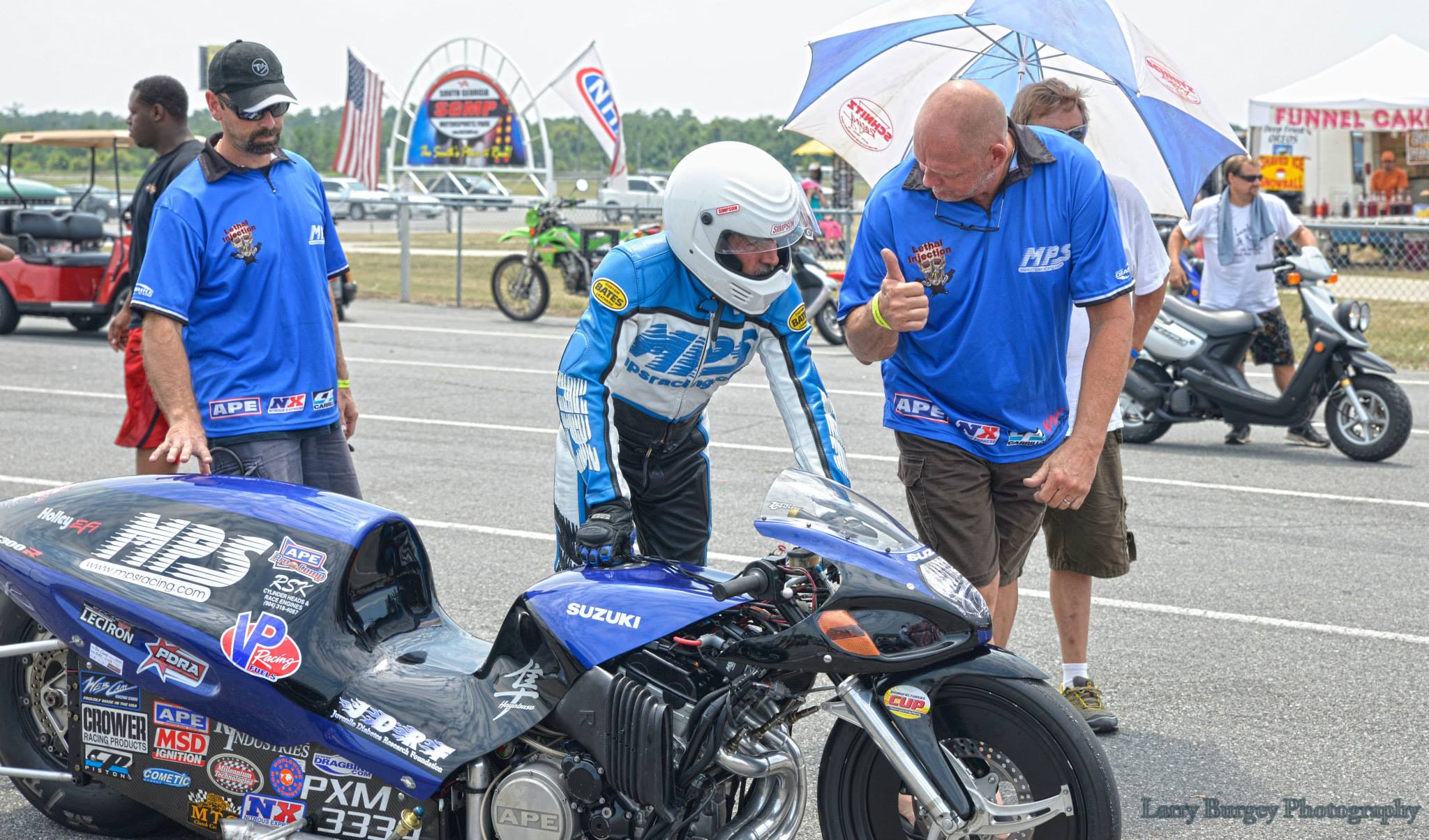 Not only are the new motors more consistent, Rudd says they are easier to work on too.
"Suzuki really had their act together when they built the Hayabusa," Rudd said. "All of the clutch cover bolts are the same size.  All the covers have the same length bolts. It's just a better motor."
Rudd also points out that the Hayabusa motor is much easier to work on than the Kawasaki ZX-14. Rudd hates how the ZX-14 cylinders are molded to the cases.
Rudd also points to the 1999-present tenure of the Busa as something that makes it motorcycle drag racing's greatest machine ever.
"That's a way longer run than the Z or GS ever had," Rudd said. "It's the king"