The 55th annual Auto Club NHRA Finals at Auto Club Raceway at Pomona had more twists and turns than a curly fry.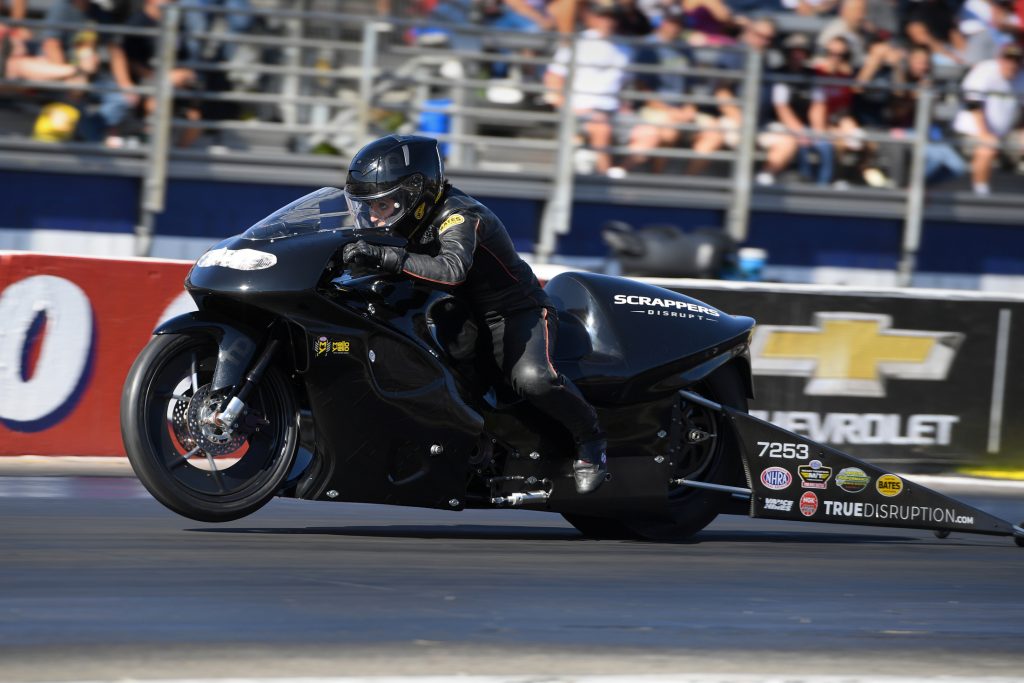 On a wild day in Pro Stock Motorcycle, Andrew Hines ended up with his sixth world championship in the class, earning the title after Jerry Savoie lost in the final round to Salinas.
Hines' day didn't go as planned at all, losing on a red light in the opening round against Salinas when he just needed one round win for the title. But he had a big enough cushion over Savoie and Matt Smith to finish with the title for a sixth time on his Vance & Hines Screamin' Eagle Harley-Davidson.
There are more videos on the Cycledrag Youtube channel (please subscribe here) and the Cycledrag.com Facebook page (Please like here) and more will be coming soon. Check back daily.
"I put my team in such a bad situation and I chalked it up that we're done," Hines said. "It was just absolute insanity. It was a total, utter disappointment on my behalf and a bitter pill to swallow. This was one of the craziest days ever and the final round was absolutely astonishing. But the reason why we're here right now is what my team did all season long. It wasn't just this race, it was what my guys did all year."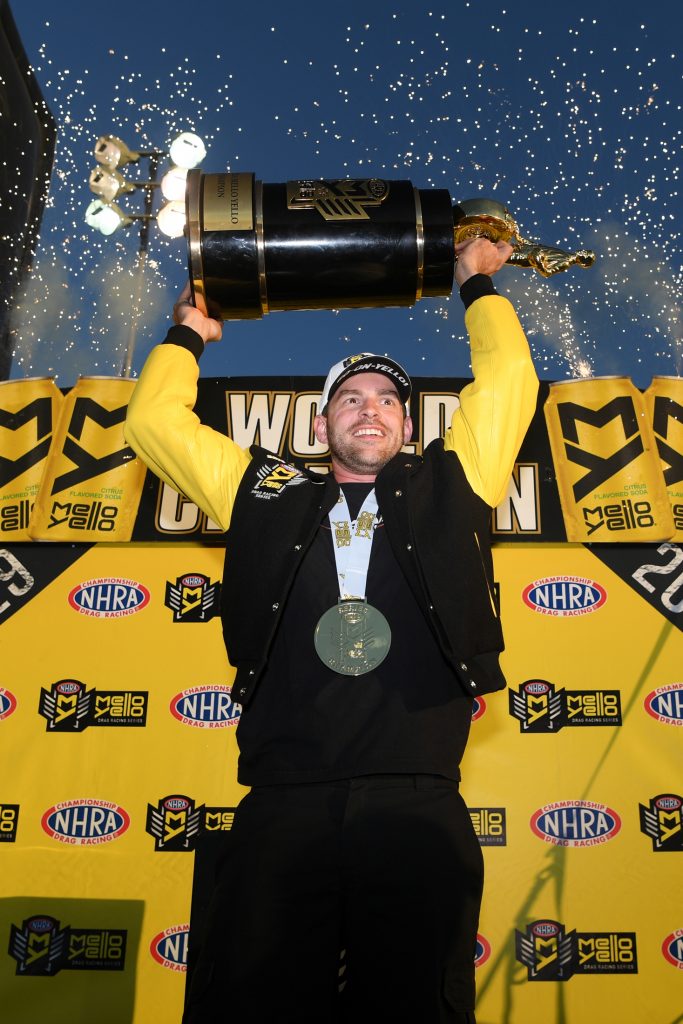 Hines was dominant throughout 2019, putting together the best season in his standout career, setting the E.T. mark in the class and winning a career-best eight races. The winningest driver in class history now has 56 career victories and he also advanced to 10 final rounds this year.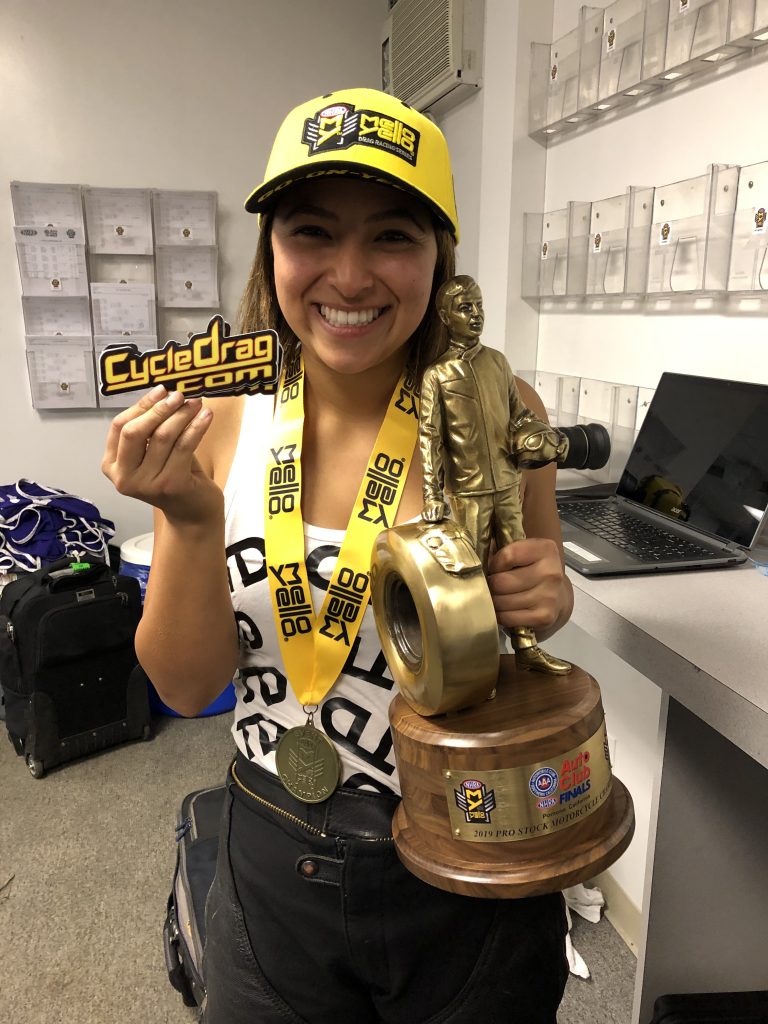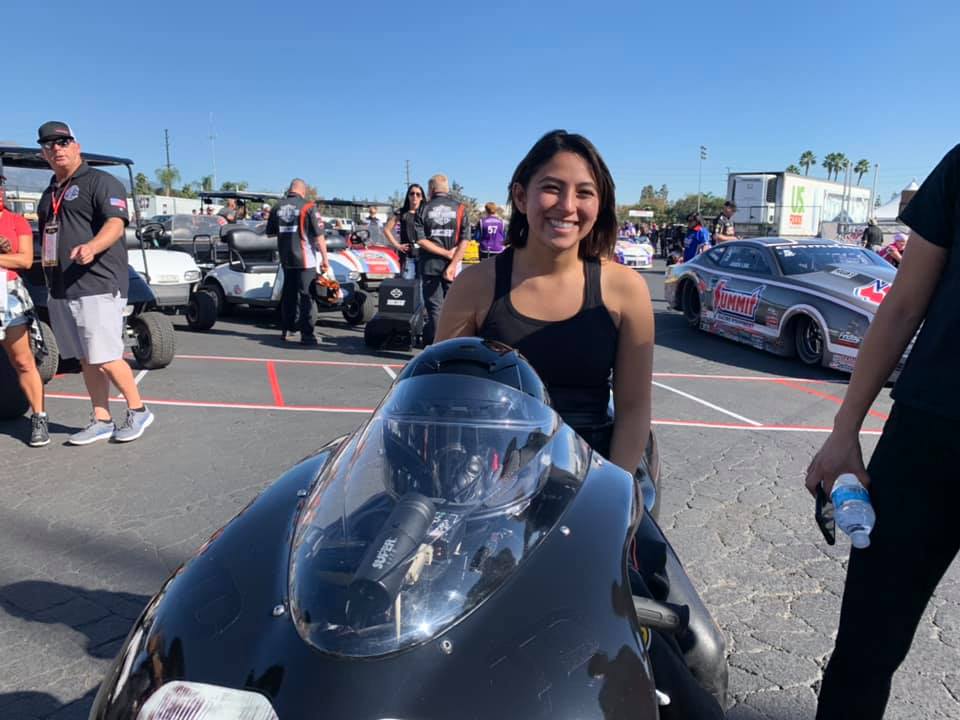 Salinas' day ended with her first career Pro Stock Motorcycle victory on her Scrappers Racing Suzuki, going 7.464 at 180.81 in the final round after Savoie broke. It capped off an unbelievable day for the rookie, which started with the win against Hines after he went red. She followed with wins against Steve Johnson, defending world champion Matt Smith, who broke after needing to win the race to clinch the title, to reach her first career final round.
"On Saturday morning, I was just fighting to qualify and I never thought I would be able to pull this off," Salinas said. "To be here right now in this moment, it's not something I would ever thought would happen this soon. On raceday, anything can happen. Sometimes consistency is all you need to win, and I'm just there to race my race. I felt very lucky and when it's your day, it's your day."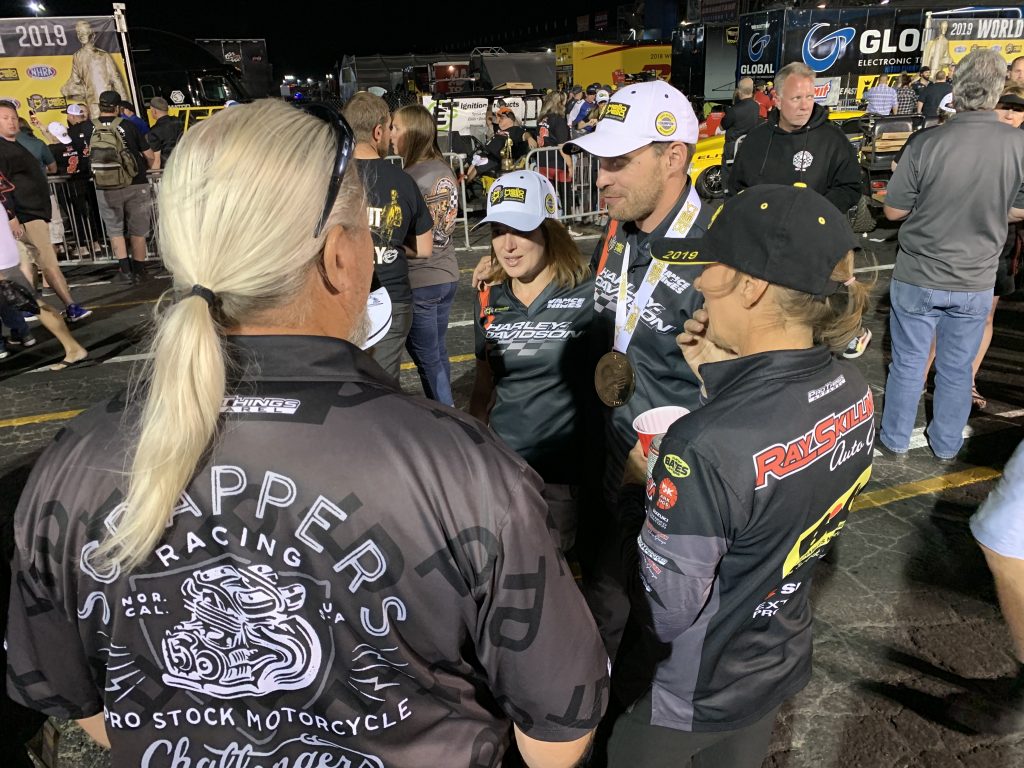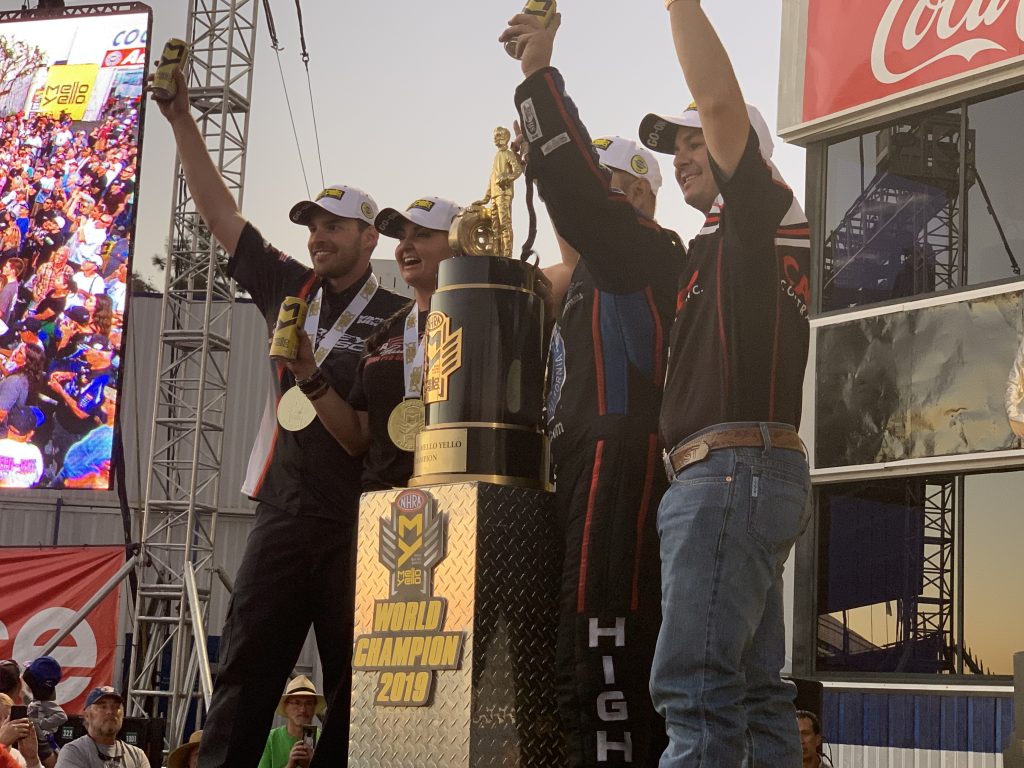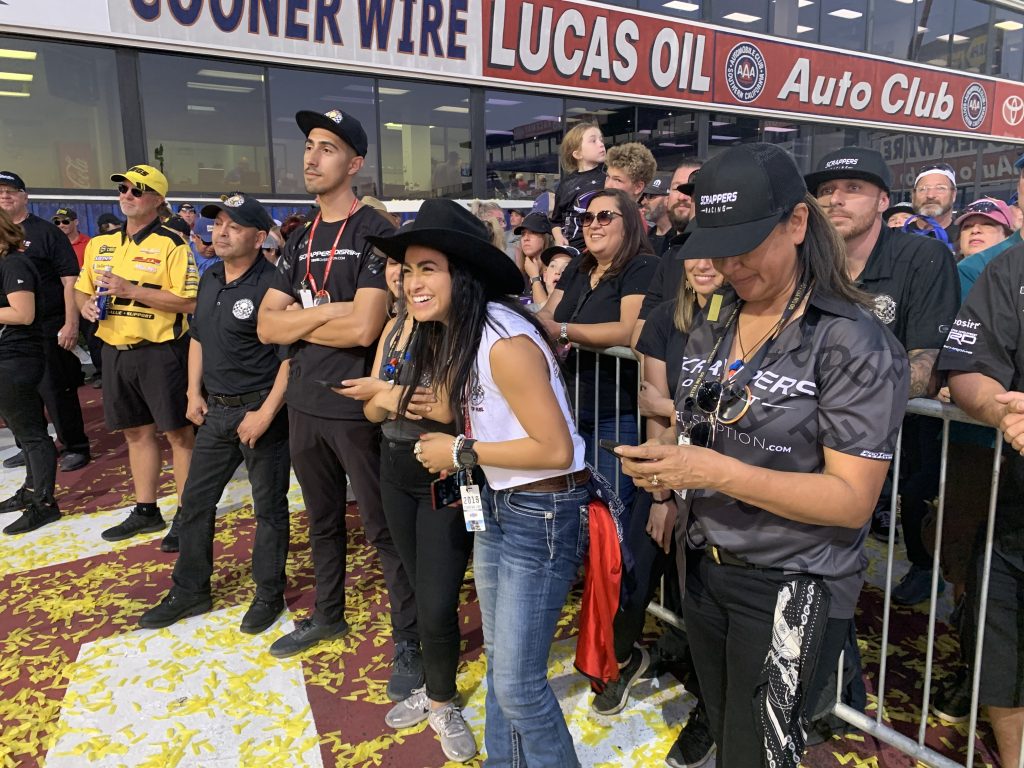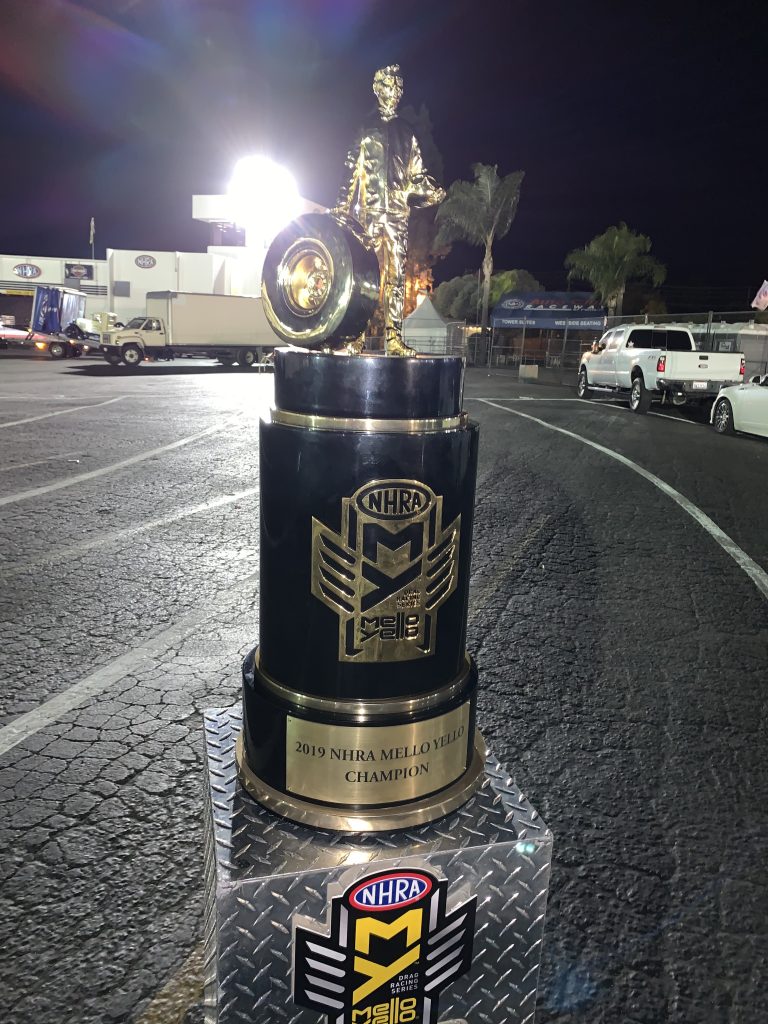 The 2020 NHRA Mello Yello Drag Racing Series season will kick off with the 60th annual Lucas Oil NHRA Winternationals presented by ProtecttheHarvest.com Feb. 6-9 at Auto Club Raceway at Pomona.
PRO STOCK MOTORCYCLE:
ROUND ONE — Ryan Oehler, 6.932, 193.49 def. Scotty Pollacheck, 6.945, 194.60; Angelle Sampey, Harley-Davidson, 6.886, 193.65 def. Eddie Krawiec, Harley-Davidson, 6.893, 195.22; Hector Arana Jr, 6.934, 193.82 def. Hector Arana, 6.974, 194.72; Karen Stoffer, Suzuki, 6.888, 195.05 def. Kelly Clontz, Suzuki, Foul – Red Light; Jianna Salinas, Suzuki, 6.987, 187.29 def. Andrew Hines, Harley-Davidson, Foul – Red Light; Steve Johnson, Suzuki, 6.903, 190.94 def. Freddie Camarena, Suzuki, 7.027, 193.57; Jerry Savoie, Suzuki, 6.912, 191.87 def. Angie Smith, 7.022, 189.66; Matt Smith, 6.885, 196.70 def. Katie Sullivan, Suzuki, 7.119, 187.44;
QUARTERFINALS — Savoie, 6.860, 194.21 def. Arana Jr, Foul – Red Light; Salinas, 7.062, 184.55 def. Johnson, 13.432, 58.11; Stoffer, 6.894, 195.51 def. Sampey, 6.907, 193.96; M. Smith, 6.893, 195.90 def. Oehler, 6.944, 194.55;
SEMIFINALS — Salinas, 7.024, 186.85 def. M. Smith, 8.969, 97.85; Savoie, 6.855, 195.79 def. Stoffer, Foul – Red Light;
FINAL — Salinas, 7.464, 180.81 def. Savoie, Broke.
Pro Stock Motorcycle Final Points
1. Andrew Hines, 2,599; 2. Jerry Savoie, 2,573; 3. Matt Smith, 2,553; 4. Karen Stoffer, 2,534; 5. Eddie Krawiec, 2,474; 6. Hector Arana Jr, 2,389; 7. Angelle Sampey, 2,381; 8. Angie Smith, 2,281; 9. Ryan Oehler, 2,271; 10. Hector Arana, 2,209.