Before many of today's drag racers were even born, Kent Stotz was laying the foundation of his legacy in motorcycle drag racing.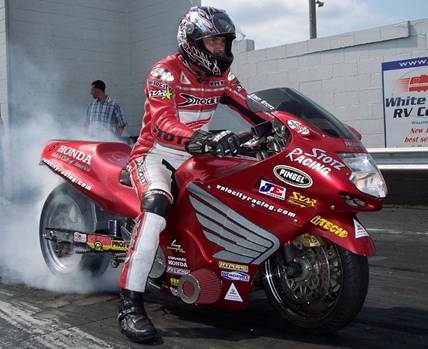 Kent stepped into motorcycle drag racing in the late 1970's with the Mr. Turbo team.
Turbocharging was very much in its infancy during the '70s – it was the dark art of the motorcycle industry. The term "turbo" captured the imagination of everyone. It was a household buzzword, one that portrayed connotations of speed and technology. "Turbo" was emblazoned on everything from clothing, electronics, toys, and everything in between.
However, when it came to drag bikes, turbocharged engines were lethargic off the starting line. But Kent was determined to find a way to harness the benefits of a turbo on the drag strip. Kent continued to discover tricks to wake up these turbocharged motorcycles, he was determined to make them competitive in the quarter-mile. Eventually, he cracked the code that put his name on the map.
In 1979 Kent ran the first nine-second pass on a street bike, and he still has the time ticket to prove it. From that point forward, it was turbocharged drag bikes or nothing for Kent.
Jump forward to the early '90s and Kent had perfected his formula. And, was it on a Honda? Not quite, in 1995 Stotz earned his first championship aboard a 1989 Suzuki GSX-R1100 – the first electronically-fuel injected turbocharged motorcycle to win the Pro Street title at AMA Prostar. And from there the records, the wins, and the championships just rolled in.
The homegrown racer and his outrageously powerful motorcycles came to the attentionof American Honda in 1999. With sponsor support from the Honda Rider's Club of America, Stotz put his magic to work on Honda's CBR1100XX and soon the Blackbird was cranking out serious horsepower—and championships.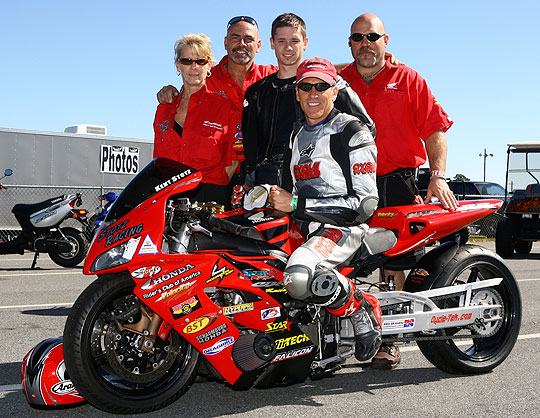 Stotz dominated Street Bike Shootout competition and took home the title in 2001 and 2002, despite rules changes designed to minimize the advantage of his technical expertise. By the beginning of 2004, alcohol and intercoolers were not permitted, and turbo inlet diameter was restricted to 64mm. Stotz was undaunted; his mighty CRB cranked out 505 bhp on racing gasoline alone.
In 2004 at the AMA Prostar finals in Gainesville, Stotz clocked the fastest quarter-mile ever at 200.49 mph at 7.25 ET.
We could go on all day about the legacy Kent Stotz has built, but instead, we will let you refer to his long list of accolades listed below that lead up to Kent retiring his spot in the racing seat and handing over the reins to his son Frankie. What has happened from that point forward is a continuation of the Stotz Racing competitive edge.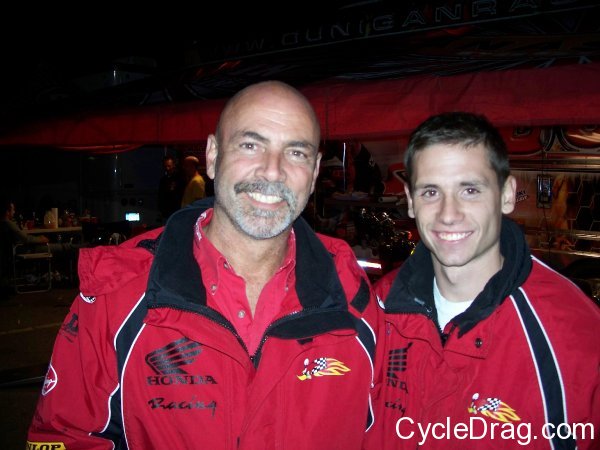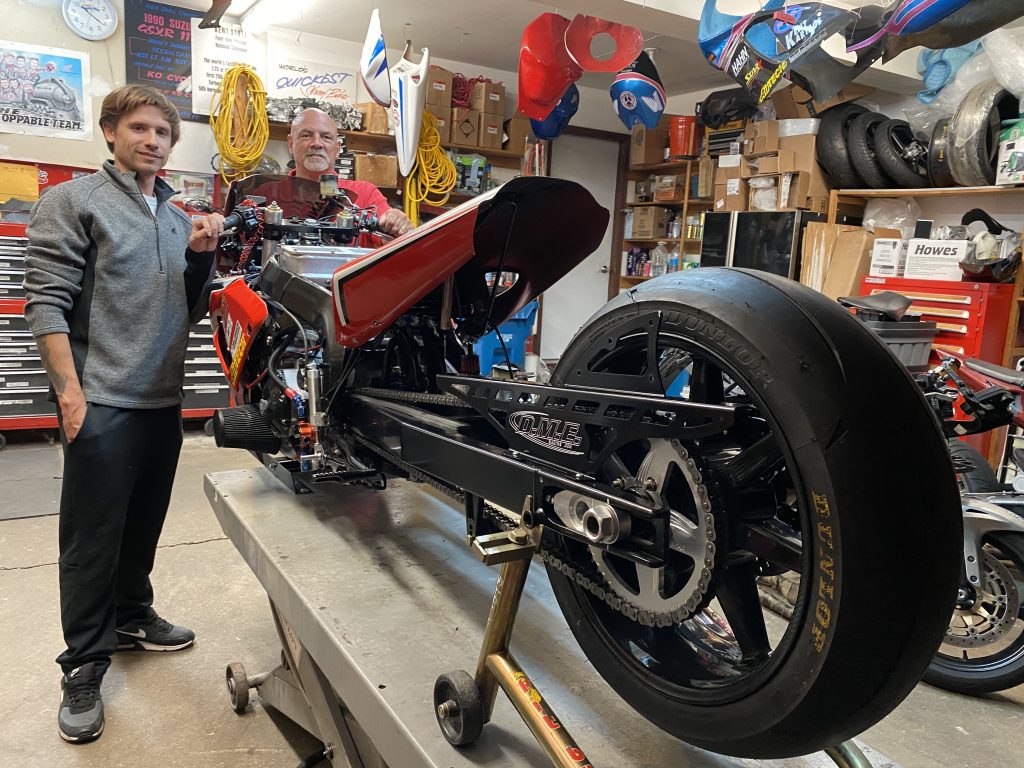 When Covid hit in 2020 the pandemic put a pause to the Stotz Racing team as they decided to take a year off to focus on bike improvements as many of the U.S. racing series were canceling their events due to the strict covid mandates. At the same time, Stotz's trucking company was becoming busier than ever. Then Kent's son and team rider, Frankie got a call from DME Racing to ride the World's Quickest Pro Street bike. And with this storm of events, Kent decided it was time to hang up his helmet and start the next chapter of his life.
"I've had an absolutely amazing racing career and I don't know where to start to thank all of the people that have helped me over my 40-year career," said Kent. "It's bittersweet to make this decision."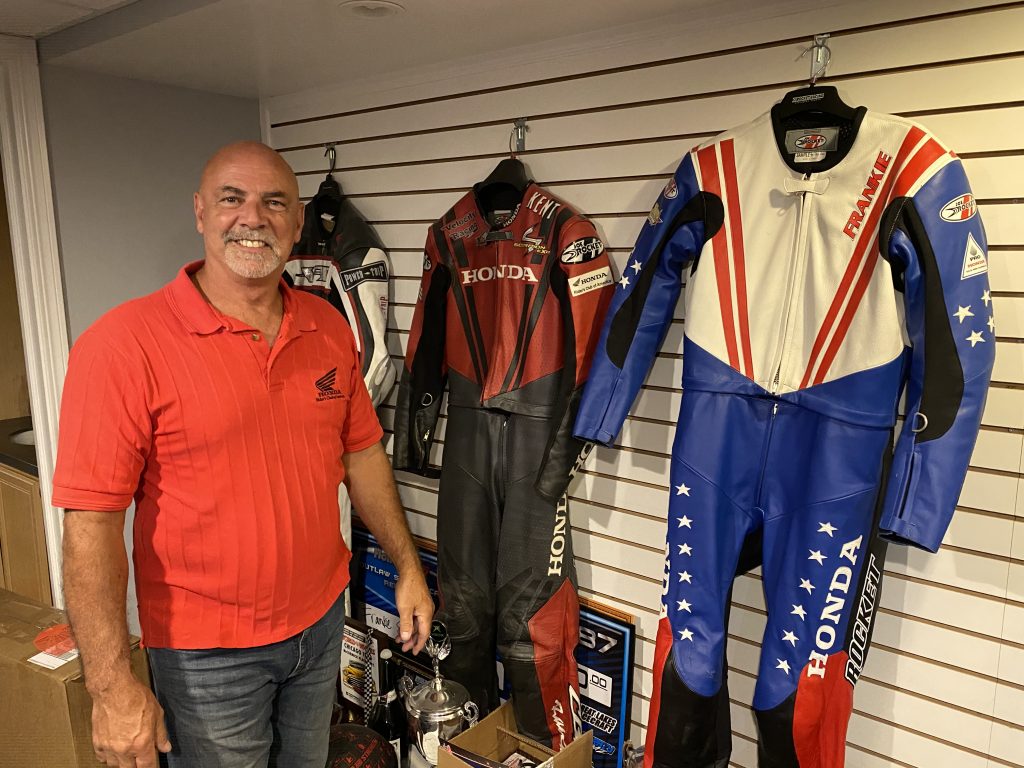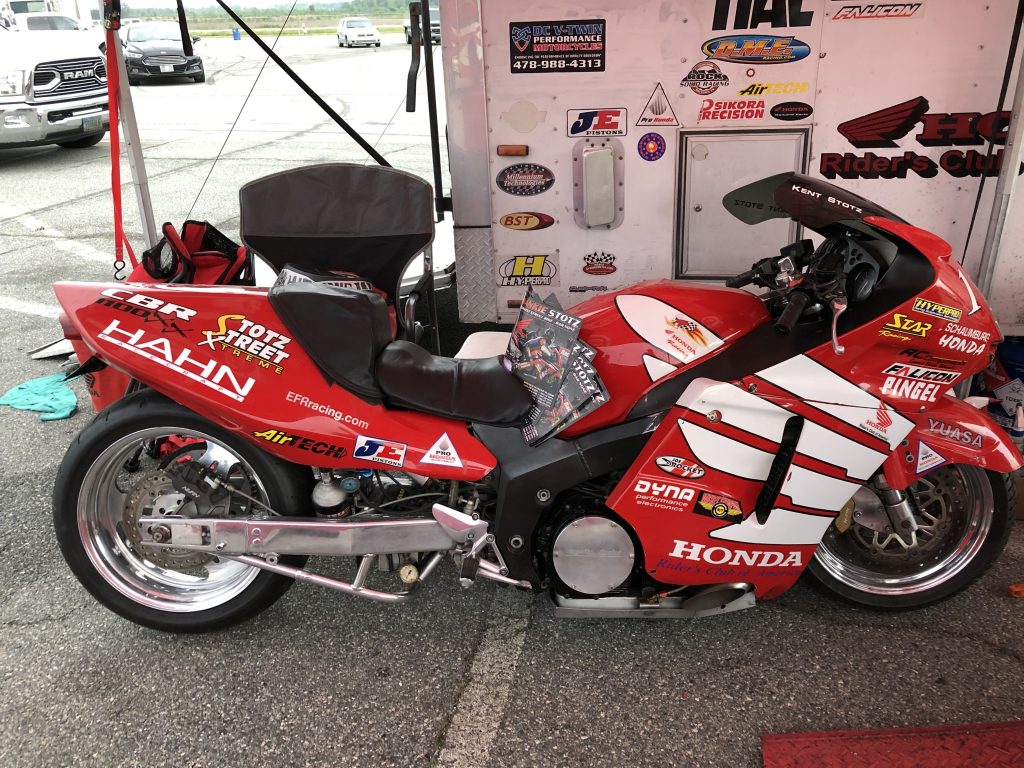 "Frankie now rides for the DME Racing team, another one of my great many partners through the years. I can't wait to watch him ride for them this year. And since Frankie is now on a new racing path, we would love to see a new rider take the reigns of our championship-winning Honda and start their own legacy."
FOR SALE
"I am asking $49,000 for the 6.46 Pro Street bike and $19,000 for all of the spares, or $65,000 for everything. I will go the track with them at time of sale and give tech support at no charge for the first season. I would like to be a part of this bike's continued success even after I no longer am the owner."
Contact Kent at 847-980-8200 or stotzkent@gmail.com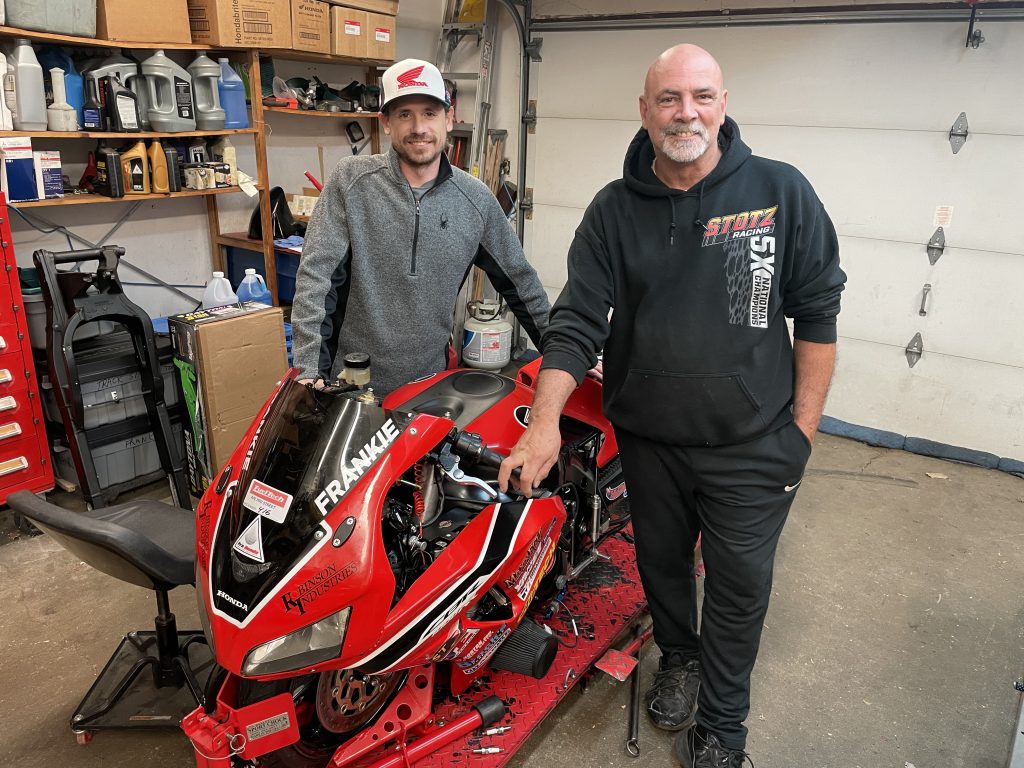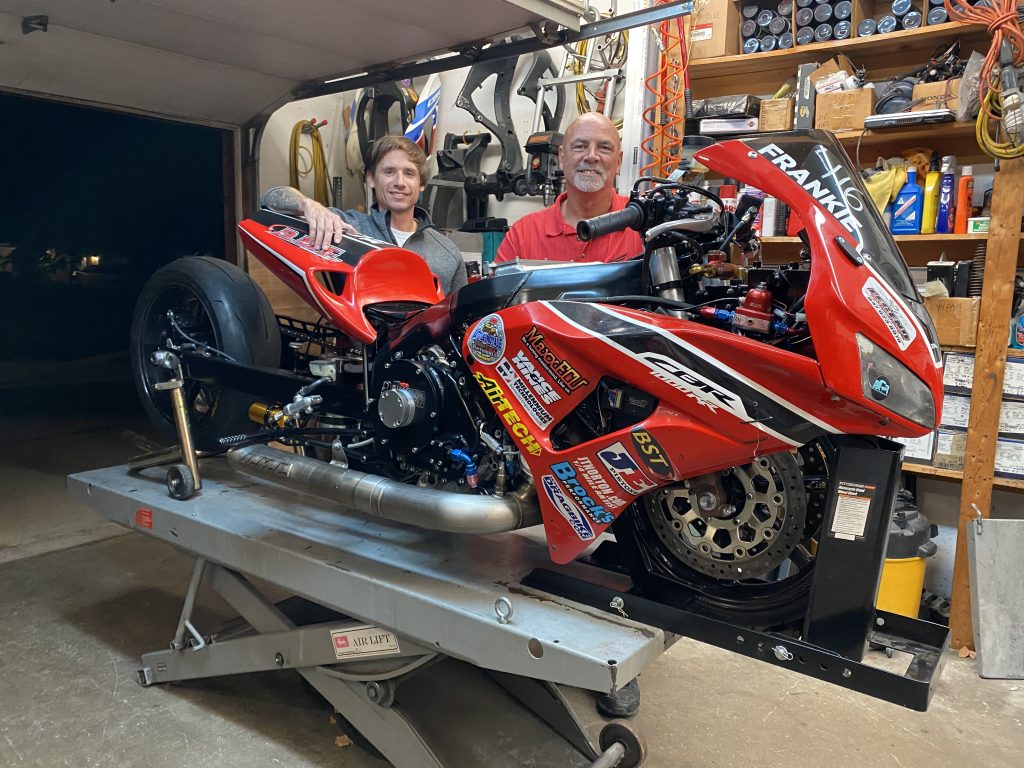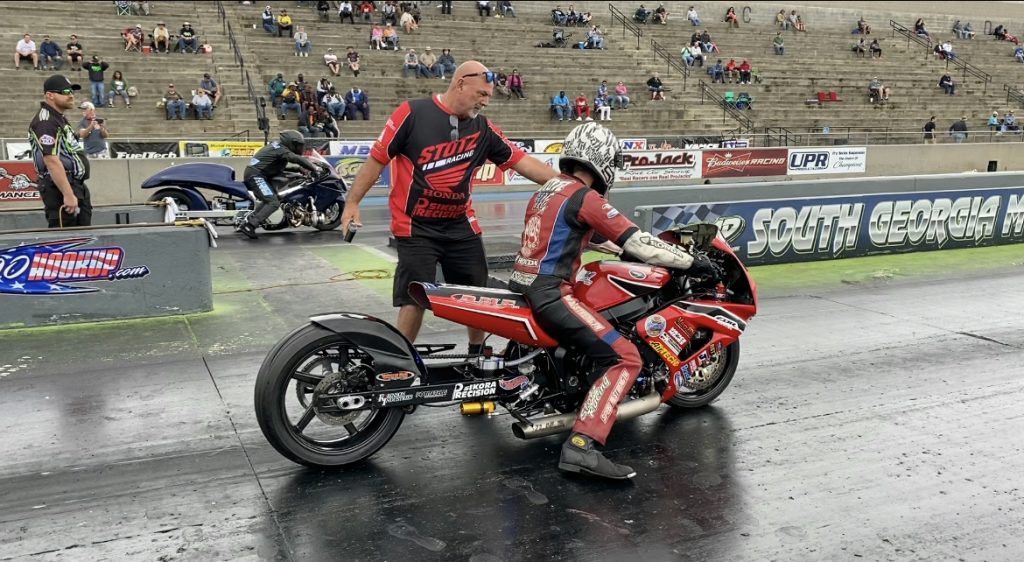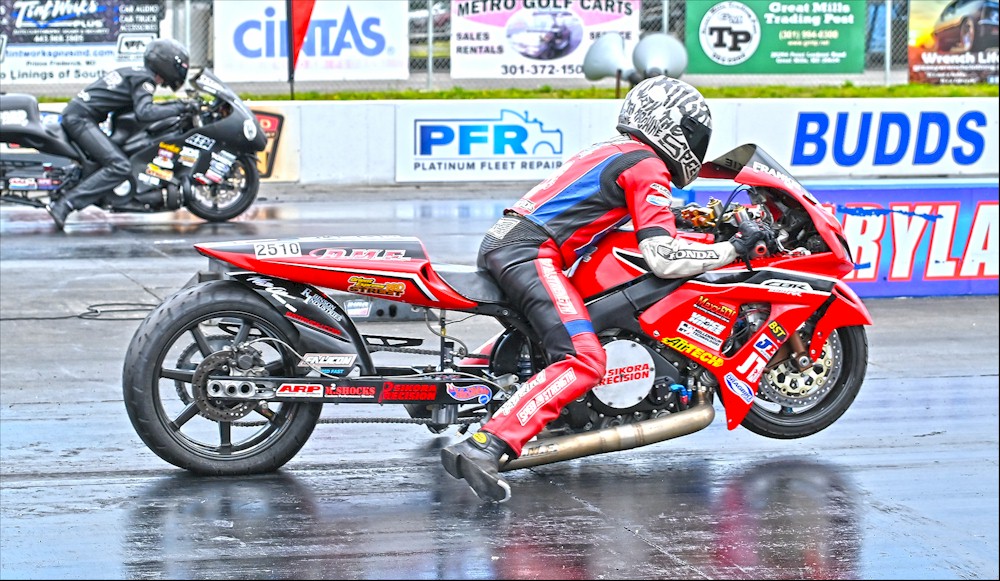 2010-2018
* Frankie won the 2018 NHDRO Pro Street Championship with Kent building and Crew Chief.
* Frankie rode the Turbo CBR1000rr to numerous regional "King of The Streets" Championships and four #2 plates in the National Championships while becoming the First Turbo Pro Street bike in the 6-second zone and winning the TV series "Street Outlaws" race.
2009
* Cover of CYCLE WORLD Magazine features 9 pages about World Finals win.
* CYCLE WORLD Magazine displays Stotz's Pro RR at Chicago's International Motorcycle Show and Indy Dealer Expo Show.
* Cycle World TV did TV and radio segments on Kent
* Four-page article with foldout in May issue of StreetFightersMagazine (Euro) of our big bore killer.
* Stotz again on cover of Cycle World's annual-SPORT BIKE issue with a six-page article and two fold-out pictures.
* Kent got back in the Saddle for the first time in almost two years.
* Perfect 5 for 5 wins at TSDRA series.
* Stotz Racing quickest at the filming of Pinks-All Out.
2008
* Stotz-Honda Wins the AMA/Dragbike Pro Street Finals.
* CYCLE WORLD's Nick Ienatsch 7.28 ET got him the win over #1 qualifier and 3-time champion Mike Slowe.
* Stotz Racing World's First 200 MPH 1000cc Pro Street Bike.
* Frank Stotz got his First AMA/Dragbike #1 Qualifier Award 25 @ 199mph.
* Stotz Racing wins the best Appearing Crew Award.
* 37@197 at the Hardcore Drag Race Series.
* Super Street cbr1000rr goes 7.96 at very first race.
2007
* Two Wheel Tuner Mag showcases our Pro Street bike and its Mag coverage at the International Motorcycle Show.
* CBR1000RR sets AMA/Prostar ET Record (7.31@195mph), Stotz Leads the Points.
* Kent rides Turbo VTX for the Motorcycle CRUISER Mag article.
* Father (cbrXX) and Son (CBR-RR) debut at World Finals.
* Honda discontinuing the import of Blackbirds to the USA, asked us to build a CBR1000rr to race against the 1300 Busa. Kent's last year of riding.
2006
* Stotz Racing to campaign Honda CBR1000RR in 2006; signs Scorpion as helmet sponsor; launches new website.
* Stotz Racing to race in NHRA Sport Compact Racing Series.
* After five consecutive 200mph passes Kent Stotz earned a new nickname around the paddock: Mr. 200 MPH.
* Stotz Racing's CBR's on display at the Cycle World IMS Show in Chicago.
2005
* Debut newest CBR1100XX with Nick Ienatsch of CYCLE WORLD Mag riding to semi-final finish in the new Pro Street Tire Bike class.
* Recorded the year's quickest ET and fastest top speed 7.26 seconds at 198 mph setting the 1/8-mile speed record at 159.
* Won the AMA/Prostar and NOPI World Finals.
* Guest appearance on Speed TV's 2-Wheel Tuesday with host Greg White.
2004
* Finished third overall in AMA Prostar Street Bike Shootout competition
* First AMA Prostar Street Bike Shootout rider to set the 200-mph record (200.49 mph in 7.256 seconds)
* Set new national records seven times in 2004
* Quickest and/or fastest rider in five of eight races
* Qualified first in two of eight races
* Won AMA Prostar Import V-twin Horsepower Challenge with 207 HP on turbocharged Honda VTX (139 mph in 10.07 seconds)
2003
* Stotz Racing team finished second and third overall in AMA Prostar Street Bike Shootout competition
* Set new national ET and speed record (7.52 seconds at 192.53 mph)
* Qualified first at two of eight races
* Parted with Hahn RaceCraft and teamed with Barry Henson's Velocity Racing and built a 2nd Blackbird. Took the #2 plate.
2002
* Won second consecutive AMA Prostar Street Bike Shootout national title and fourth overall Championship
* Won four of eight races
* Set new national record of 7.64 seconds at 192.33 mph
2001
* Won AMA Prostar Street Bike Shootout national title and third overall Championship
* Qualified first in last five races
* Set national record for ET and speed (7.75 seconds at 189.31 mph)
* AMA/Prostar Rider of the Year award
2000
* Debuted CBR1100XX in last four races set a top speed record of 185.15 mph at the World Finals
* Earned AMA Prostar's Best Engineered award for the Street Bike Shootout class
* Kent and Bill Hahn finished building the Honda XX Turbo Blackbird and won the best-engineered award and set the high mph for the year.
1999
Took year off to develop ProStreet CBR1100XX for Honda
1998
* Won second AMA Prostar Street Bike Shootout National Championship
* Won second CYCLE WORLD Mag Xtreme Street shootout
1997
* Won first place at the ISCA Show competition
* Won first CYCLE WORLD Mag Xtreme Street Shootout
1996
* Built a '95 water cooled GSXR and won Cycle World's UFO shoot out three years in a row. Cycle World invited six teams to build the World's baddest street bike. Their editors rode our bikes. The first day evaluated it on the street. The first night was the dragstrip which we dominated. The second day was the road race course where we placed middle of the pack. the third day was the fastest top speed, where we once again dominated. We won the ProStar Drag Race Championship again in '98.
* Won SPORT RIDER Mag U F O (Unlimited Flying Objects) Shootout
* Organized first-ever bike race with the NMCA (National Muscle Car Association) and set record of 8.11 seconds at 182.89 mph
1995
* Won the very first AMA Prostar Street Bike Shootout National Championship in 1995
* 1995 ProStar held the first official ProStreet race (then called Unlimited Streetbike). Forty-Four bikes entered to see who is the "baddest in the land." I qualified #1 @ 8.45, Tommy Miceli on "Godzuki" qualified #2 @8.65. The rest of the field was 8.80's and back. First-round I went 8.32 @172 to set the First official Pro Street record and went on to win the race against Chris 'CJ' Johnson on a Nitrous GSXR.
1993-95
* Built first Electronic Fuel Injected street bike with Bill Hahn Jr. of Hahn RaceCraft. 1989 Turbo GSXR (which my son Frankie bought back for me nearly 30 years later)
1991-1992
Kent bought TJ Hofmiester's 1983 Turbo GS1100 street bike and went 8.73.
1986-1990
Married his wife Sharon, and had two children, Frankie and Jacqui.
1983-1986
Crew Chief on the Mr. Turbo Funnybike Team started and owned by the Ted Hofmiester Family and ridden by TJ Hofmiester. First 6 second funnybike, first 200 mph funnybike
1980
Kent went 9.96@143 on a '74 Turbo Kaw, driving it 1.5 hours to track and back. (First 9-second street bike we knew of).
1978
Kent started street racing a 1976 Kawasaki 900 LTD.

Kent Stotz Statistics
* Born: April 7, 1958, Chicago, Illinois
* Residence: Schaumburg, Illinois
* Began riding: 1970, age 12
* First race: 1977, age 19, motocross
* Training: motocross, ATVs, waterskiing
* Hobbies: Outdoor sports with family
* Height/weight: 5'9″, 175 pounds
* Marital status: Married to Sharon
* Two children: Frankie and Jacqui
* Machines: Honda CBR1000RR, CBR1100XX, VTX1800
* Crew Chief: Mark Harrell
There are more videos on the Cycledrag Youtube channel (please subscribe here) and the Cycledrag.com Facebook page (Please like here) and more will be coming soon. Check back daily.
To take advantage of some amazing discounts at Brock's Performance, click – http://brocksperformance.com?aff=12
USE cycledrag5 coupon code.