There seems to be a perpetual, inherent tension amongst Pro Stock Motorcycle racers. It's natural considering the ultra-expensive, high-stakes competitive class showcases three very dissimilar, distinct motorcycles. Suzuki GS, Harley Street Rod and EBR Buell racers all strive for parity and competitive advantages to win as many Wallys as possible.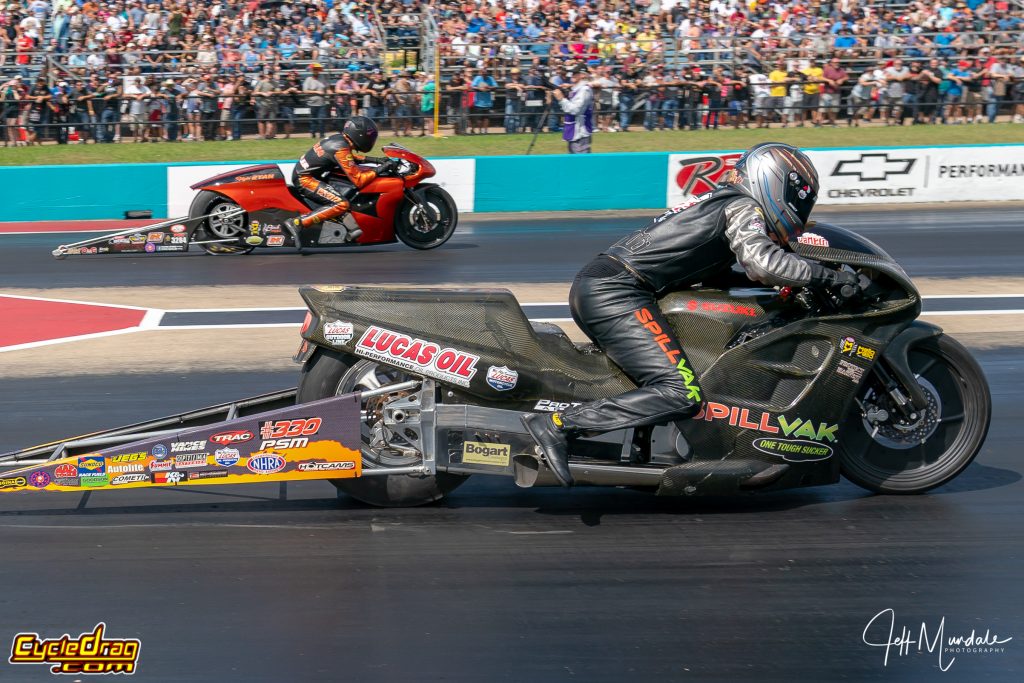 Vance & Hines' nine-title dominance on exclusive Harleys, compounded by being the Suzuki engine supplier has been the perfect formula to breed animosity and controversy.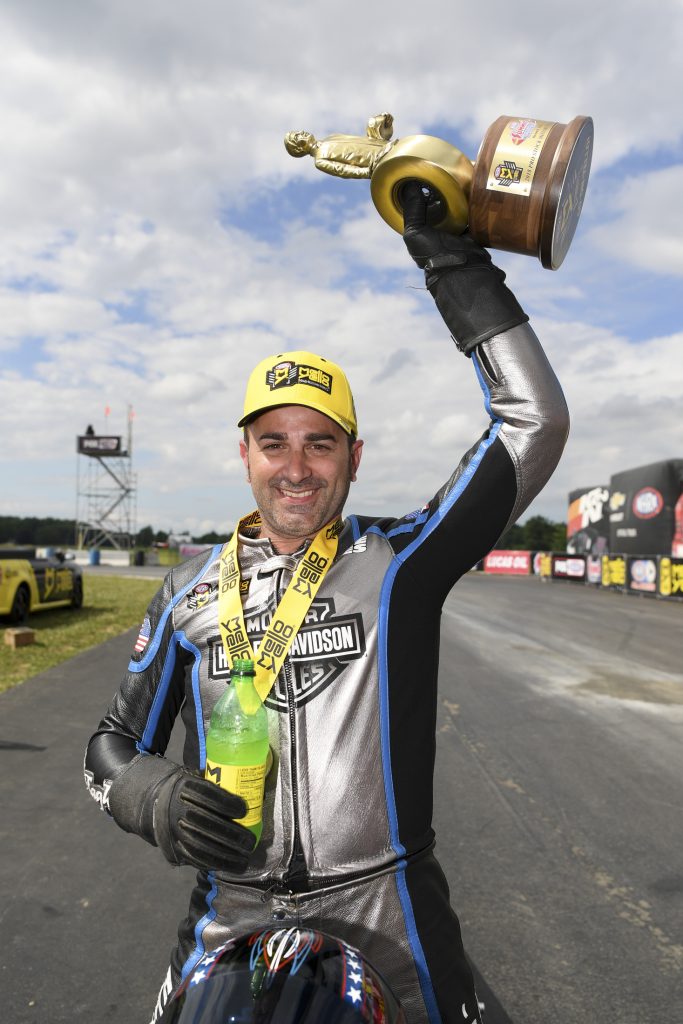 The NHRA's latest decision to add 15-pounds to the v-twins ignited fierce debate. Suzuki racer and 2016 class champion Jerry Savoie has been dismayed, disgruntled and jaded, arguing his engine trails the v-twins by 20-30 horsepower. Savoie thinks 15 pounds was not enough to make a difference.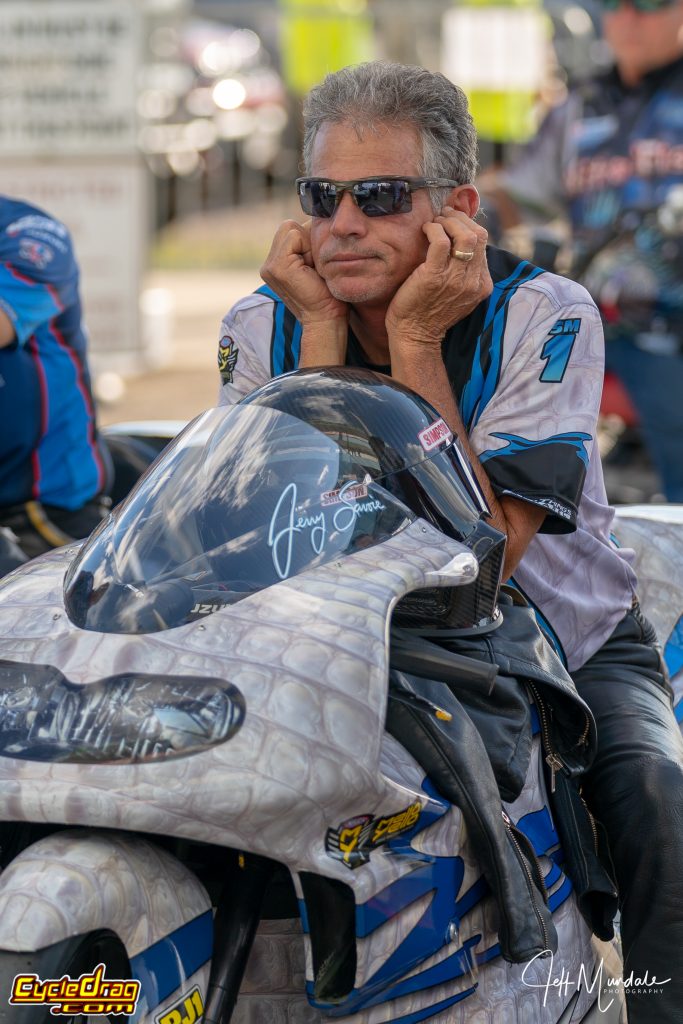 Defending class champion Matt Smith, who following development help by former sponsor Victory, maintains his own motor program, passionately feels his team is being penalized for working hard over the off-season. Smith was critical of the Suzuki teams, saying the onus is on them to not rely on Vance & Hines, to develop their own motor programs, upgrade their chassis and components and work harder to advance their programs.
Smith says that formula is what has garnered him so much success.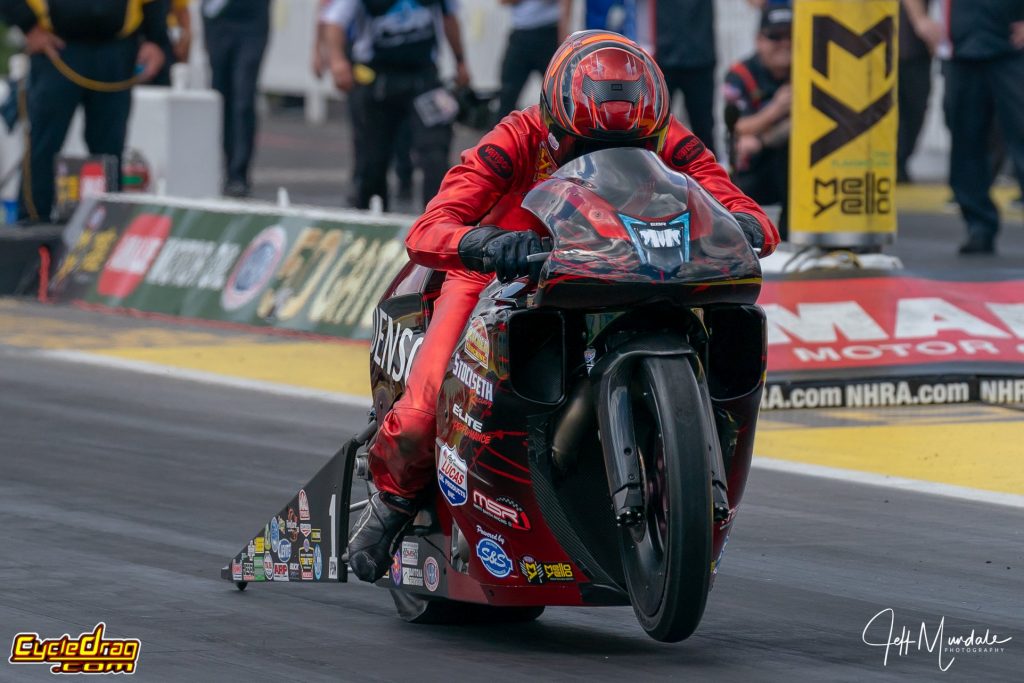 Silent to the media for the past several seasons, the longest tenured Pro Stock Motorcycle racer and Suzuki loyalist Steve Johnson fired back at Smith in a rare Facebook live broadcast. Johnson accused Smith of hurting the class, being a hypocrite and in a, perhaps misplaced, twist even brought the MeToo movement into the discussion.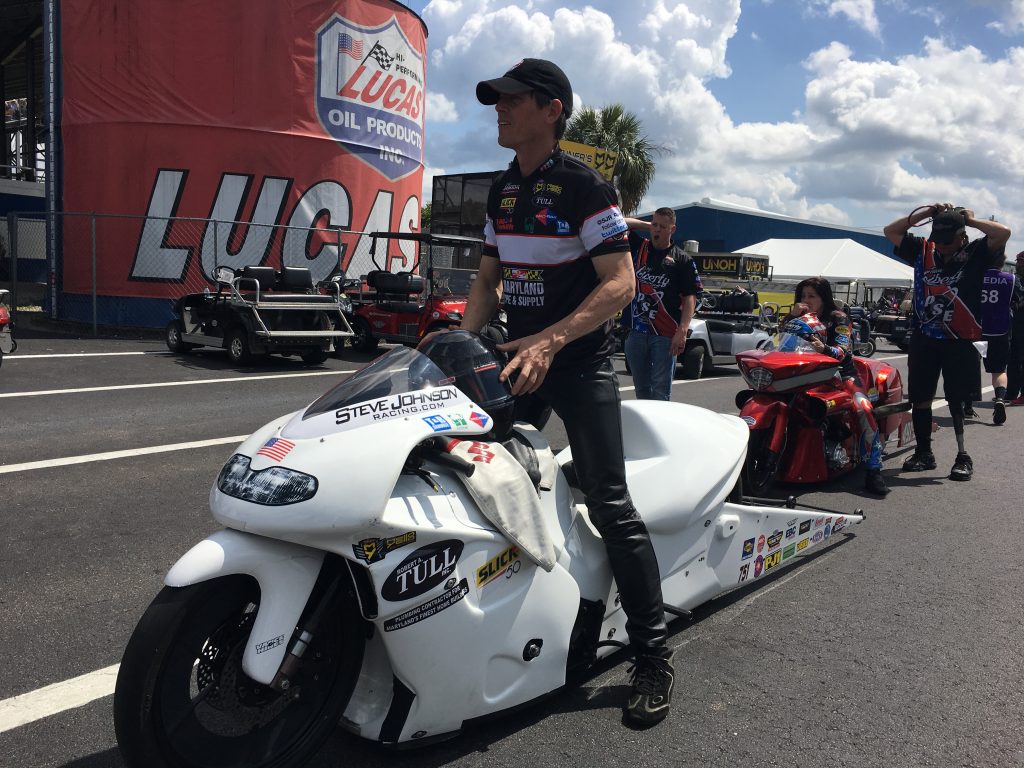 "Don't steal from our brand Matt Smith," Johnson said into camera. "You are a champion, act like one."
Johnson took exception to Smith calling Suzuki racers hobbyists for not doing more to progress.
"That's wrong and it's a ding on our brand," Johnson said. "You have your own engine program, what does that mean? You put the engine together, you order the parts? Do you design the camshaft? I doubt it. Do you know the radial length and distance in the rings? I'm sure you can put them together but what makes an engine program?"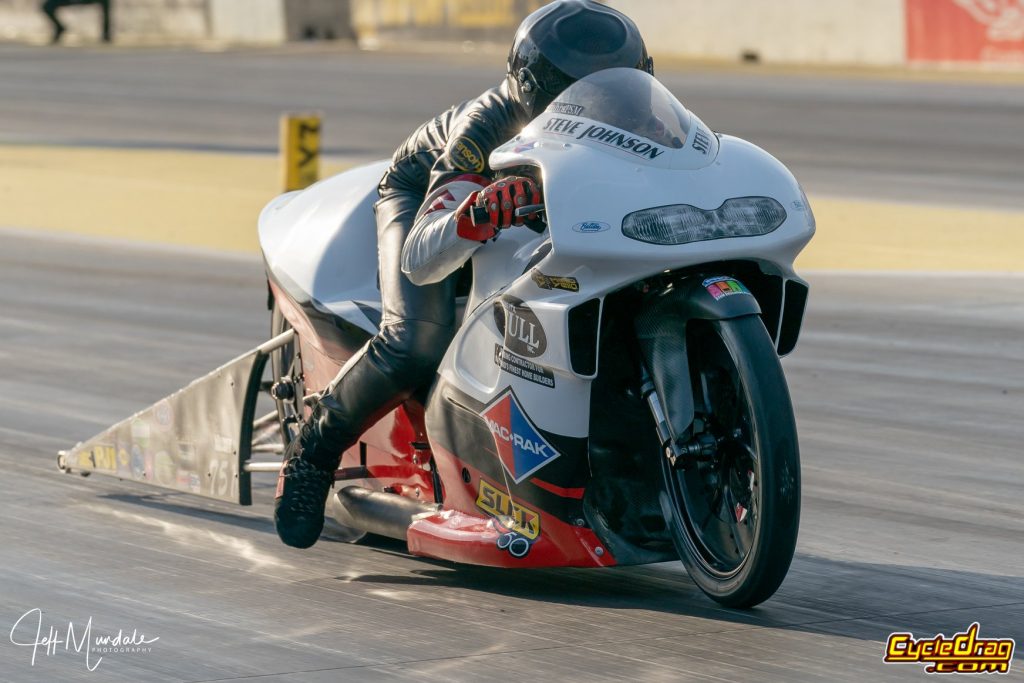 Johnson then brought up the example of NASCAR driver Brad Keselowski and Roger Penske Racing receiving engines from Roush Yates, as opposed to developing their own.
"So I guess according to Matt (Keselowski) is a hobbyist. I guess Warren Buffet is not a businessman because he has someone do his accounting," questioned Johnson. "Your dad ("Tricky" Rickie Smith) raced Pro Stock. Did he build his own motors? No. And did you call him a hobbyist? You are stealing from us; you are stealing from the sanctioning body. You are stealing from everyone who is trying to create a brand."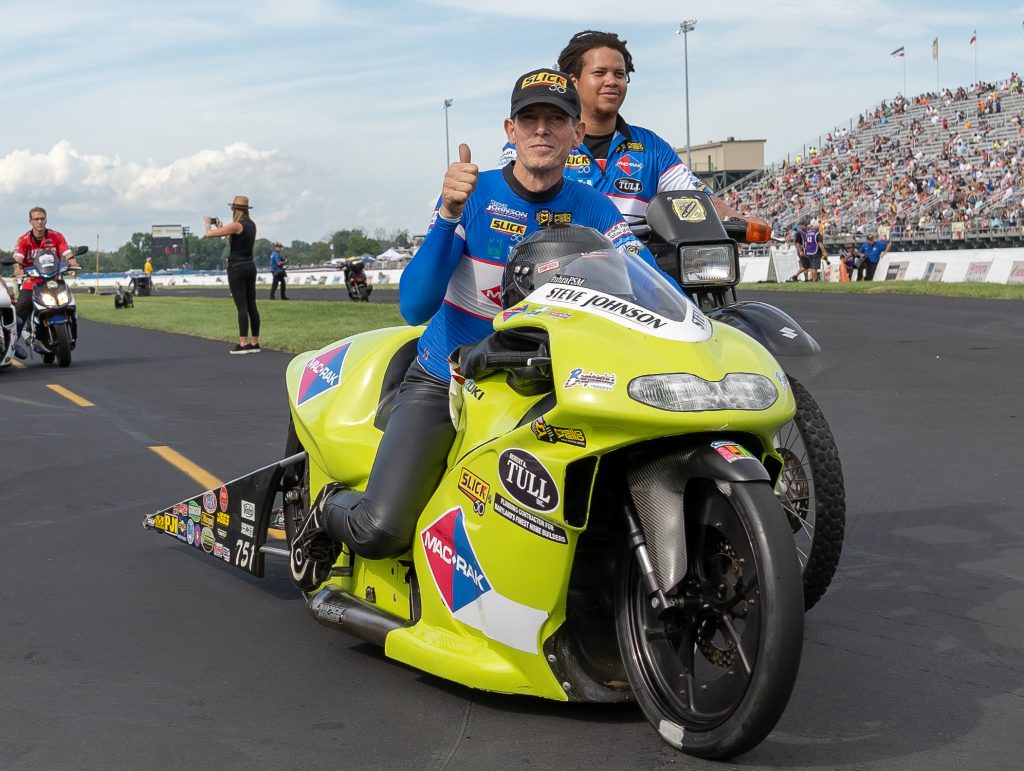 Johnson then pointed out the elevated number of Suzuki female racers and accused Smith of insulting the ladies.
"We have more girls in our class, percentage wise, then I think any motorsport. We are the MeToo movement," Johnson said. "It's not fair to them. They are digging. You are stealing from their brand. Are you saying Kelly (Clontz) wakes up every day and lays on the beach because she doesn't have a motor program? She works so she can go buy the best engine she can. What right do you have to say or label what they are doing and call them hobbyists? If you were more thoughtful in your words, you wouldn't steal from those people."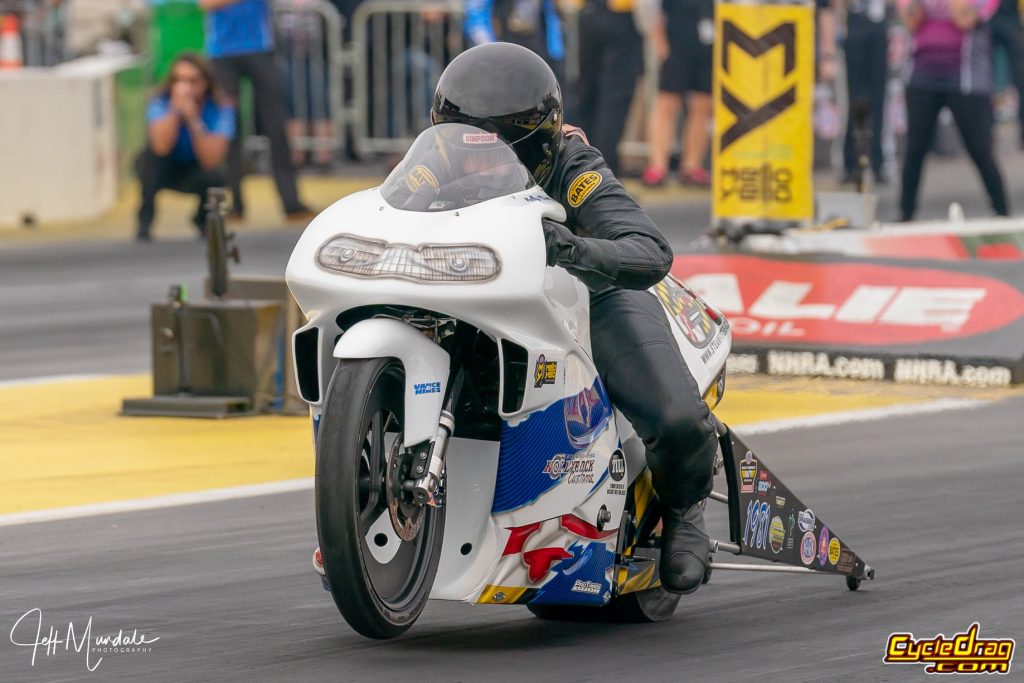 Johnson finished up the rant pointing out how drastically different his Suzuki engine is from what the v-twins use.
"The Harleys and Buells have aftermarket, billet engines. Put a hunk of metal in a machine and it spits out a part. It's designed," Johnson said. "We have a cast cylinder head and stock, OEM, 1985 Suzuki cases. We get 113 c.i. The v-twins get 160 c.i. We are at 70 -percent."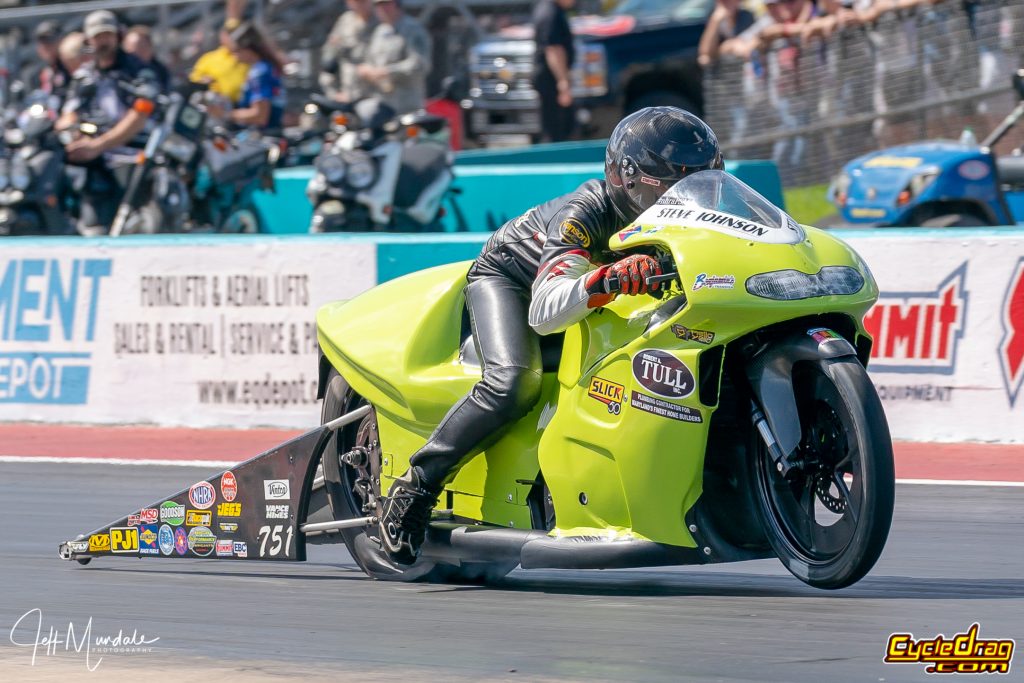 The debate over brand representation and equality may not be one Smith and Johnson can agree on. Statistically, Smith's methods give him the edge. Since his 2003 debut Smith has won 22 races and produced three championships. Since his 1987 debut Johnson has never missed a race, but has been to the winner's circle just six times. Johnson has been on the record saying there's nothing he wants more than a championship title.
The full Steve Johnson interview is below. He begins his Matt Smith rant around the 11:30 mark.
Matt Smith's Response
There are videos on the Cycledrag Youtube channel (please subscribe here) and the Cycledrag.com Facebook page (Please like here) and more will be coming soon. Check back daily.