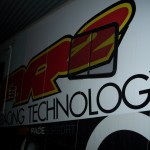 Experts agree, in business or sport, focusing on what provides the most gains is a sound strategy.
Using that same simple philosophy, PR2's Chris Durham has developed two of his sons into world-class professional motocross racers and transformed his suspension business into a revered industry leader.
"All of your focus needs to be on winning and improving your lap time. That's all that really matters," Durham said.  "I used to tell my sons to take everything associated with their racing program, all the way down to their gas cans, and make two piles. One pile is the stuff that affects lap time and the other pile is stuff that doesn't.  At the end of the day, only one pile matters."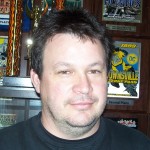 Durham's children listened closely to their father's message.  Respectively, they post some of the quickest lap times in the world. Durham's oldest son, Darryn, 24, used his incredible speed to land a coveted spot on the Monster Energy/Pro Circuit Kawasaki team, and his second-oldest son, Shane, 22, has three top-20 finishes in four Pro Nationals.
Durham's passion for suspension began over 30 years ago when he would rebuild shocks for fun.  In the beginning, suspension technology was so unrefined and primitive; Durham had to weld the units back together. Today, Durham's love for fine-tuning and improving has helped mold PR2 into one of the most respected suspension shops in motocross and off-road racing.
"When we send someone back their suspension, we expect them to be significantly faster," Durham said. "There's just a small group of good suspension builders in the country, and I consider us one of the best.  We are very precise and have an outstanding track record."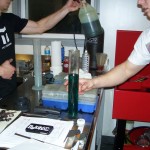 Durham's long list of successful racers includes 14-year-old phenom, Austin Forkner, who is a multi-time national champion and one of the world's quickest riders on his PR2 equipped KX 100. Durham's stepson Bradley Esper is one of the fastest  15 year olds in the country and has a spot on the Farren/PR2 Suzuki amateur racing team.
After discovering the limitations of stock parts, Durham began making his own linkage components to push the performance of his motorcycles to the next level.
"Stock linkage is designed to accommodate a very broad range of users and is overly progressive.  We knew some of the factory bikes didn't have stock linkage so we experimented with different linkage ratios in the rear and found a lot of improvement," Durham said. "Our linkage will do more for your suspension and the handling of the bike than any shock work will do. You could put our components on a stock bike and notice a big difference. Better traction means better acceleration and when you hit a big bump, you really notice the difference."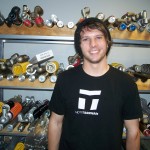 As an up-and-coming pro eager to walk in his brother's footsteps, Shane understands the importance of a PR2 linkage system and a properly-tuned suspension.
"Stock suspension is set up for a wide range of riders. Once you have it set-up for your size, ability level and application you can really further your riding," Shane said. "It makes your job easier. You don't have to work so hard to make your bike perform."
When it's time to take your racing operation to the next level, be sure to consult with the experts at PR 2.  Check out their website at www.pr2racing.com